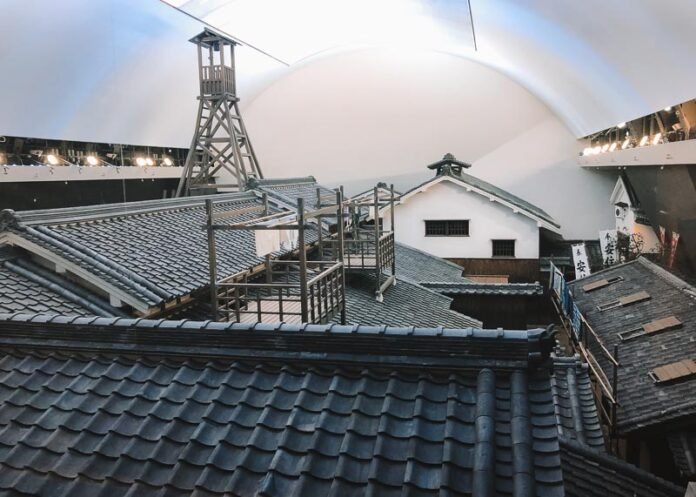 Osaka is known for many things, such as its exquisite cuisine, crazy nightlife in Dotombori, great shopping or the remarkable Osaka Castle. However, Osaka is also home some of the finest, family-friendly museums, where you can experience how life in Japan looked like in the past. museum of housing and living osaka
One of these museums is the charming Osaka Museum of Housing and Living, or Kurashi no Konjakukan in Japanese. Unlike other museums that only display artifacts behind glass with descriptive plaques, this museum recreates life-size town scape from Edo Period. You can walk in the streets and peek inside the houses, so you will literally feel like you stepped back in time.
Osaka Museum of Housing and Living is most definitely worth adding to your itinerary, especially on a rainy day. Come with me on a virtual tour of this unusual museum to get the grabs of what to expect before your visit!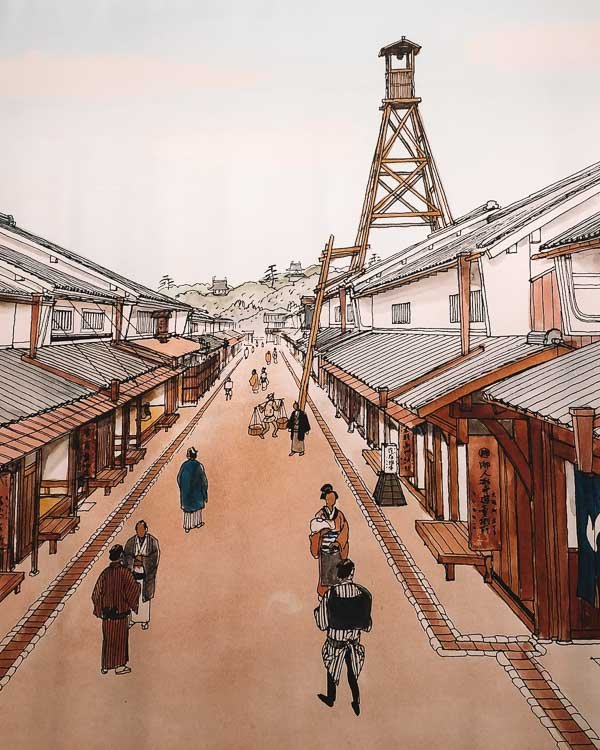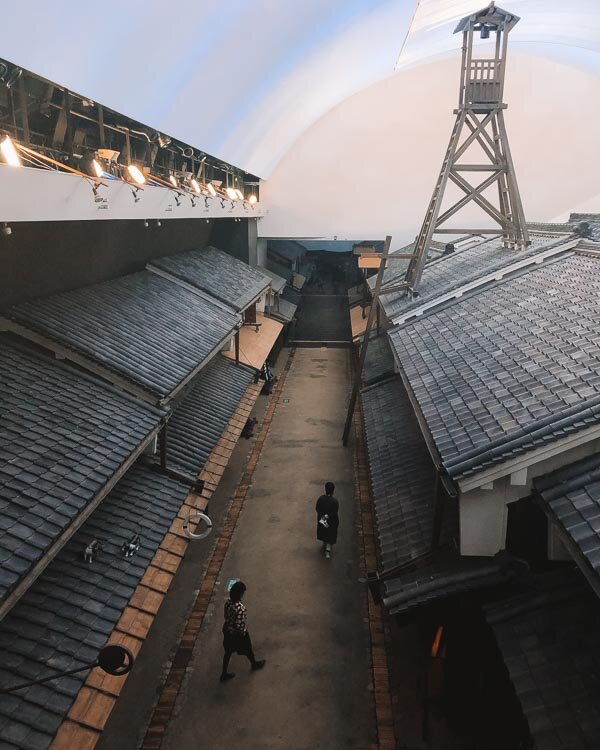 Exploring the museum
The tour of the museum starts on the 10th floor that features a sort of viewing platform over the reconstructed 19th century town below you. The whole town is indoors and it's one of its kind in Japan. After enjoying the view on the traditional houses, it's time to descend down to the 9th floor to experience Osaka from the past.
Once you walk inside the exhibition, you will be taken to actual streets of Osaka, how they looked during late Edo period in the 19th century. The details of the exhibition are truly incredible! The sounds of rain to mimic the weather in town, little cats on the roof, toys in the old toy shop, colorful lanterns, dog with its puppy in the corner, even the transition between day and night is simulated here by the lights that dim. I personally love the interiors and beautiful designs of the old Japanese houses with tatami mats, traditional kitchens and tea rooms.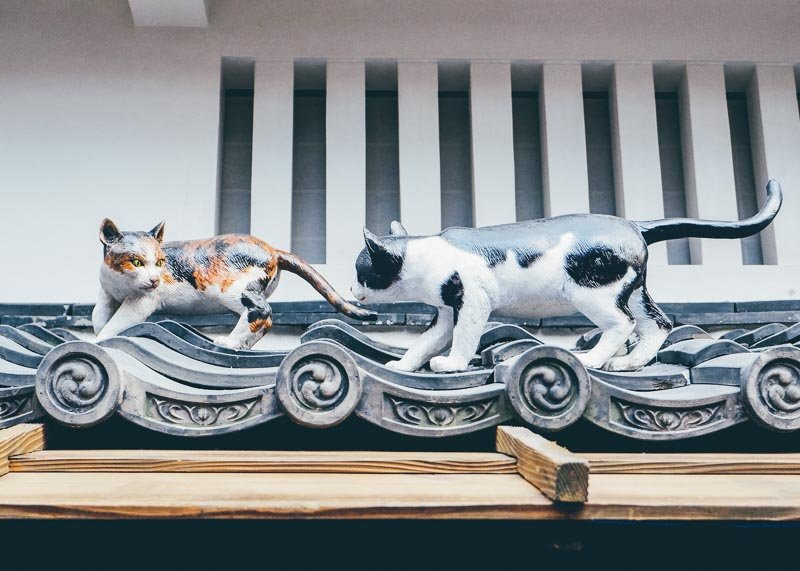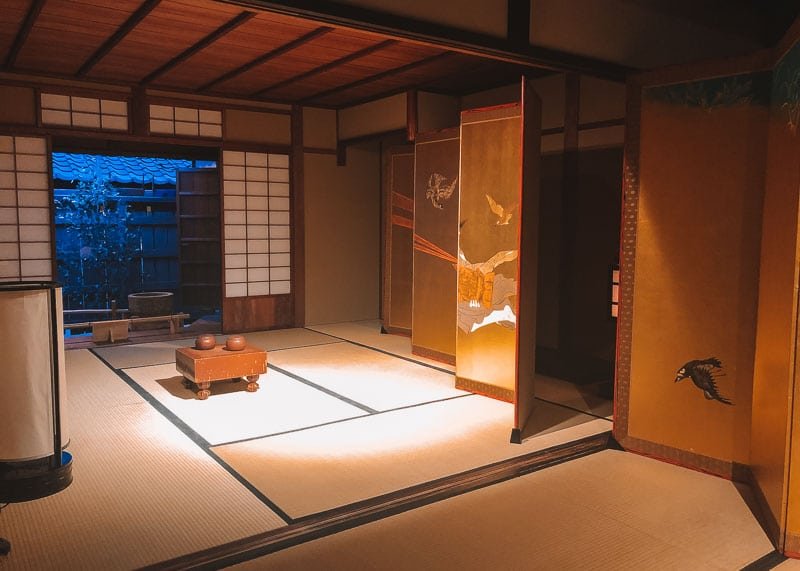 Another awesome attention to detail is how the decorations in the main exhibition hall change throughout the year and portray the important events and holidays. From April to August the décor focuses on summer festivals, while September to March are dedicated to the life of merchants in Edo times. Additionally, the museum also hosts cultural events to support these seasonal changes. You might experience here comic storytelling, craft workshops or even musical performances.
If you would like to enhance your experience, there's a kimono rental shop on the 9th floor of the museum, where you can get a yukata (light summer kimono) for a small fee and enjoy the exhibition in the traditional clothing.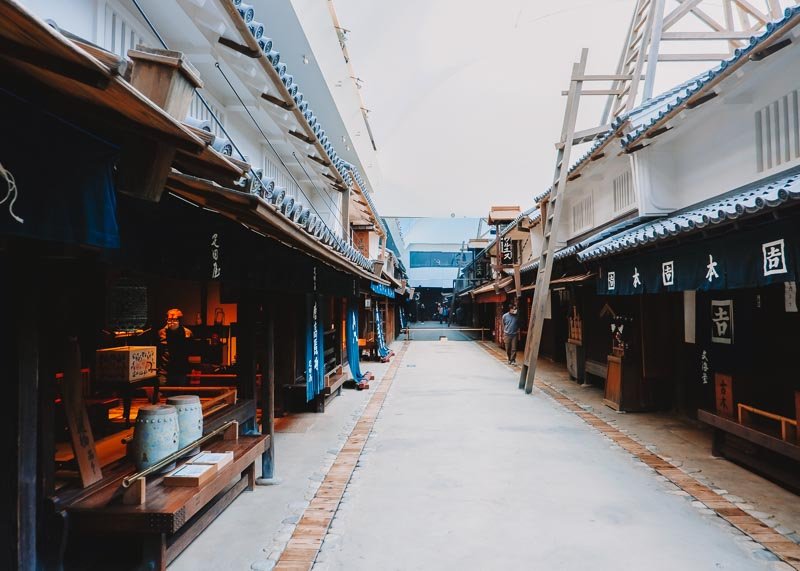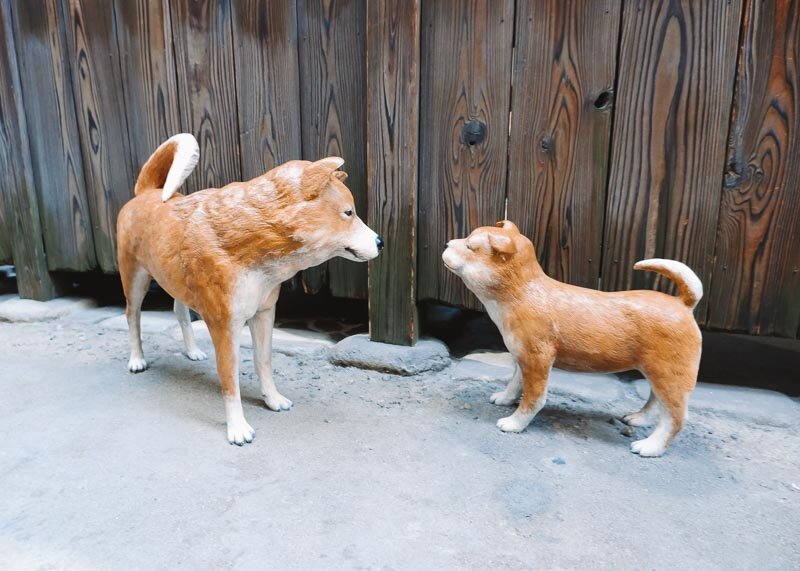 After walking through the past and enjoying the atmosphere of old Japan on the 9th floor of the museum, it is slowly time to get back to reality, however, our museum visit is not over yet. The 8th floor contains another huge exhibition space full of models of Osaka through the history from Meiji, Taisho, Showa and Edo periods, and the post-war development. They will give you great insights how the city evolved and expanded in the 19th-20th century.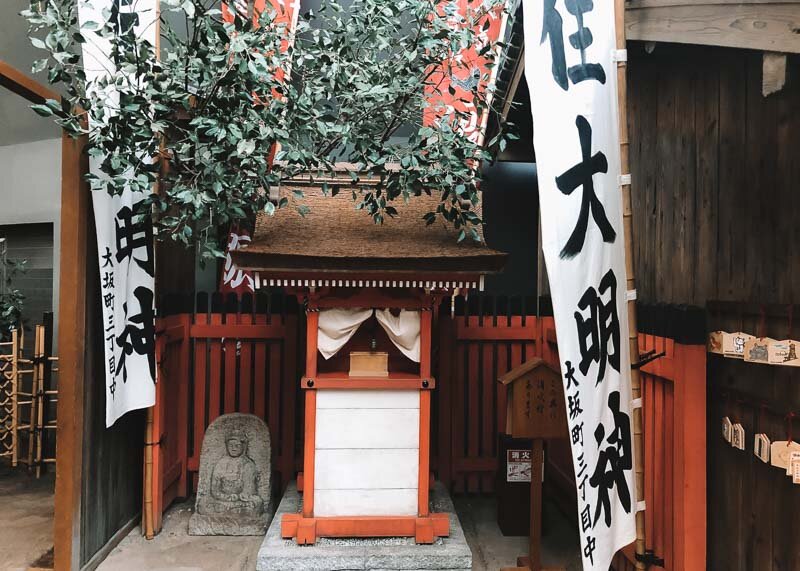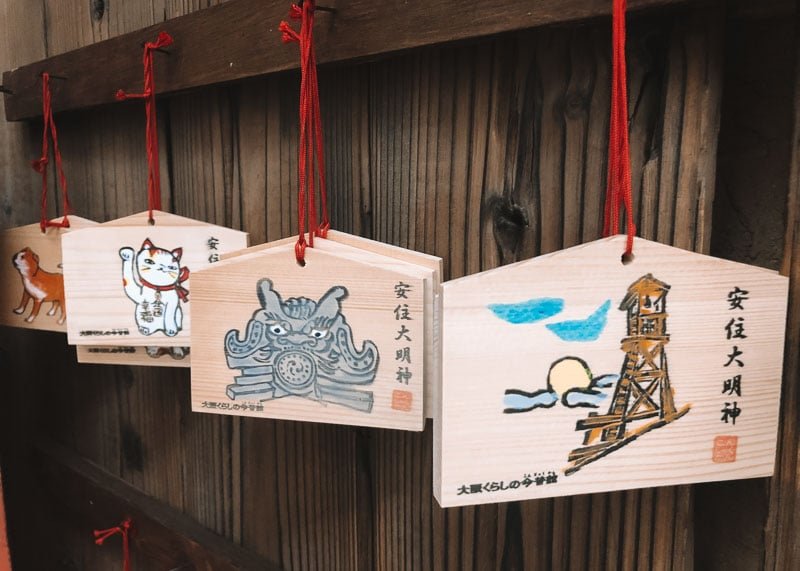 Edo Period
As I have mentioned before, this museum portrays Osaka in Edo period. Edo period, also called Tokugawa period, lasted between the years 1603 and 1867 and it is known as the final period of traditional Japan, before the modernization started during Meiji restoration.
The name Edo translates from Japanese as bay-entrance or estuary and it used to be former name of Tokyo. In 1868 the imperial rule was restored in Japan and the emperor moved to Edo, which was renamed to Tokyo (meaning eastern capital) and became the capital of Japan.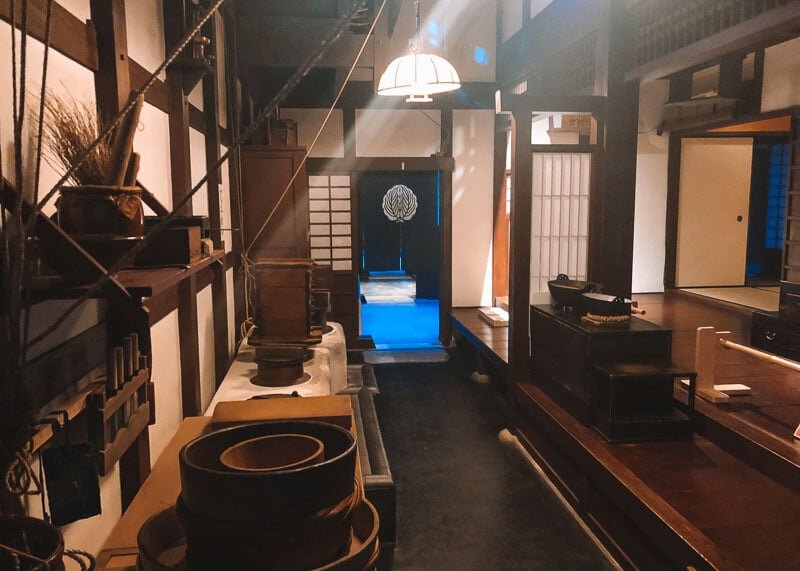 Traditional Japanese Houses
Osaka Museum of Housing and Living perfectly recreates old traditional Japanese houses where you can walk in, touch the displays and see how the people really lived in the past. Here is a short overview of different types of housing and public houses in Japan that you can visit in the museum.
If you're interested in traditional Japanese housing, you should check out our ultimate guide to Osaka's Open Air Museum of old Japanese farm houses.
Machiya
Machiya are typical urban houses that once accommodated the merchant class and craftsmen in the cities throughout all Japan. They were built entirely of wood and beside the living part of the house, they also contained a workshop and a shop.
It is not rare to still see some machiya houses today in the old city quarters. They are easily recognizable because they never stand alone, but rather they form a row of linear houses with quite narrow facades. Usually, the shop was located at the front followed by a workshop and deeper you went inside, the rooms were becoming more and more intimate. In the Museum of Housing and Living you can see how the shops and living areas used to look like.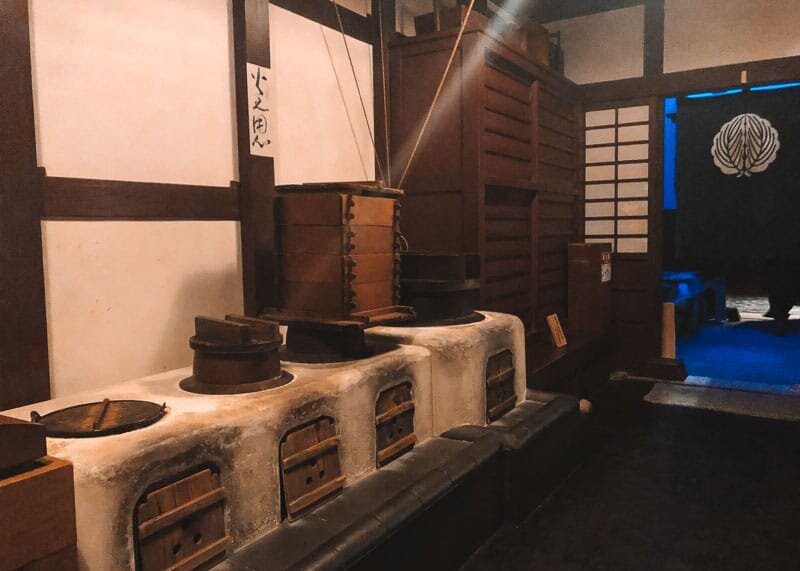 Sento
Sento is a traditional Japanese bathhouse with a long history. The origins of bathing culture as we know it today, firstly came to Japan from China (and there from Buddhist temples in India) during Nara period in the 8th century. The custom started as "religious bathing" and it was quite exclusive, the baths were usually built within temple grounds. First public commercial bathhouse was built in 13th century and by the time Edo period started, they were spread all over the country.
After the WW II., customs of public bathing started to decline as people got the access to have private baths at home. Today you can see bathhouses again around the country, however, they are more of a spa with Jacuzzis, massages, mud baths, fitness centers etc., to accommodate the needs of modern customers. Sento is not to be mistaken with onsen, as onsen always uses natural mineral water from a hot spring, while sento uses regular water that is heated up.
In the Museum of Housing and Living we can peek inside the traditional sento from the 19th century.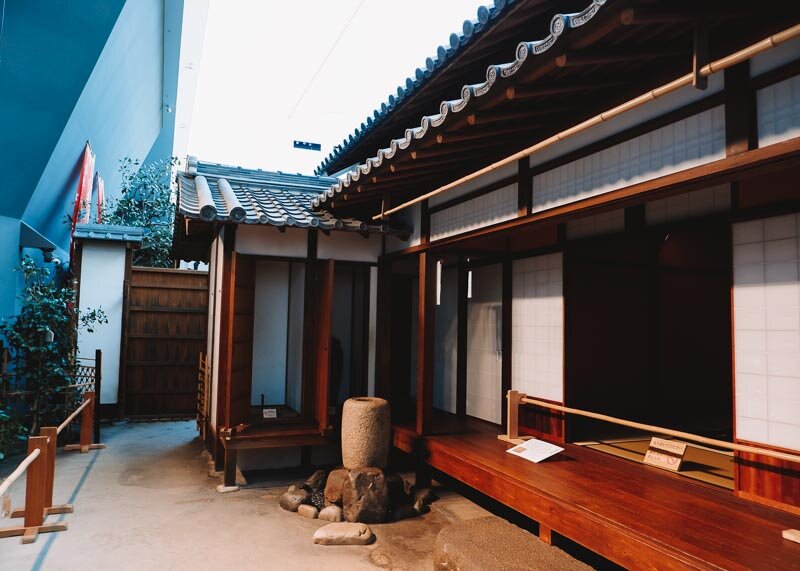 Town Meeting Hall
Each town had a public meeting hall where residents would gather and discuss important topics. The meeting halls generally stored important documents such as town rules or register of families. On top of the roof of the town meeting hall you can see a fire lookout. It was common for fires to spread rapidly and quickly overtake Japanese wooden houses, so each fire lookout had a bell to alert the citizens quickly in case a fire occurred.
Komamonoya
Komamonoya were cosmetic shops, where besides cosmetics, you could also buy fashion accessories and daily necessities in Edo period Osaka. The items were beautifully decorated on a wooden display at the front window, the same way you can see in the museum. The combs were made of wood or tortoise shell and they were also used as a hair ornament.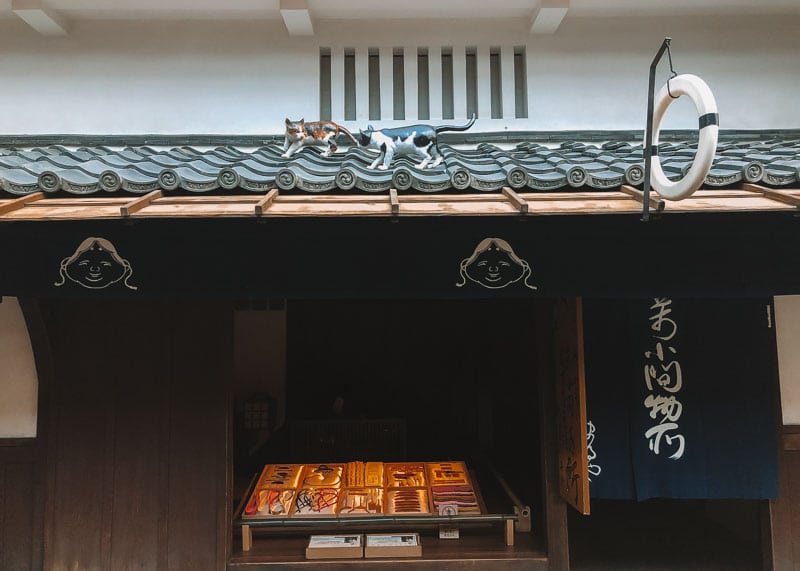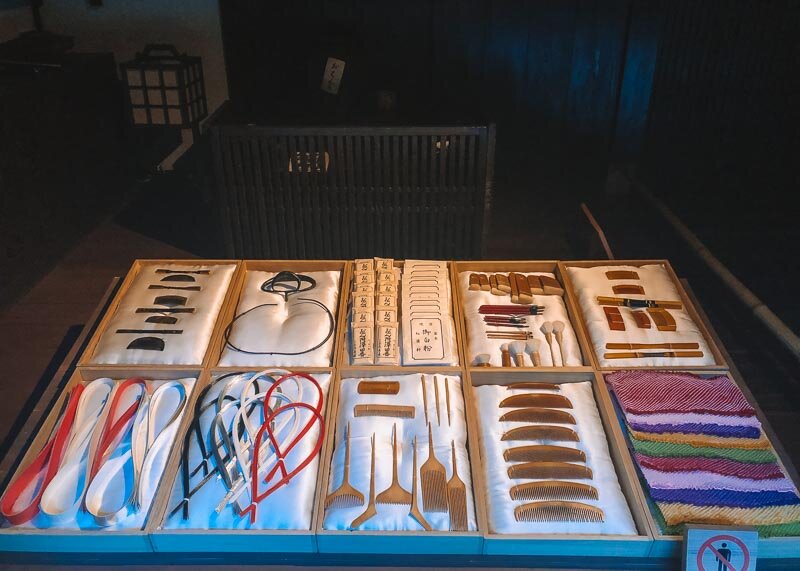 Apothecary
Traditional Japanese medicine, which is mostly derived from Chinese herbal medicaments, used to be sold in markets, but in Edo period Japanese started to sell them in specialized apothecary shops, just like the one you can see in the museum. During this time, besides traditional medicine, Dutch remedies also found their way to Japan.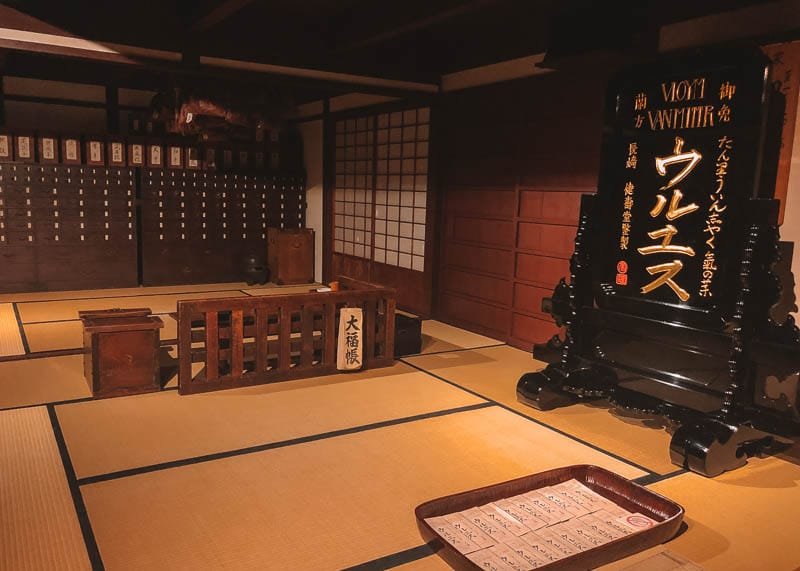 Karamonoya
The word karamono generally referred to any goods that originated in China, but later on, the shops karamonoya were selling any products that were imported from overseas during Edo period. In this particular shop on the museum we can see some Chinese ceramics and calligraphy implements, peacock feathers from South-east Asia, or even glass tableware from Europe. The model for this display was Hikitaya, an actual karamonoya shop that existed in Osaka.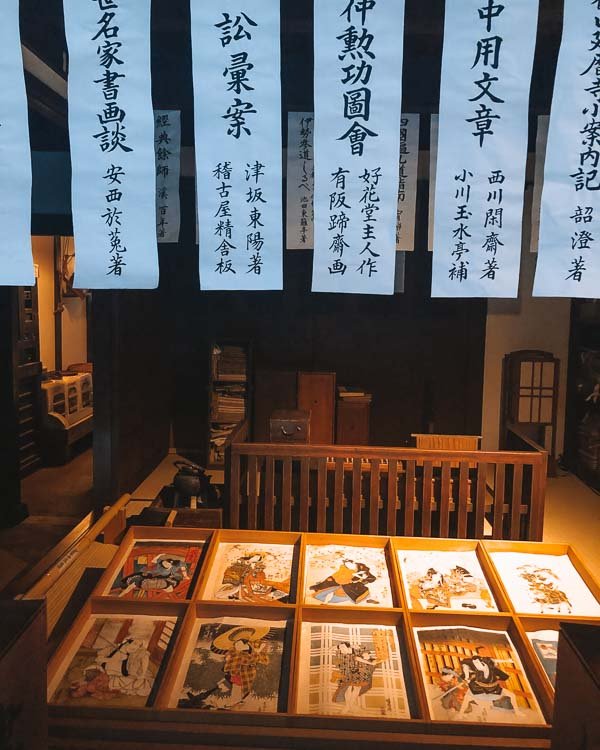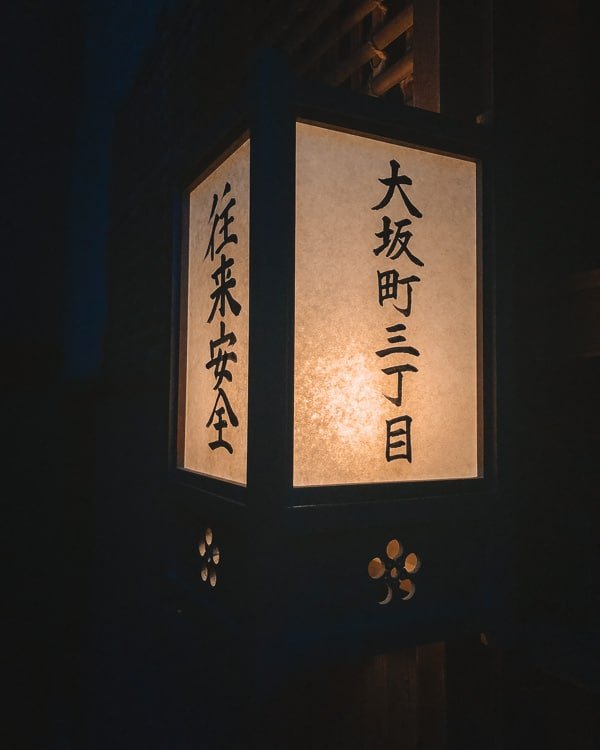 Useful Information
Address:
8F Sumai Joho Center bldg., 6-4-20 Tenjinbashi, Kita-ku, Osaka-shi, 530-0041
How to get there:
Museum of Housing and Living is located in the suburb Tenma in the north-eastern part of the Kita area. The closest station is Tenjinbashisuji 6-chome Station which is located right outside the museum. You can get there with Osaka Metro Tanimachi and Sakaisuji Lines and Hankyu Railway.
If Osaka Loop line is more convenient for you, you can get off on the Tenma Station and there it is about 8 minute walk.
Entrance fees:
Adults: 600 yen
College and high school students: 300 yen
Opening hours:
The museum is open daily from 10 AM to 5 PM, but be aware that the last entry is at 4:30 PM. It is closed on Tuesdays and during public holidays the opening hours may differ.
Kimono Rentals:
The kimono rental is shop is located on the 9th floor of the museum. You can choose from variety of yukata (light summer kimono) and the fee is around 500 yen for 30 minutes (depending on the style).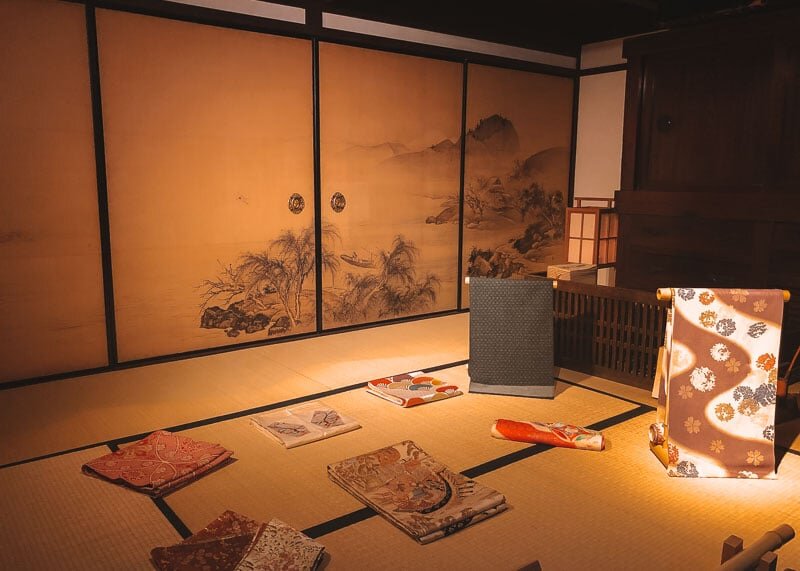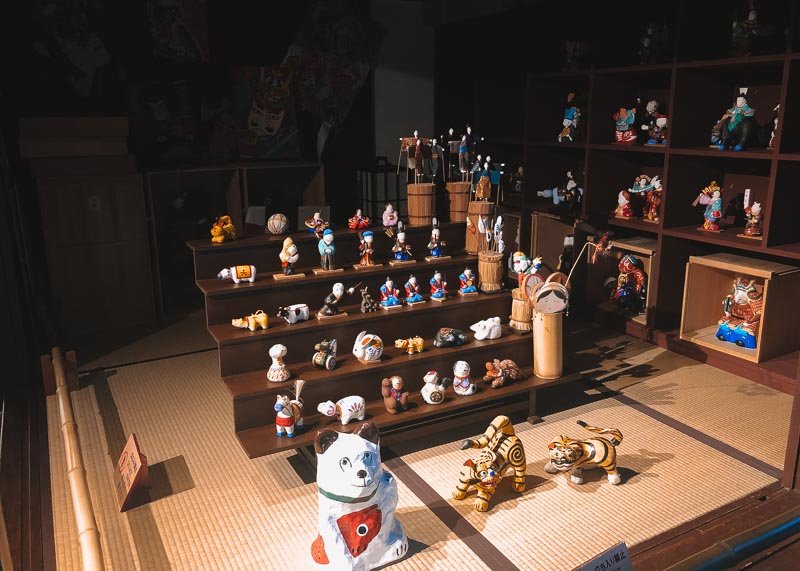 Around the museum
Tenma Area
Osaka Museum of Housing and Living is located in the suburb Tenma, which a lively area full of restaurants, mostly serving local dishes. It is particularly charming in the evening, when all the locals go out to grab a beer and great food in tiny izakayas (Japanese pubs). I would say, it is a perfect display of how people live in Osaka in the 21st century because it feels truly authentic.
Tenjinbashisuji Shopping Street
Right outside the museum, Tenjinbashisuji Shopping Street starts. It is claimed to be the longest shopping arcade in Japan that stretches for over 2 kilometers. It is very popular with locals and you will find here many small, family-owned shops, rather than international brands. If you would like to buy a kimono, this is the place to go, as there are plenty of kimono shops along this street. You will also find here many eateries and cafes, and the whole place has this unique, small neighborhood atmosphere.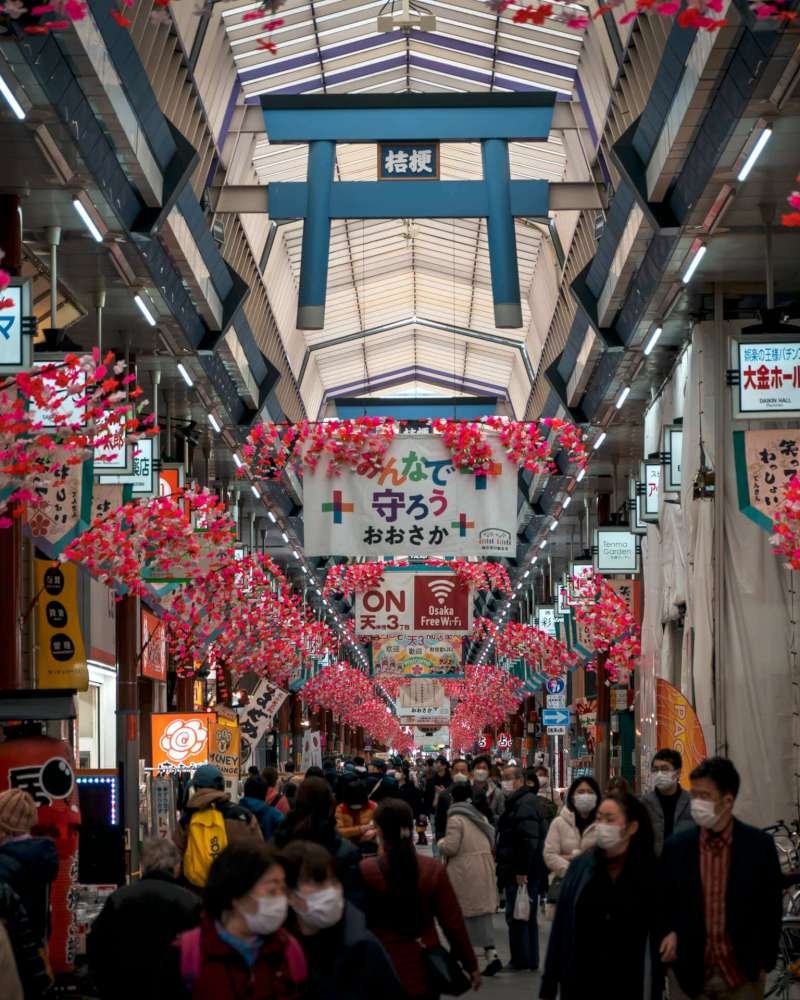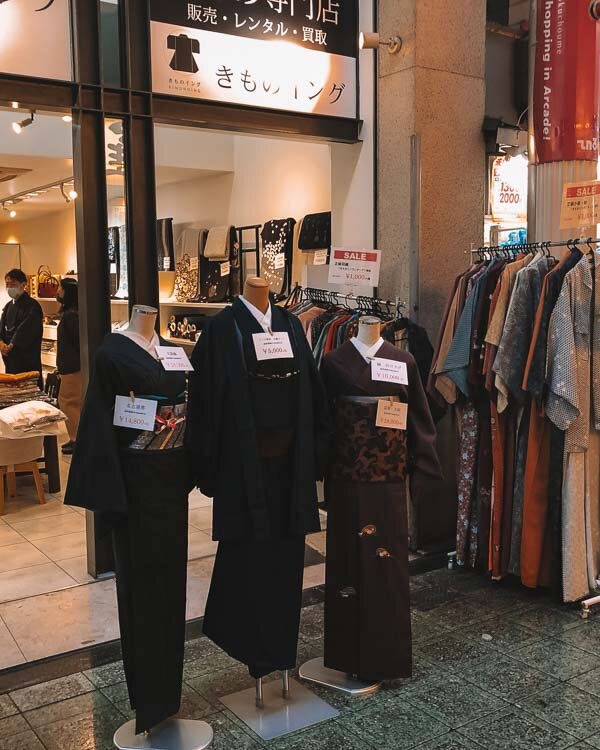 Kids Plaza
Only about 800 m (10 minute walk) from the Osaka Museum of Housing and Living is another awesome museum – Kids Plaza. It is very unique modern museum for children, with many educational and playful exhibits emphasizing hands-on experience. It is a true gem of a museum that will be enjoyed by kids and adults alike. It was designed by Friedensreich Hundertwasser, an Austrian architect and artist. If you are travelling with kids, you definitely shouldn't miss it! The museum is fully under the roof, but if the sun comes out, there's also a great playground in Ogimachi Park just behind the Plaza.
Kids Plaza is open daily from 9:30 am to 5 pm, however it is closed every 2nd and 3rd Monday of the month (better check opening days before coming due to public holidays as well).
Entrance fees: adults – 1400 yen; elementary and junior high school – 800 yen; preschoolers – 500 yen.
Tenmangu Shrine
If Kids Plaza isn't in your interest, you can visit Temmangu Shrine, which is located within 1.6 km from the Museum of Housing and Living (only about 20 minute walk). The shrine is surrounded by tall office buildings and busy shopping streets so it feels like a peaceful oasis in the crazy city. This shrine is over 1000 years old and it was dedicated to one of the Japanese greatest scholars and poets – Sugawara no Michizane. That's why students often come to pray here for some good luck and calm nerves during their exams. The shrine itself draws in visitors for its impressive architecture, fairly large grounds and plum trees that bloom in early spring with bright pink colors of their flowers. It is said that plum used to be favorite tree of Michizane.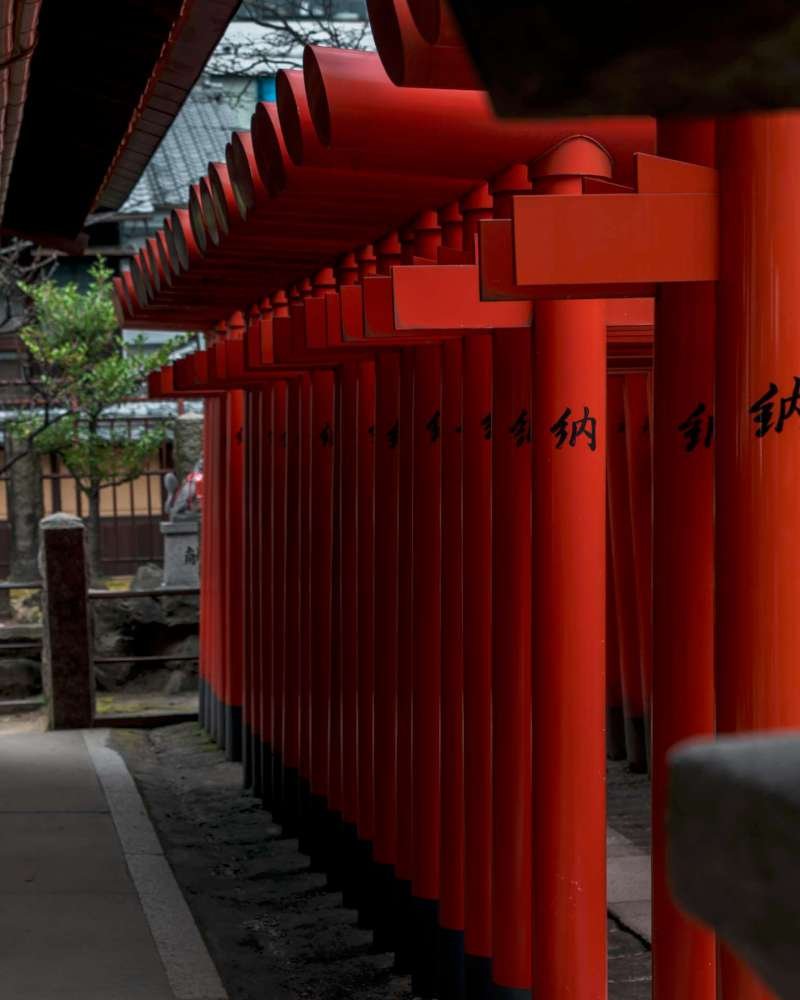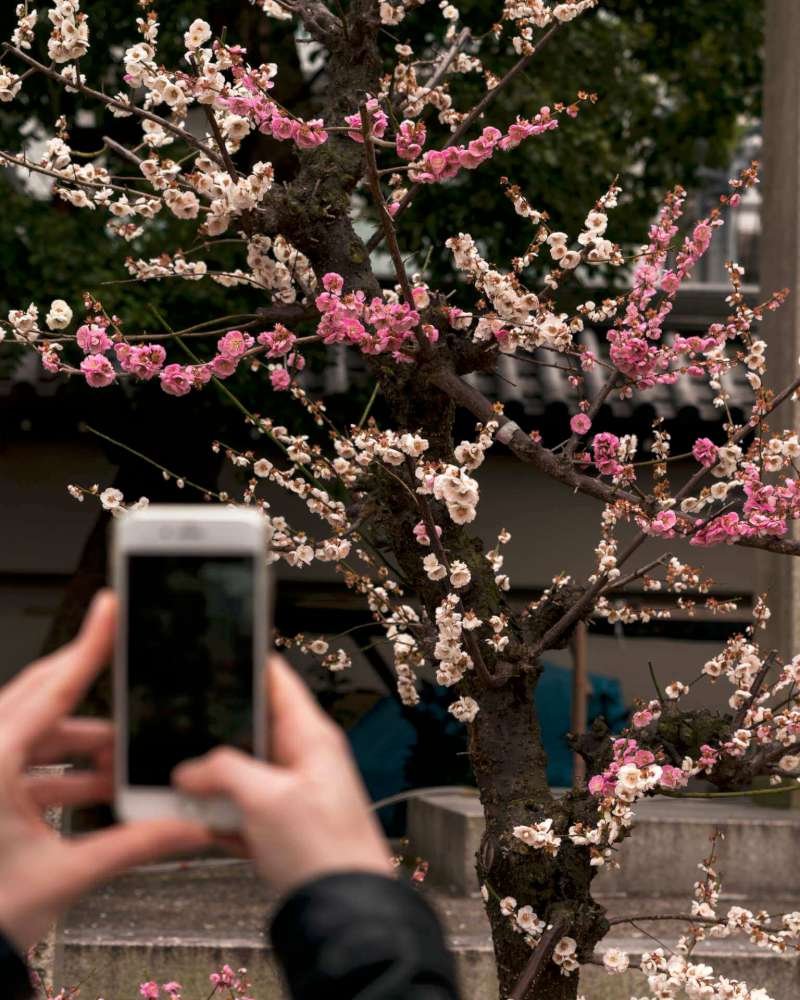 Final
Like I mentioned at the beginning, Osaka Museum of Housing and Living is well worth the visit especially if you're interested in Japanese history. The museum and its surroundings can make a rainy day in Osaka so much more interesting with endless possibilities for cultural enlightenment, shopping and eating.