From ancient era, the main area of the current Tennoji ward was called Yuhigaoka (Sunset Hill). As the name implies, the hill area has long been a famous viewpoint of beautiful sunset looking over the sea. During sunset, Buddhists including the reverend monk Honen practiced meditation training called Nissokan in Yuhigaoka. What training Nissokan was? And did you know that the most popular communication tool in Osaka is related with pineapple? You will find the answers in this article.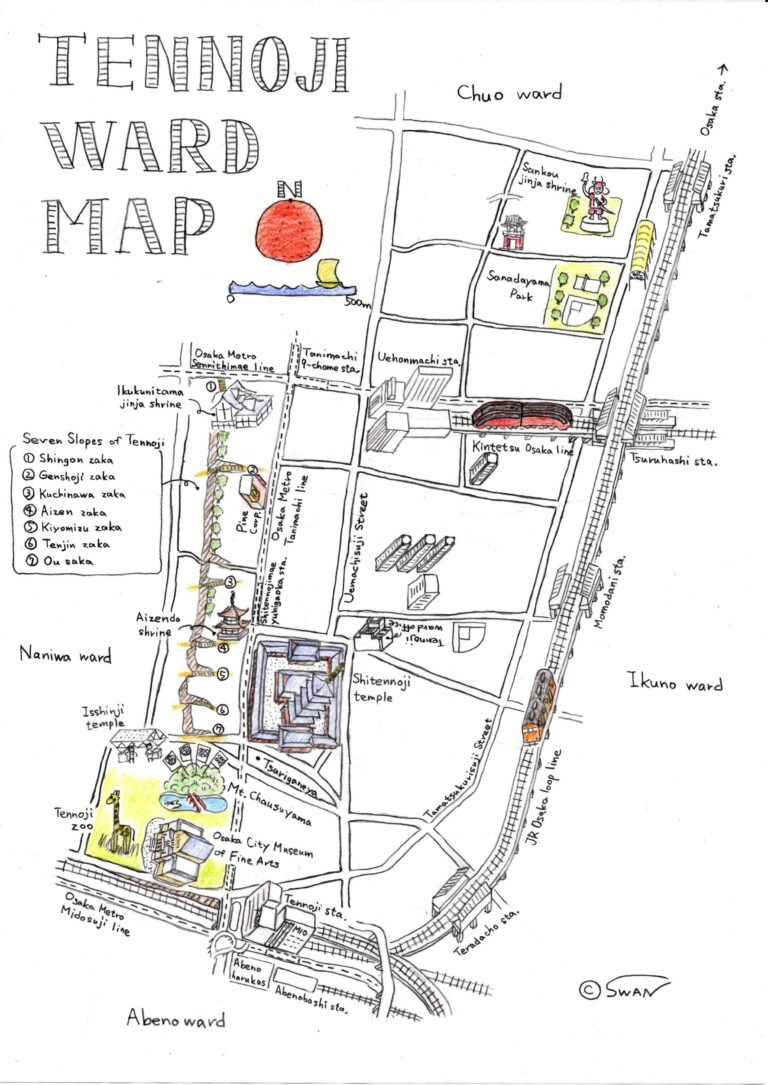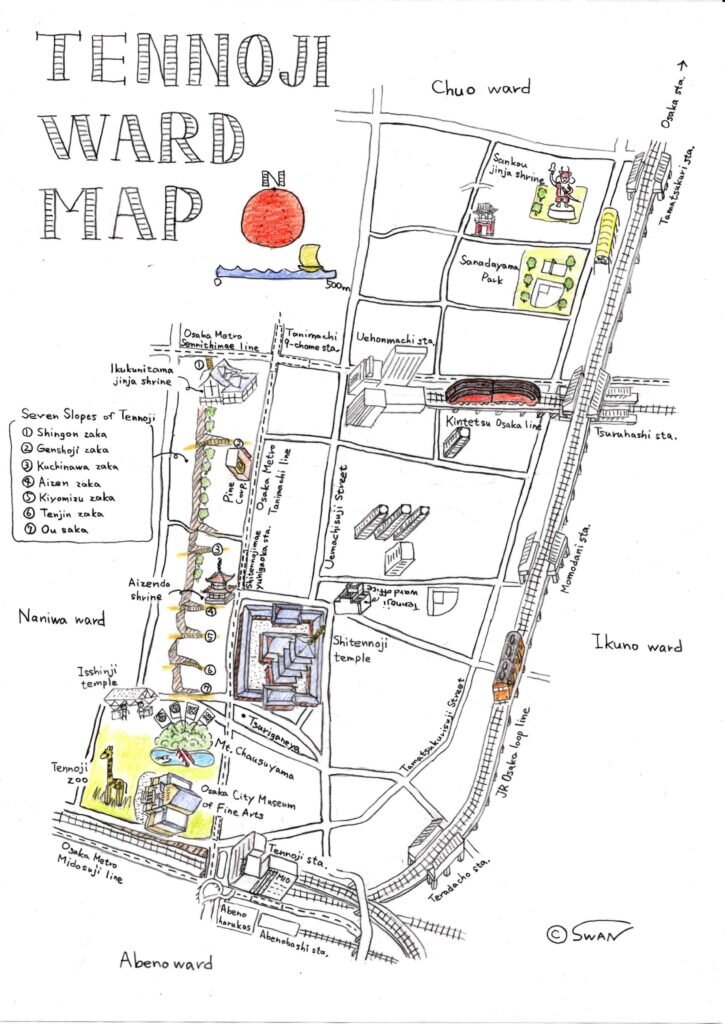 Isshinji Temple, Nissokan and Buddhas made from human ashes
History of the Temple
Isshinji temple in Tennoji Ward was originally a tiny hut for a famous monk HONEN in 1185. HONEN was the founder of Jyodo Shu (Pure Land Buddhism) in Japan and he practiced 日想観 pronounced as "Nissokan" in his Yuhigaoka hut.
Nissokan is Buddhist meditation training to look hard on the glaring sun to contemplate and envision Gokuraku Jyodo (Buddhist paradise, the land of perfect bliss). In Jyodo Shu Buddhism, Gokuraku Jodo where Amida Nyorai Buddha lives is said to exist far west. So during Nissokan meditation, Buddhist face to the west looking beyond the sun to envision Gokuraku Jyodo. Tennoji Ward
日(NI):Sun,   想(SO): Contemplate, 観(KAN): Envision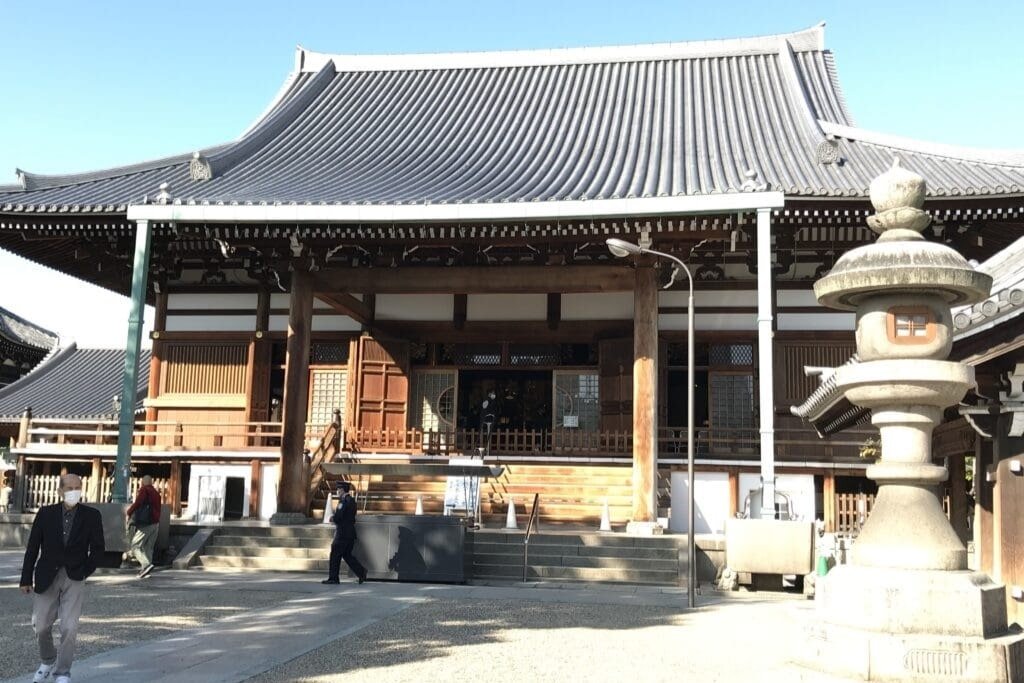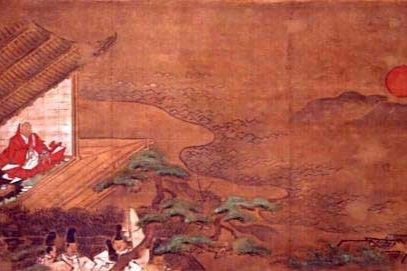 OKOTSUBUTSU, bone-made Buddha statues
Isshinji Temple is very famous for Amida Nyorai Buddha statues which have incredibly unique origin.
They are made from ashes of devotees' bones. In 1887, the first Okotsubutsu was built using more than 50 thousand bone ashes from the deceased. Those bones were brought by the remaining families. ISSHINJI temple has accepted any bones regardless of their religions or Buddhist Sect.
In Japanese language, "okotsu" is a polite and respectful way for saying "bone of deceased" and "butsu" is Buddha.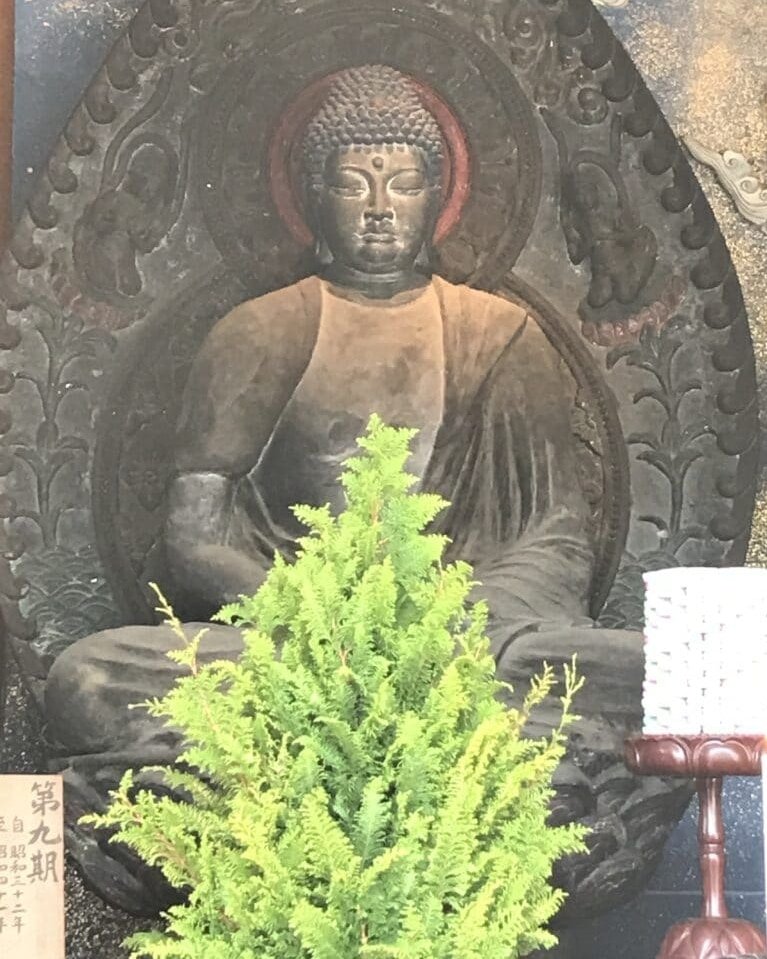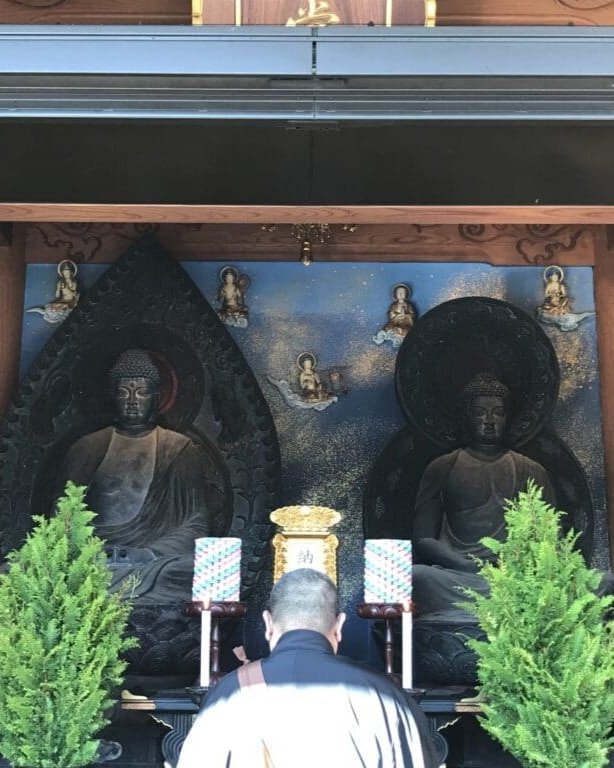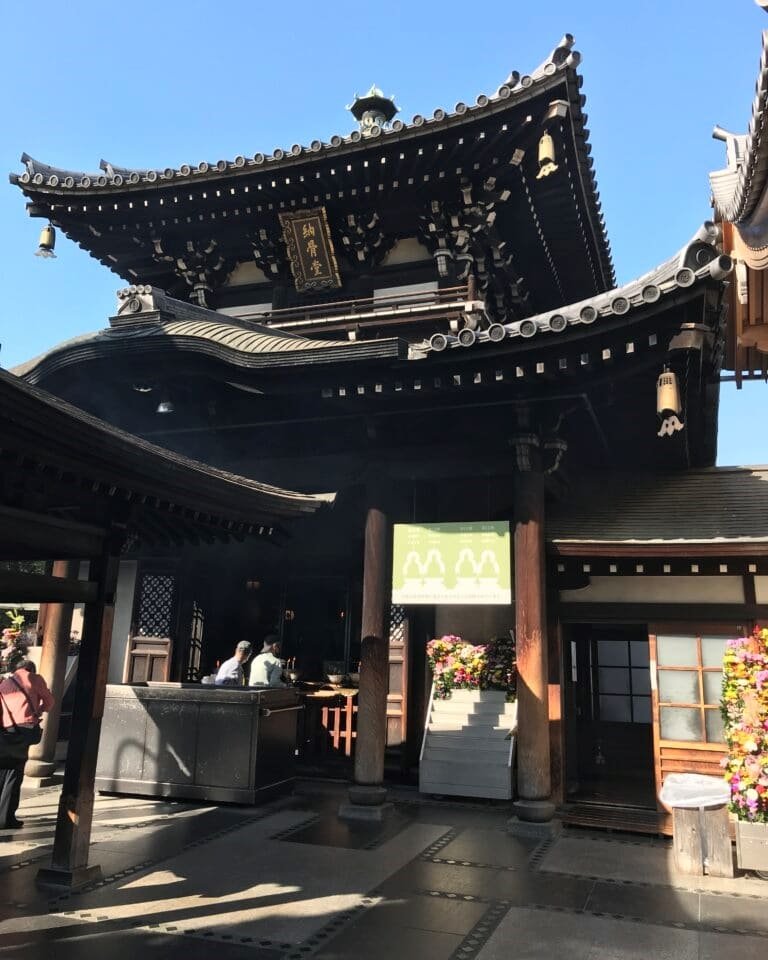 Every ten years, a new Okotsubutsu has been created in the temple which means more than 2 million people became a part of Buddha images for now. Unfortunately, some statues were lost in World War II, so currently eight ash-made Buddha stand in the temples.
With the increase of individuals who have no intimate relatives/friends to give memorial service for them after their deaths, and Japan's scarce land supply for cemeteries, more and more bones are brought to Isshinji Temple. We can see the next OKOTSUBUTSU in 2027.
A Futuristic Main Gate designed by the senior priest of the Temple
You must be surprised to see the unprecedented design of Isshinji's main gate. They are not the ordinary wooden gates you can imagine in other Japanese temples.
The dynamic combination of glittering steels and concrete overwhelms any visitors. The temple's current Choro (a senior priest), TAKAGUCHI Yasuyuki is also an architect and designed this extraordinary architecture in 1997. The geometric roof and massive Nio (guardian) statues are really outstanding from the outside.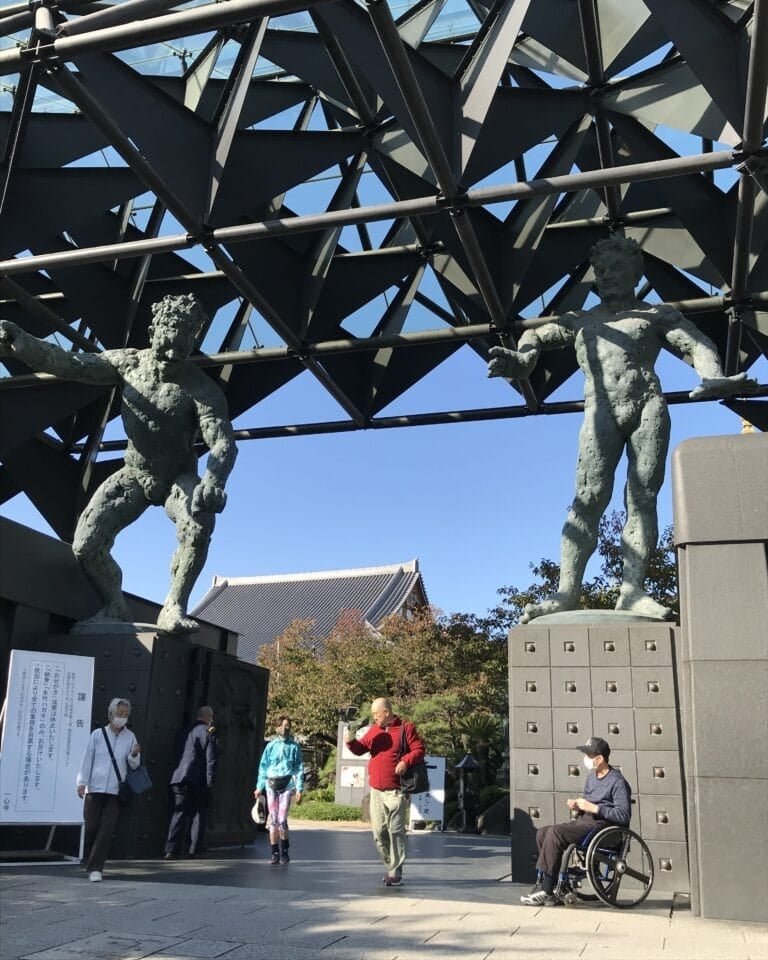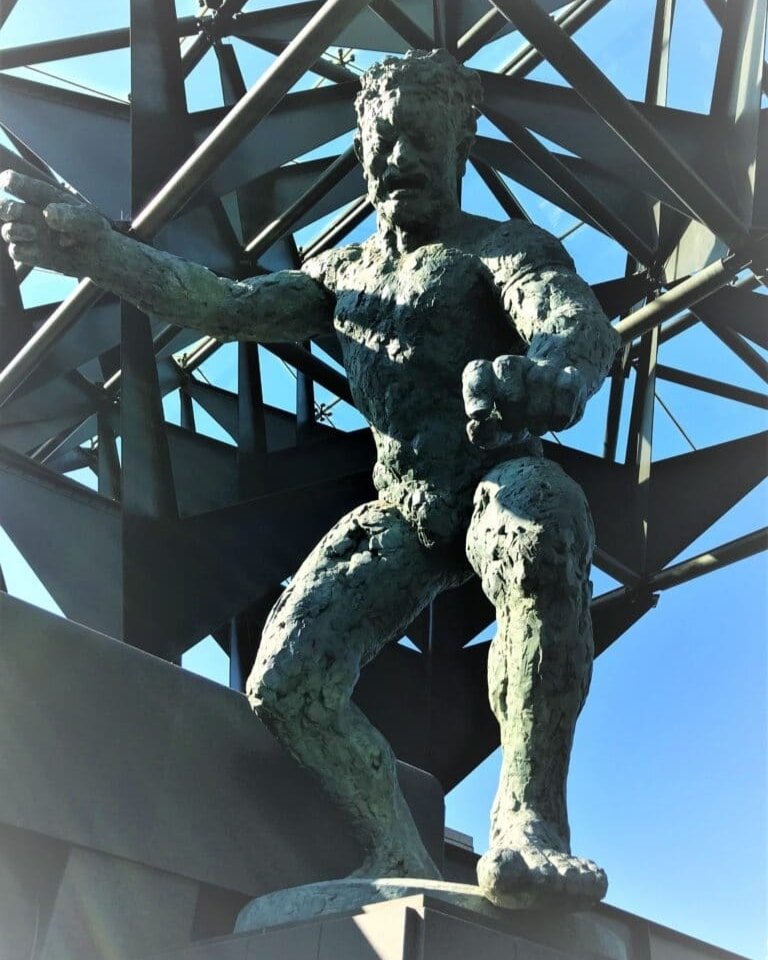 You may notice the pair of temple guardians wear nothing to cover their muscular body unlike ordinary Nio in other temples. They are unusually naked and don't hold any weapon such as sword or heavy club. This symbolizes their non-violent attitude toward evils.
Address
8-69, Osaka 2chome, Tennoji, Osaka
Telephone
06-6771-0444
Open
5:00-18:00 (some buildings require entrance fee)
Access
Tennoji (JR Loop Line, Osaka Metro Midosuji Line/Tanimachi Line)
Shitennoji-mae Yuhigaoka (Osaka Metro Tanimachi Line)
Ebisu cho (Osaka Metro Sakaisuji Line)
Abenobashi (Kintetsu Line)
Website
https://www.isshinji.or.jp/
Shitennoji Temple, Japan's first official temple
History of Shitennoji Temple
Shitennoji was established in 593 by Prince Umayado (also known as Shotoku Taishi); one of the most important figures in Japan's ancient history. He was portraited on Japan Bank Note for a long time.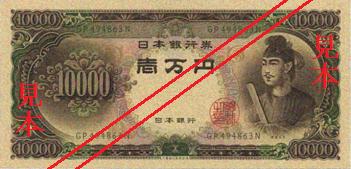 In the temple's huge premise (more than 11,000m2), there are various buildings including the most prominent Chushin Garan, Gokuraku Jyodo Garden (Buddhism Paradise Garden), Treasure House, other halls and temples.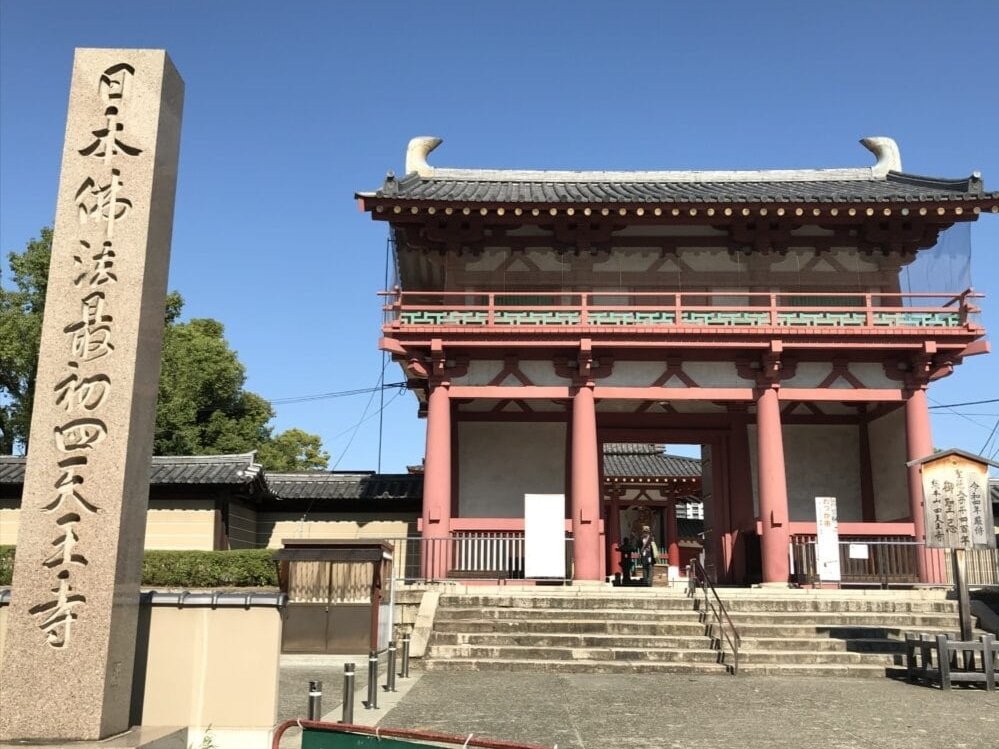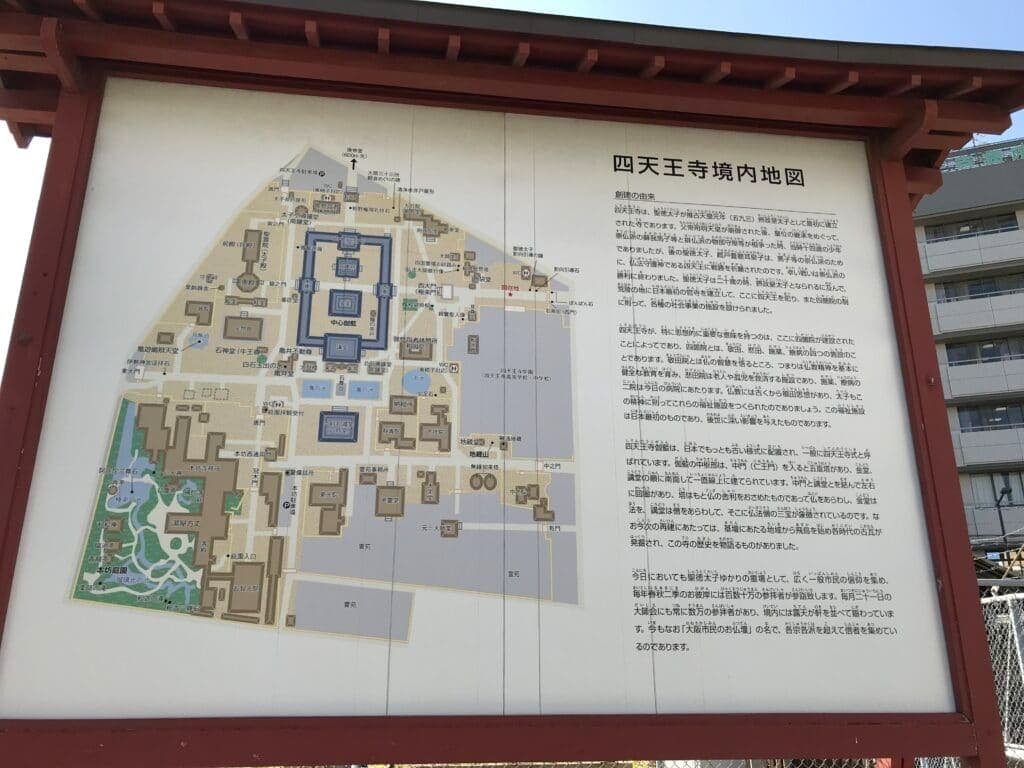 Chushin Garan, Central Temples, the oldest alinement of temples
Chushin Garan is famous for its unique architectural arrangement called "Shitennoji Style", in which all building are aligned in a straight line and surrounded with a roofed corridor. Most of the original wooden structure were lost by thunders, fires or typhoons but re-built with respectful preservation of original design.
Chumon (Middle Gate) is guarded by two glaring Nio statues. You can see the red "Agyo" Nio to the right and the blue "Ungyo" Nio to the left. Agyo widely opens his mouth as if he is saying "a" and Ungyo tightly closes his lips like saying "un". This is typical style for Nio guardians, but these colorful pair is rarely found in Japanese temple.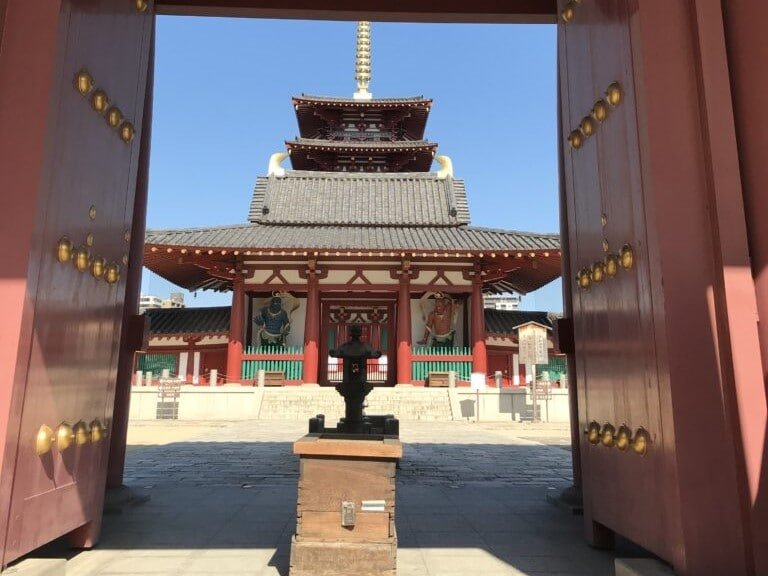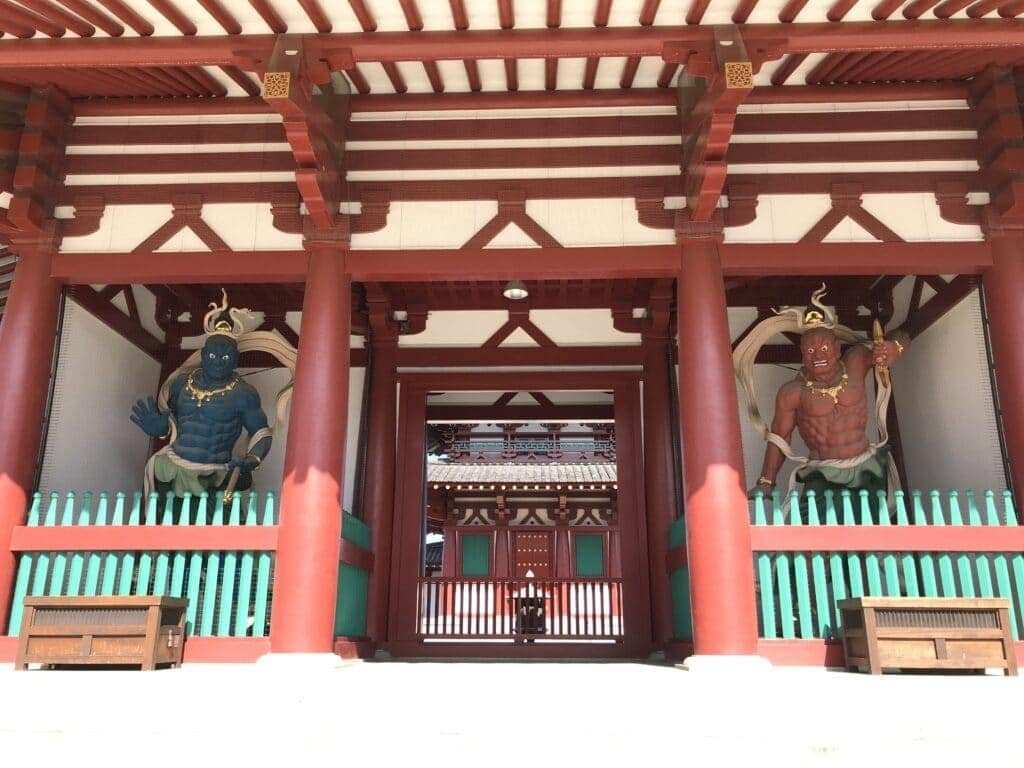 From ancient era, every time the five-story pagoda collapsed due to thunder, war, earthquake or fires, the temple worshippers worked together to re-build the pagoda. The current one is the 8th version, and it is quake-resistant.
Kondo (Main Hall) accommodates Shitennoji's main image、Guze Kannon Bosatsu (Goddess of mercy) and Shitenno (Four Heavenly Kings). Each Shitenno statue protect Guze Kannon Bosatsu in north, south, east or west.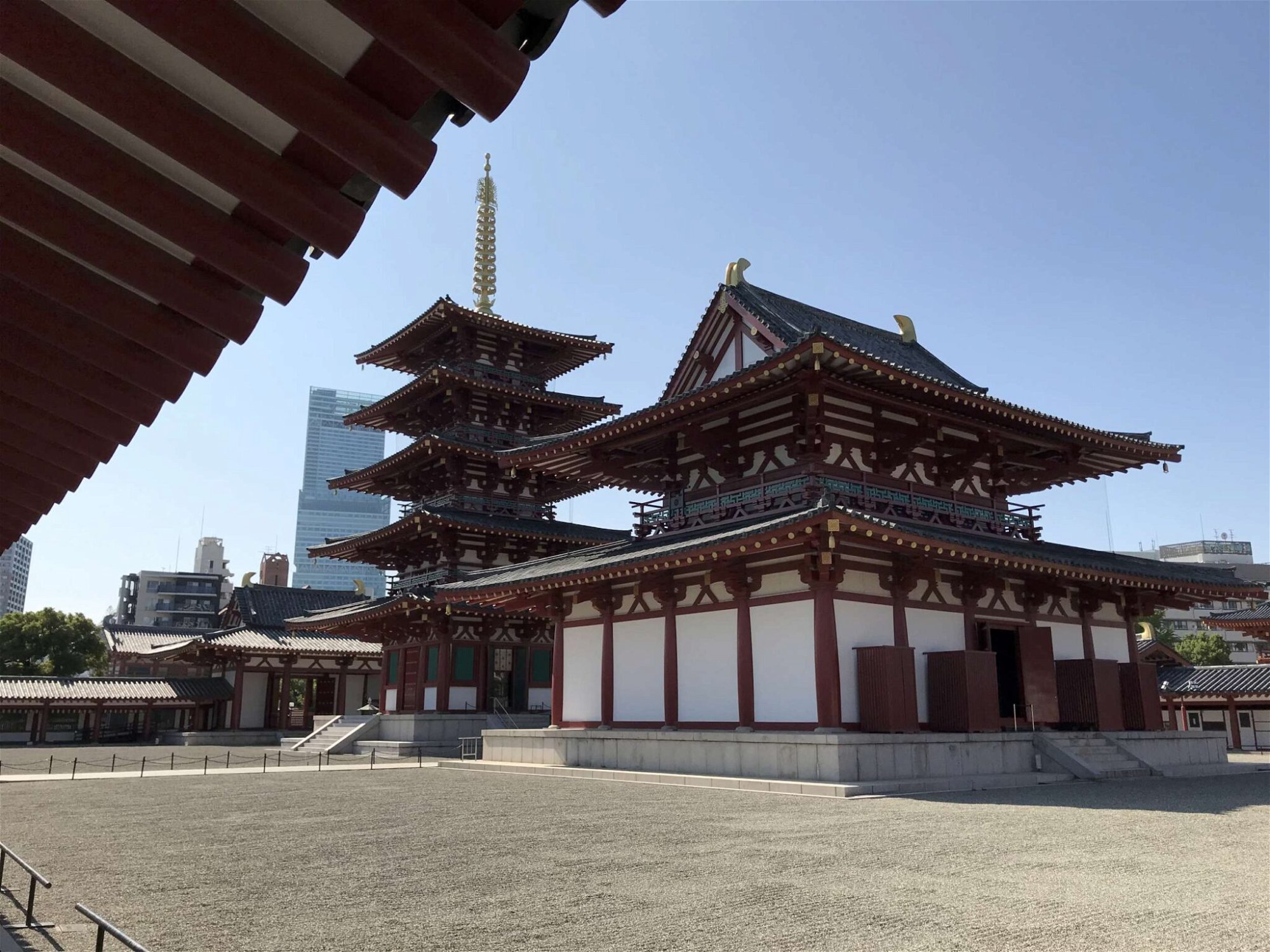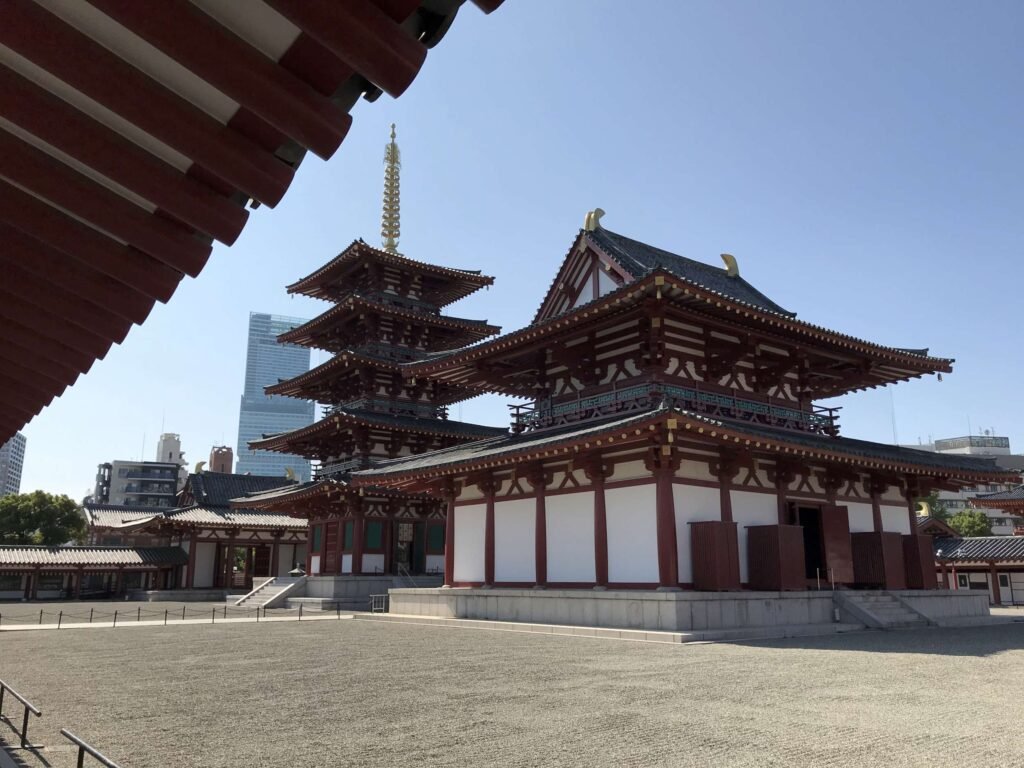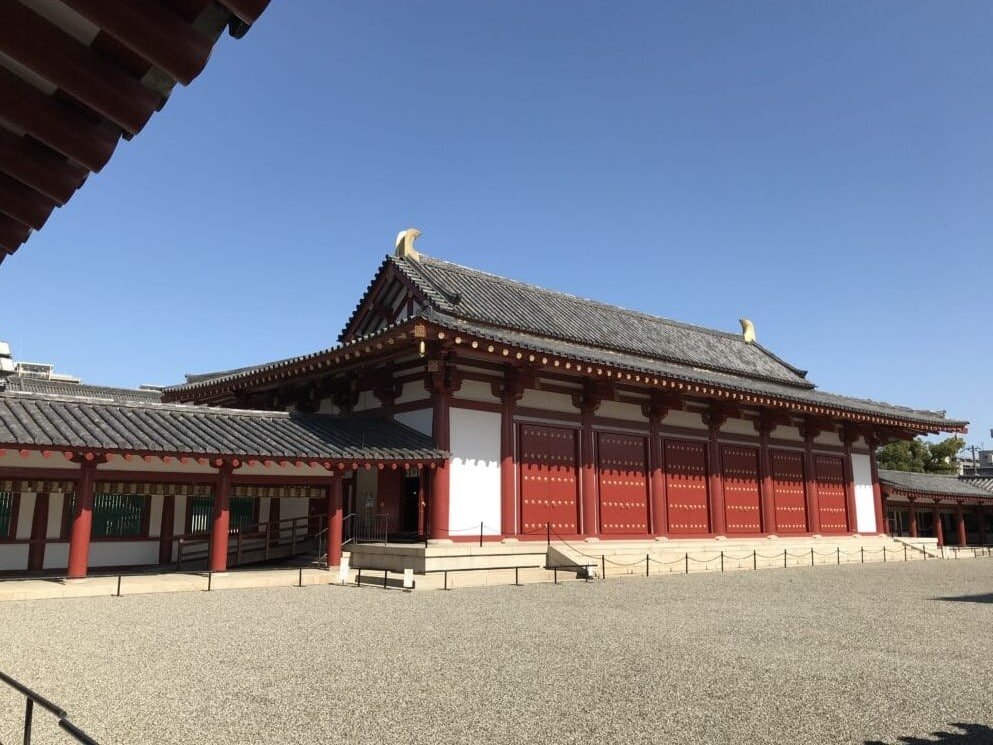 It is said that Umayado no Oji, the founder of Shitennoji Temple gave religious discourse in Kodo (Lecture Hall). There are Jyuitimen Kannon (The eleven-face Buddhist deity of mercy) and Amida Nyorai (The Buddha of Immeasurable Light and Life).
Ishi no Torii (stone entrance gate)
If you are familiar with Japanese temples and shrines, you may feel odd when you see Torii (entrance gate) in this temple, because in most cases, Torii stands at the entrance of shrines.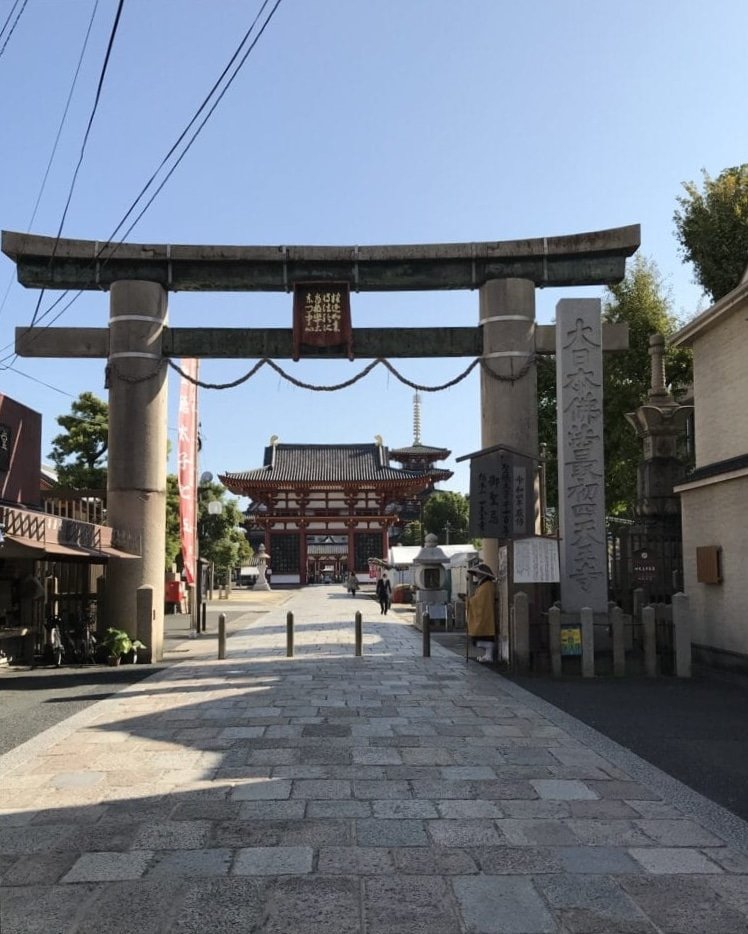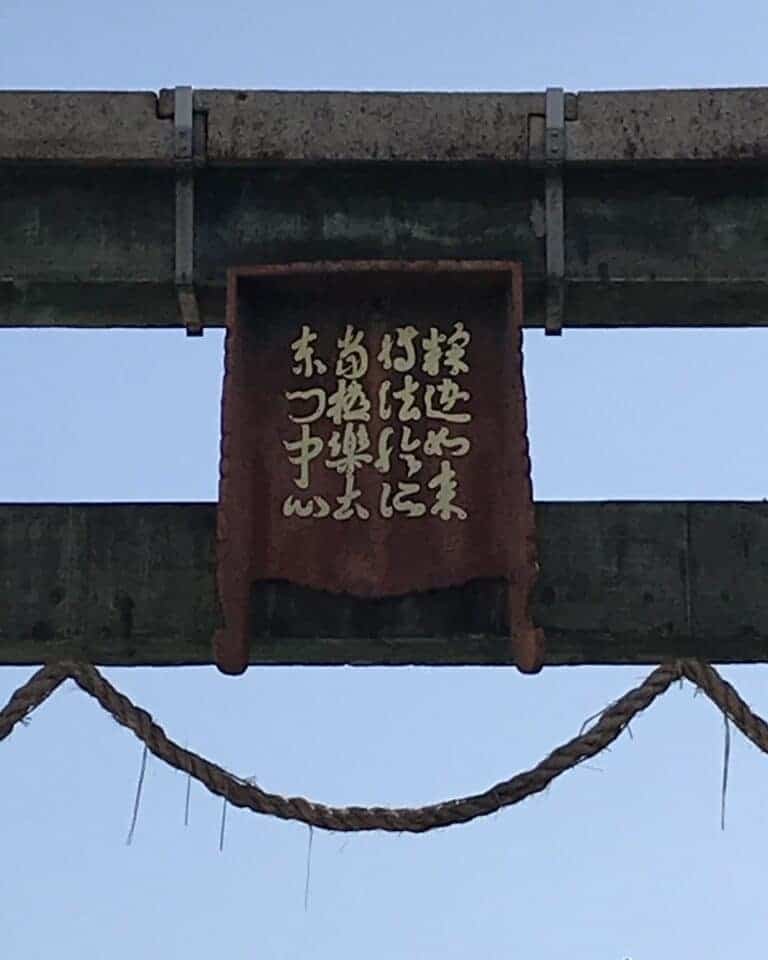 According to Shitennoji official website, torii is originally intended to serve as "sanctuary barrier" separating holy place from other areas, so it usually is not associated with a shrine.
The flamed statement reads 釈迦如来 転法輪処 当極楽土 東門中心 meaning "This is the place where Buddha appeared and gave lectures to people , and is the east gate to Buddhist Paradise". In Buddhism, paradise east gate is open to human world. In Shitennoji Temple, Nissokan meditation training to envision Gokuraku Jyodo was performed in this torii area.
Address
11-18 Shitennoji 1chome, Tennoji, Osaka
Telephone
06-6771-0066
Open
Chushin Garan and Gokuraku Jyodo no Niwa (Need entrance fee)
8:30-16:30 (April – September) 8:30-16:00 (October-March)
You can enter other areas for free 24/7
Access
Tennnoji (JR Loop Line, Osaka Metro Midosuji Line/Tanimachi Line)
Shitennoji-mae Yuhigaoka (Osaka Metro Tanimachi Line
Abenobashi (Kintetsu Line)
Website
http://www.shitennoji.or.jp/
Pine Ame – #1 Communication tool in Osaka
You may know, in Japan, when people call other one's name, they add "san" after the name of the person. For example, Ms. MORI Hiroko is called as Mori-san (a formal way using the family name) or Hiroko-san (a friendly way using the last name).
No one calls her just "Mori" or "Hiroko" (except her family or intimate friends), because it sounds very rude. Japanese people even call Donald Trump and Joe Biden as "Trump-san" and "Biden-san".
But when Japanese people want to show much closer relationship with others, they use "chan" instead of "san". Children's names are often called with "chan", like Hiroko-chan. "Chan" implies intimacy and affection.
Ame-chan is the way Osaka's people call hard candy. They are so affectionate with hard candy that they call it Ame-chan. Ame means hard candy.
Ame-chan is a usual communication tool in Osaka. When you happen to become friends with Osaka people and are given Ame-chan from the new friend, it is a decisive sign that you are accepted as a member of Osaka community. When you look tired, someone will also hand you Ame-chan saying "Eat Ame-chan, then you will be OK!".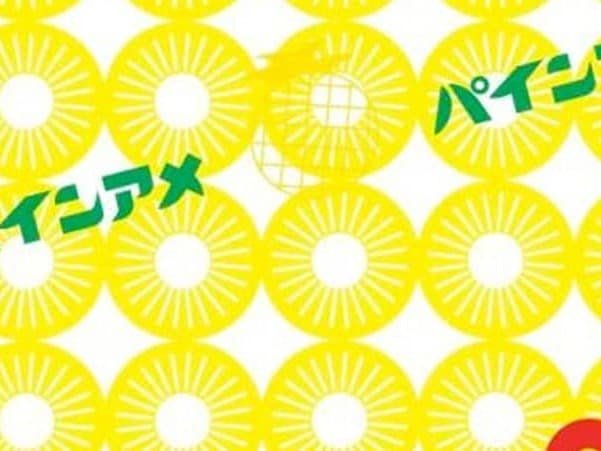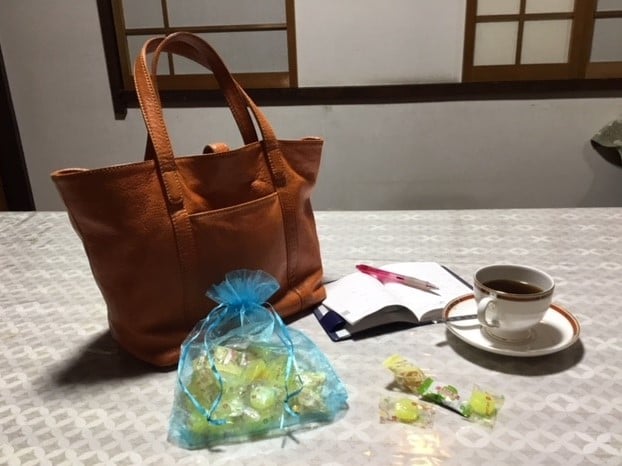 The King of Ame-chan, "Pine Ame"
The king of Ame-chan is definitely Pine Ame, the most popular Ame-chan in Osaka. Everyone loves this pineapple-flavored candy and its pop (somewhat retro) package. You can find it in every families' kitchen cupboard. Children take it on their school picnic, office workers suck it when they stuck and old people enjoy sweet and sour flavor in their teatime.
Pine Ame is produced by PINE Co., Ltd in Tennoji. The founder designed pine ame inspired by canned Dole pineapple just after WW2.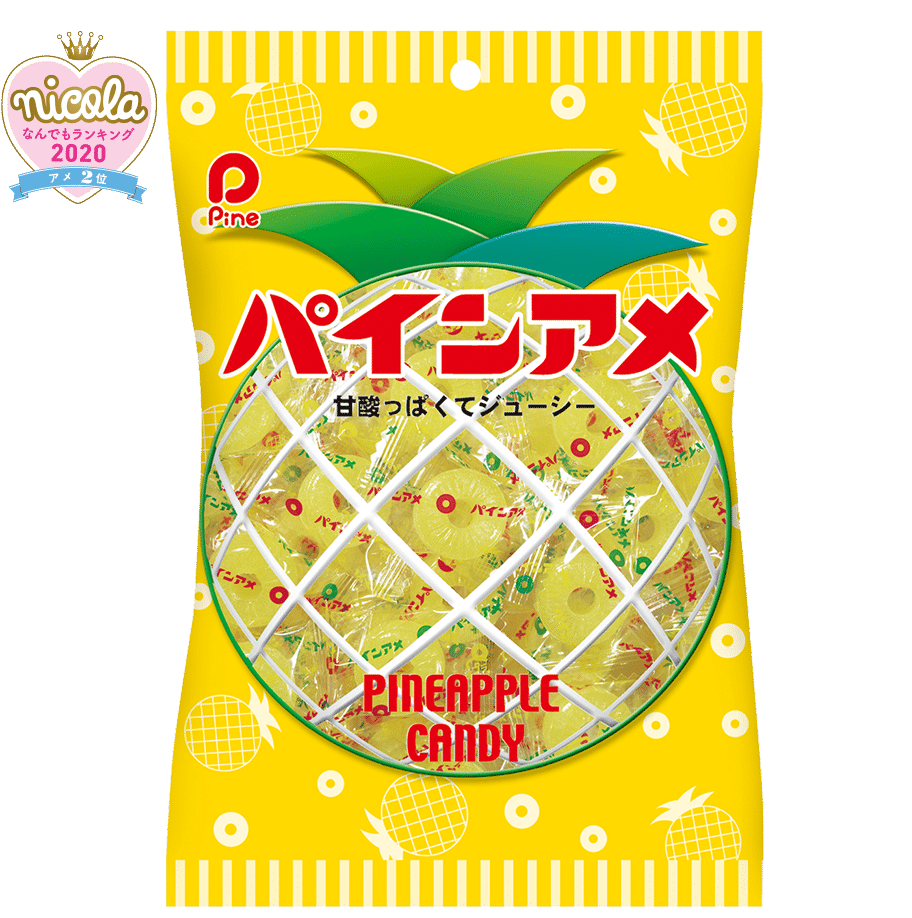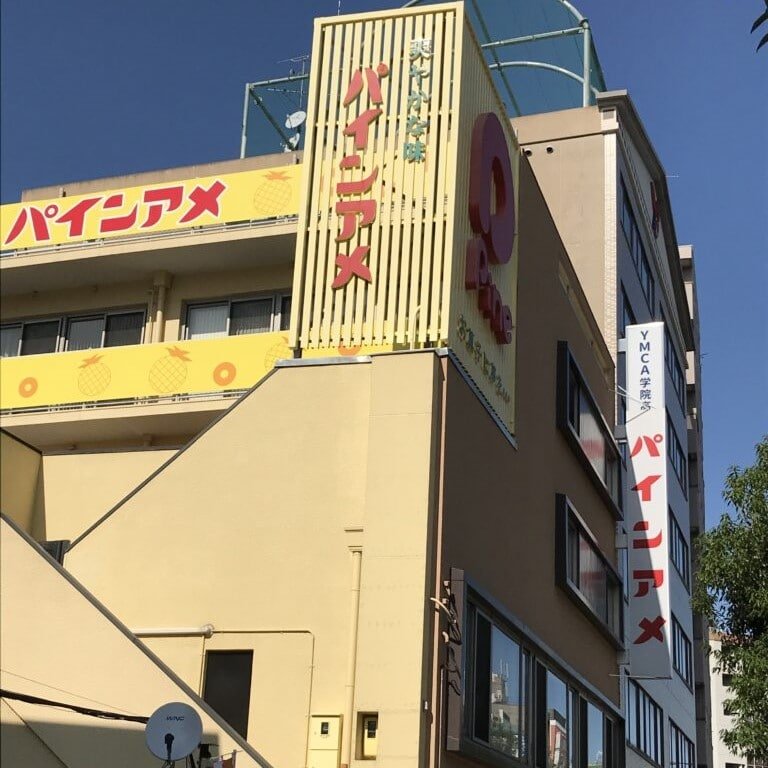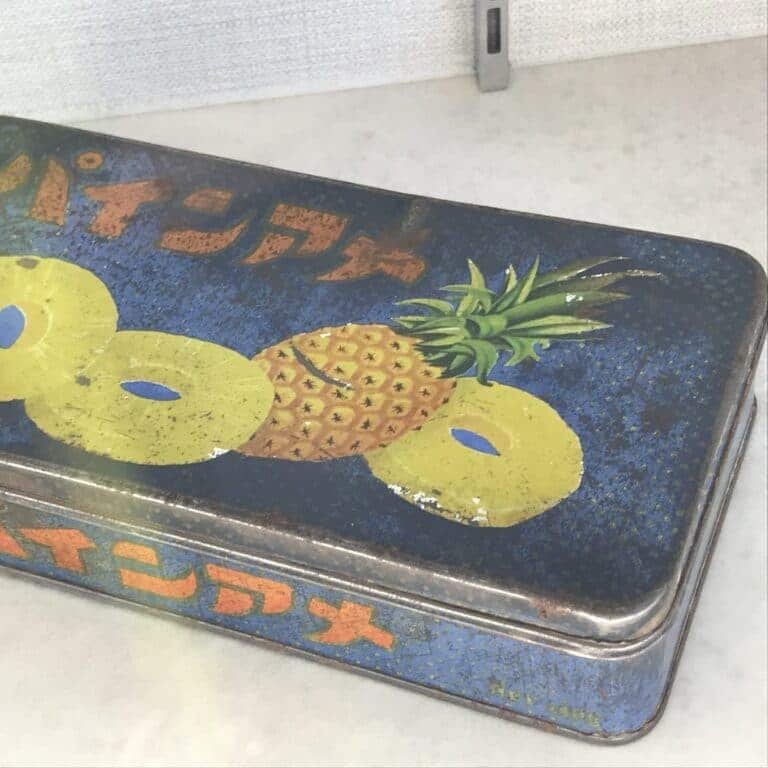 Pine Ame is not too sweet or strong, but it's the modest taste has made people relaxed and comfortable, this is why the candy has been loved for generations. Tennoji Ward
In accordance with the company's mission statement "We create products to imagine customer's happy face", they use minimal chemical additives to offer safer and healthier products for their customers.
Their signature center-holed shape is well-branded and used in a variety of collaboration products, which creates much more fun to Osaka people and others who always put this lovable candy in their bags. Tennoji Ward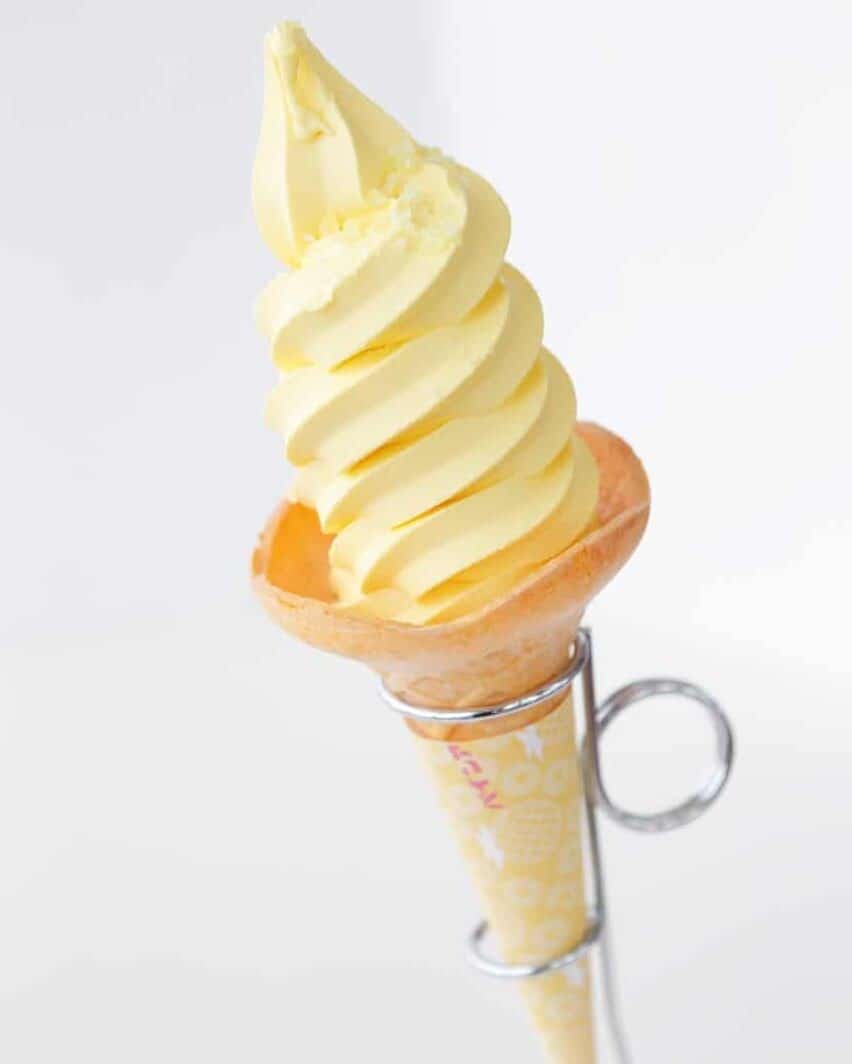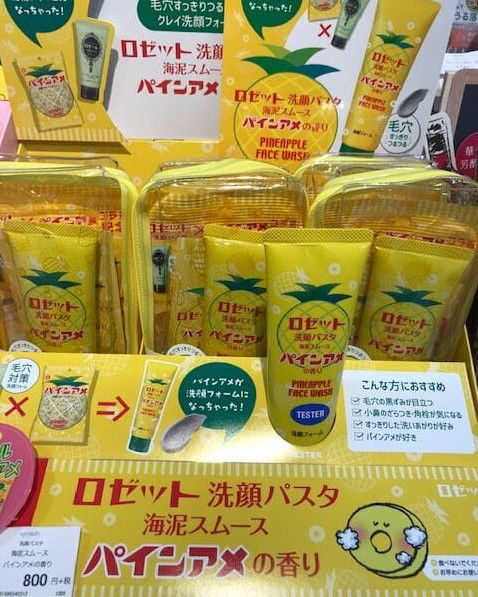 Tsurigane Manju, reminiscence of the world's largest hanging bell
Previously, there was a world's largest hanging bell (tsurigane) in Shitennoji Temple. Tennoji Ward
A Japanese traditional confectionary, Tsurigane-ya founded in 1900 just in front of Ishi no Torii in Shitennoji, took this opportunity to develop their legendary product, Tsurigane Manju. Manju is Japanese stylle bun filled with sweet bean paste. The manju became the number one souvenir for Shitennoji visitors and worshippers. Tennoji Ward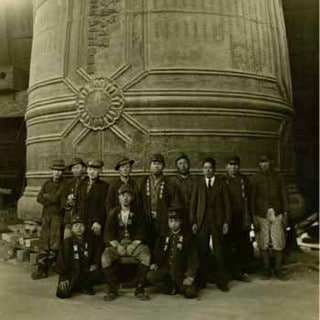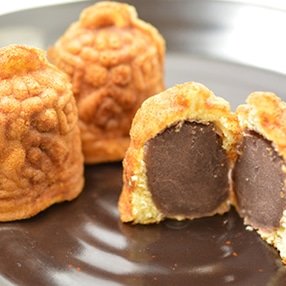 The giant bell (about eight meter in height) was made for the 1300 anniversary of Prince Umayado in 1903. Osaka people liked "number 1" and were extremely proud of it.
But unfortunately, during World War II, Japanese government issued Metal Collection Act and many temple bells all over Japan including this gigantic one were donated and melted down to produce weapons and arms.
Though the world's biggest bell was lost but people's pride never dies. Tsurigane-ya's confectionary respects the original recipe and continuously offers the everlasting comfort to everyone. Tennoji Ward