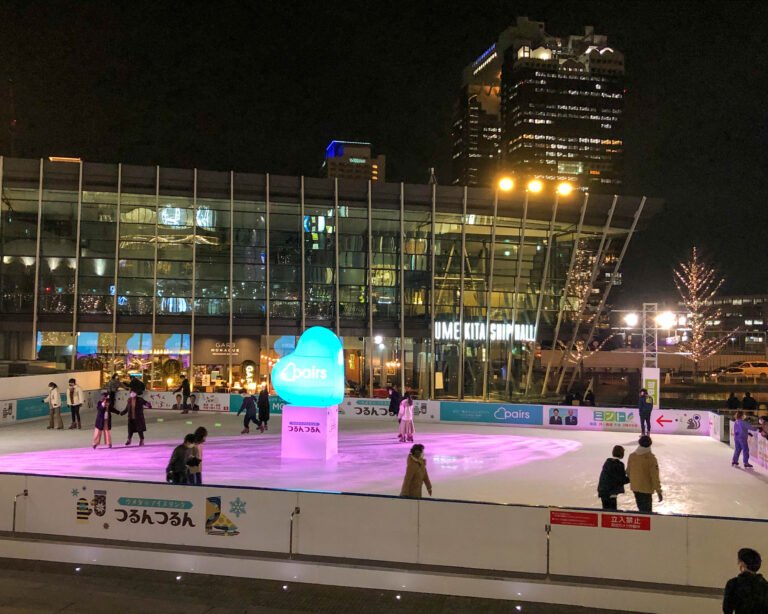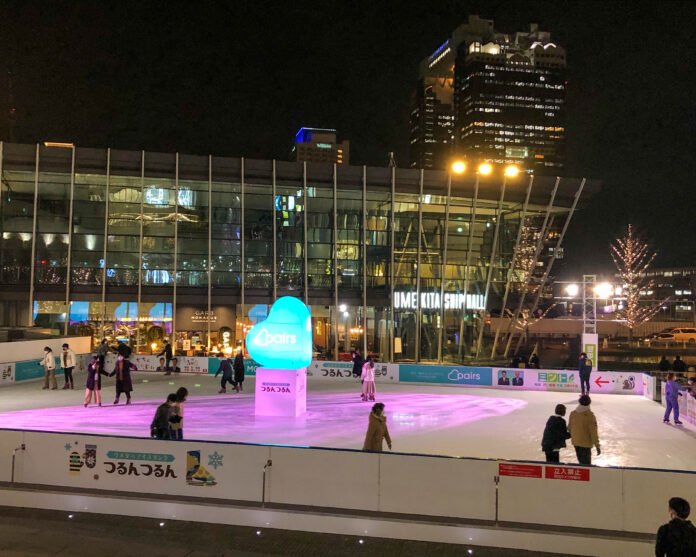 Winter may not be the peak season to visit Osaka, but there's no shortage of activities what to do here during this time of the year. Winters in Osaka are mild, with average temperatures between 5 to 10 degrees Celsius, and with clear skies, which makes wandering around the city quite pleasant. Another advantage is the visible decrease in crowds on most popular places. If you are looking for unique tips how to spend your winter holiday in Osaka, this article has got you covered.
Winter Illuminations
Winter illuminations are by far the best experience you can have in Osaka during winter months. There are several spots around the city, where you can see beautiful installations or 3D projections on buildings.
Osaka Castle Park
Every year Osaka Castle Park hosts an event called Osaka Castle Illuminage. It is claimed to be one of the best winter illuminations in Japan, where you can embark on an adventure through Japanese history from Edo to Meiji period via spectacular lit up miniatures of Japanese treasures. The event includes food and drink vendors, as well as marked photo spots.
Price and dates
The Osaka Castle Illuminage usually starts at the beginning of December, however, due to the spread of Corona virus, the event will be cancelled in 2021.
In the previous years the tickets were sold for 1500 yen.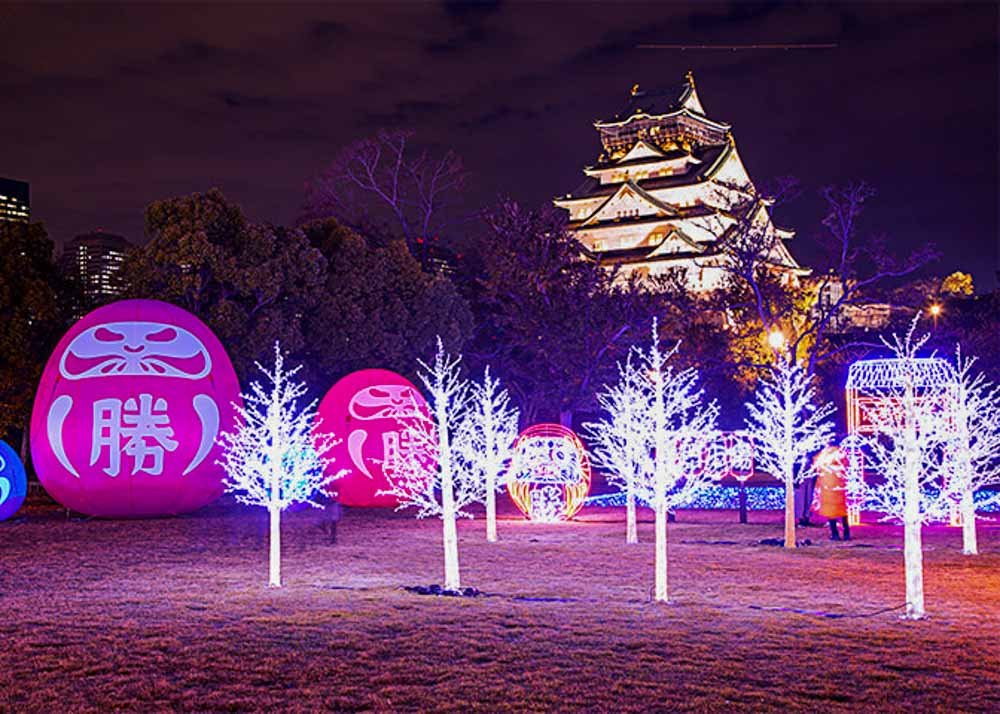 Namba Parks
Namba Parks is a shopping mall adjoined to the Namba station. On the roof, there is an actual urban park with views over city. Every winter, the park hosts Hikari Tabi Illumination that carries the theme of enchanted garden with large floral ornaments, fairies, and tunnel made of lights.
The admission to the Namba Parks illuminations is free and you can enjoy it from the beginning of December till the end of February.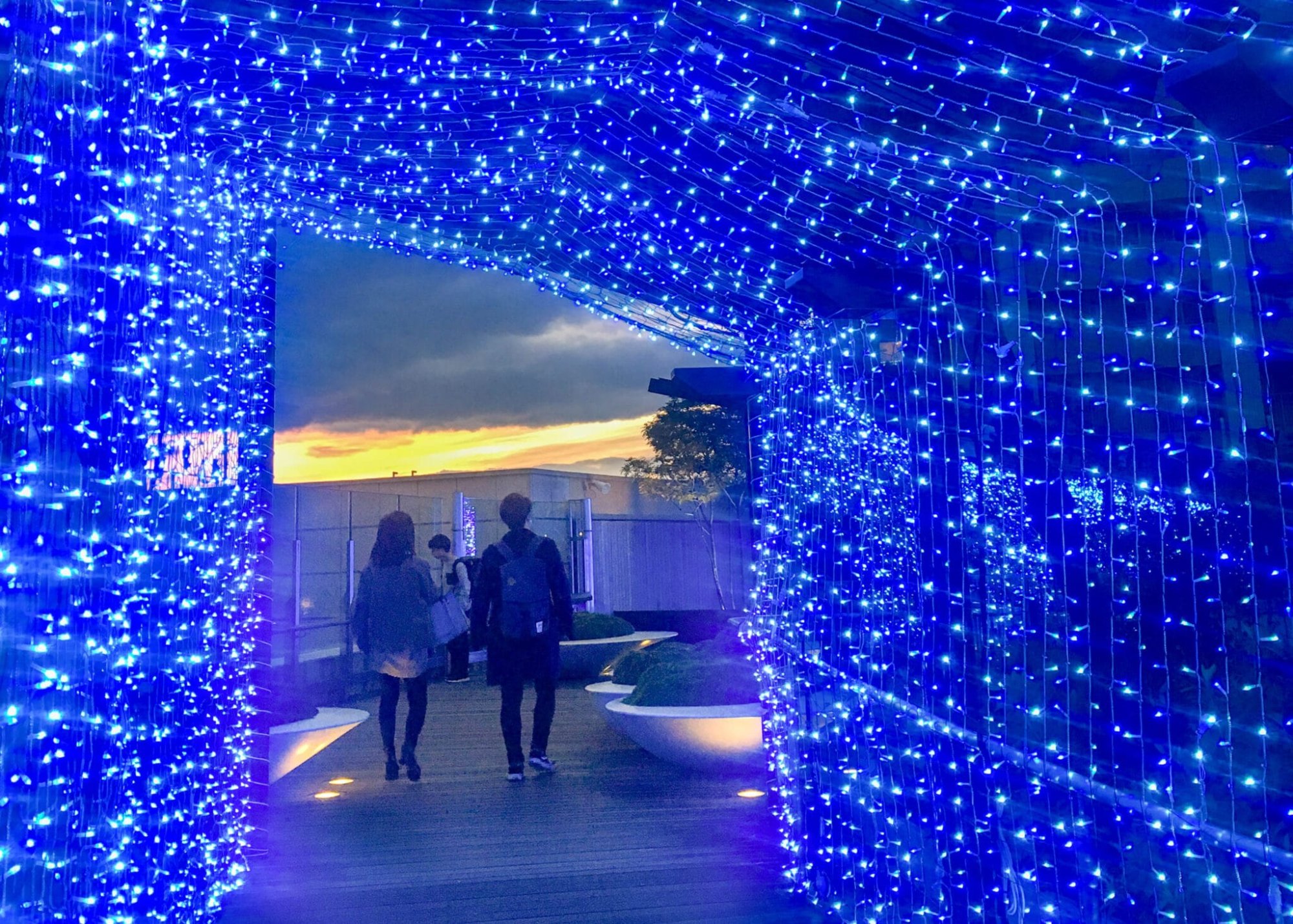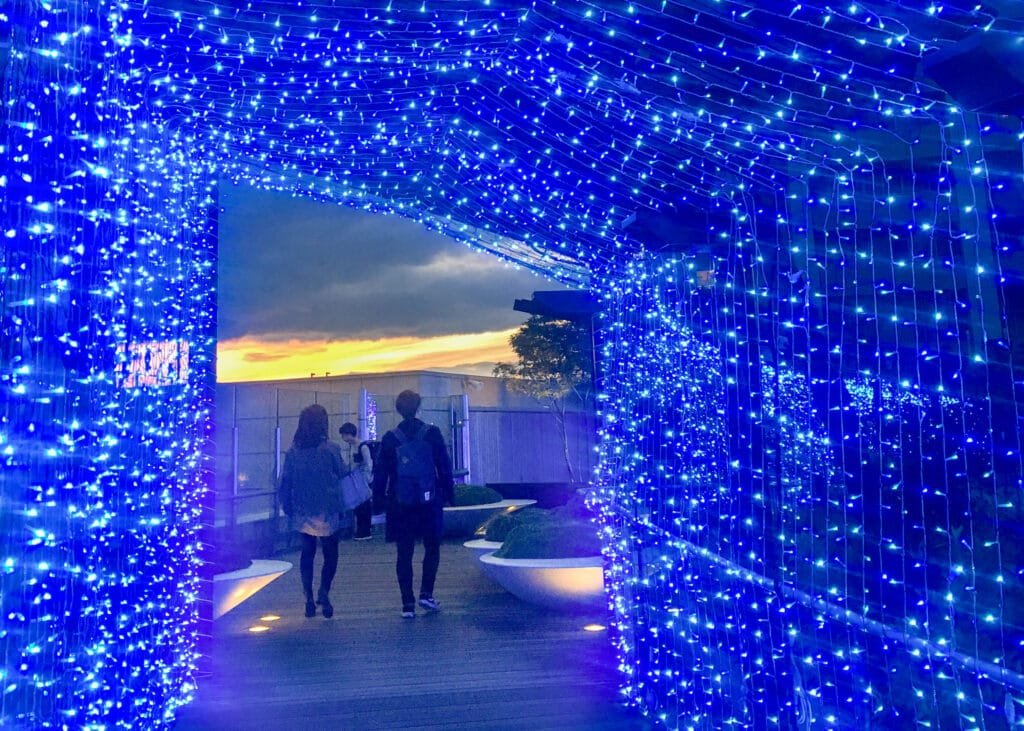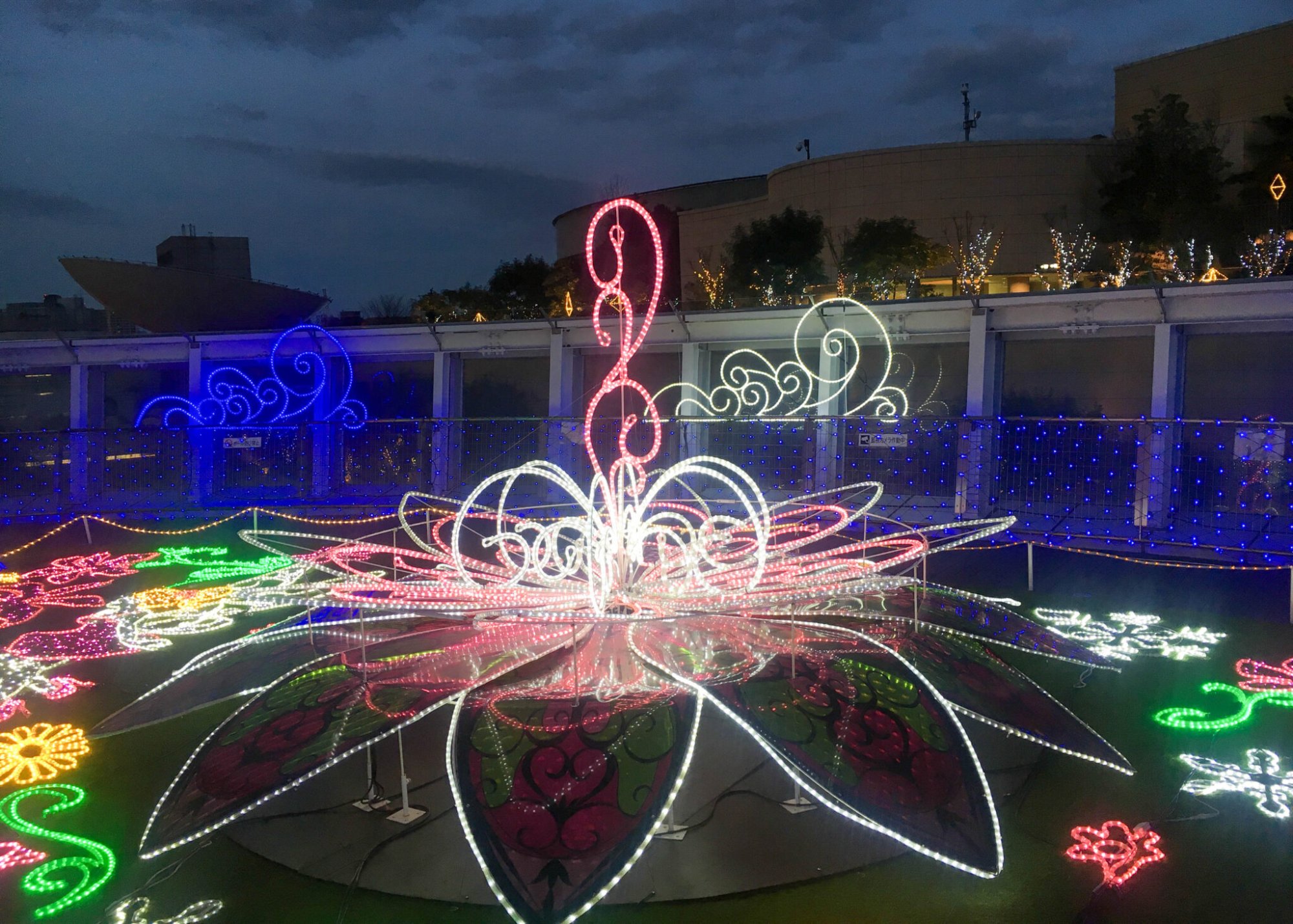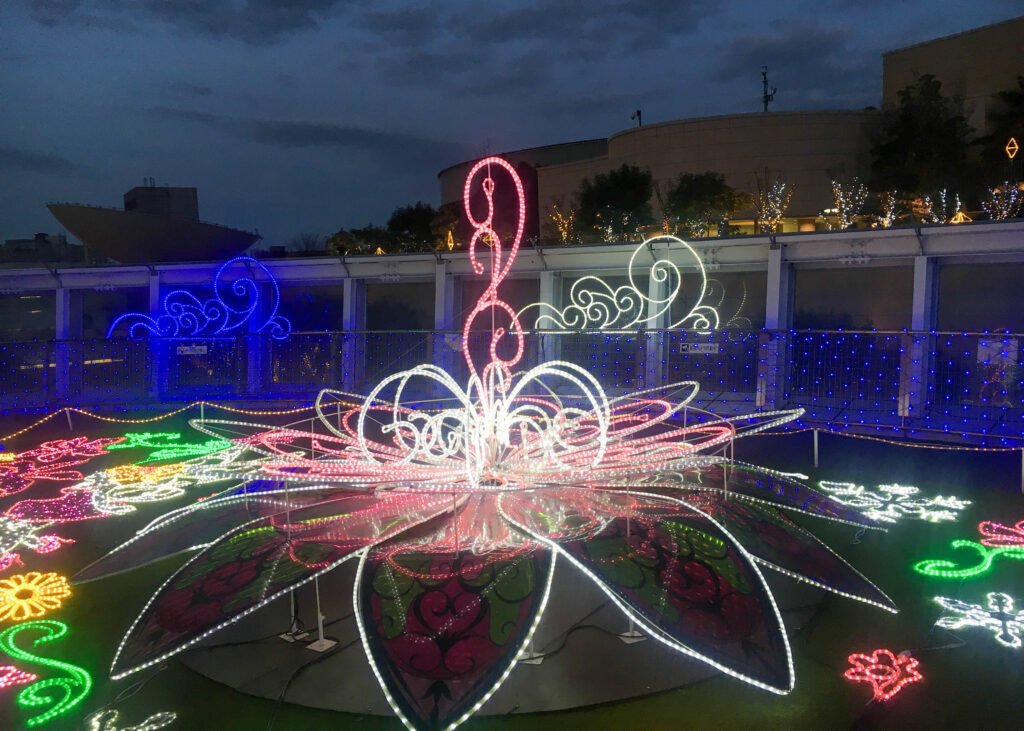 Nakanoshima Island
The waterside of Nakanoshima Island hosts its own annual festival of lights called the Hikari Renaissance. In the Nakanoshima Park, you can find some impressive light installations, while the Osaka City Central Public Hall features 3D projections.
There are no fees applied to visit Hikari Renaissance. The 3D projections usually last for 2 weeks in December, finishing on the Christmas Day on the 25th December. The larger installations are up for the whole month of December and are taken down on the 31st. You can find the detailed info on the official website here.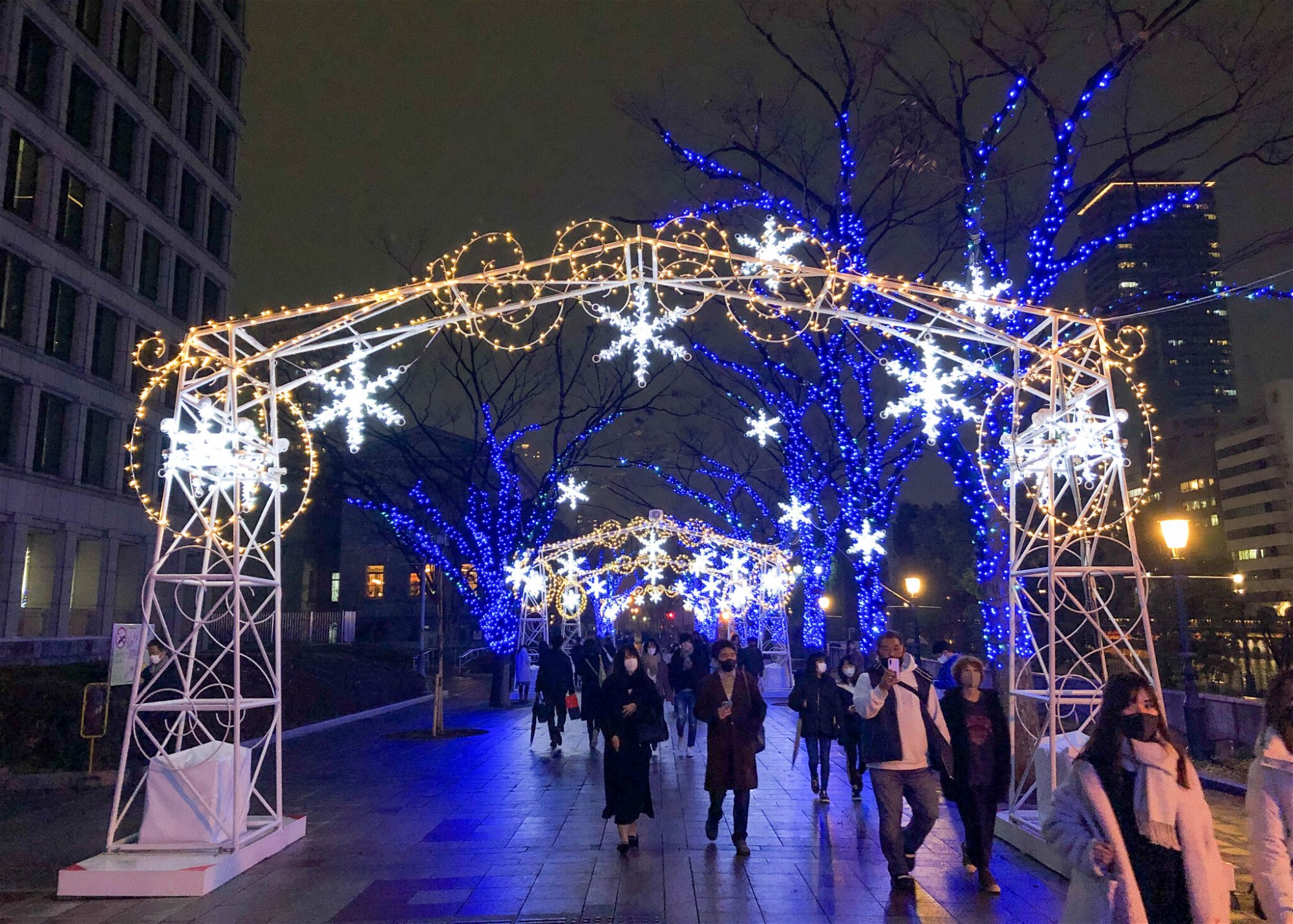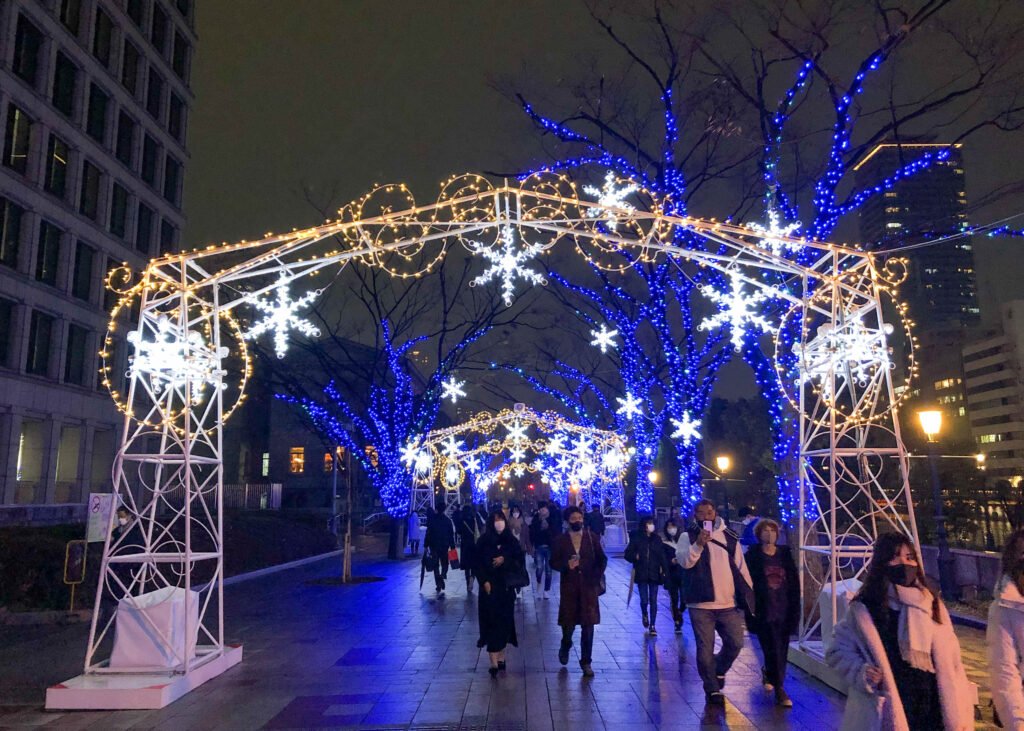 Midosuji Illuminations
Midosuji is one of Osaka's most trafficked streets. For most of its part it is lined with ginkgo trees that create a particularly beautiful autumn foliage in November. However, in winter the street is just as beautiful! In December, the city puts up hundreds of lights on every gingko that lines Midosuji. On the first day when the lights appear, the whole street is shut down for about 2 hours so people can walk around and admire the illuminations (usually from 5 pm to 7 pm). The streets remains lit up until February.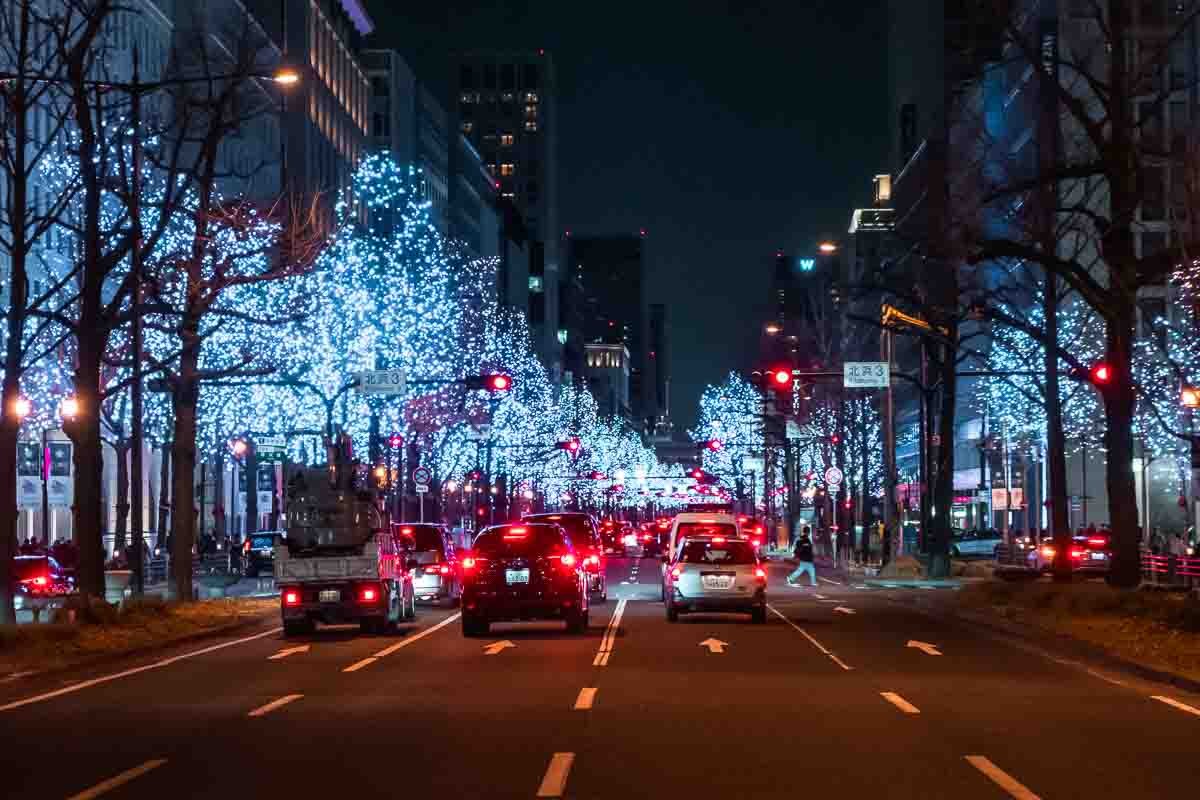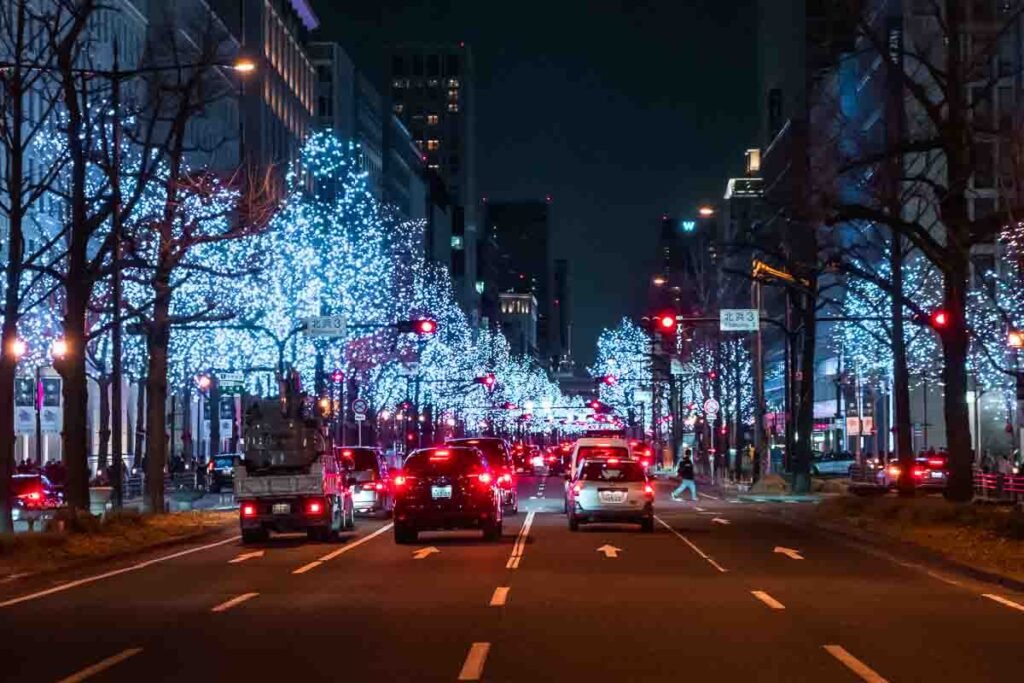 Kaiyukan Aquarium
Famous Kaiyukan Aquarium in the Osaka Bay has its own illuminations with projections on the building as well as large installations. It may not be worth the trip just to see the lights, but if you want to visit inside of the aquarium nevertheless, you should consider staying later to see the lights as well. Kaiyukan is one of the largest aquariums in Asia with incredible display of sea creatures and other animals.
Kaiyukan illuminations are running the longest from mid-November till the end of February and they are free of charge. For more detailed info, you can visit their official website here.
Grand Front Osaka
Grand Front Osaka is a large shopping mall and commercial complex located right next to the Osaka Station. Every year Grand Front hosts a Christmas event called Grand Wish Christmas from mid-November till the 25th of December. As a part of Grand Wish Christmas, the shopping mall lights up with some majestic illuminations that carry a different theme every year. The illuminations start at 17:00. The shops are open until 21:00 and restaurants till 23:00 (can differ from each venue). There are no entrance fees.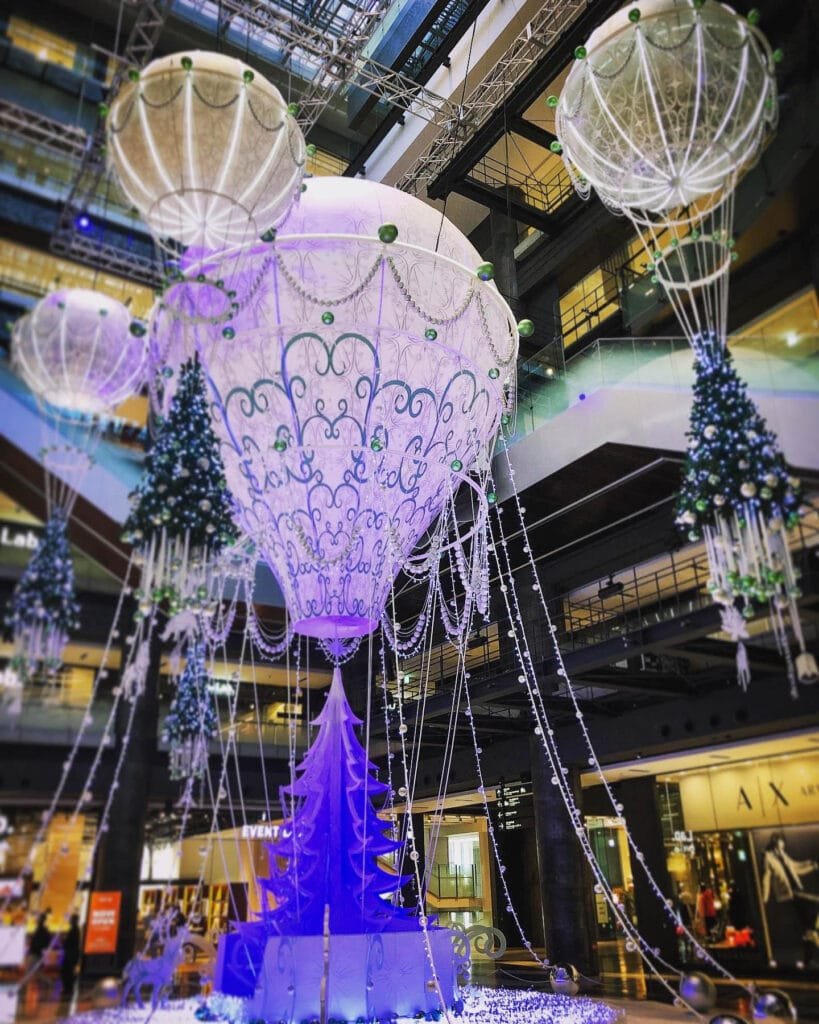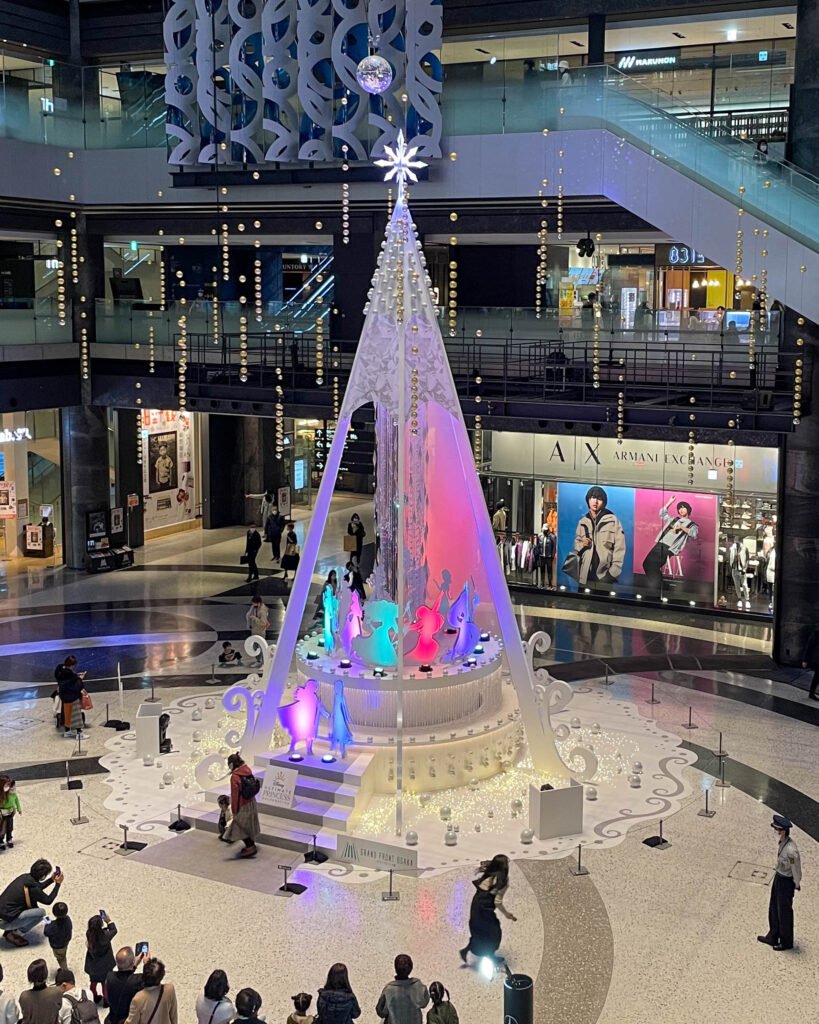 German Christmas Markets at Umeda Sky Building
Although the winter illuminations around the city are stunning, no place brings more festive mood than German Christmas Markets at the Umeda Sky Building in the centre of Osaka. The ambiance is undoubtedly European, with the scent of mulled wine and gingerbread smelling in the air and Christmas carols playing from every stall. In the middle of the square there's a giant Christmas tree decorated with thousands of LED lights, and a Nativity Scene. Kids can go on a ride on a vintage carousel.
The entrance to the markets is free. They usually last for about 2 weeks around Christmas time, but unfortunately, they have been cancelled in 2020 and 2021.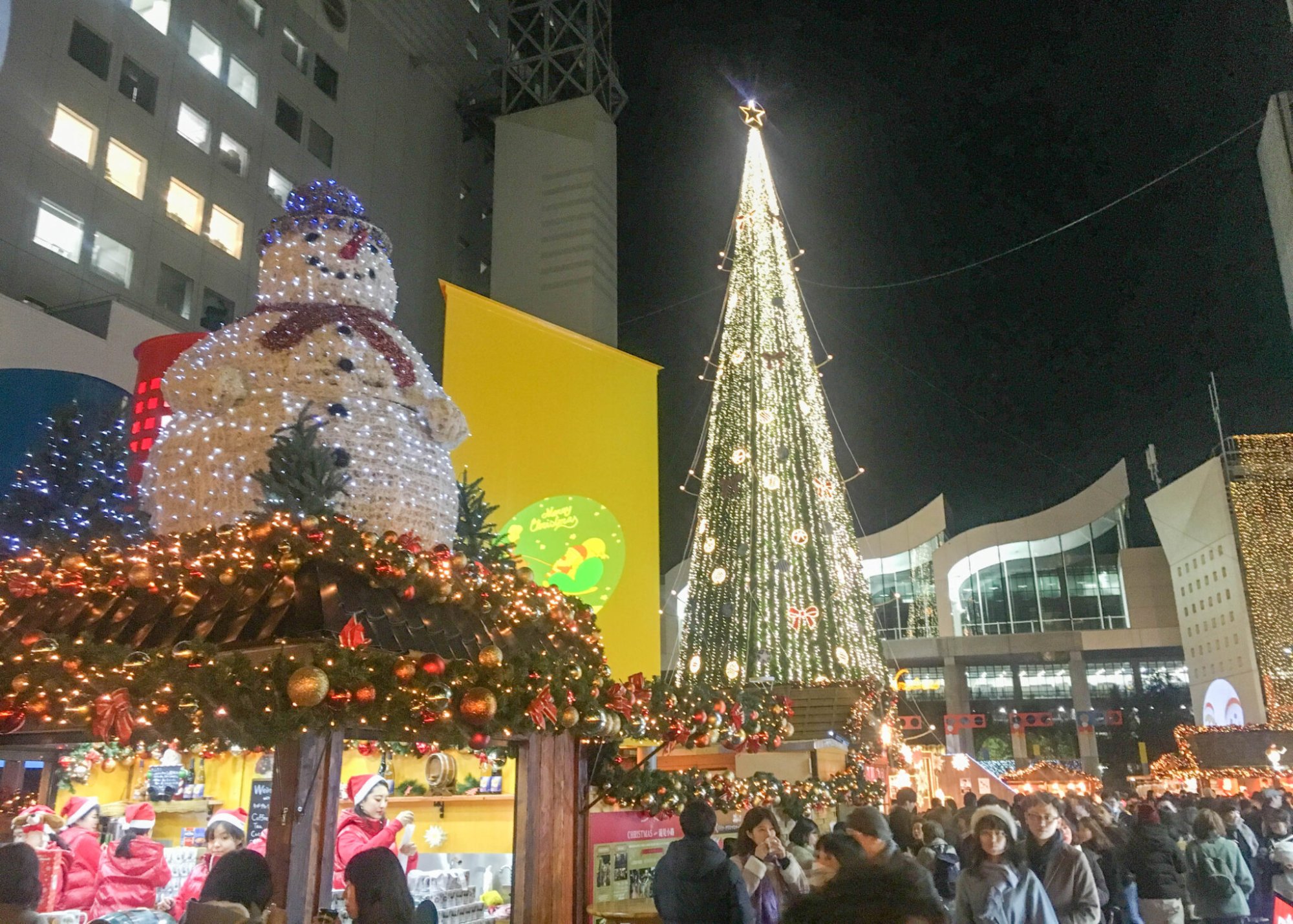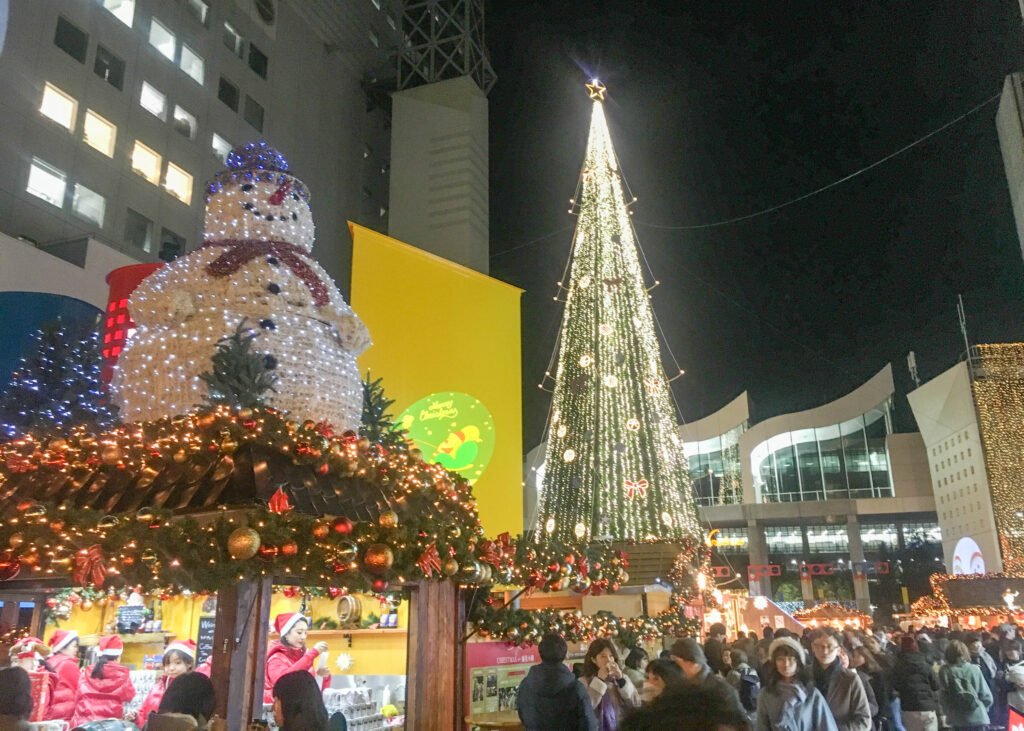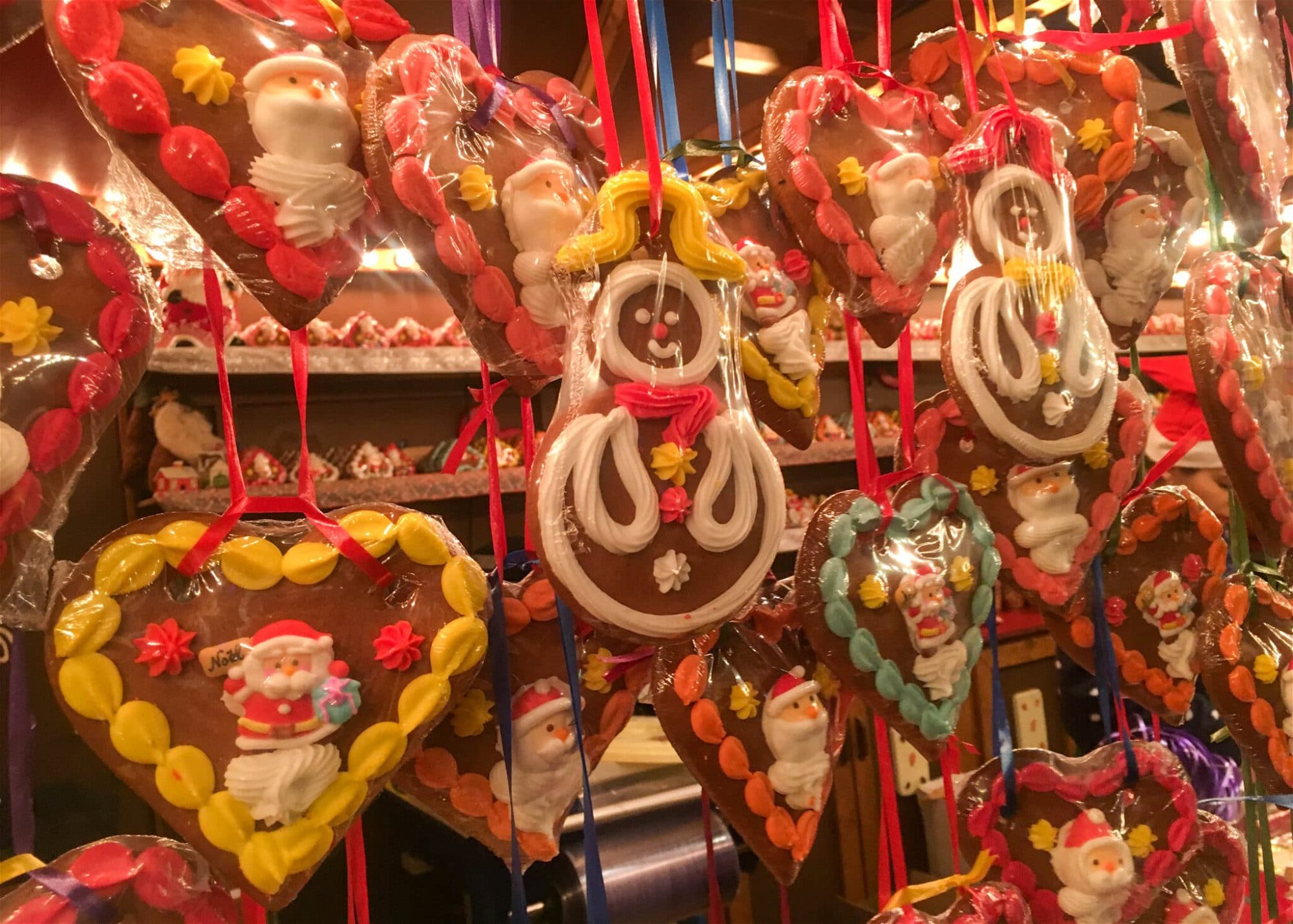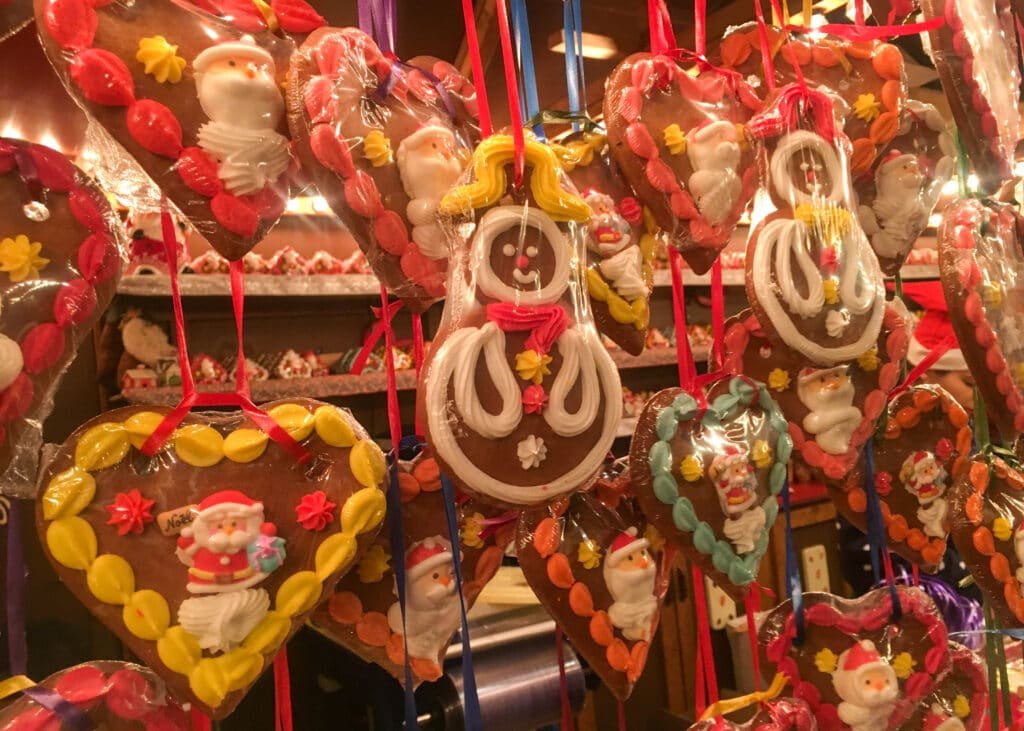 Amusement Parks
Amusement parks in Osaka don't stay behind in winter festivities and every year they prepare their own special holiday program for their visitors. The two best parks to visit in Osaka are the Universal Studios, and a smaller lesser known Hirakata Park.
Universal Studios
USJ holds several annual events throughout the year, but the Christmas event is probably the most pompous. Besides their incredible decorations and illuminations, you can also experience here several Christmas shows per day. Everything you need to know about visiting Universal Studios Japan is summed up in our article here.
Hirakata Park
Hirataka Park is a popular amusement park in Osaka, and one of the oldest continuously operating amusement parks in Japan. It is located in Hirakata city on the north of Osaka. Every winter they organize their special Winter Carnival with winter illuminations carrying a different theme every year. The winter 2021/2022 is called "Time Travel Fantasy".
The illuminations in Hirakata Park last the longest in all of Osaka, they usually start at the beginning of November and they are on until beginning of April. However, they are available only on weekends and public holidays from 17:00. You have to pay the park entry, which is 1500 yen for an adult.
Hirakata Park is walking distance from Hiraka-koen station, where you can get easily with Keihan line from Kyobashi station in Osaka.
Celebrate Japanese New Year
The Japanese New Year, Shogatsu 正月,is the most important holiday of the year. It lasts from 1st to 3rd January, however, the celebrations usually take up the whole week. Families gather together on the 31st of December to celebrate the beginning of the new calendar year. Unlike in the West, welcoming the New Year is a family tradition, so you will not see many people heading out on the night of the 31st December. Young people come back to their hometowns to engage in a set of traditional customs.
Japanese New Year Customs
Even though Japanese New Year is not about the party, you can still participate in the celebrations. At midnight on the 31st December, people usually gather in the temples where the bells ring 108 times. This event is known as joya no kane. According to an ancient tradition, the bells shall ring 107 times in the old year and once more in the New Year, when you will be cleansed of all your problems and worries from last year.
Another tradition is eating soba noodles on the New Year's Eve. Soba noodles are made of buckwheat flour and they are said to represent long and healthy life.
When strolling around the city, don't forget to notice typical New Year decorations in front of houses and businesses. It is called kadomatsu and it is believed that during the period from Christmas till January 7th, it provides a temporary home for a deity that ensures great harvest and blessings from family's ancestors.
New Year in Osaka
If you are celebrating New Year in Osaka, there are several count-down places around the city where you can welcome the New Year. You can embark on a countdown sightseeing cruise in Osaka Port, join a party in Grand Front Osaka, or experience more spiritual start of the New Year in Sumiyoshi Taisha Shrine.
Closures
Be aware that even though celebrating New Year in Japan is a unique experience, it brings certain challenges. Many tourist attractions, restaurants, shops, museums and even ATMs can be closed for multiple days, or operate in shortened hours. Please don't forget to double-check the opening hours online before planning your trip.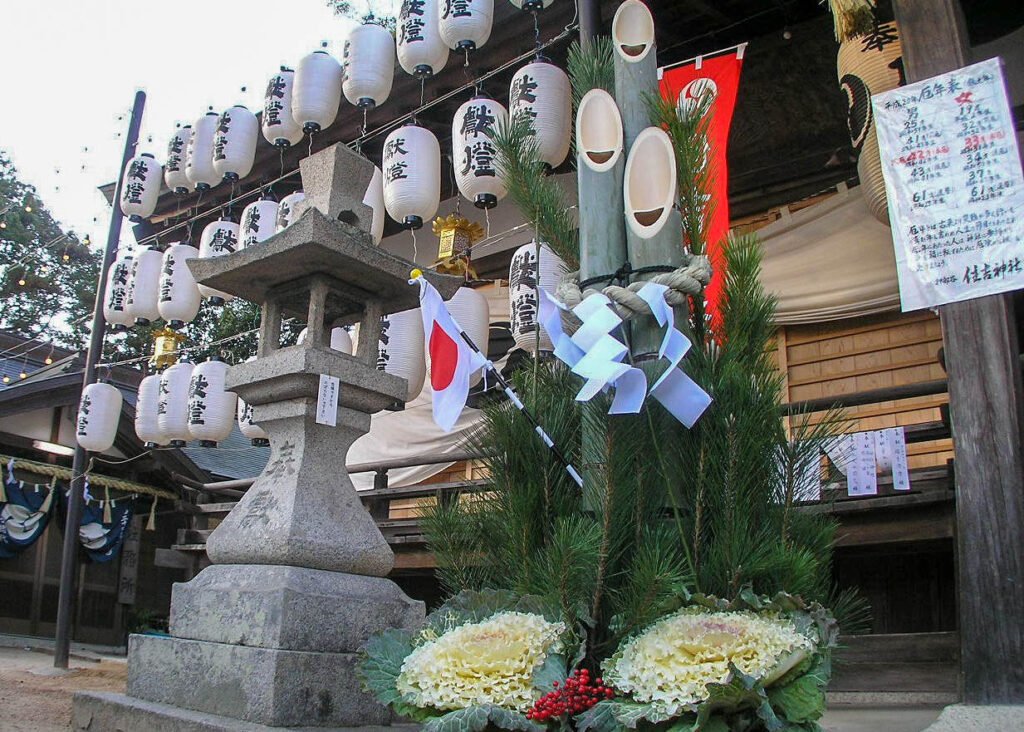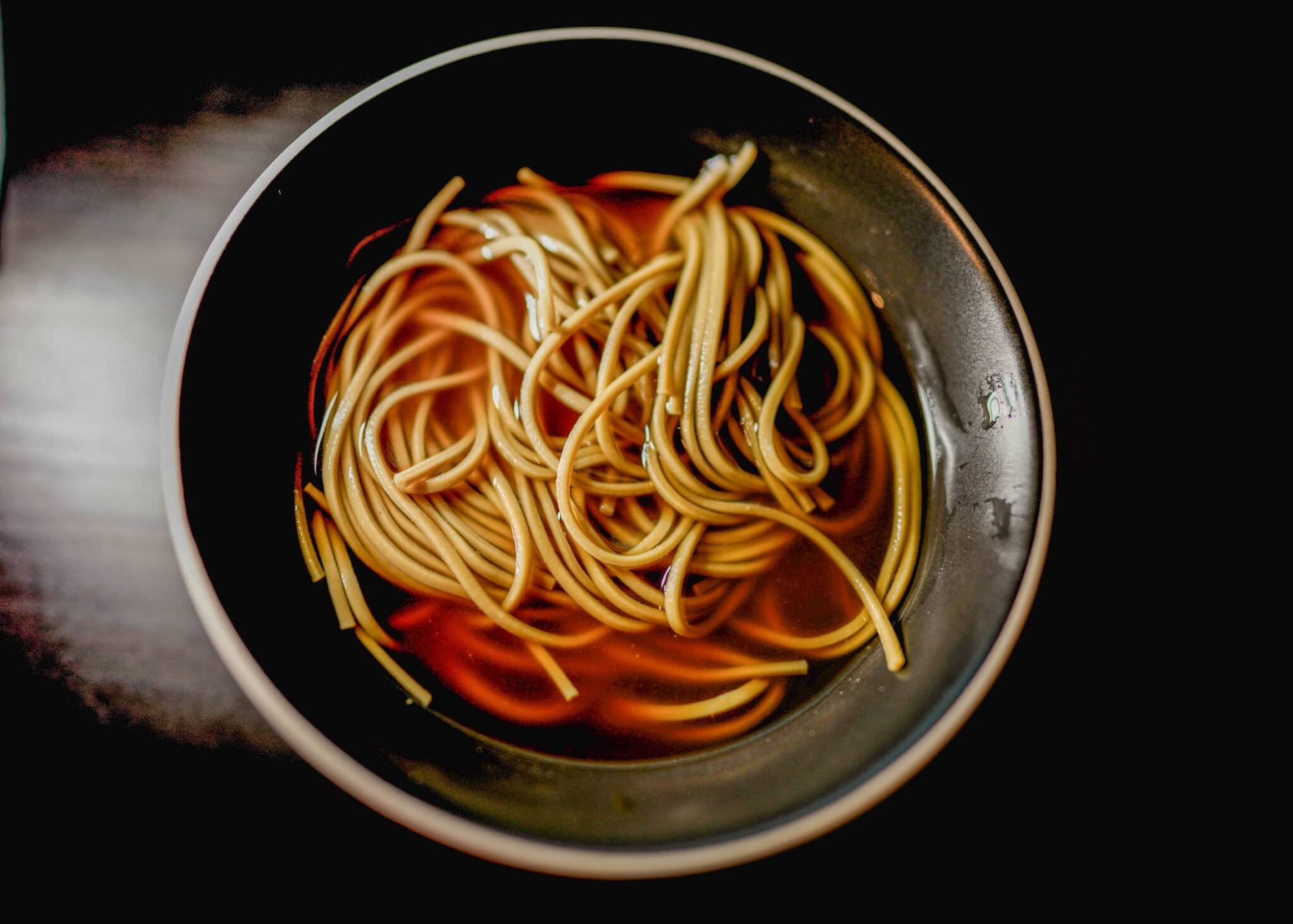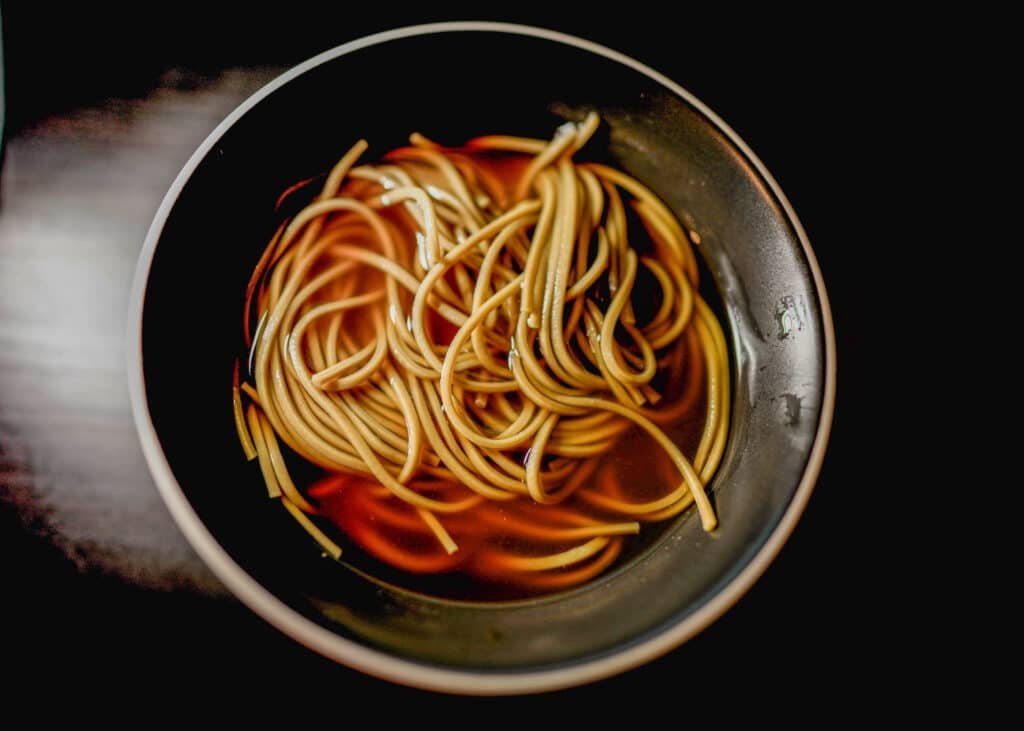 Relax in an onsen
There is nothing more relaxing than soak in a natural hot spring after a long cold day of sightseeing. Onsen, or hot springs, are one of Japan's oldest and most popular traditions with a very long history. Even though there are plenty of onsen towns across the country, Osaka has also several great onsens and public bath houses where you can unwind. Here are some of the best ones:
The onsen culture and rules
Before your visit of an onsen, you should be aware of certain rules that come with your visit. Even in the 21st century, many places have zero tattoo policy and if you have visible tattoos, you won't be able to enter the facilities.
You don't wear any swimsuit in onsens and public bath houses, everyone is naked. The rooms are divided for women and men only, there are rarely mixed baths. In western culture it might seems a little bit strange, but Japanese people enjoy bathing with their family and friends. In Japanese, they have an expression hadaka no tsukiai which refers to a special relationship that friends can develop, when they don't hide behind their clothes.
Before entering the public bath, you have to take a shower. People usually sit on a small stool and properly clean themselves. Shampoos and shower gels are provided for you.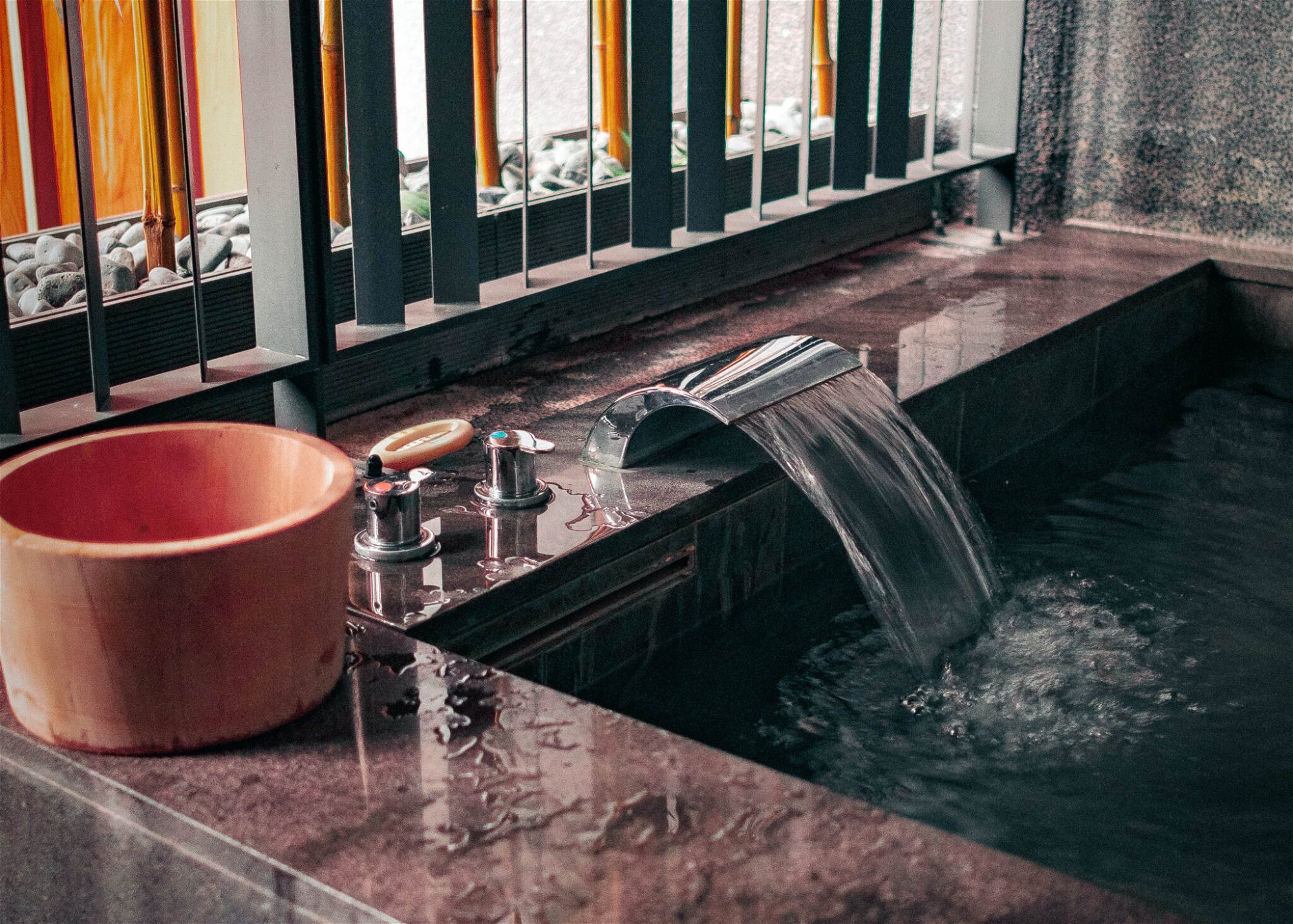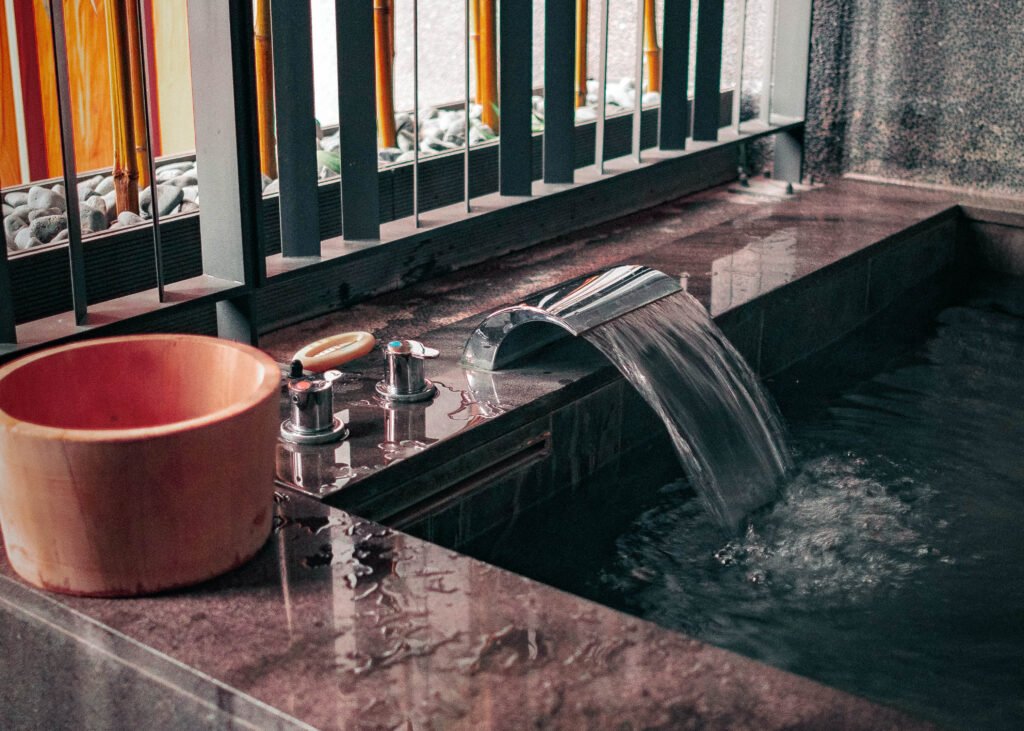 Warm up with seasonal hot pot dishes
With Osaka being the Kitchen of Japan, every trip to this city should be accompanied by sampling some delicious Japanese cuisine. In winter, restaurants all around the city serve seasonal dishes that warm up your body and soul. The most popular ones are 'one-pot' dishes called nabe.
Nabe
Nabe, or nabemono, is type of one pot dish popular especially in colder months. Most nabe are a type of soup or stew that is commonly cooked on the table in a large ceramic pot. The ingredients can vary, depending on the restaurant and the type of nabe, but the usual selection includes mushrooms, beef, root vegetables and seafood. Many izakayas and ryokans have nabe hot pot on their winter menu.
Oden
Oden is a type of Japanese nabemono. It consists of several ingredients that are boiled in dashi broth. The most common ones are daikon (white radish), egg, konnyaku, fish cakes and tofu, but you can also find shiitake mushrooms, sausages or seafood on the menu. Oden is a typical winter dish served in many restaurants all around Japan during this time of the year. It is so popular that you can find it in convenience stores as well. Even though the dish may not look as much at the first sight, it is really delicious and worth trying! You usually pick which ingredients you would like to have in your oden. My favourite is daikon, because it absorbs all the delicious umami flavours of the dashi broth.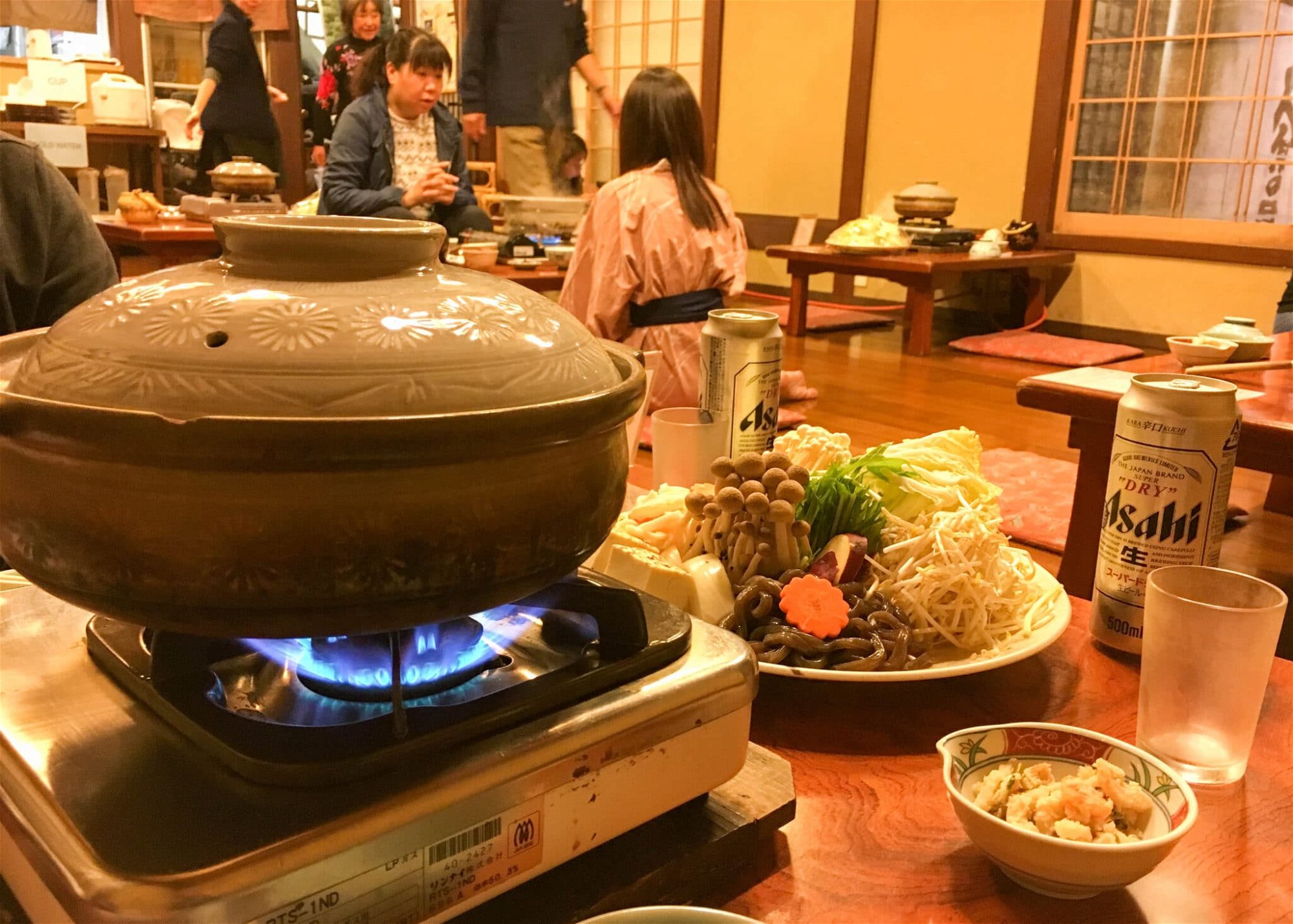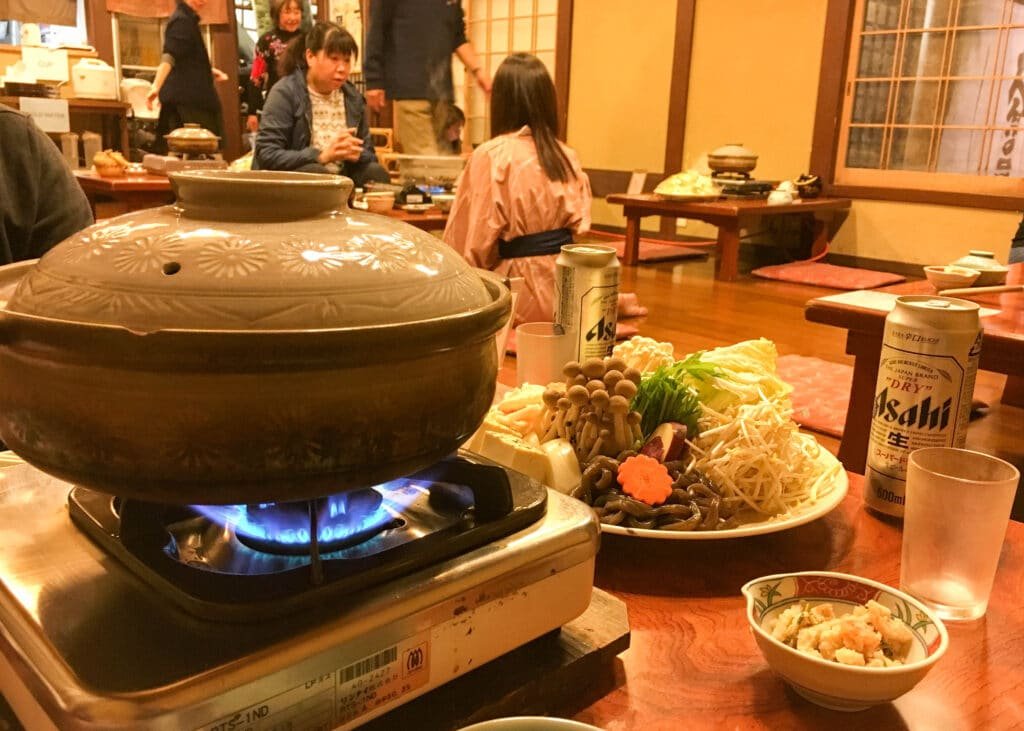 Go ice-skating
Several ice skating rings pop up around Osaka during winter months, so if you love this activity, you can enjoy it right in the city. The most notable ice skating ring is Grand Front Ice Skating in front of Grand Front Osaka, next to the Osaka Station. You can combines ice skating with the viewing of winter illuminations in this area, or with your visit of German Christmas Markets at Umeda Sky Building.
Other notable ice skating rings are Naniwa Ice Skating rink and Mazuren Intec Osaka Pool but they are located bit further from the city.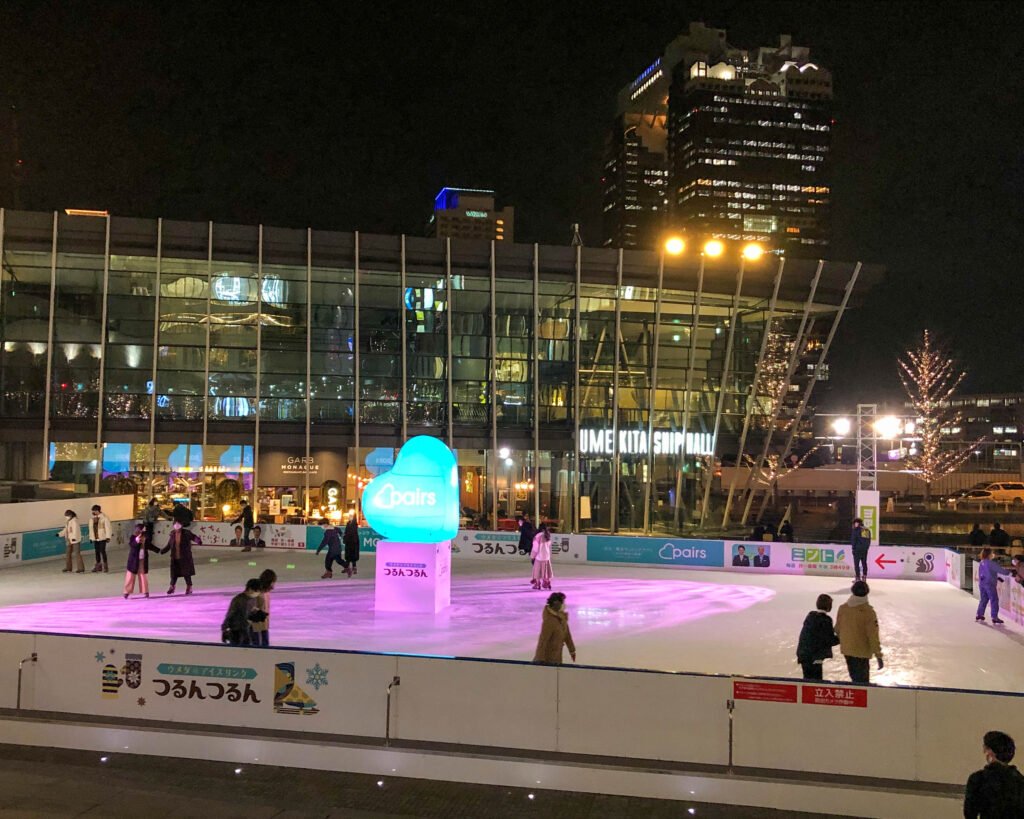 Plum blossom viewing in late-February
If you are visiting Osaka in February, don't miss out on blooming plum trees. Plums, ume in Japanese, have bright pink or white flowers, and unlike cherry blossoms, plums have pleasant sweet scent. There are two awesome places to do plum flower viewing in Osaka:
Plum Grove in Osaka Castle Park
Osaka Castle Park is known for its thousands of sakura trees that bloom in early April, but you can also find here a plum grove with around hundred trees. From the garden you can also get an amazing view on the Osaka Castle as well. The admission is free and the garden is open daily 24/7.
Osaka Tenmangu Shrine
Walking distance from Osaka Museum of Housing and Living and Tenjinbashi Suji shopping arcade, there's a charming shrine from the 10th century. Osaka Tenmangu shrine features several plum trees and hosts annual exhibition of ume blossom bonsai trees during the month of February.
The closest station to the shrine is Temma station. The shrine is open daily from 9 am to 5 pm.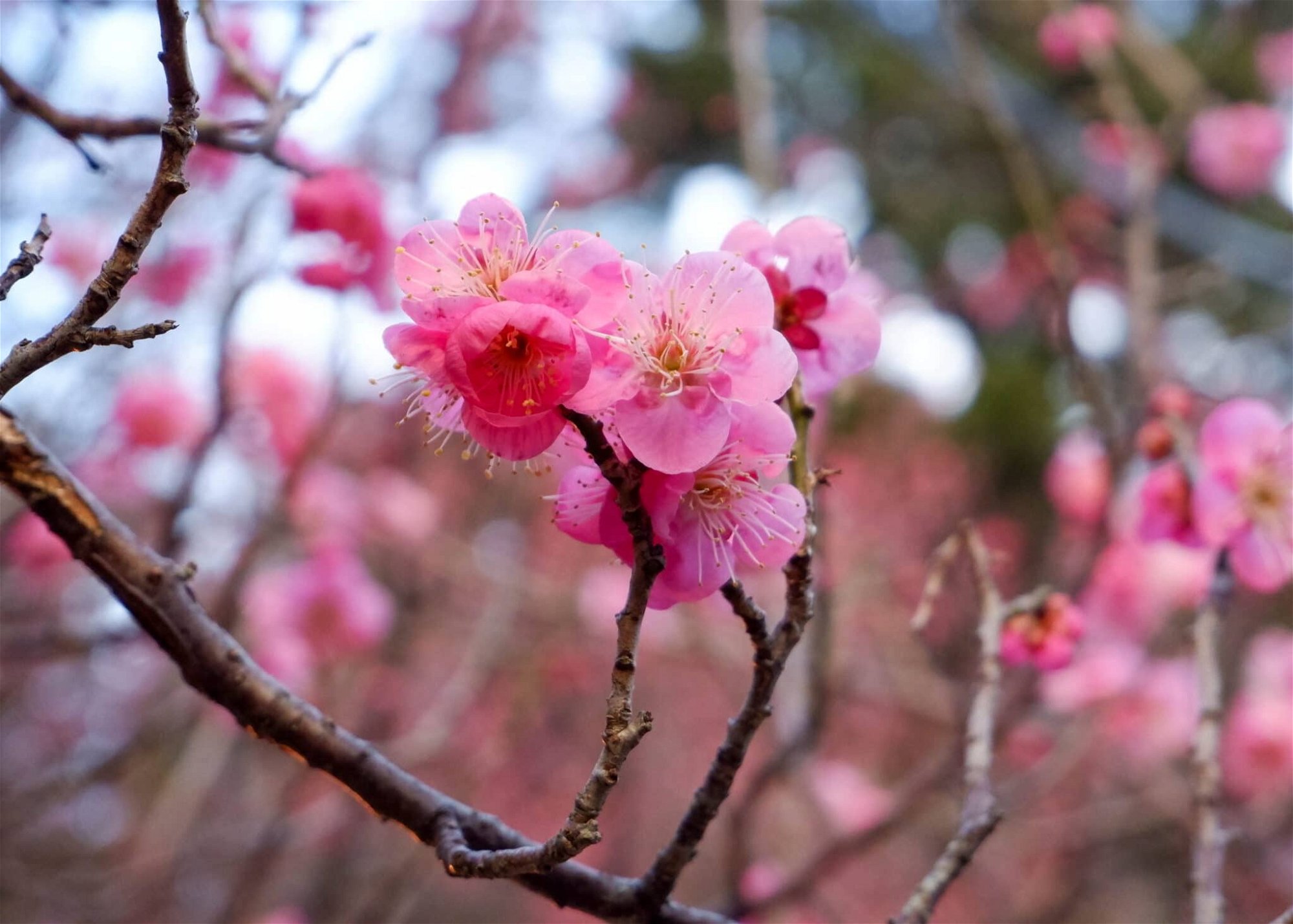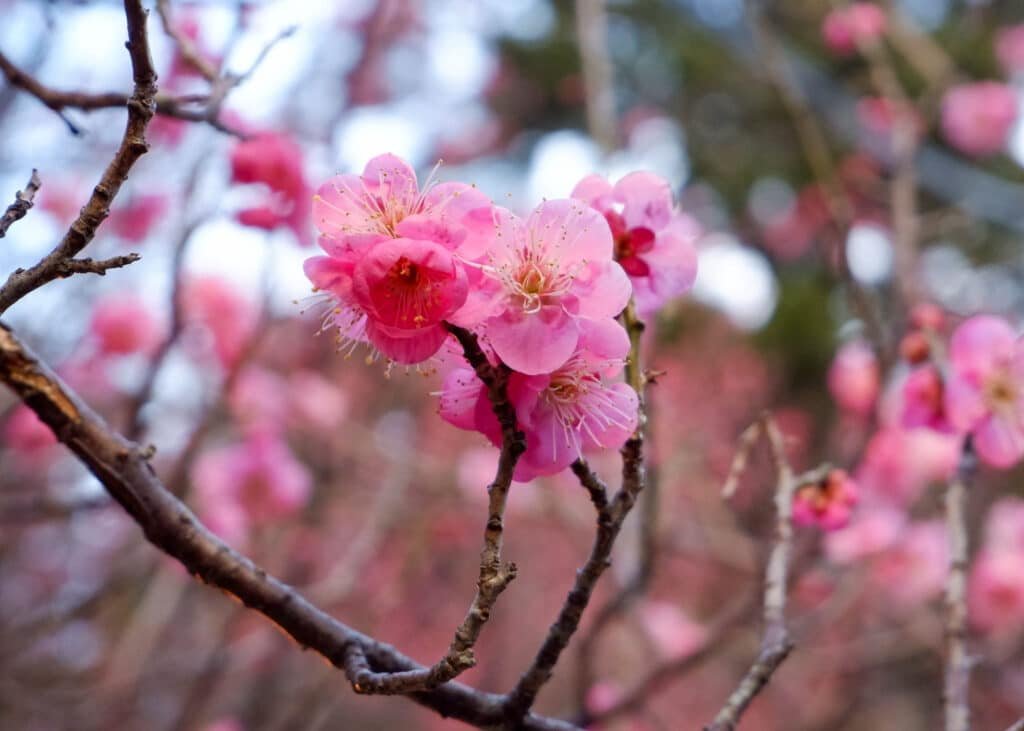 Celebrate Setsubun in February
At the beginning of February, you will notice in convenience stores around the country a higher concentration of sushi rolls for sale, as well as packages with roasted soy beans and an oni mask (oni is a demon in Japanese folklore). This signals that a Japanese holiday Setsubun is approaching.
Setsubun is usually held on the 3rd of February and it celebrates the beginning of spring, according to Japanese lunar calendar. The name setsubun translates at seasonal division in Japanese. For centuries, people on this day were performing rituals to drive away the evil spirits (oni), by throwing soy beans around their houses, temples and shrines. Another popular custom is eating Eho-maki sushi rolls. You need to eat your roll without talking, while facing the lucky direction of the year. The tradition of eating Eho-maki originated in Osaka.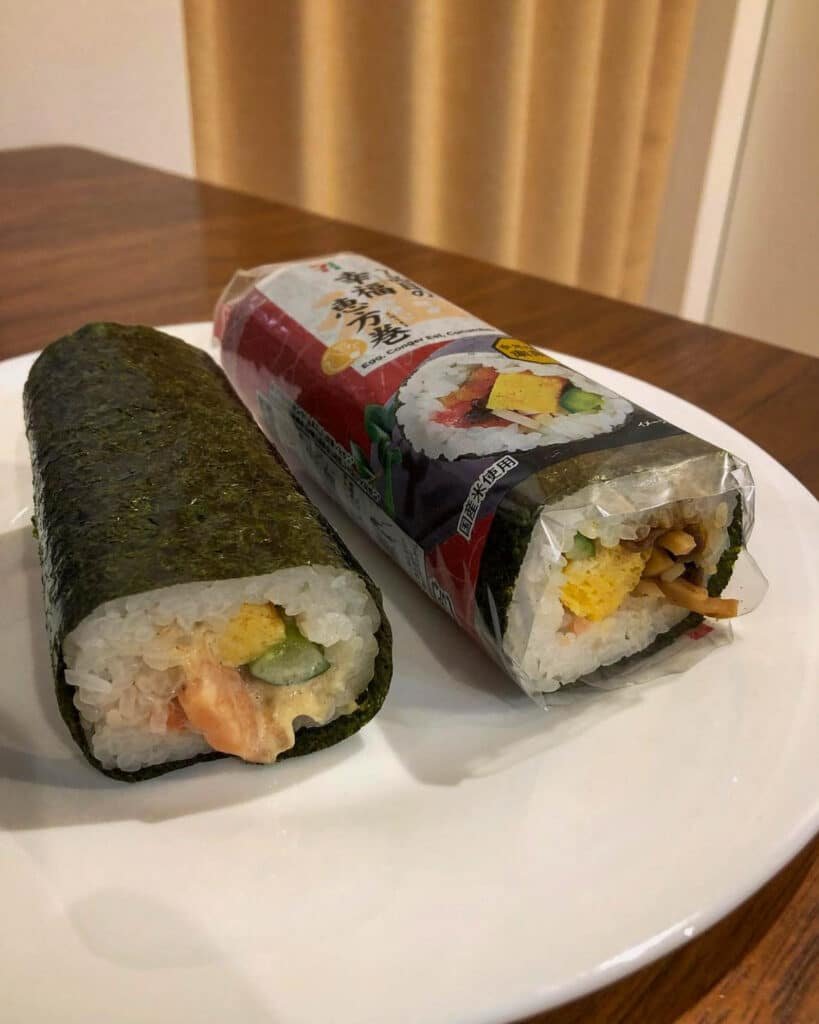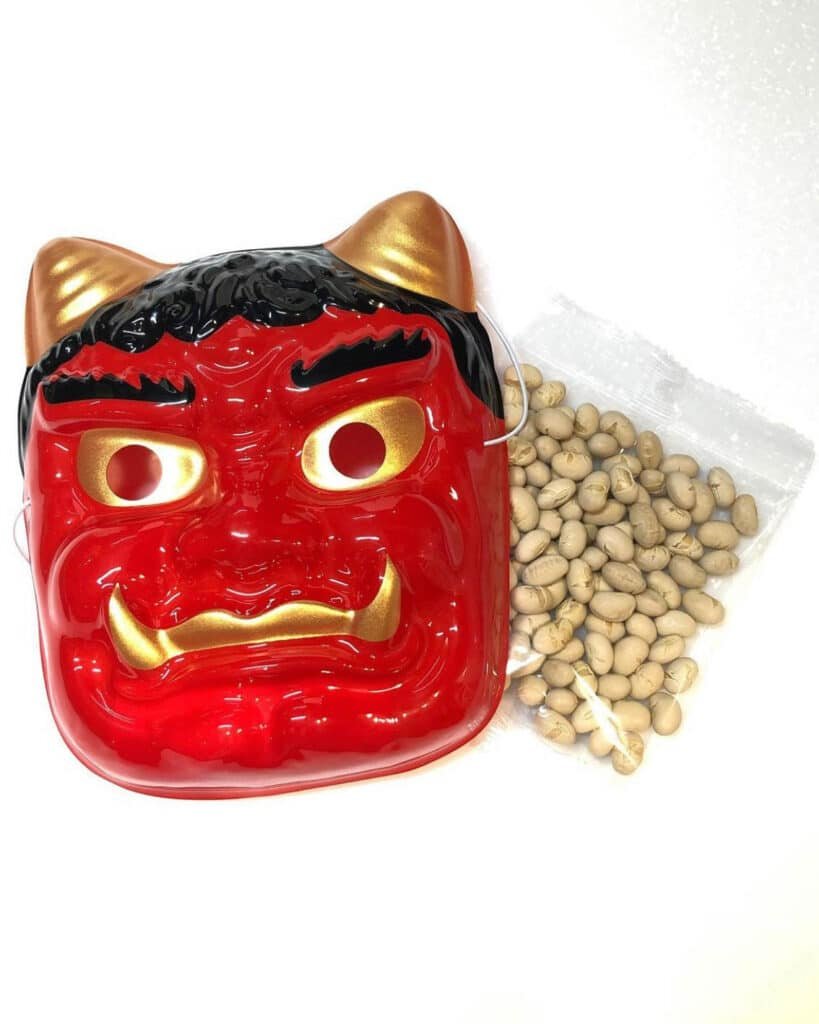 Strawberry picking – from January till May
Yes, you read it right. You can go strawberry picking in winter in Osaka and earlier you go, the sweeter the strawberries are. Fruit in Japan is regarded as a special gift and it is often cultivated to perfection. Japanese strawberries are famous their special sweet taste and visiting greenhouses to sample and pick this delicious fruit is becoming more and more popular among domestic and international tourists.
Osaka has several great strawberry picking farms that are open for public from winter to spring. Here are some of our favourites:
As you can see, there are plenty of fun and interesting activities to do in Osaka even in low-season. Winter time will also reward you with lower amounts of tourists and surprisingly pleasant weather!