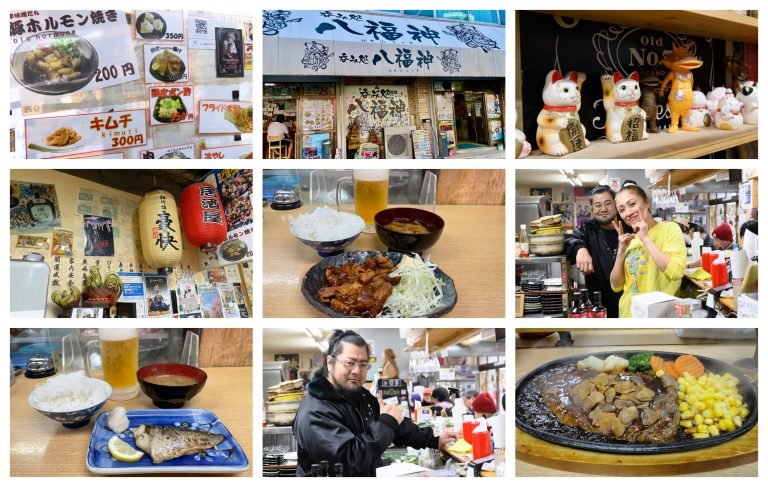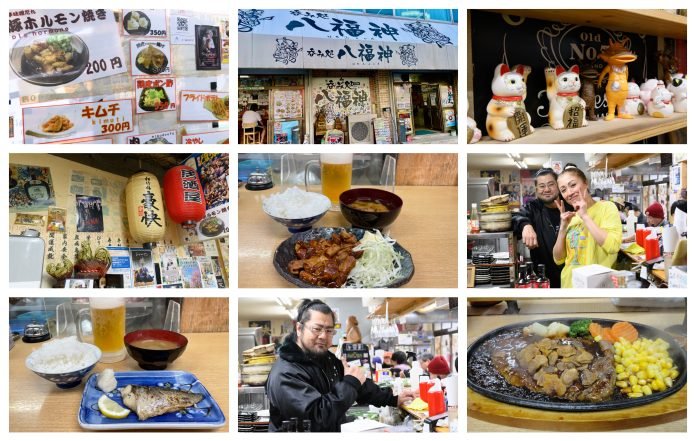 by Matt Kaufman
Introduction
Address: 1 Chome-4-1 Haginochaya, Nishinari Ward, Osaka, 557-0004, Japan. Tel: 06-6575-9248. Open:11:00 AM-5:00AM. Closed:Sun. Website. Facebook Instagram Closest Stations: Nankai Shinimamiya, JR Shinimamiya, Osaka Metro Dobutsuenmae
Hachifukujin, an izakaya across the street from Nankai Shin-Imamiya Station in Nishinari, recently celebrated its 10th anniversary. The week-long event found long time regulars and tourists with jet-lag mingling with actors, film directors, sports figures and other local characters. Owner Tatsuo Morizawa (森澤達郎), whose motto is "majime ni fuzakeru," which translates roughly as "joking seriously" or "seriously goofing around, dazzled crowds outside by downing eight bottle of champagne in a single night. Hachifukujin, in addition to serving up authentic Nishinari soul food, has gotten a reputation as a fun hangout that brings together people from all walks of life.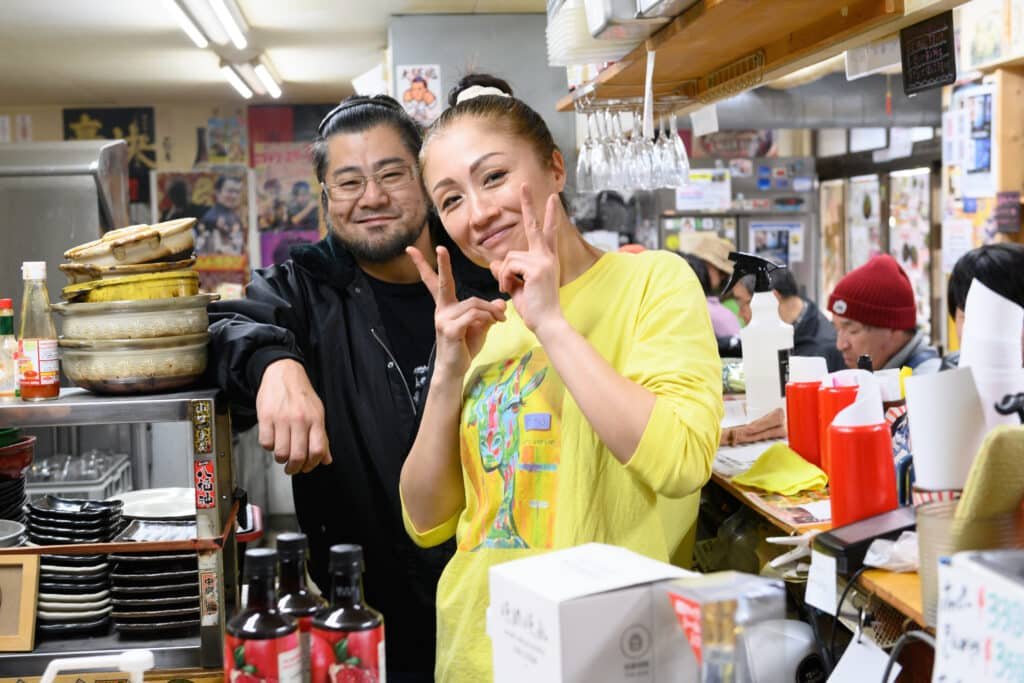 Photo Credit: Tsuyoshi Tagawa
Nishinari Ward, which used to have a bad image, has become a popular destination for travelers looking for cheap housing and great street food, but many social issues persist, such as homeless day laborers and children living below the poverty line who frequently go hungry. Morizawa, dubbed "The Wolverine" for his similarity to the Marvel superhero, and his wife, Nishinari native Miyuki, are dead serious when it comes helping improve their neighborhood. Over the years, the pair has dedicated significant time and energy to feeding, nurturing, and creating a strong sense of community for countless children in need.
Foreigners are warmly welcomed at Hachifukujin, whether you're a long term resident of Japan or a tourist on a food tour of Nishinari that stops by the restaurant several times a day during off-peak hours. The spacious izakaya seats 25 people and they have foreign staff from Vietnam, China, Korea and other countries who speak multiple languages. The lunch and drink menu are written in English and there are photos of most of the other menu items on the walls and above the counter.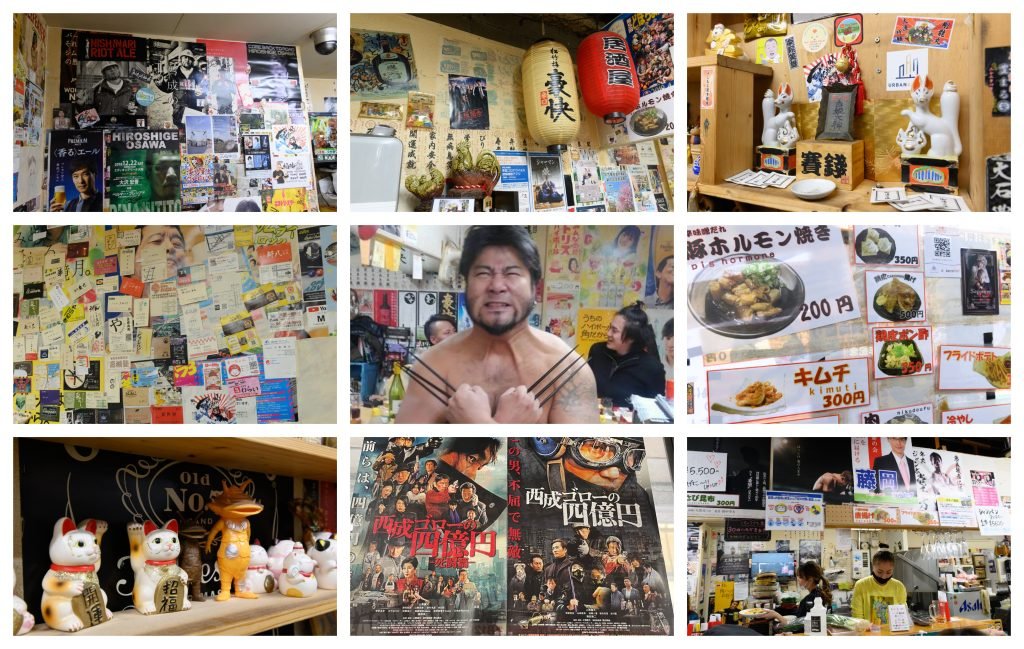 What's in a Name? The Meaning of Hachifukujin
Hachifukujin (八福神) means "eight lucky gods" and sometimes when I tell Japanese people about the restaurant they correct me by telling me that there are only seven lucky gods. Are you sure the shop isn't called "Shichifukujin?" I assure them that even though Japanese is a very diffucult language, I do indeed know the difference between the kanji (Chinese characters) for "seven" and "eight".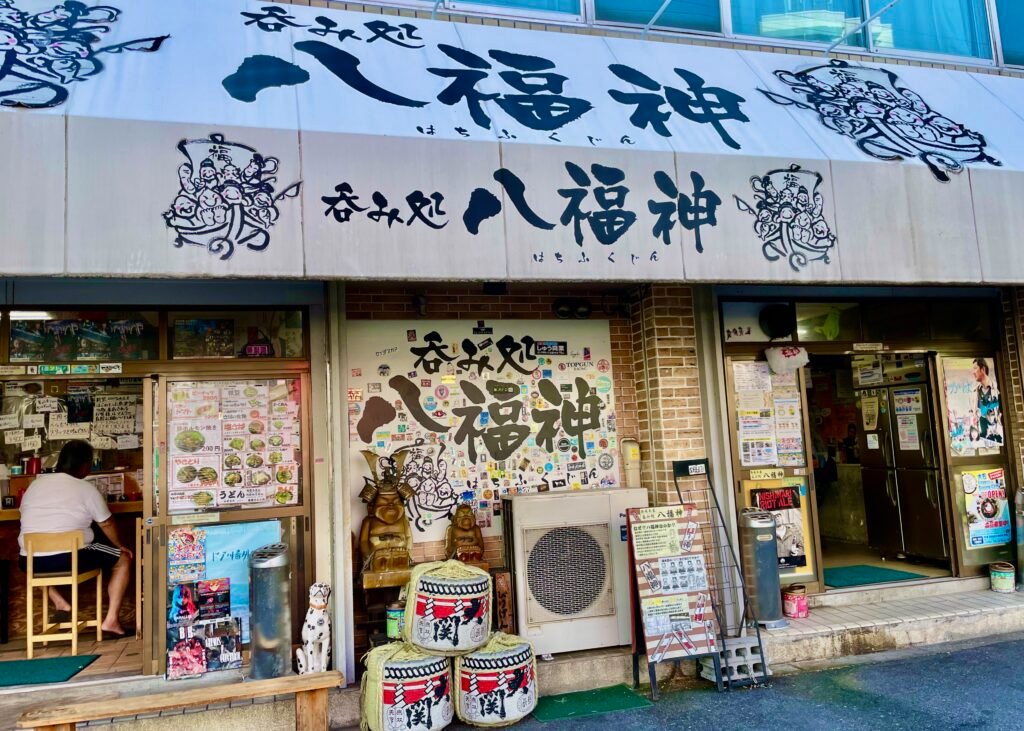 The eighth god of good fortune is none other than Billiken, the unofficial mascot of Osaka, that was actually created in Kansas City, Missouri by teacher and illustrator Florence Pretz in 1908. Billiken is enshrined on the fifth floor of the Tsutenkaku Tower in Shinsekai, which is only a seven-minute walk away. In addition to a statue of Billiken, the inside of Hachifukujin is filled with other lucky ornaments including Maneki Neko (beckoning cats) and tanuki (raccon dogs). You can never have too much luck in the restaurant business.
Nishinari Soul Food on Parade
Hachifukujin is the place to go if you want a one-stop restaurant to sample a variety of Osaka street food without waiting in line at different stalls outside. If you've ever seen a list of top 20 street foods of Osaka then chances are it is on the menu—everything from kushikatsu and oden to butter corn ramen and oyakodonburi rice bowls. Most of the prices run from 120-800 yen, so travelers on a budget can fill their bellies without breaking the bank.
The seating arrangement at Hachifukujin makes it easy to strike up a conversation with the person sitting next to you. I had a nice chat with a regular from Tokyo, Kobayashi-san who bears a striking resemblance to guitarist Masatoshi Mashima of The Blue Hearts, The High Lows and The Cro-Magnons. "I heard about Nishinari from a friend I made while I was on a working holiday in Australia around 10 years ago," he explains. "He told me this was a great place and I've been coming back ever since. My favorite dish is the tonpeiyaki. You can't go wrong with this dish and an order of edamame."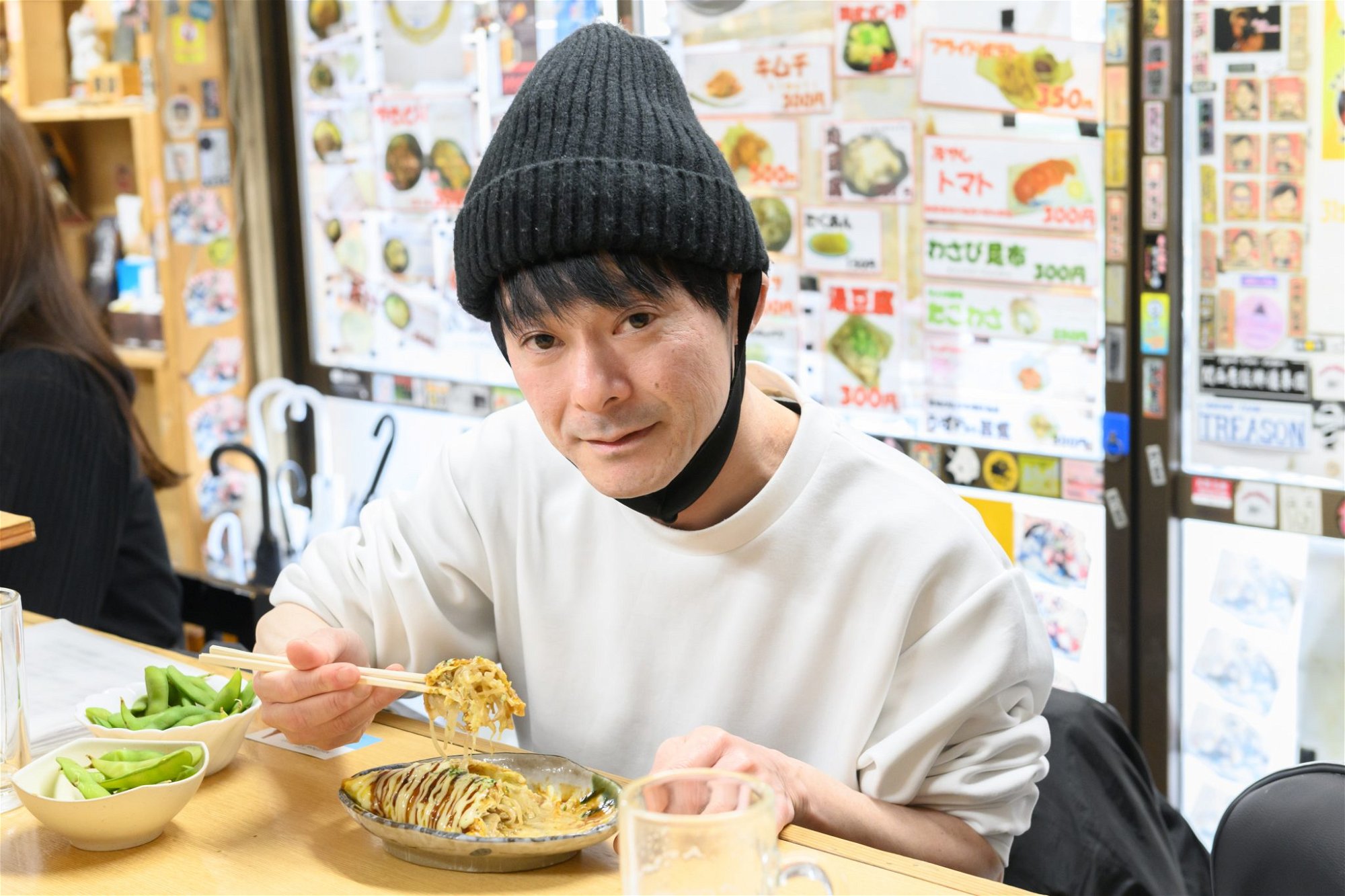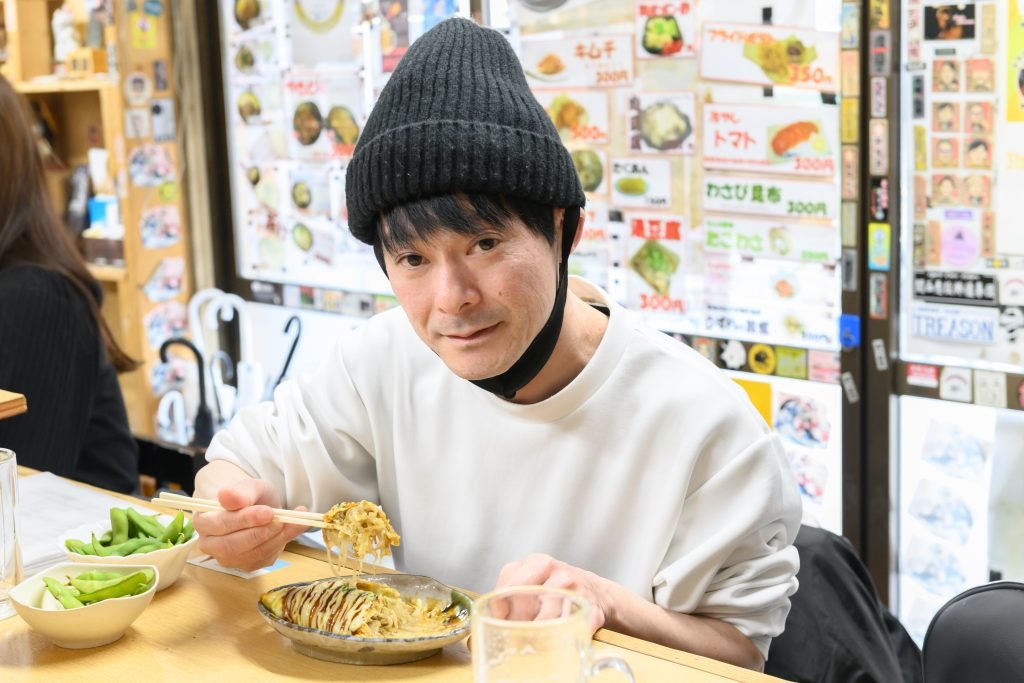 Photo Credit: Tsuyoshi Tagawa
Another must-order is the yakisoba. Morizawa is not aiming for any Michelin stars for innovation—he would rather serve his customers the "cheap" taste they remember from their childhood. Lucie, a graduate student from France told me that she loved the rich oily flavors of the yakisoba because it had a similar taste to the fried noodles she tried at yomise (night stalls) at temples during a festival.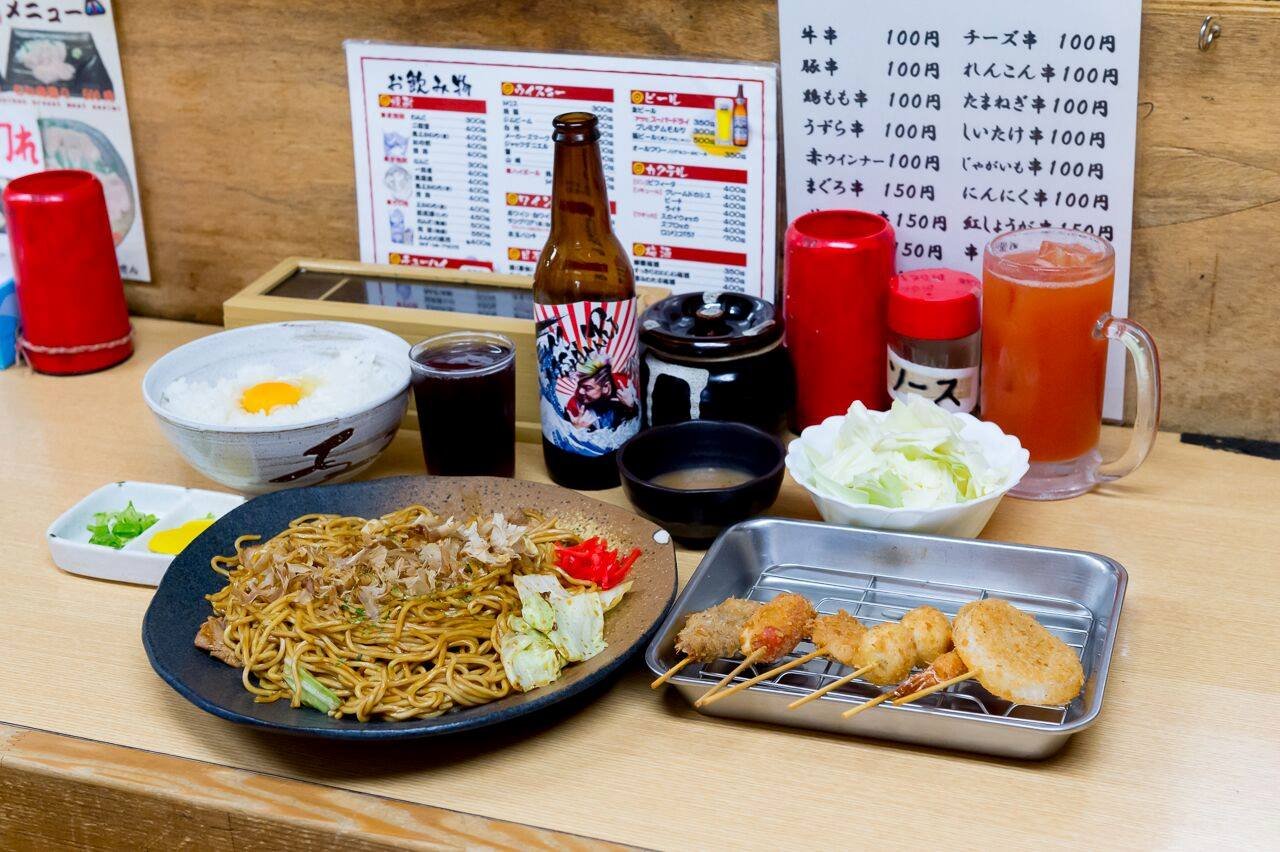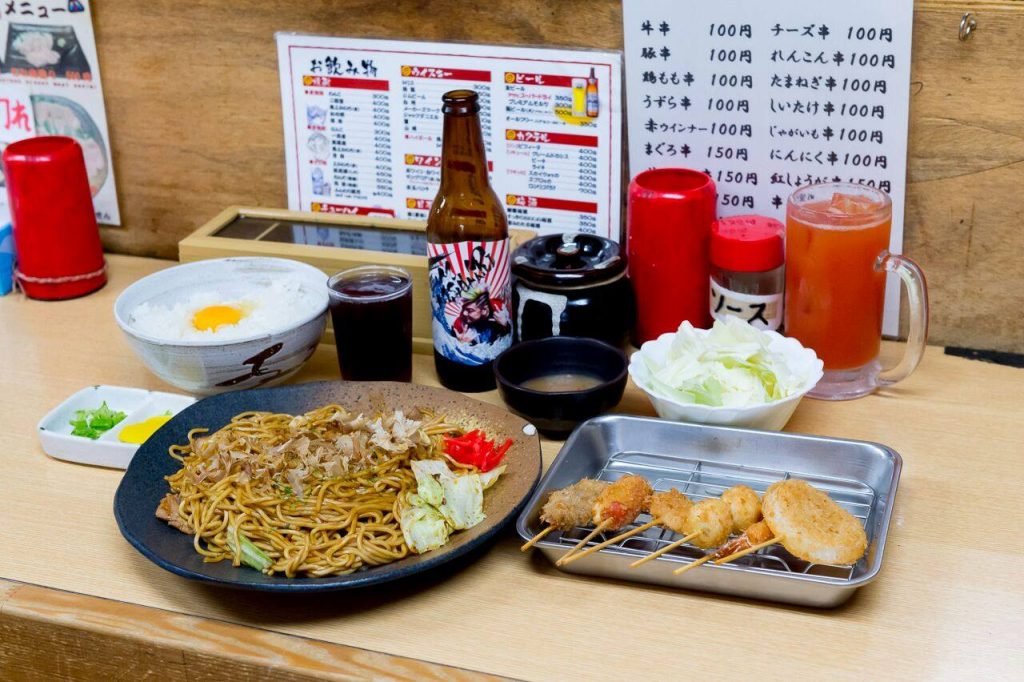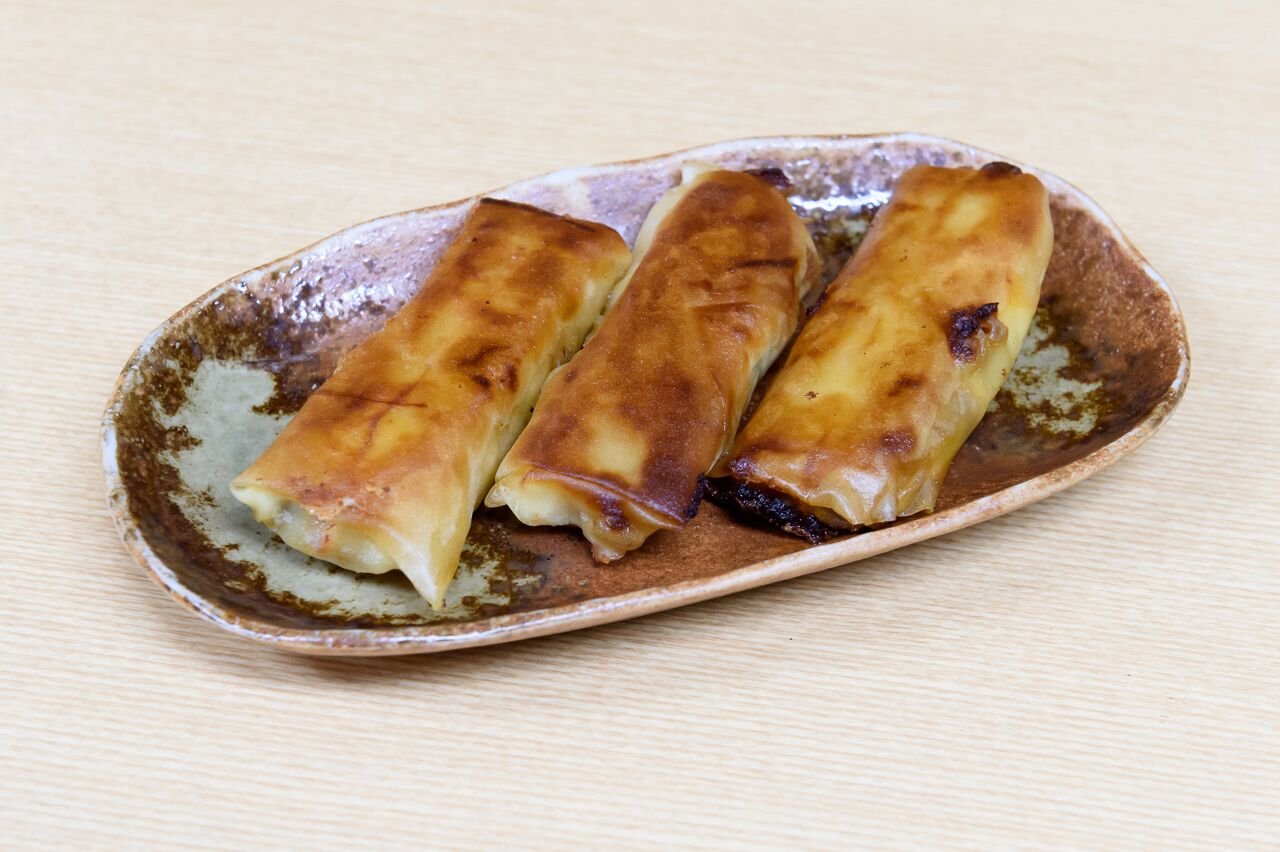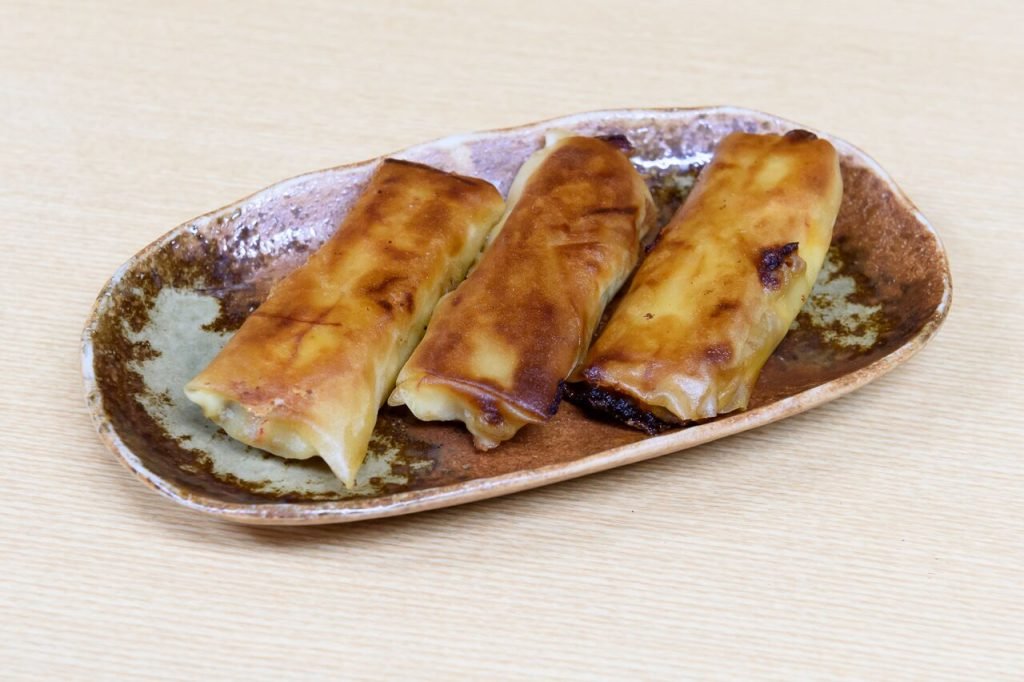 One of the most popular menu items is the Nishinari Horumon Roll (3 pieces for ¥350), an original menu item created by a sixth grader at Shin Imamiya Elementary school for a homework assignment on local dishes. It consists of fried horumon, with miso sauce, mochi, green onions, red pepper flakes, mayonnaise and ketchup. The starchy sauce is wrapped in a spring roll skin and baked in sesame oil. When I recounted the story of the dish's creation in The Japan Times in 2019 it was still an obscure menu item; now they sell up to 150 rolls a day.
Speaking of horumon, Hachifukujin serves up some of the best tripe and offal in all of Osaka. You can't go wrong with the "Mix Horumon" for only 400 yen. The sweet and spicy sauce is absolutely fantastic, with just the right amount of pungent spices. I wish they would bottle it up to sell commercially because it would take your backyard barbecue to the next level.
The Best Hangover Prevention/Cure in Osaka: Try These Three Hearty Dishes
If you want to try the ultimate hangover prevention/cure in Osaka then order the Nishinari Gingin Otoko Meshi, a huge bowl of rice topped with horumon, natto and a raw egg for only ¥500 yen. Don't let your hatred of natto prevent you from trying this dish. Open your mind!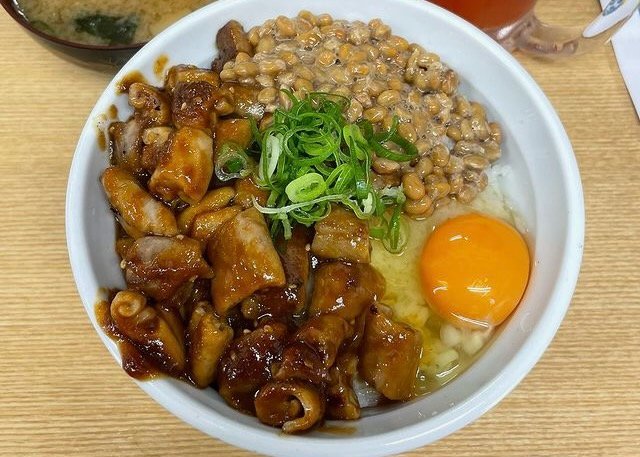 It's easy to get addicted to the dote-nikomi, slowly simmered stew featuring chunks of beef with a powerful miso-flavored punch that pairs well with sake. If you're still hungry and hungover the nikudofu, well-seasoned meat and tofu cooked in a delicious broth, will hit the spot.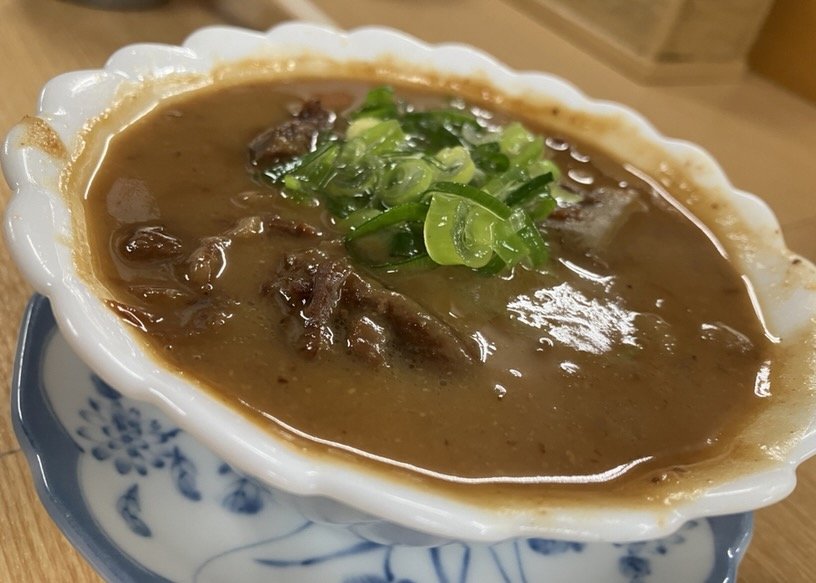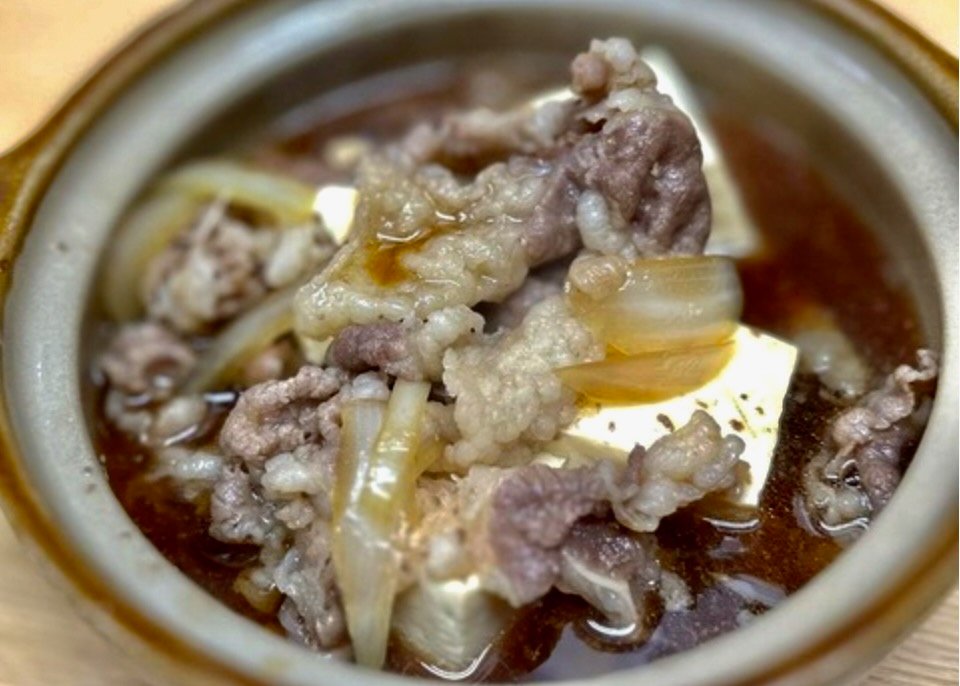 One Coin 500 Yen Breakfast / Lunch Sets
I went to Hachifukujin for lunch and ordered Japanese-style pasta called Napolitan flavored with ketchup that usually consists of spaghetti, onions, green bell peppers, button mushrooms and sausages.
When asked why his Napolitan tastes different from other restaurants, Morizawa replied: "We use yakisoba noodles instead of spaghetti. It absorbs the flavors better."
I ordered the Napolitan a la carte (¥550) and a draft beer (¥350), but a friendly member of the staff told me that I could save money by ordering the lunch set, which comes with rice and miso soup for 500 yen. I could add a draft beer for only ¥100 yen extra (A Chu-Hai is only ¥50 yen extra!)
Talk about honesty! I was about to pay ¥900 but the staff talked me down into spending ¥300 less—and I got more food with my order.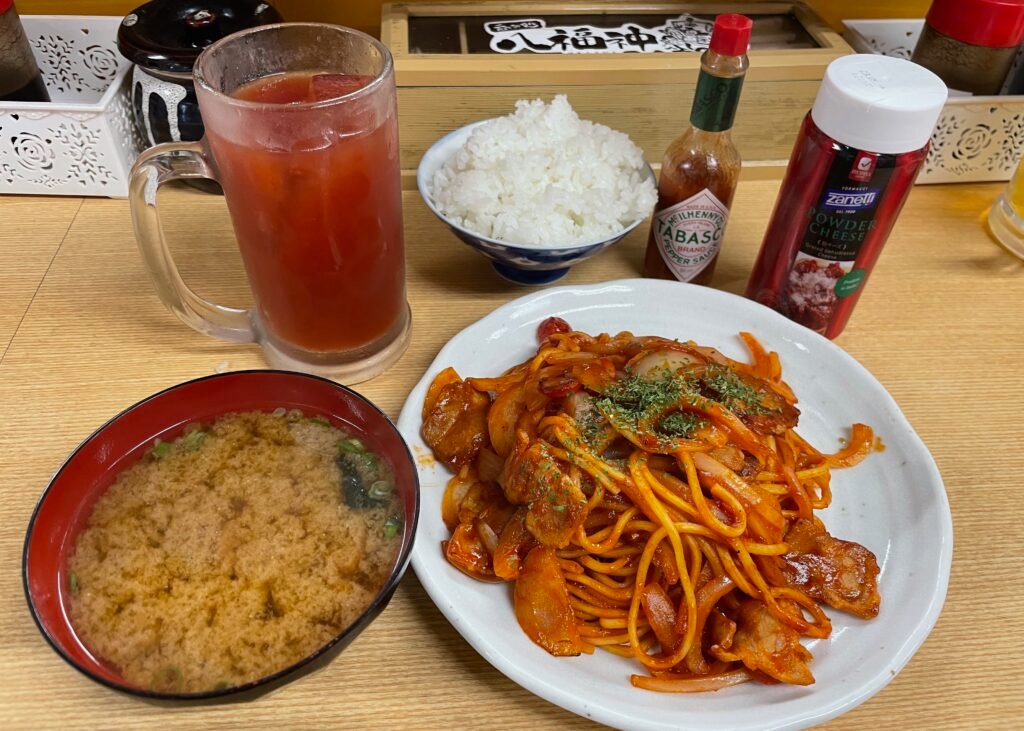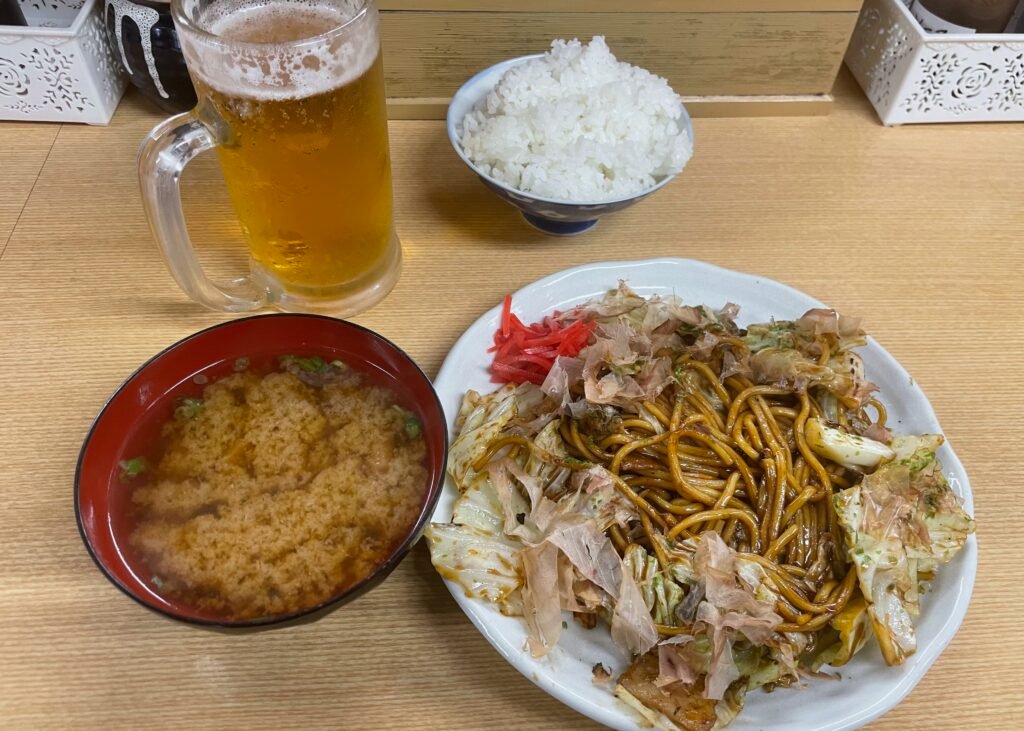 The following week my wife and I went to Hachifukujin to try a couple of more items on the breakfast/lunch set, which is available from 11:30 to 15:00. I ordered the buta horumon (pork tripe) set and she got the shiosaba (griilled salted mackerel.)
My wife is one of those people who doesn't like to order things at a restaurant that she can easily make at home for less money, but she raved about the quality of the meal, giving high praise to how the mackeral was prepared. She also said the rice was exceptionally good for such a low cost meal. "We source the rice directly from a local farmer," says Morizawa. That's why it tastes so good.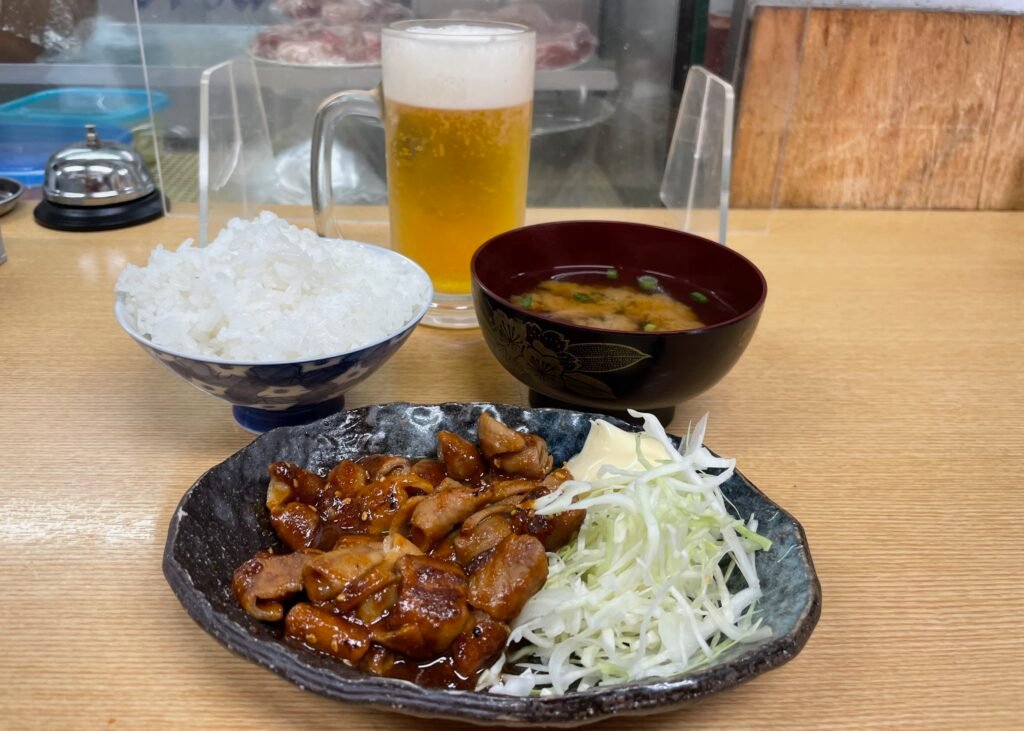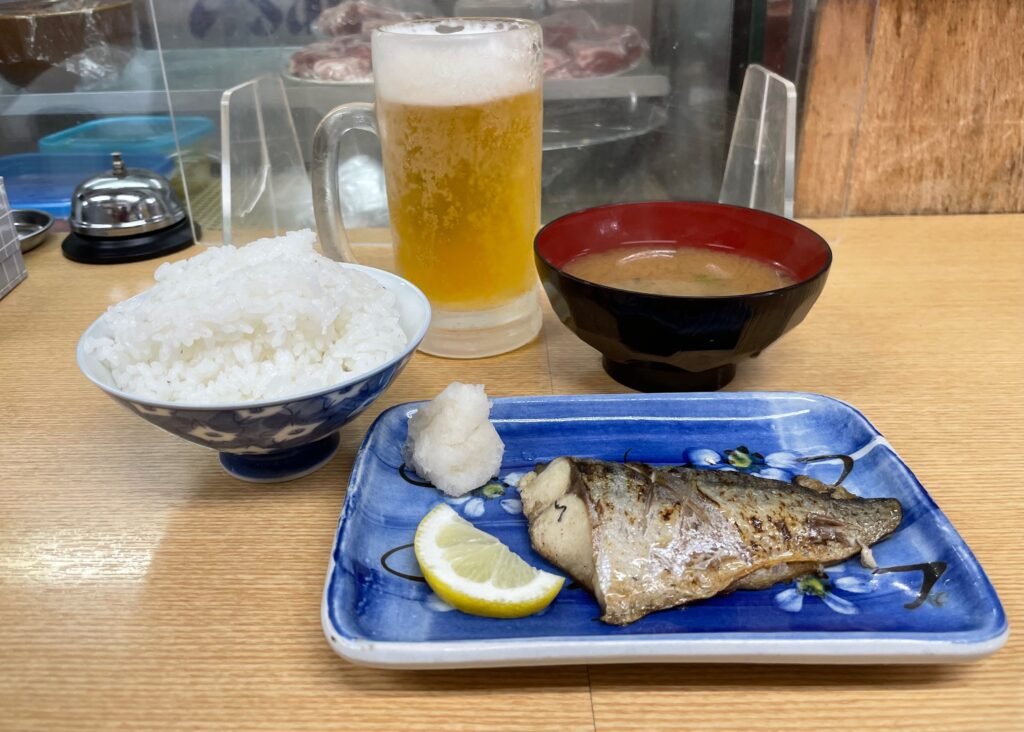 Prices are skyrocketing in Japan, but as of this writing 500 yen is exactly $3.58. What kind of lunch can you get for that in most major cities? If you add a beer it will still only cost $4.30. Soccer star Keisuke Honda recently got a ton of backlash for tweeting: "Ramen shop. 730 yen is too cheap (for a bowl of noodles) that delicious," so I'd better keep my mouth shut about the low prices of these lunch sets.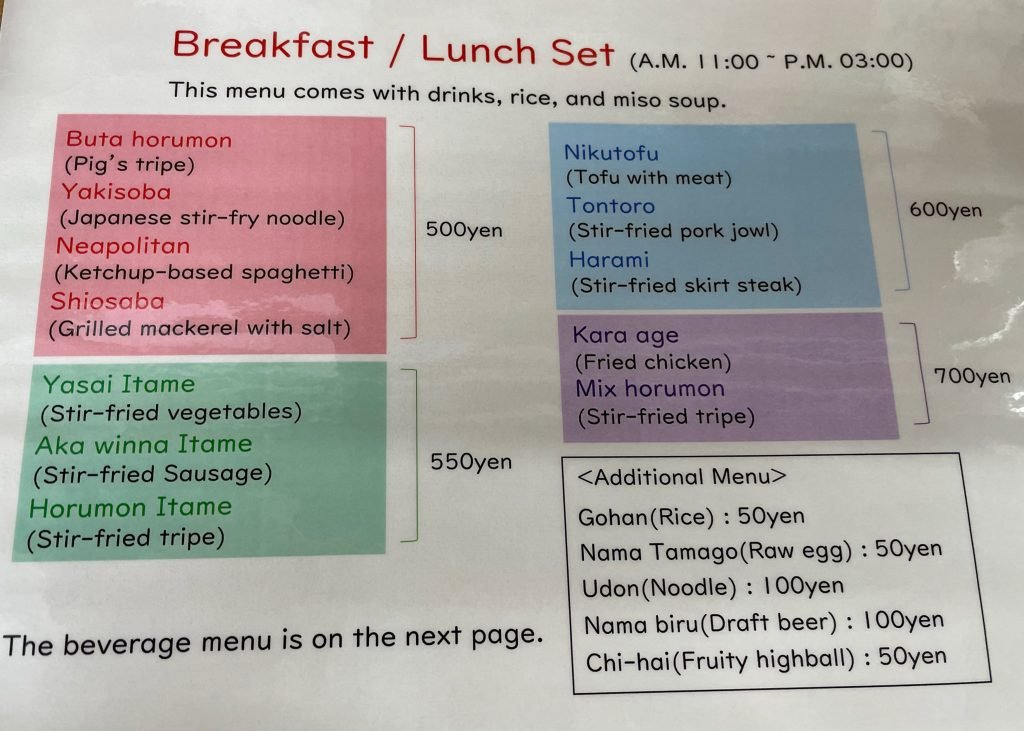 Perfect with Alcohol: Menu Delights that Pack a Wallop
Every izakaya has a few items that are easy to overlook unless you take the time to examine the menu carefully. The ninniku maruage is a deep fried head of garlic with the skin intact. Garlic-lovers will go ape-crazy after it comes out of the deep frier. You have to eat it hot!
If you feel like a few snacks that go well with beer then order from the tsumami ryori menu where almost all of the items sell for 150-350 yen. Who would expect salted cabbage to taste so good? And at only ¥200 a serving you'll be coming back for more.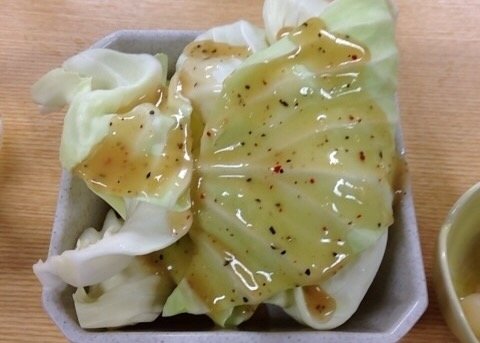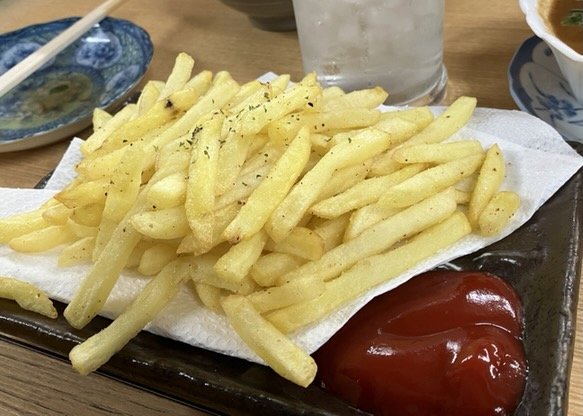 The most expensive item on the tsumami menu is Korean changja (spicy cod innards, ¥500) with cream cheese, which not seem very appetizing on paper but somehow works marvelously.
I know most people did not come all the way to Japan to order French fries, but you should definitely try the "potato fry" at Hachifukijin. French fries prepared at a local izakaya often have a unique taste because they are deep fried in the same oil as other dishes such as tempura and kushikatsu. I bet Hachifukujin would sell ten times as many orders to tourists if they started calling them "umami fries."
What would go better than French fries than a nice juicy 200g steak? The Nishinari Steak is a special menu item that costs only ¥1,200. For ¥1,350 you can get rice and soup on the side. It's loaded with a metric ton of garlic and smothered in a mouthwatering sauce.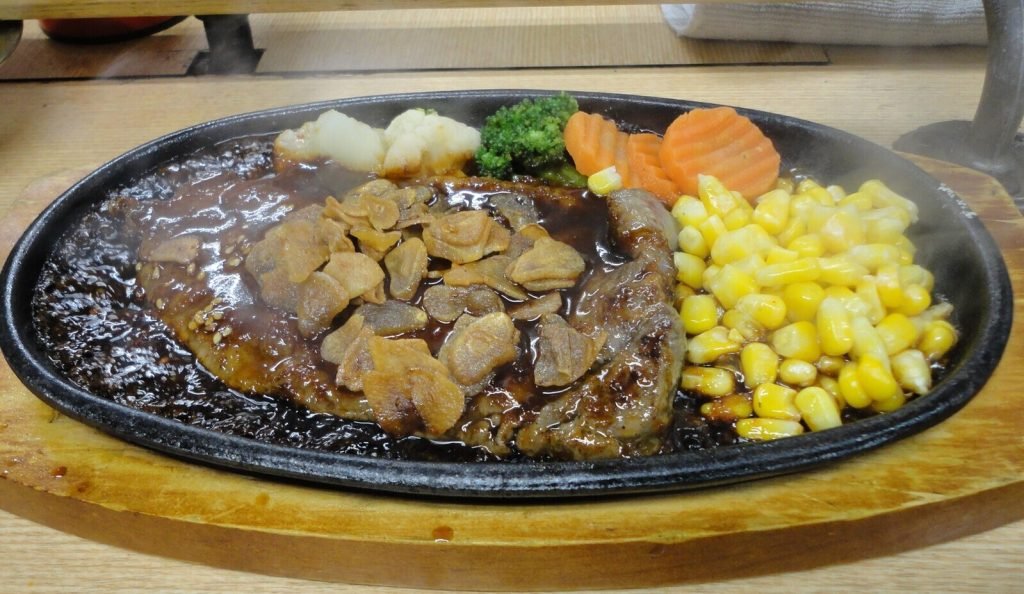 Giving Back to The Community: The Children's Cafeteria
Despite having a popular restaurant near a major train station, Tatsuo and Miyuki Morizawa close their restaurant every second and third Sunday to operate a childrens cafeteria (kodomo shokudo) that serves meals to low-income children in the neighborhood. It is a free service that does not rely on donations or subsidiaries from the government.

If you spend enough time at Hachifukujin, you'll be sure to notice that both regular customers and local business owners often contribute snacks and other necessities for the children's cafeteria. When refugees from the Ukraine started arriving in Osaka this same network reached into their pockets and contributed close to ¥70,000 yen to help them settle in Japan.
The wonderful thing about the children's cafeteria at Hachifukujin is that all children are welcome, regardless of their financial situation creating a festive atmosphere in which children can socialize with one another while getting home cooked nutritious meal. Miyuki and other volunteers wake up early in order to prepare meals to feed up to 100 people.
A Safe Haven and Mentoring from Champions
Although Japan is considered a relatively safe country, there are still plenty of nefarious types walking around who target children and vulnerable teens. Hachifukujin is a safe space that children can run into for help if they are accosted by a strange person on the street. "Kodomo 110-Ban No Ie" is a child protection program that is common all across Japan. Individual homes and businesses sign up for this program to provide children with protection in case of emergency.
Hachifukujin happens to have quite a few regular customers who are black belts in the martial arts (and by my count) three former Japanese boxing champions including Hiroshige '"Hero" Osawa who fought on the undercard of a Manny Pacquiao match in Las Vegas. Osawa and other boxers often give the children pointers in the sport, as seen in the photo below.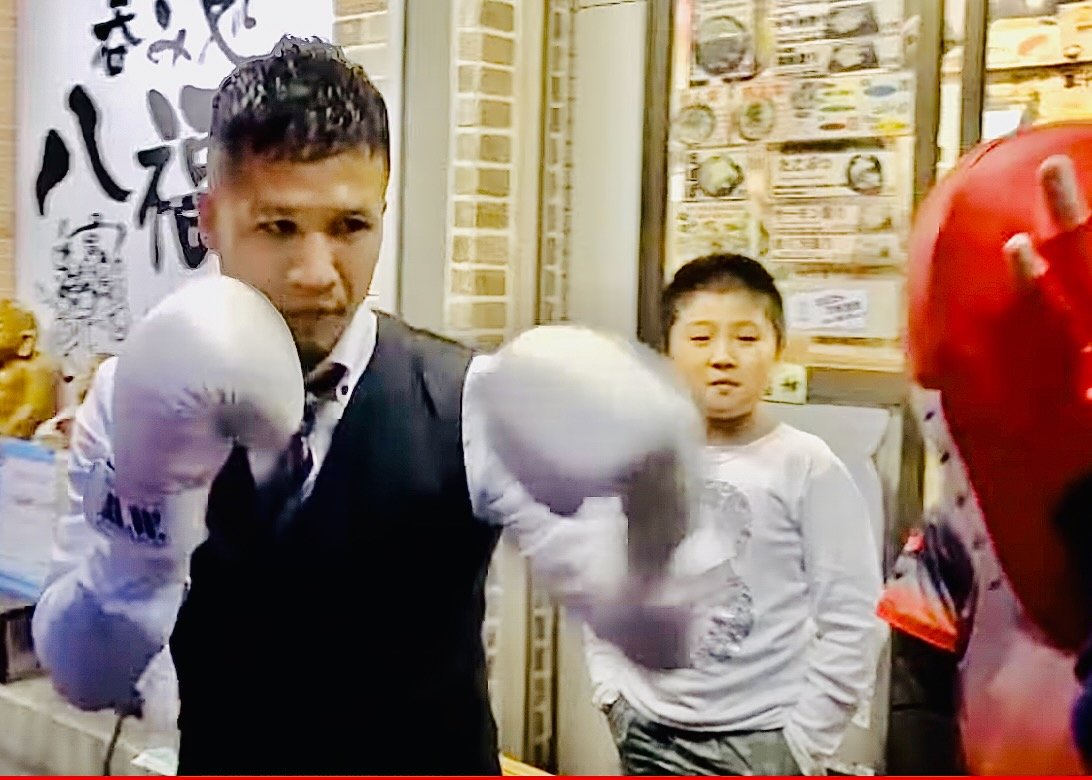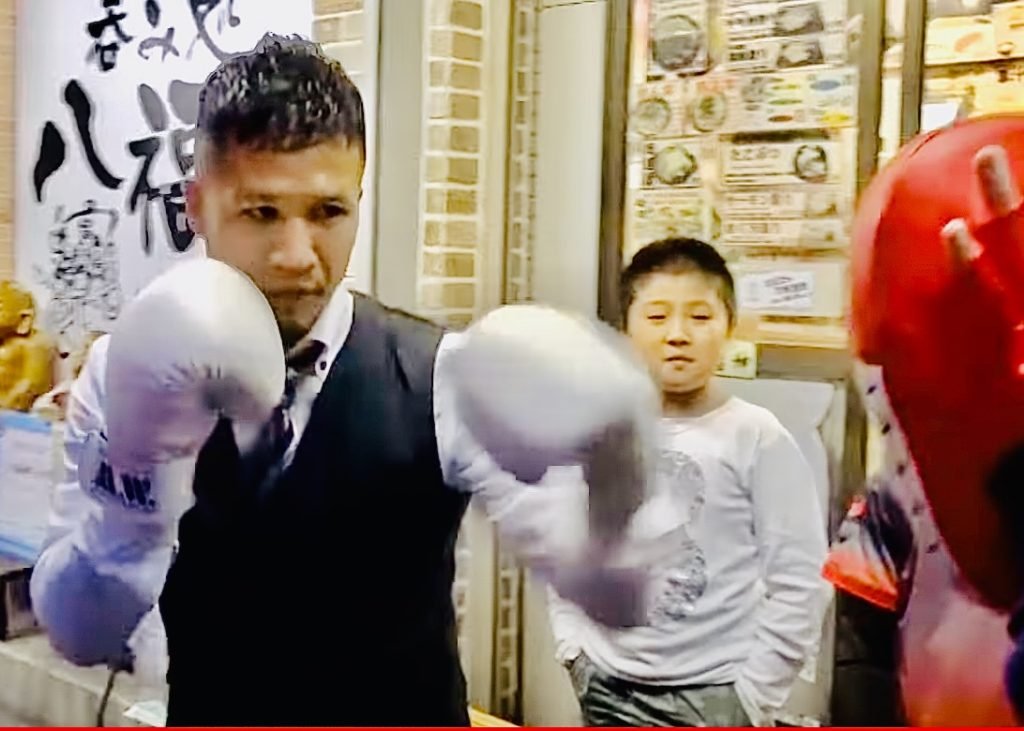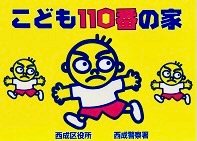 Kids Village: Fresh Air and Farming for Neighborhood Children
The pandemic made it impossible to continue the children's cafeteria in an enclosed space, but Morizawa quickly came up with a solution. He rented a farm in Nose in Osaka Prefecture and established Hachifukujin Kids Village (キッズ村). Once again the community of volunteers came out to lend their carpentry and farming skills to help make Kids Mura a reality.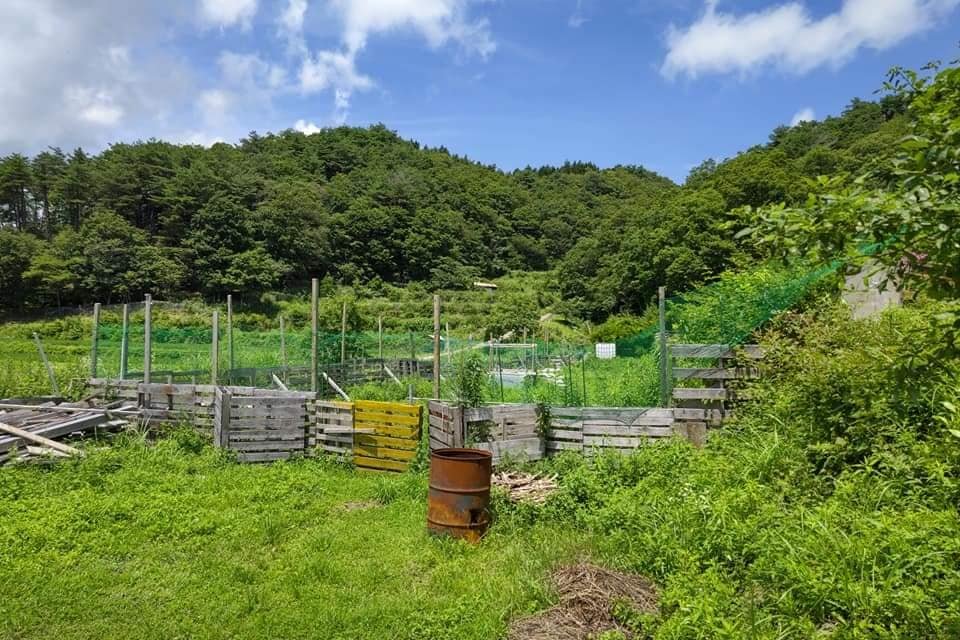 Every Sunday, Morizawa and other volunteers transported the children to Kids Village for a weekly BBQ, where they learned fundamental skills including as gardening, fishing, and caring for a friendly goat named Yukichi. One of the volunteers drives the children around in a TukTuk he imported from Thailand. It was an excellent opportunity for children to reconnect with nature and get fresh air away from the hustle and bustle of the city. Kids Village is still going strong even though the pandemic is over and you can see recent developments on their Facebook page.
One day, a snapshot of a group of tough-looking guys appeared on my Facebook feed. At first, I assumed it was a movie still—perhaps a Japanese adaptation of The Expendables? On inspection, I discovered it was a photograph of several of the Kids Village volunteers including two former boxing champions (Yutaka Oishi and Toshihiko Era) and the brother of a famous baseball player who pitches for a Major League team in the USA. After seeing that photo, I thought "The Dependables" would be a good name for the group because these volunteers quietly accomplish a lot for the children in the community without drawing too much attention to themselves.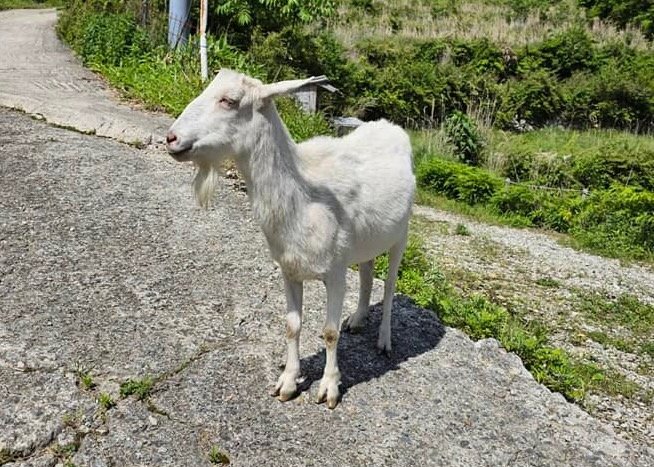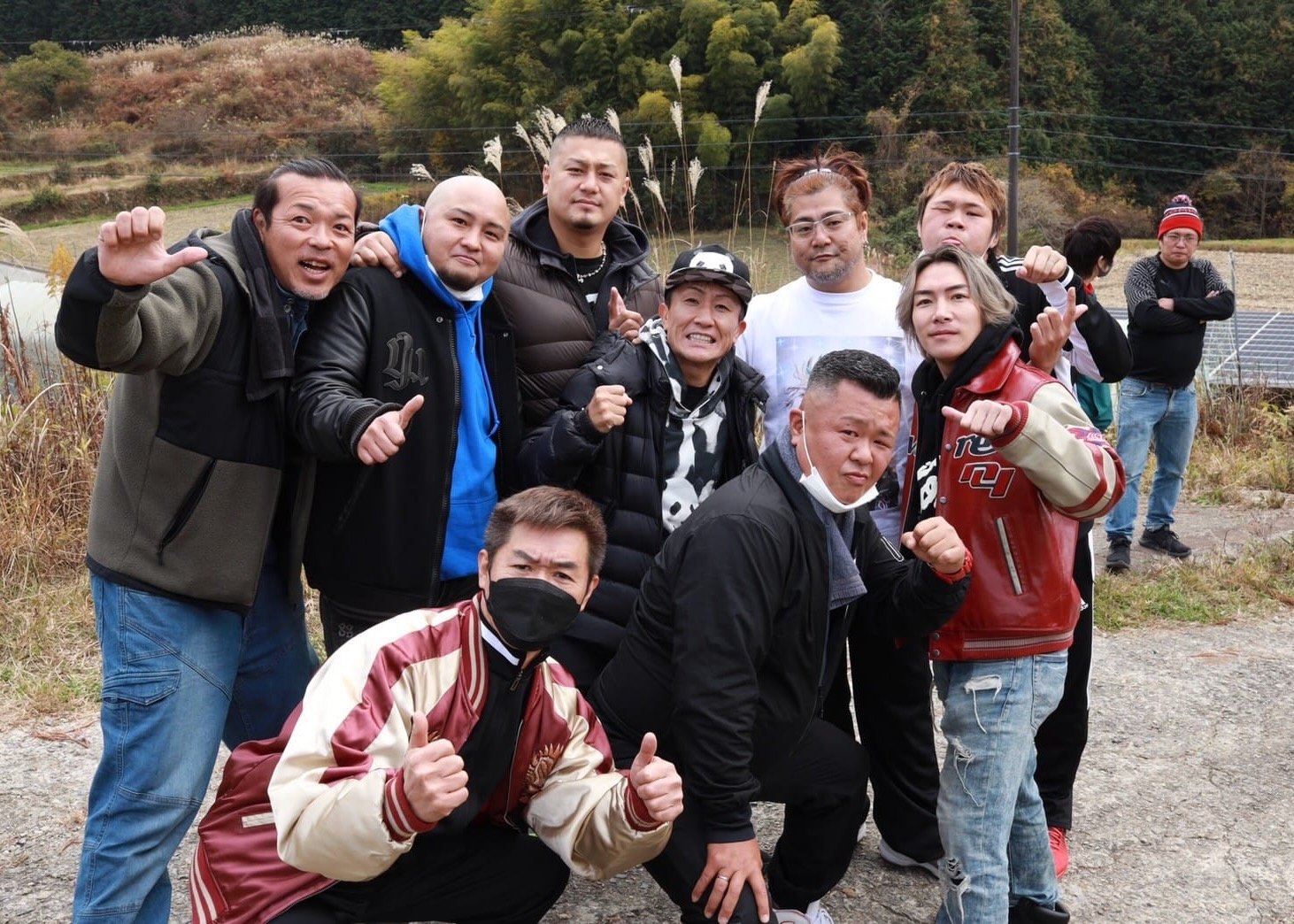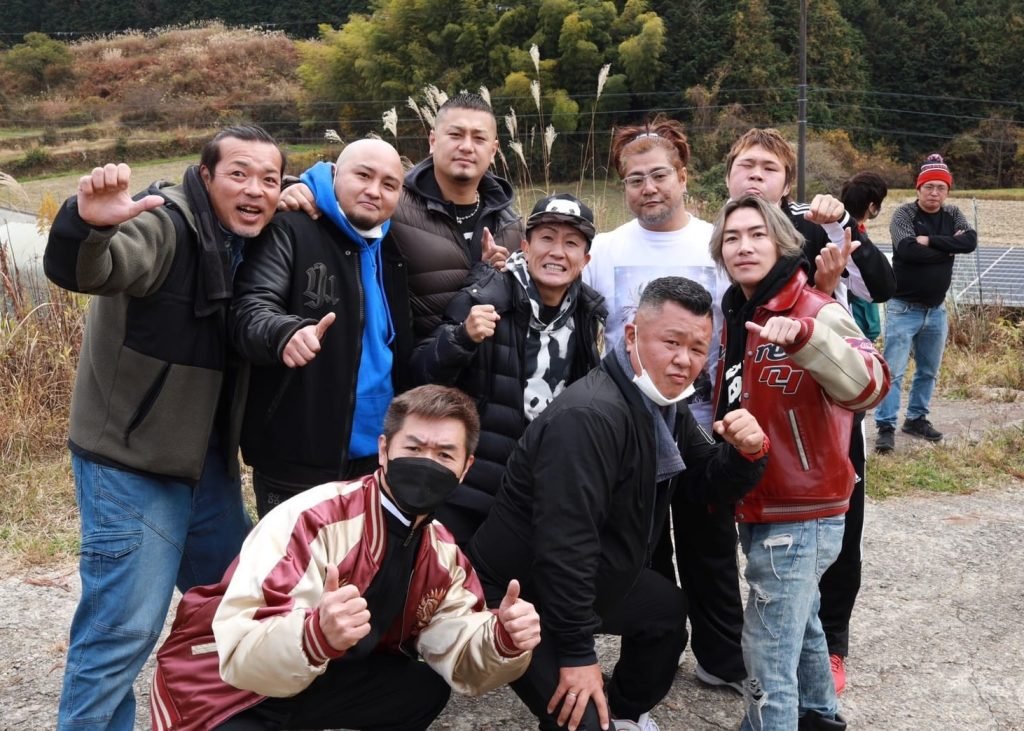 Women's Art Department Exhibition 女子芸術部展示会
As mentioned in the introduction, a number of film directors and actors are regular customers at Hachifukujin, and posters are plastered on the walls inside. Morizawa has appeared in several local films over the years, including a role as an irate customer in the upcoming Osaka Casino by director Takahiro Ishihara, which opens on July 22nd. Morizawa is also working on his directorial debut titled Nishinari Kingyo.
Morizawa started the Women's Art Department Exhibition last year to shine the spotlight on lesser known female artists. The group is currently holding an exhibition at the FP Hotel near Shin Imamiya Station, which is across the street from Hachifukujin. The event runs until June 18th. Most of the artists will be in attendance on Saturday and Sunday (13:00-20:00). Admission is free.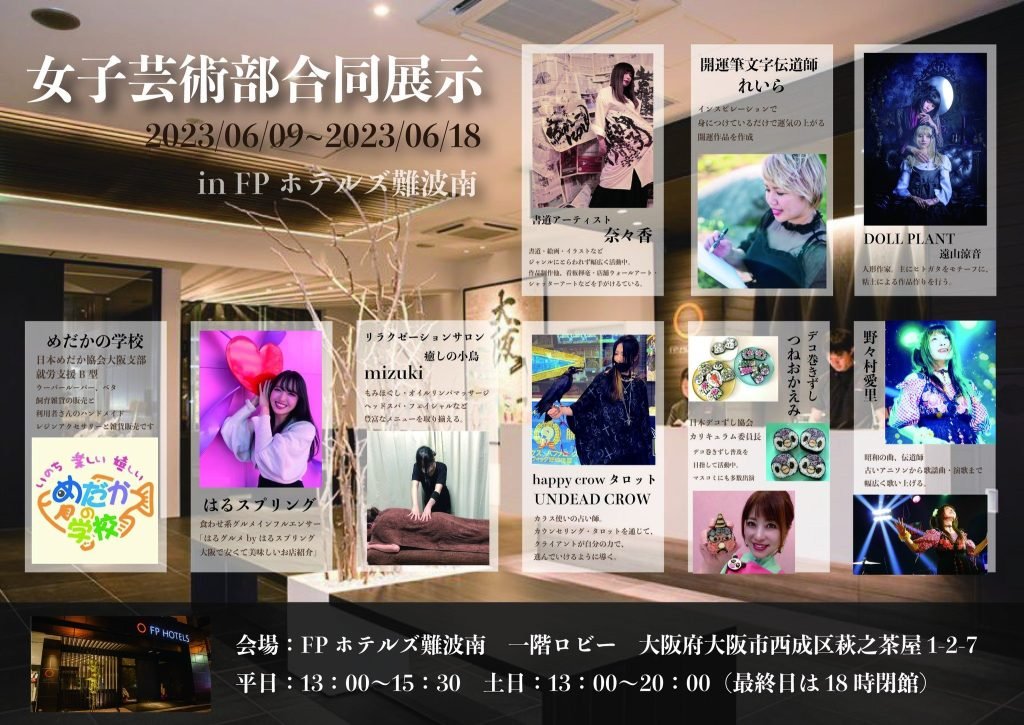 "If you ask me why I started the woman's art department exhibition it's because organizations that hold exhibitions often exploit unknown artists, taking as much as 50% depending on the exhibition," says Morizawa. "Since we were able to secure the cooperation of the hotel, we were able to hold the exhibition here without paying a fee. I don't take a percentage off the top either so the artists can take the full amount home with them."
"This time we've also included businesses that are owned by women. The jobs these women do is also art, whether its relaxation massage by Healing Bird or decorative sushi by Emi Tsuneoka or any of the other businesses featured. We also want to give the artists from previous exhibitions, such as Suzune Toyama who makes dolls, and Nanaka Sakihara who does calligraphy, a chance to expand through exchange with the other female business owners."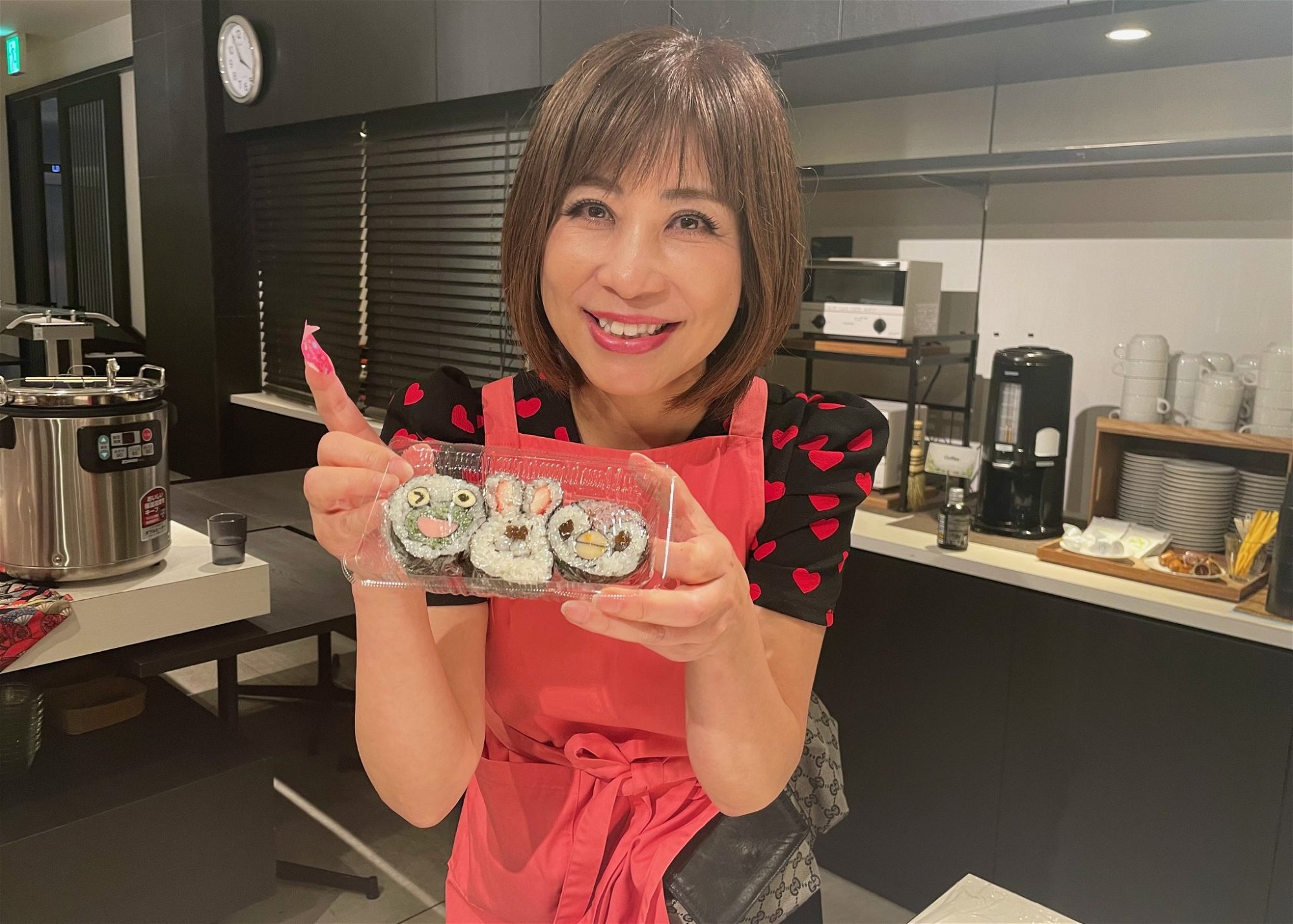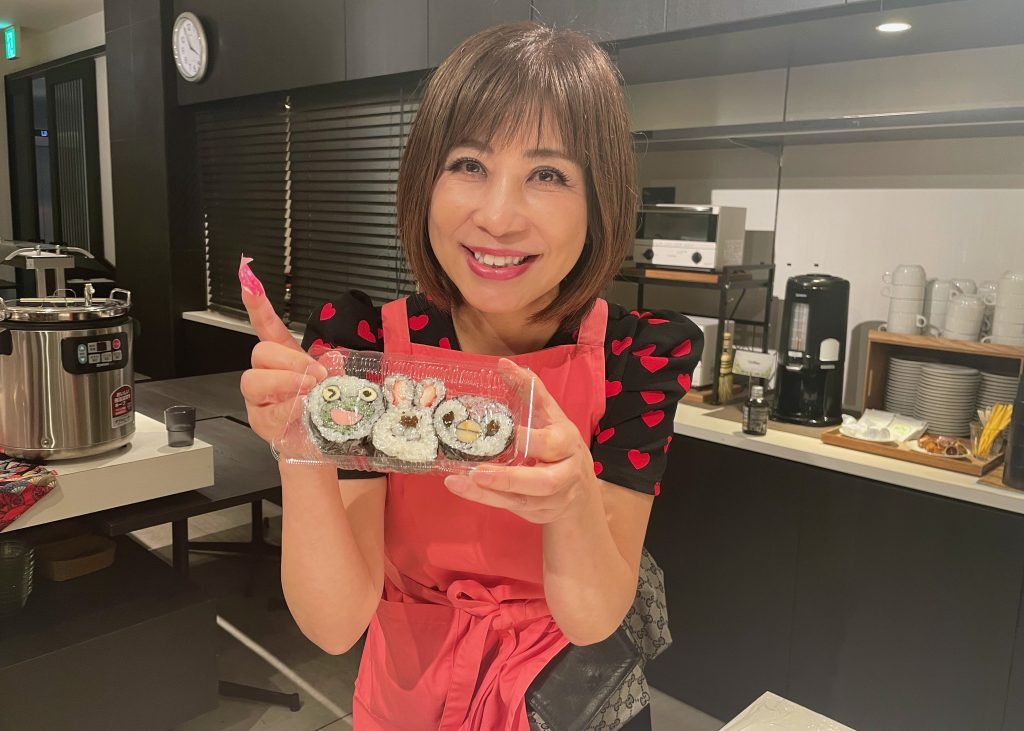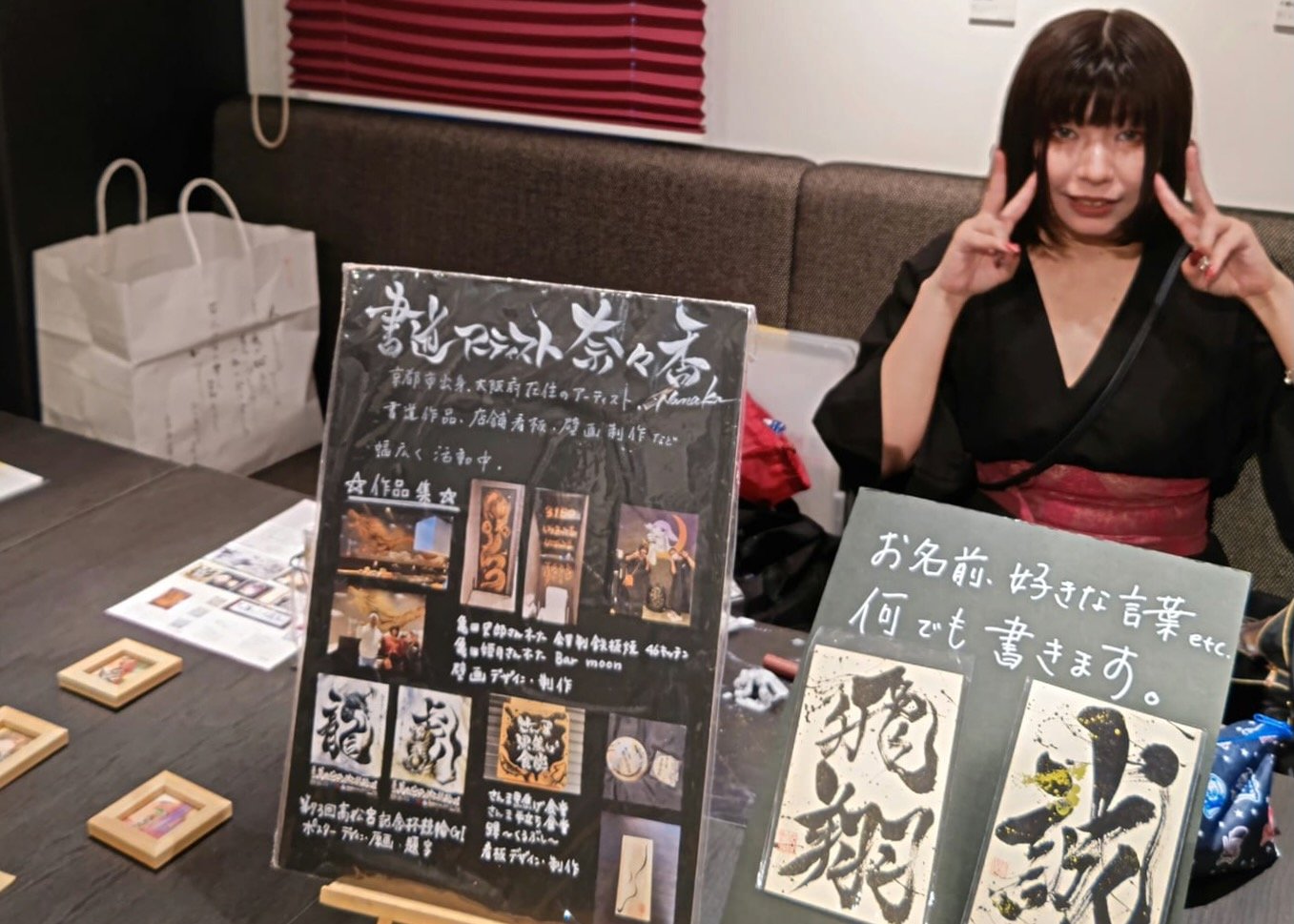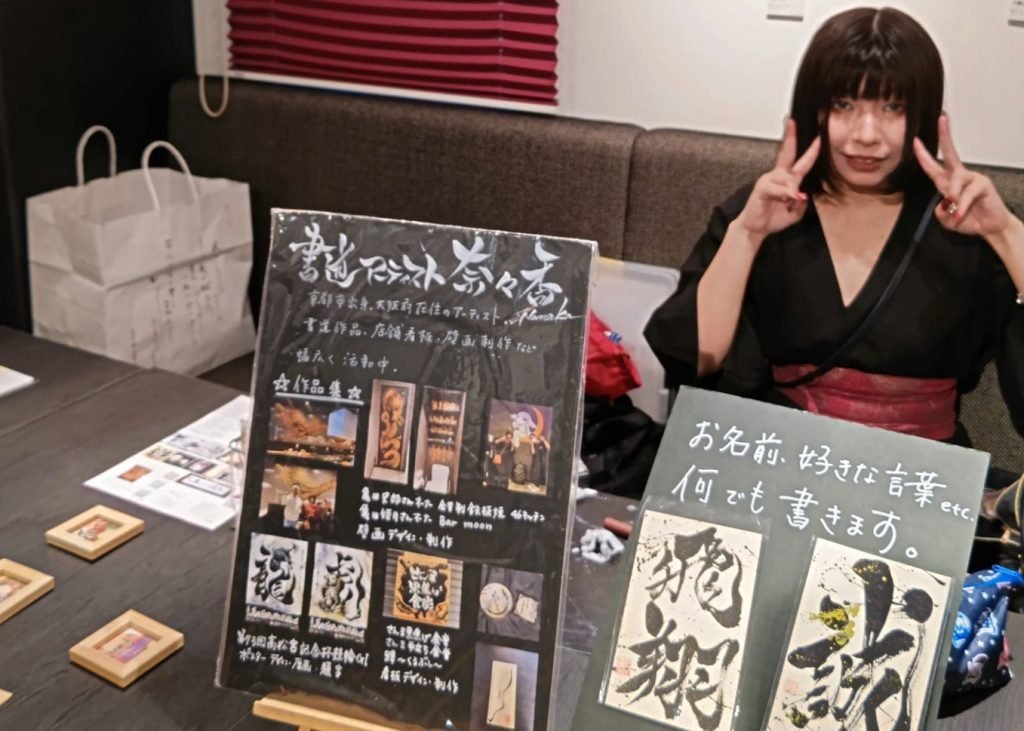 "Furthermore, with the revitalization of the neighborhood, people are more likely to attend the exhibition. It's also easy for people around here to drop in because the exhibition is located near the entrance of the hotel. In this age of social media its a good way of spreading the word to give the artists more exposure."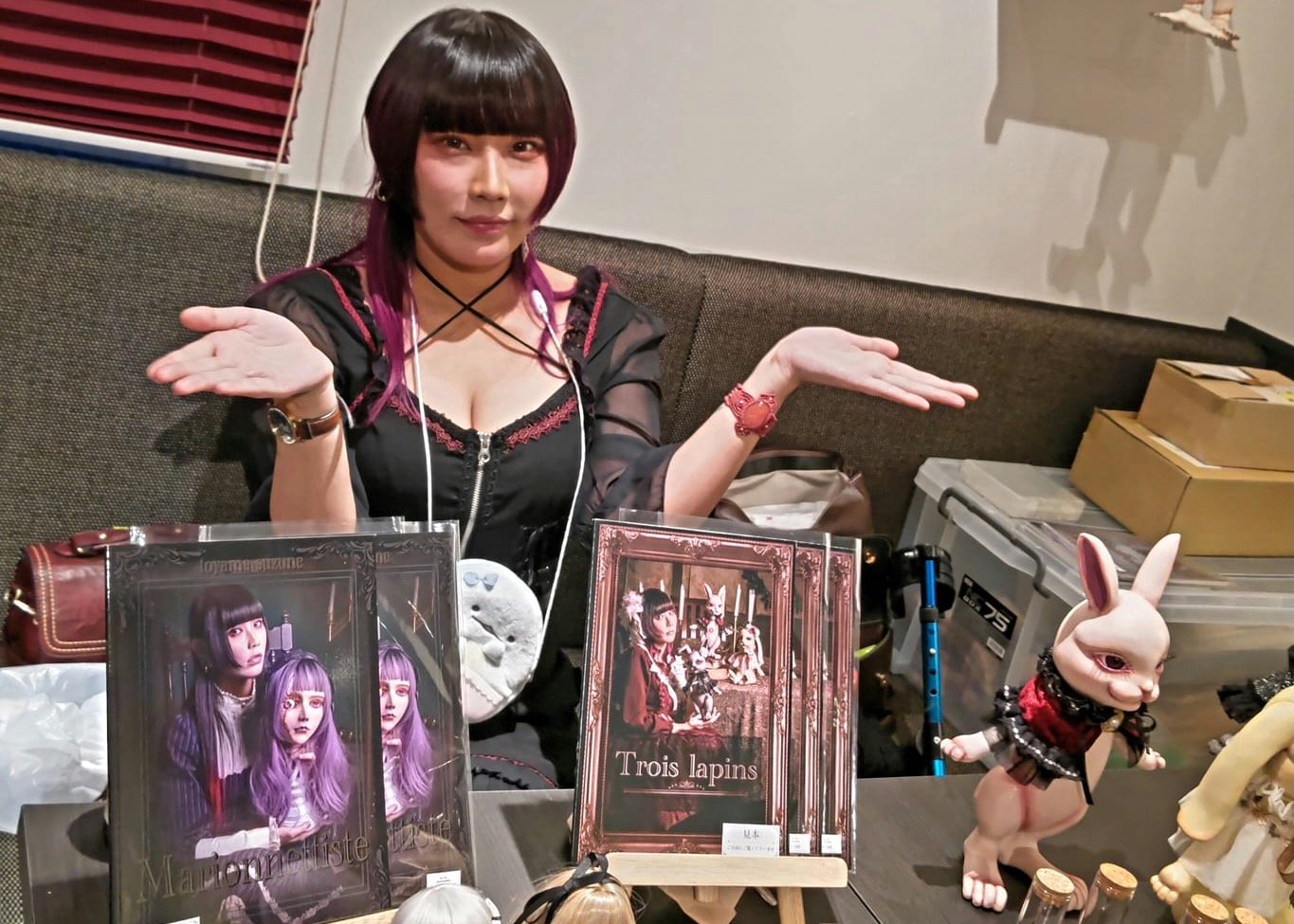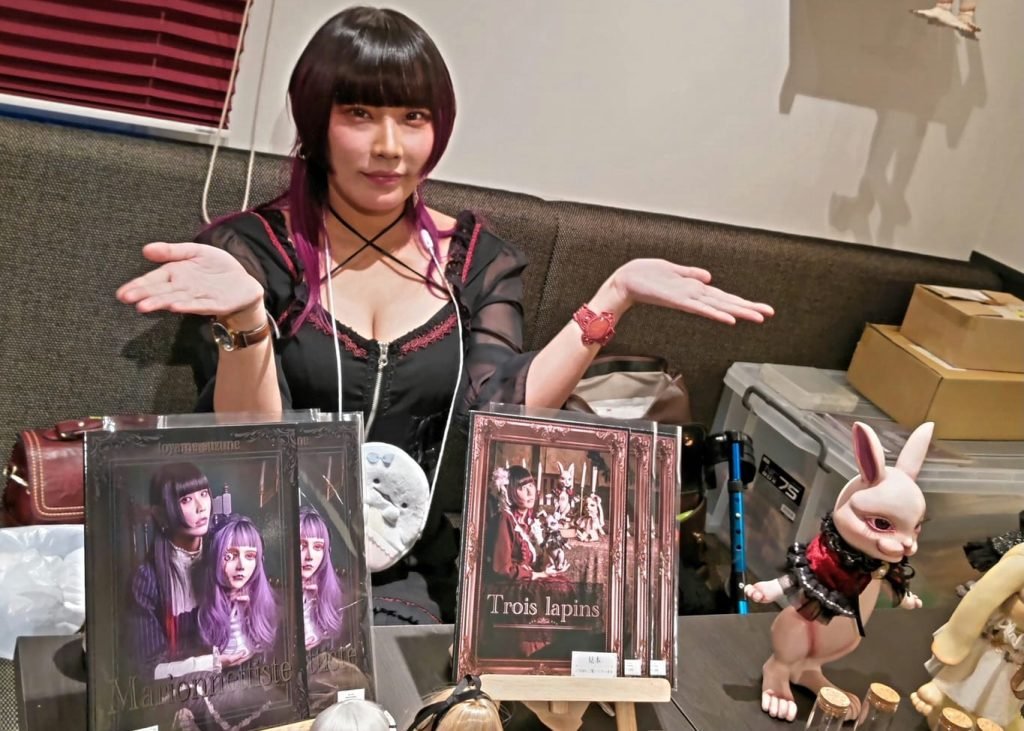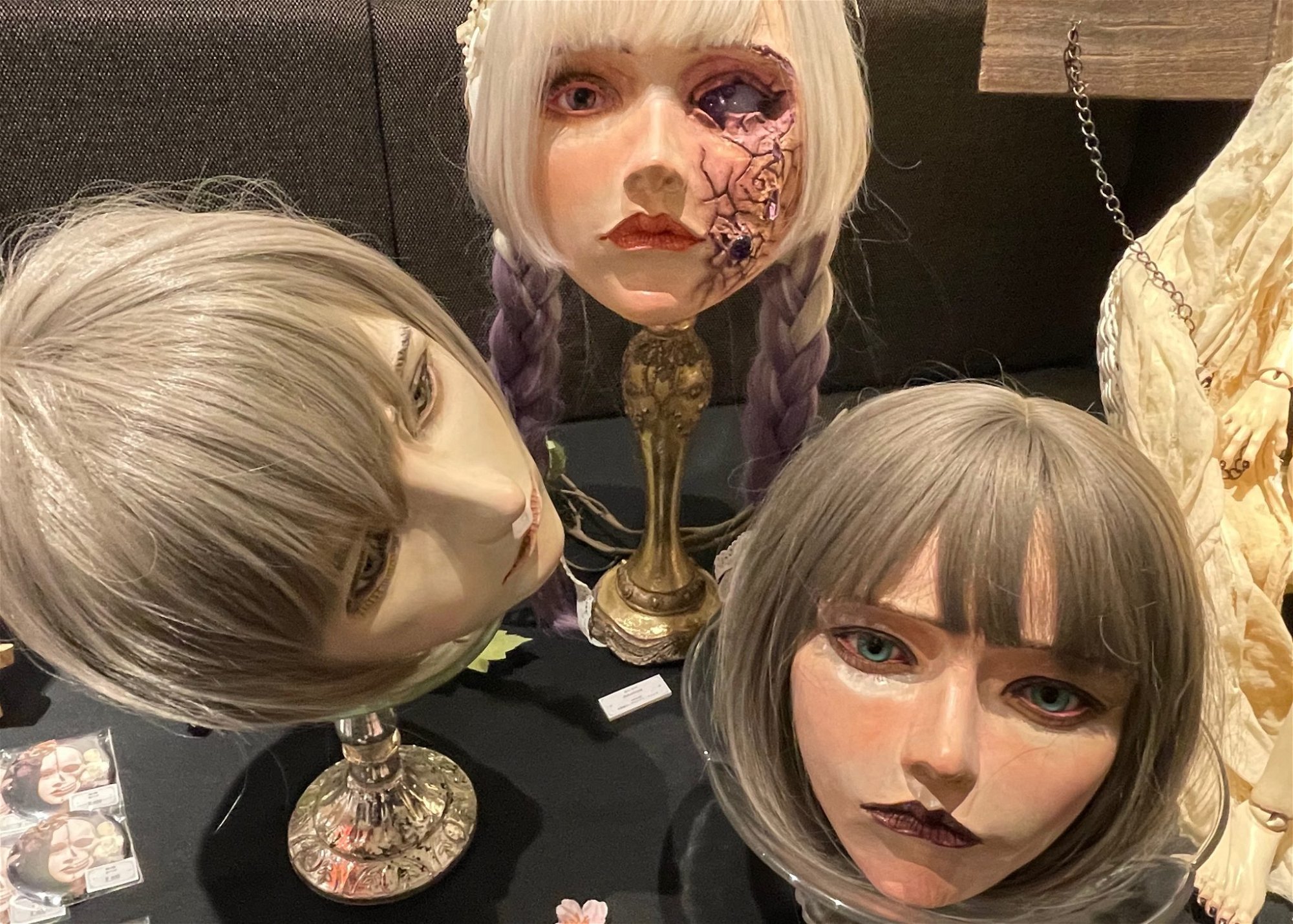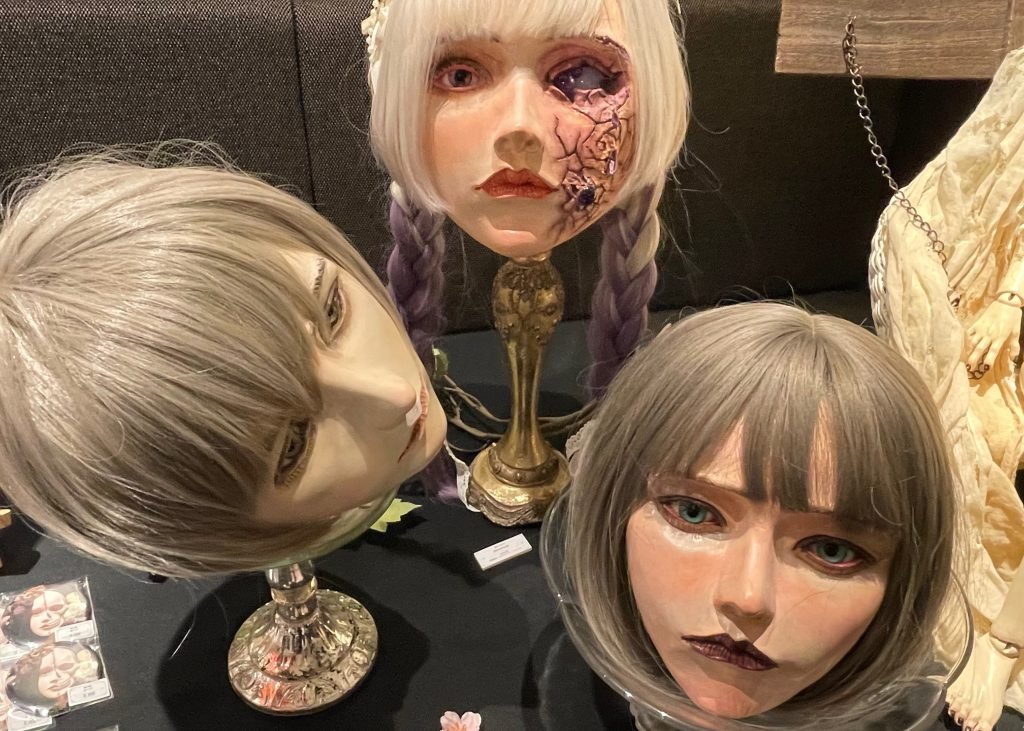 Medaka Gakko: School of Fish
Medaka Gakko, which is located on the second floor of Hachfukujin, is also part of the exhibition
Over the years, the owners of Hachifukijin have mentored numerous neighborhood youths by offering them jobs or assisting them in finding positions at other local businesses. However, some of the children have developmental disabilities that made finding work difficult, and their parents were concerned about their future.
People with developmental disabilities in Japan are often given menial jobs such as packing items or folding paper that won't give them the skills they need to find sustainable employment. Morizawa wanted to help these children, but lacked the necessary credentials, so he took an exam to obtain a license to run a type B employment support service.
According to this website "Support for Continuous Employment (Type B)" is the service that provides work or training necessary to get a job for persons with disabilities who have difficulties to be employed by ordinary companies and is difficult to work under employment contract even with support."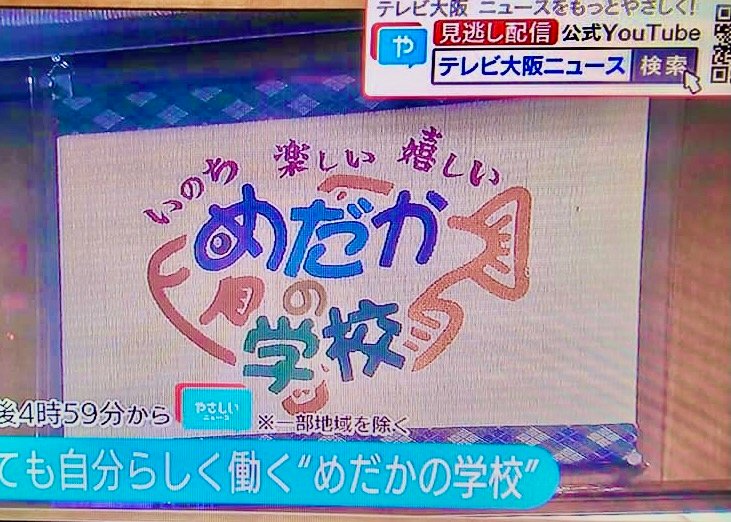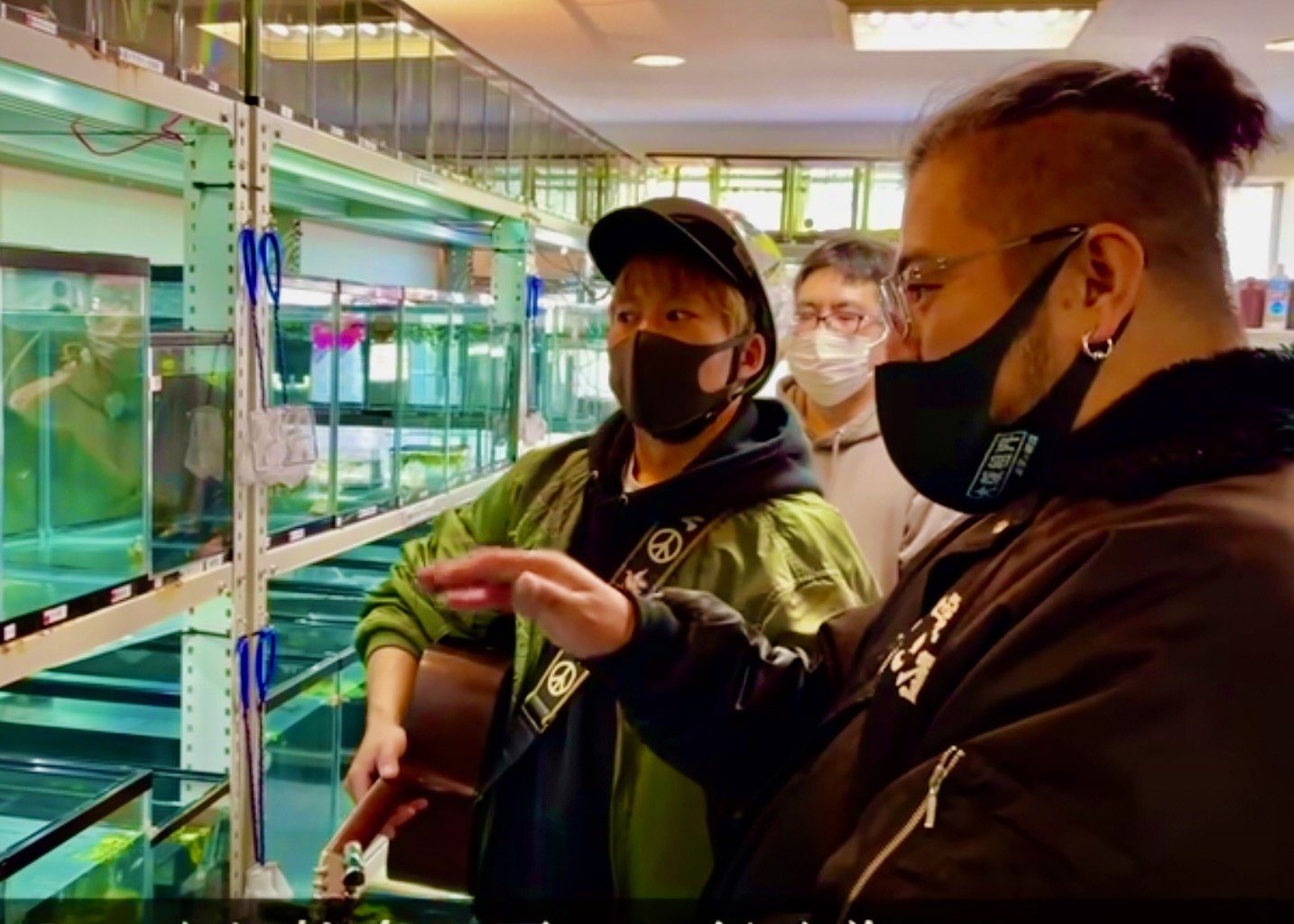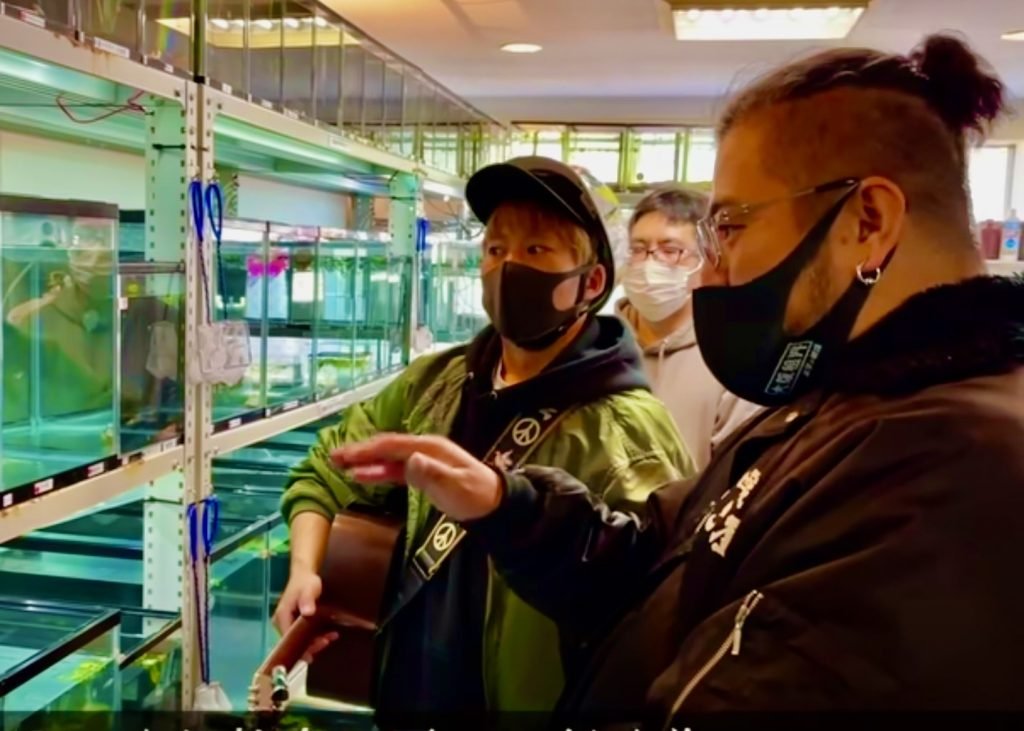 One of the things the school does is teach people how to breed medaka fish (Japanese rice fish), which they can then sell to customers to generate a modest income. Medaka can fetch anywhere from 20 yen to 500,000 yen, depending on the rarity of the breed. Breeding medaka doesn't require a heater or expensive equipment and people who are unable leave their homes for various reasons can interact with customers online.
I didn't get a chance to visit Medaka Gakko at press time, so I might have oversimplified how the school works. You can find more detailed information in this video by YouTuber Nenoshin in which Morizawa states that one of the goals of the school is to give people on assistance, many who have become shut-ins, a chance to get back on their feet in order to reconnect with society at their own pace. When I spoke to Morizawa on the second day of the exhibition, he said that dealing with the public at an event like this was an important part of their training.
Champagne Celebration: Seriously Goofing Around 真面目にふざける
I'll end the article the way it started with Morizawa chugging a bottle of champagne outside Hachifukujin during the 10 year anniversary celebrations. Stop by the next time you visit Osaka for good company and delicious food. You'll be back for more.