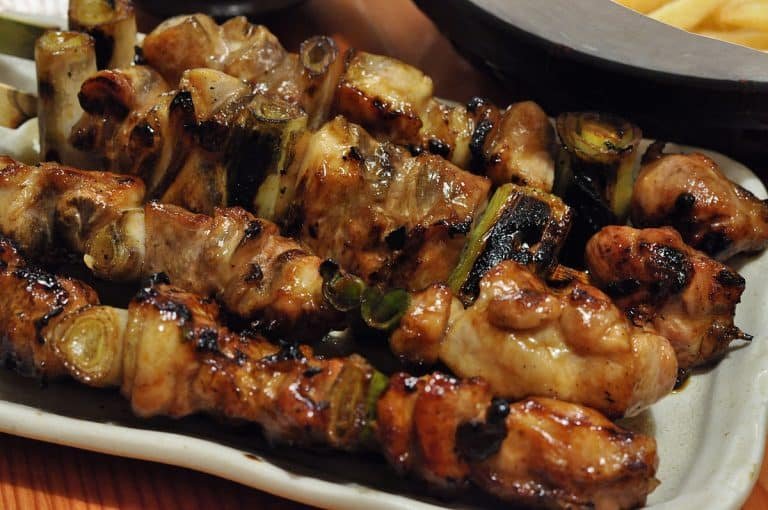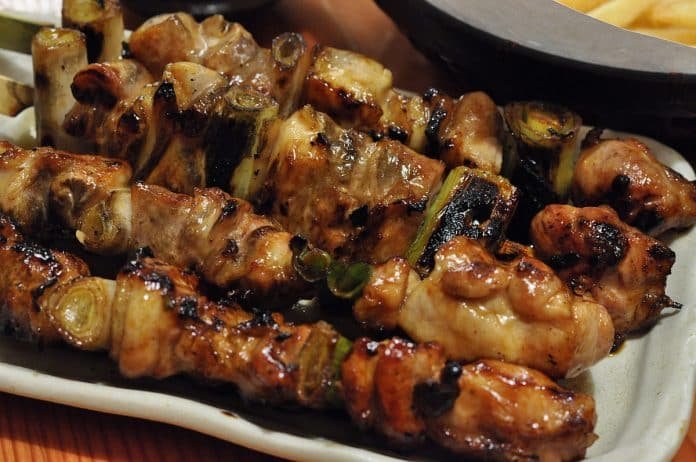 In going from the Umeda district of Osaka to view the maple leaves of Minoo, you must change from the Hankyu Takarazuka line to the Minoo spur at Ishibashi Station. This is a good opportunity on your return to try one of the well-known yakitori restaurants here.
A friend told me that yakitori became a signature food of Ishibashi because there are colleges in the area, and yakitori is popular among the students., but it may also be that one restaurant became successful and others sprang up to copy it. (Look at how many coffee chains come from Seattle, though not a bean of coffee is grown there.)
I went to Torikatsu, a small shop with counter service. The chicken is from Miyazaki, which, along with Nagoya and Akita, is famous for it. The layout is typical: a grill with a fan hood, mom and pop behind the counter.
Bottles of sake and shochu line the wall. In the custom of "bottle keep", customers purchase a bottle which the shop keeps with their name on it. It works out a little cheaper, but is mainly a status symbol, as it shows the customer is a regular. I ordered a chu-jocky of nama-beeru (a medium mug of draft beer) and stuck to it, as I have learned from bad experience not to mix my drinks (called champon in Japanese, after the champon nabe or mixed hotpot stew).
For the food, we started rabbit-like with the obligatory raw cabbage, while my host (a friend in the fish business) asked if I could eat sashimi. While surprised that a yakitori shop also served raw fish, I told him that, as I had been in-country for over ten years, I could certainly eat sashimi. This was my misunderstanding, as I was not presented with raw fish, but with an assortment of raw sliced chicken meat, liver and heart. Despite embarrassment at my mistake, I refused it, as I am eager to avoid salmonella. Fortunately, my host and his son, a pharmacist, where not so concerned about health, and consumed it with gusto, declaring it delicious. As it bothered me that I had not done my duty as a food writer, I later inquired of a student who works as a food safety inspector whether I had done right. He said the chance of raw chicken containing salmonella is 100 percent.
The rest of our selections were quite good: zuri (gizzard), negima (with green onion), and tebasaki (chicken wings). Yakitori is often offered as a choice of shio (salted) or tare (with sauce). Both are good.
Reba (liver), and tataki with green onion were both only lightly braised and could be called raw in the middle, though they were acceptable to me.
A whitish dish which was said to be bird testicles was middling good and reminded me of a TV ad KFC ran to counter McDonalds which asked, "Where on the chicken are the nuggets?" (Perhaps if they had said "rooster" they would have found them.)
Sadly, by the time I craved some yaki-onigiri (grilled rice balls), the rice supply had given out, and we were forced to obtain our carbohydrates solely from beer. It may therefore be wise to order rice early, though this goes against Japanese custom, according to which ordering rice signals the end of the meal.
Total damage at Torikatsu was about 4000 yen each – not cheap for yakitori, but much of this expense was related to carbohydrates, which ran 550 yen per mug. Most dishes were 400 – 600 yen each.
We did try some interesting dishes not always found in other shops (perhaps for good reason). Overall, I recommend yakitori, and especially the friendly atmosphere of counter service found in this shop, but would remind readers that just because something is edible, doesn't mean you have to eat it.
Location: 2-2-8 Ishibashi Ikeda, Osaka Prefecture 563-0032
Directions: From Ishibashi Station, take the East exit, which will put you out on the street next to a pachinko shop. Turn left into the alley after this shop, and when you come to a T, turn right. The road angles to the left and at the end of the block the restaurant is on your left.
Phone: 072-761-3231
Additional Photos: http://www.flickr.com/photos/90440868@N02/