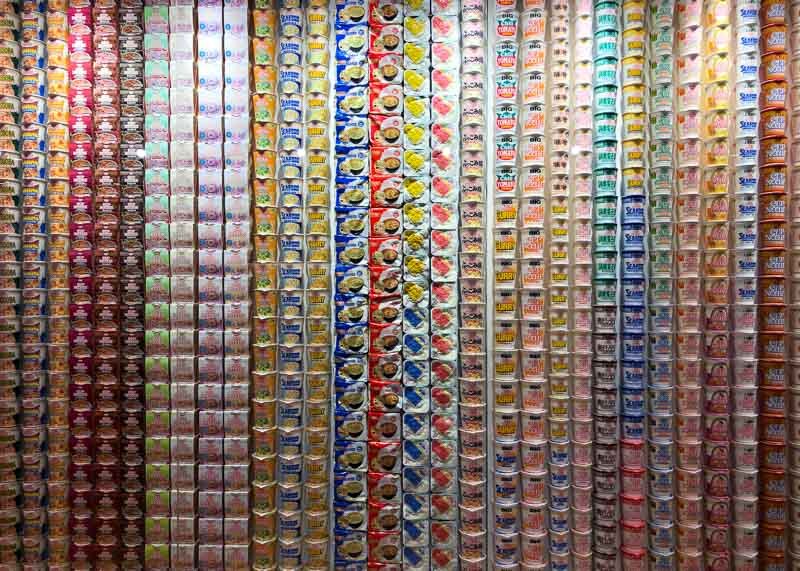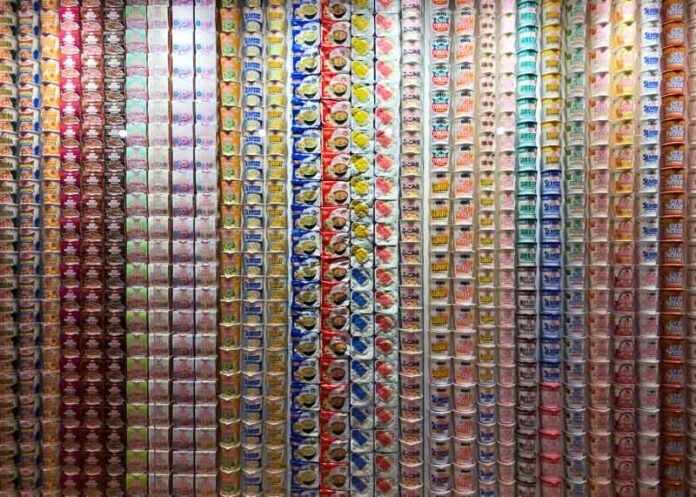 Who wouldn't know instant ramen and cup noodles? This super easy-to-make, yet tasty dish is a beloved staple food not only in students' dorm rooms but also in many households all over the world. There are dozens of flavors in bright packages that differ from country to country and I personally don't know a living soul who wouldn't try at least once in their life this quick, savory, and heart-warming treat. cup noodle museum osaka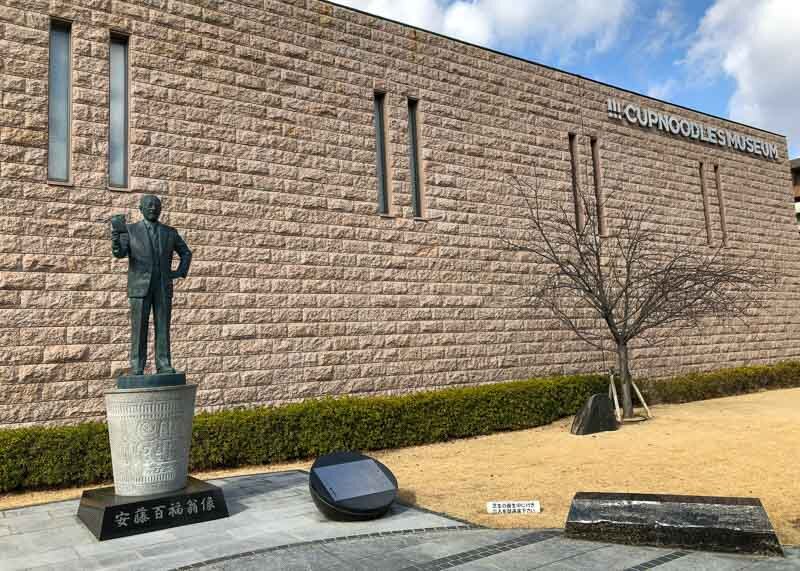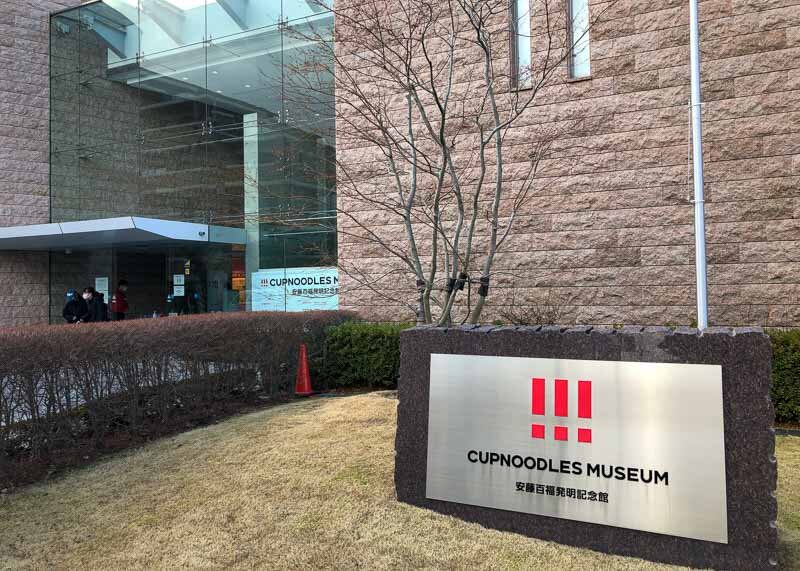 Did you know…?
…that the very first instant ramen started its humble beginnings in Ikeda in Osaka Prefecture? That it also travelled to space? And that you can visit the birthplace of this incredible invention today? Cup Noodles Museum in Osaka proudly stands at the same spot where the first instant chicken ramen was born. In this fun, quirky museum you can learn about incredible life of its inventor Momofuku Ando, make your own cup noodles, sample some special edition cup noodles that can be found only in particular countries, and much more. Embark with me on a virtual tour into one of Osaka's greatest, family-friendly museums! cup noodle museum osaka
A little video tour of Cup Noodles museum in Osaka
---
Exploring the museum
Ikeda is a small town located on the north-west of Osaka. It is easily accessible in 20 minute train ride from the Osaka-Umeda Station, and the Cup Noodles Museum is only about 5 minute walk away. At the first glance, its tall concrete walls may seem a little bit unapproachable, but as soon as you walk in, you will be mesmerized by all the colorful displays and welcoming environment. When you enter the museum, the first thing to greet you is a bust of the inventor of the instant ramen – Momofuku Ando in the entrance hall. If you are entering the building from the front entrance (not the parking lot), you will notice a souvenir shop on the left and the exhibition spaces start on your right. cup noodle museum osaka
I recommend to explore the souvenir shop after you have gone through the museum. You can find here a lot of fun Cup Noodles Museum merchandise. Most of it are unique, limited-edition pieces that are sold only here. The museum's mascot is a little yellow chick called Hiyoko-chan who represents the first ever flavor of instant ramen – chicken.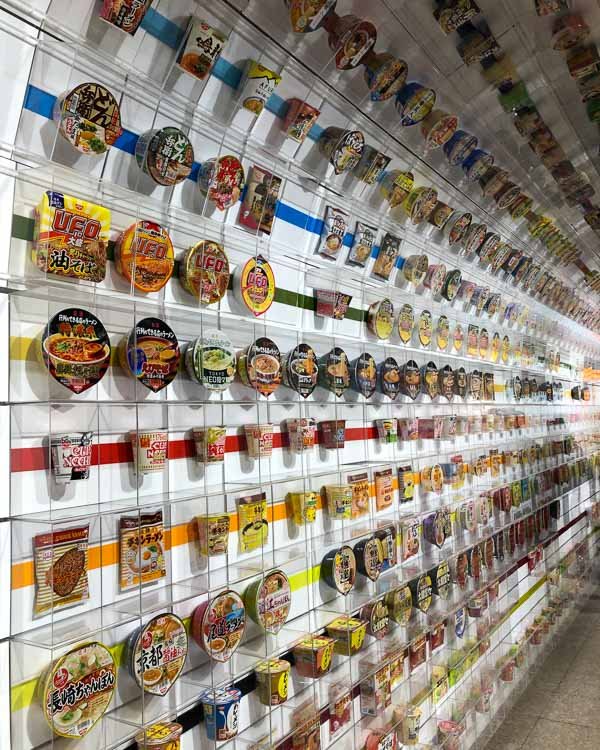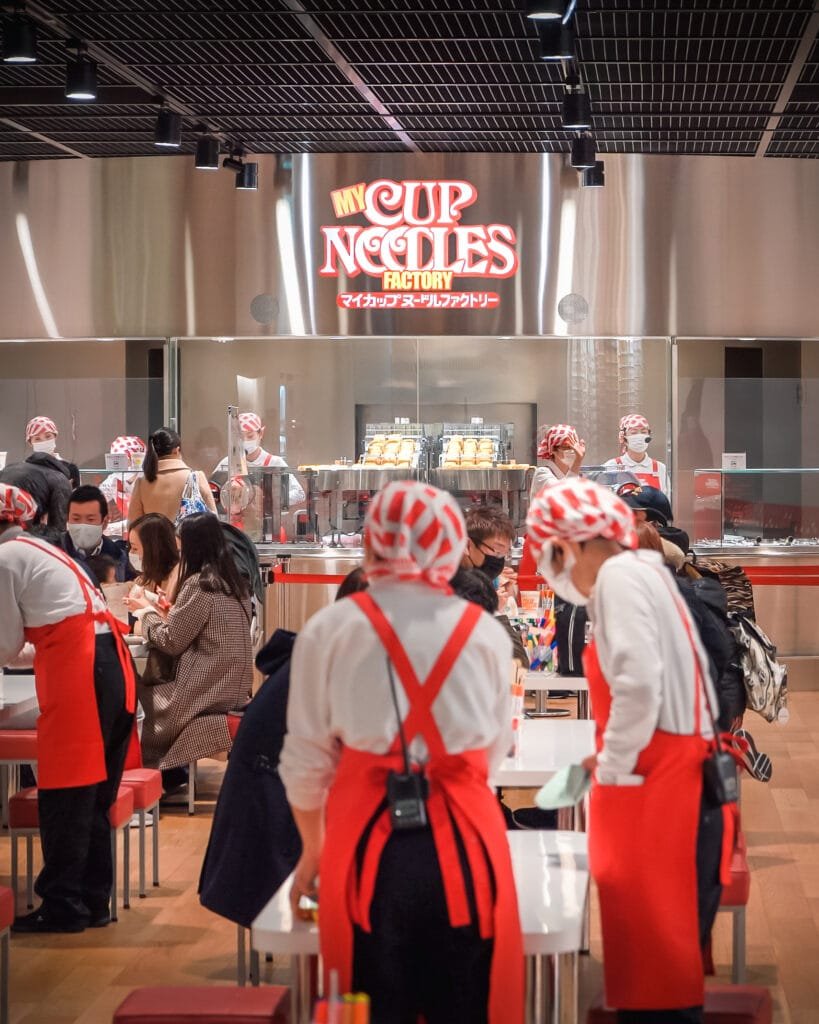 While walking into the exhibition spaces, on your right you will see a wall dedicated to Ando's work and the story of instant noodles. The whole display is very interactive and you are encouraged to try its different features. On your left, you will find an impressive Instant Ramen Tunnel displaying over 800 different types of cup noodles that you can find all over the world. It is a great spot for your pictures and every instant ramen enthusiast will surely love it! cup noodle museum osaka
---
Instant ramen in space
Moving forward alongside the tunnel, you will pass by Ando's shed, where he created the first instant noodles and kept them secret until he perfected them. Little Magic Table behind the shed will challenge you with fun quizzes related to instant noodles and enhance your knowledge not only about this ground-breaking invention. The most interesting part, however, is the Space Ram. At this display you will find out, how and why instant ramen made it to the space. In the short video you will see Japanese astronaut Mr. Soichi Noguchi who took the instant ramen to the outer space for the first time in 2005 on a space shuttle Discovery. When creating this product, Ando had to count with different obstacles, such as different degrees of boiling water on Earth and in space (which is only 70 degrees of Celsius). Not only he accomplished this goal, but he even made the space noodles in four different seasonings – soy sauce, curry, tonkotsu and miso which are the classic ramen flavors. Mr. Noguchi said that even under the weightless condition, the instant noodles taste just as good as on Earth.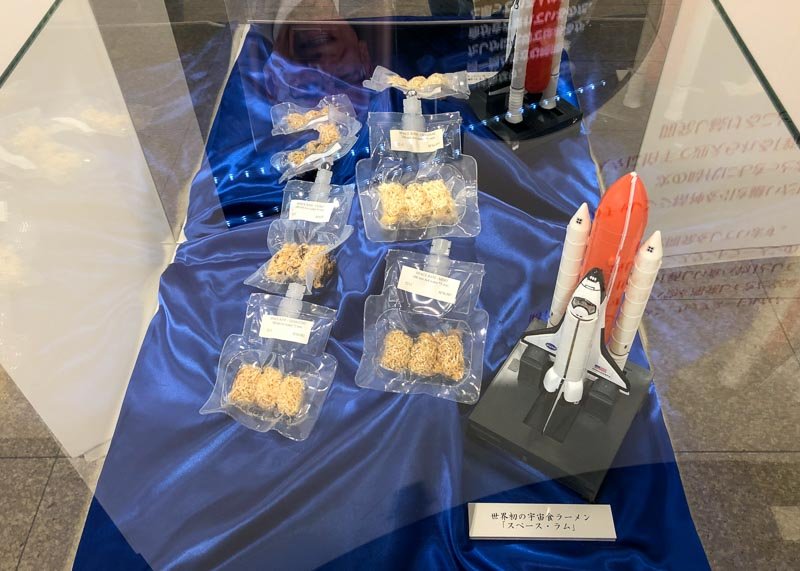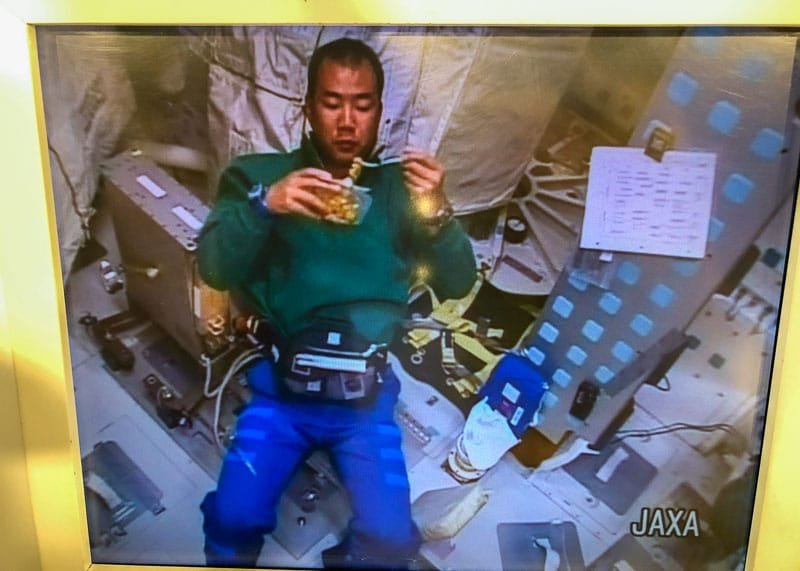 In the interactive drama theatre, which is in a shape of Cup Noodles, you will be mesmerized by powerful, large-screen images showing the anecdotes and inspiration of how this invention came to life and what is behind the whole manufacturing process. Next to the theatre, there's an exhibition of instant noodles packages from all around the world and at the very end of the first floor you can peek inside the real Cup Noodles factory and even make your own personalized cup! cup noodle museum osaka
The second floor of the museum is dedicated to the father of instant ramen – Momofuku Ando, to all his inventions, achievements and to his non-profit foundation that is still helping people today and funds the Cup Noodles Museums in Ikeda and Yokohama.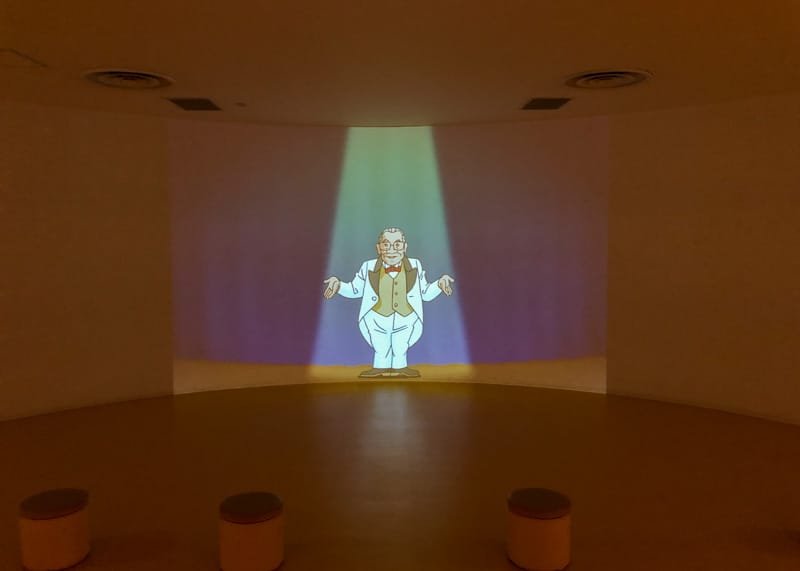 ---
Beginnings of instant chicken ramen
In the post-war era, Japan was suffering from a shortage of food and Japanese officials were encouraging people to eat bread made of wheat flour that was supplied from the United States. Momofuku Ando was wondering, why Japanese people should eat bread, when noodles are more familiar to them. The response he got was that the noodles' companies are simply too small to accommodate the needs of large amounts of people. That is when he decided to start his own production company. cup noodle museum osaka
The beginnings of this easy dish were not just another business idea. The sole purpose was to create tasty and affordable food for those in need and to help families to recover after the aftermath of the WW II. by bringing a hot dish to their tables. He believed that "peace will come to the world when all its people have enough to eat."
Nissin Foods and Cup Noodles
Momofuku Ando started in a small shed that he built behind his house in Ikeda at the age of 48 (its perfect recreation can be found in the museum). After hours of experiments, trials and errors, in August 1958, the first instant chicken ramen noodles came to life. With this invention, Ando has started a whole new food industry and established his company Nissin Food Products that still operates today.
However, he didn't stop at instant ramen. In 1971, when Ando was 61 years old, he came with another ground breaking invention – famous Cup Noodles. The inspiration for Cup Noodles came after his trip to America, where he saw labour workers to break instant ramen in half and eating it from cup. Cup Noodles met an immediate success all over the world, however, Ando didn't stop chasing his dreams and started working on the Space Ram, instant noodles that can be eaten in space. Neither to say, he completed his third major invention in 2005.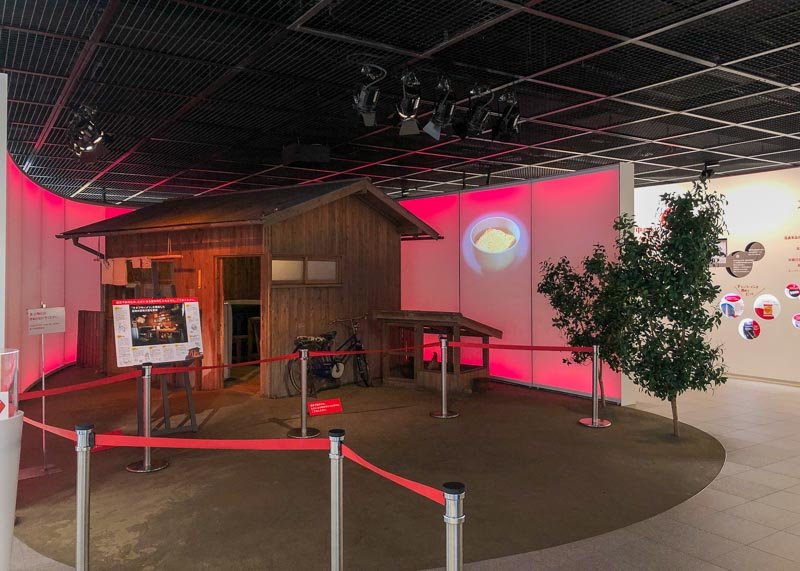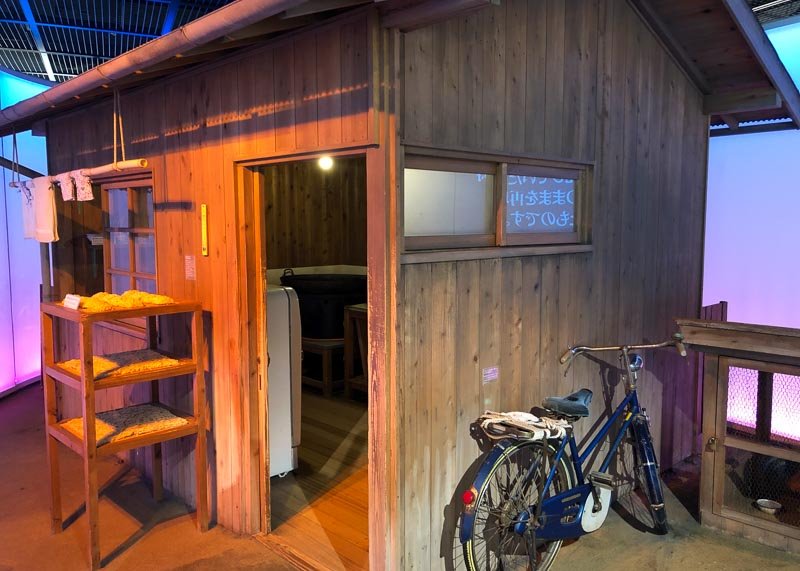 ---
Life and work of Momofuku Ando
The father of instant ramen and Cup Noodles, Momofuku Ando, was born in March 1910 in Taiwan, but after his country was handed over to China during the WW II., he decided to stay in Osaka, where he lived at that time. In later years, he became Japanese citizen through marriage with his Japanese wife Masako, with whom he had two sons and a daughter. cup noodle museum osaka
Even though it may seem that Ando met only success during his life, it is not entirely true. In his biography he admitted that he spent two years in jail in 1948 because of tax evasion. At that time, however, he was only providing school scholarships for students which was a form of tax evasion. This cost him his first company, but he didn't give up and started Nissin as a small family-run business producing salt.
After the success of Cup Noodles, Ando came also with an idea of Cup Rice, but unfortunately this invention didn't meet the expectation. Public was praising the taste and simplicity of Cup Rice, but because of a higher price point, they stopped buying it and the whole new production factory had to close down.
Momofuku Ando dedicated his whole life to thinking about food in new and creative ways, to healthy education of young people and to achieving his goals. He was truly an inspirational person who led his life by his motto: "Inspiration leads to invention. Tenacity is the breeding ground for inspiration. There can be no invention in the absence of tenacity." While he served as a president of Nissin Food Products, he also acted as chairman of the Japan Instant Food Industry Association and the World Instant Noodles Association.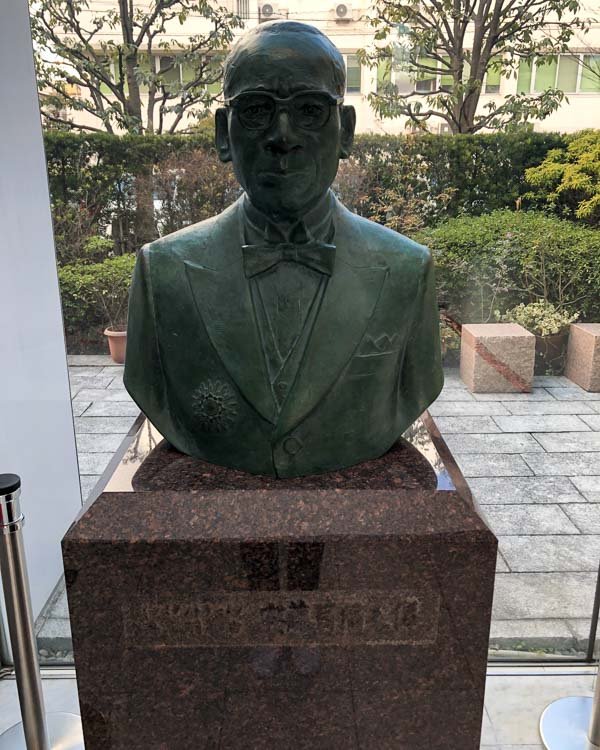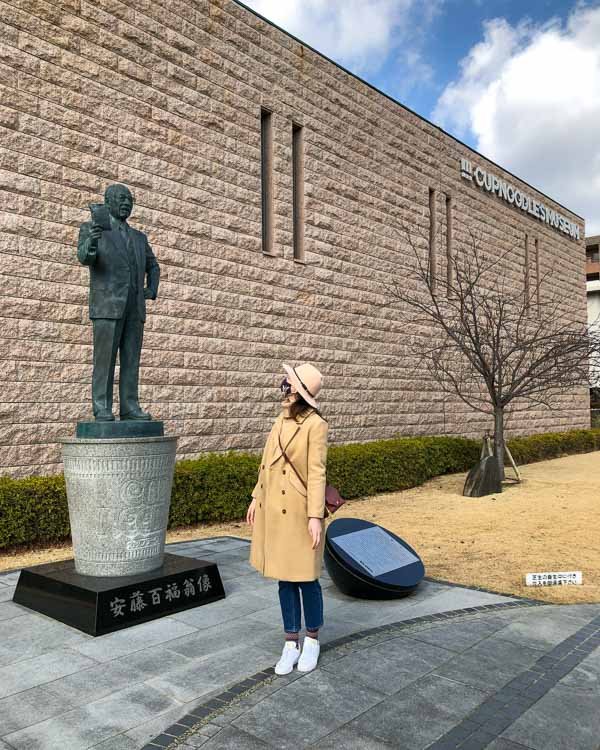 Ando Foundation
In 1983, he started Ando Foundation from his personal fortune to support field events and nature activities for young people, and to encourage developments that lead to the creation of new food products. Momofuku Ando was repeatedly given honours and medals not only by Japanese government but by foreign officials as well, for his inventions and contribution to science. He died at the age of 96, in 2007 in Ikeda. He claimed that the secret to such a long life is eating chicken ramen almost every day.
---
MY CUPNOODLES Factory
MY CUPNOODLES Factory is located at the end of the first floor and you can create your own customized cup of instant ramen noodles to take home with you. First you purchase a basic cup in a vending machine that you can customize according to your own preferences. Then you fill it with noodles and various toppings. All together, there are over 5000 combinations and you can create as many cups you would like! It costs 400 yen for each and they make a great and unique gift as well.
The CUPNOODLES factory is open daily from 9:30 AM till 4:30 PM, with the last entry at 3:30 PM. No reservations are needed, but you may have to wait in line on busy days.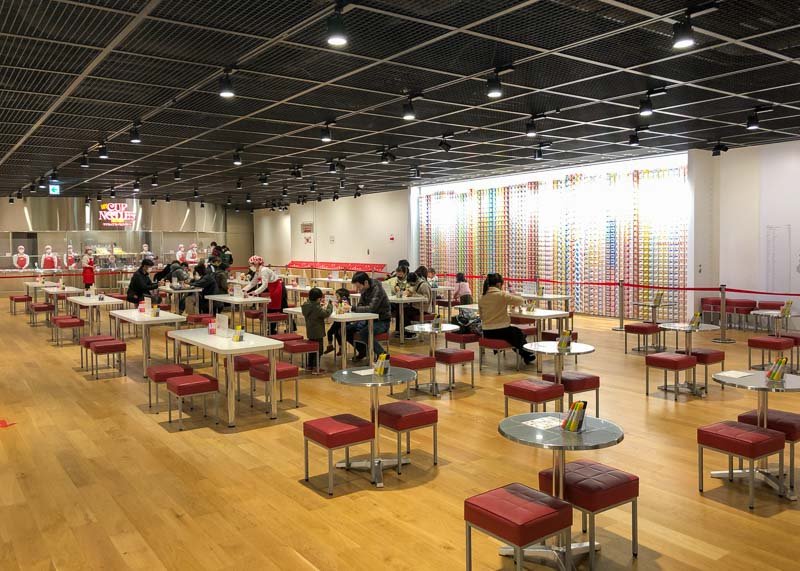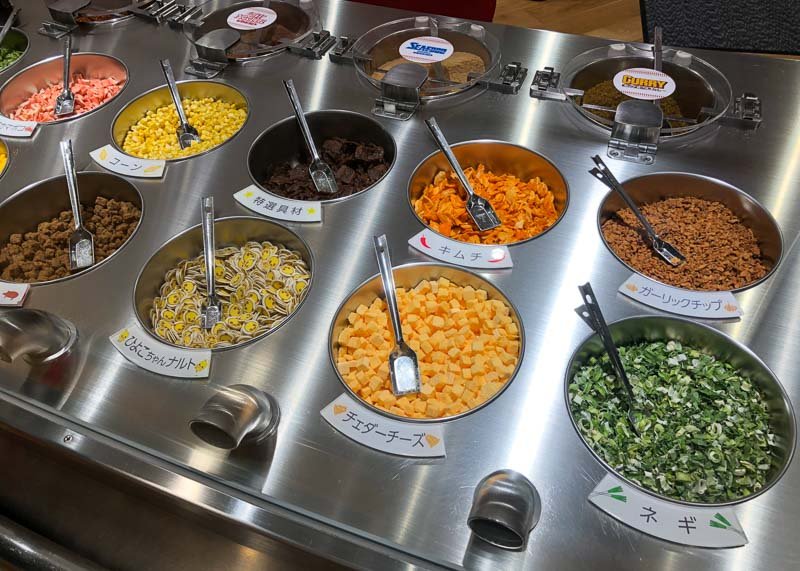 ---
Chicken Ramen Factory
If making your own Cup noodles wasn't enough and you'd like to broaden your knowledge from this museum, you can make a reservation to the Chicken Ramen Factory located on the second floor. Here, you will get the real hands-on experience how the chicken ramen is made. First you start with kneading, spreading and steaming the wheat flour and then drying it with flash-drying method. The staff is will lead you through the whole incredible process and at its end, you will be able to take your freshly made instant noodles home.
One session runs for 90 minutes and there are four sessions planned every day at 9:30 AM, 11:00 AM, 1:15 PM and the last one at 2:45 PM. You can make a reservation up to three months in advance. The sessions are only conducted in pairs so only reservations for even number of people are accepted (it is not possible to come as a single person unfortunately). The participation fee is 800 yen for an adult (Junior high schoolers and up) and 500 yen for elementary school students (pre-school students cannot participate for safety reasons).
---
Useful information
Address
Official website: https://www.cupnoodles-museum.jp/en/osaka_ikeda/
How to get there:
From Osaka-Umeda Station – take the brown Takarazuka Main line to Ikeda Station. If you take the express, the journey lasts 18 minutes and the train makes 5 stops. From Ikeda Station it is 5 minute walk to the museum (400 meters).
From Namba – from Namba Station you have to take red Midosuji metro line to get to the Umeda Station. From Umeda you walk about 5 minutes until you reach Osaka-Umeda Station from where you take the brown Takarazuka line to Ikeda Station.
Entrance fees: The entrance to the museum is free, but if you would like to visit the Chicken Ramen factory, the admission is 800 yen for an adult and 500 yen for kids. If you would like to create your own Cup Noodles, it is 400 yen for each cup (all fees include tax).
Opening hours: Open daily from 9:30 AM am to 4:30 PM with last admission at 3:30 PM. The museum is closed on Tuesdays and public holidays.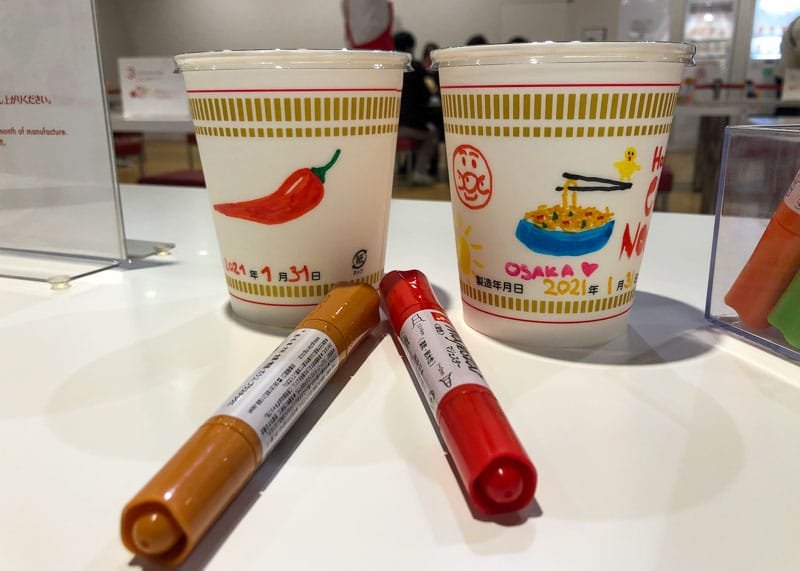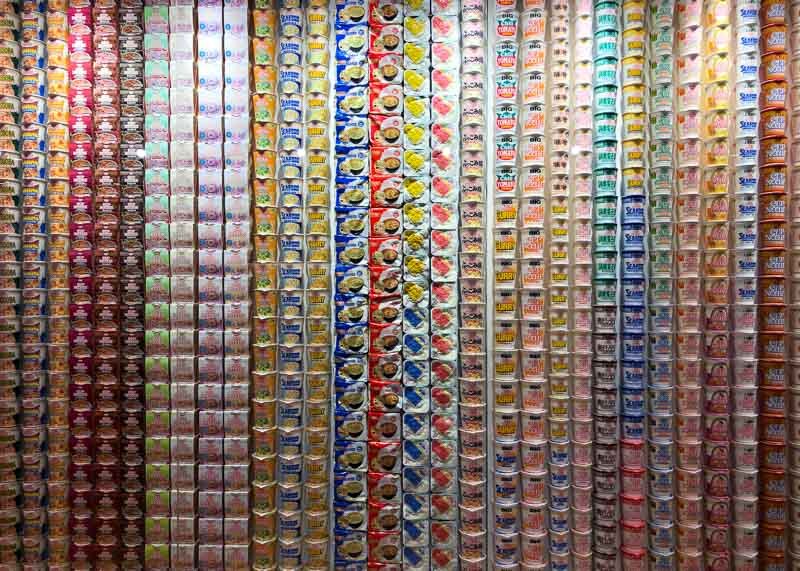 ---
What to do in Ikeda
Ikeda may be a little bit further from the city center of Osaka, but it has more to offer its visitors than "just" the Cup Noodles Museum. Here are few of the top rated activities what to do in this charming town.
Satsukiyama Park
Besides the Cup Noodles Museum, Satsukiyama Park is another great pride of Ikeda. This vast green area is the perfect spot for hanami picnics under the cherry blossoms in April, for admiring blooming azaleas in summer or autumn foliage in late November. There are several easy hiking trails and an observation tower that will offer you some epic views over Osaka.
Within the park, you can also find a petting ZOO with wombats, wallabies or alpacas which is free of charge, Botanical garden and a golf course. In spring and summer, you can experience some seasonal festivals held at the park square.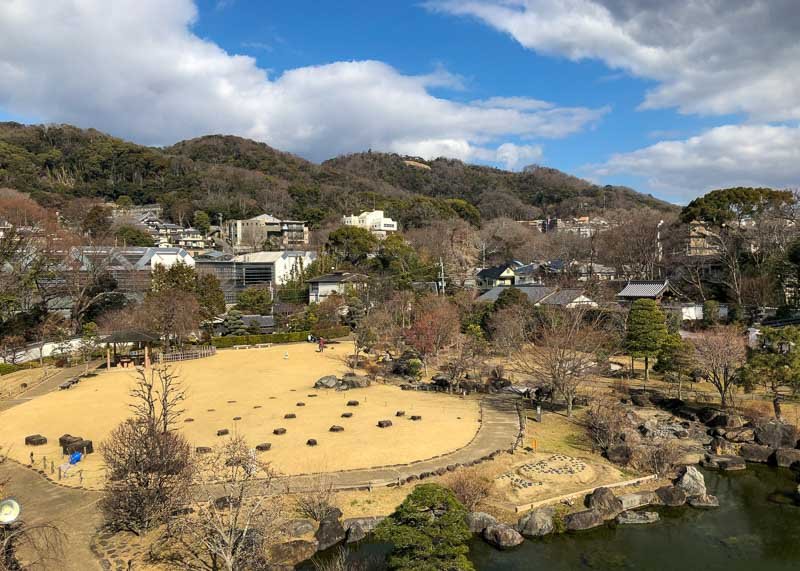 Kyuan-ji temple
Not far from the Satsukiyama Park is Kyuan-ji, a tranquil temple with peaceful gardens and a magnificent gate. It is also called the Temple of Flowers, because in every season there's a different flower in bloom. In spring, visitors come here to admire beautiful peonies, with summer rains hydrangea comes to life, autumn is known for magnificent foliage and by the end of winter plums start to bloom with bright pink petals. The Zen gardens also feature a pond and a fountain.
Entrance fee to Kyuan-ji is 300 yen.
Ikeda Castle
Ikeda Castle may not be big in size, but it has a long history dating back to the 14th century. It started as a small fort and featured in many battles throughout the centuries. Today the castle is fully renovated and offers its visitors views over the city. It is surrounded by parks and gardens that create a perfect place to relax. cup noodle museum osaka
The castle grounds are open daily from 9 AM till 7 PM, except of Tuesdays when it is closed. The admission is free.
If you are interested in deeper history of Ikeda, read our detailed piece HERE.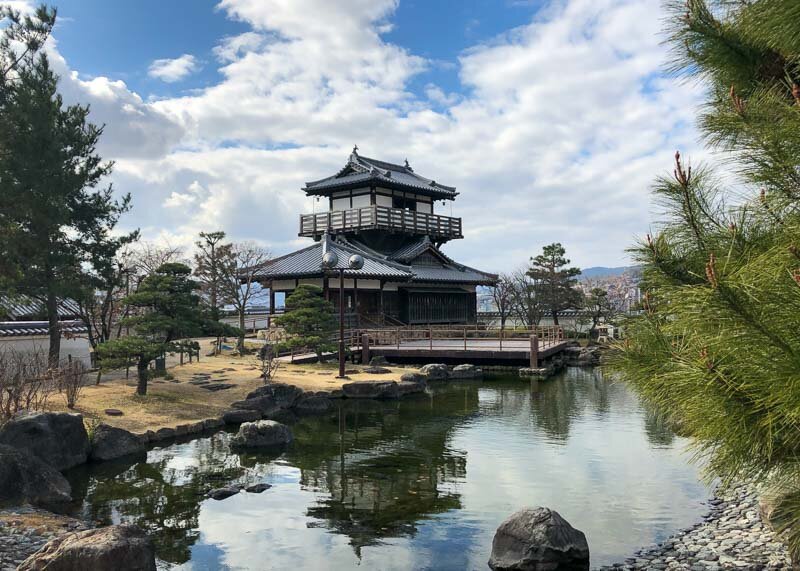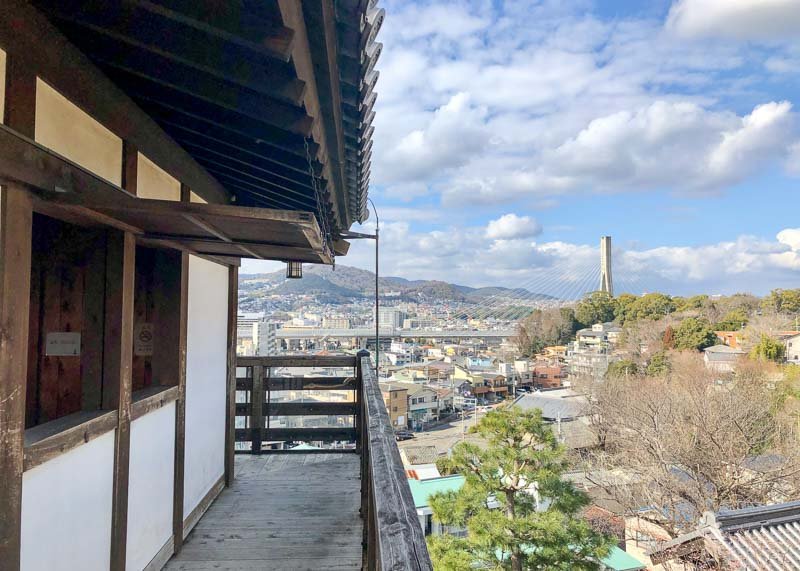 ---
Visiting Cup Noodles Museum is a very unique experience to have in Osaka. It will tell you and show you much more than just the history of this invention and its inspirational creator Momofuku Ando.
If you are interested in Japanese food, make sure to check out our article about the best dishes you have to try on your trip to Osaka.