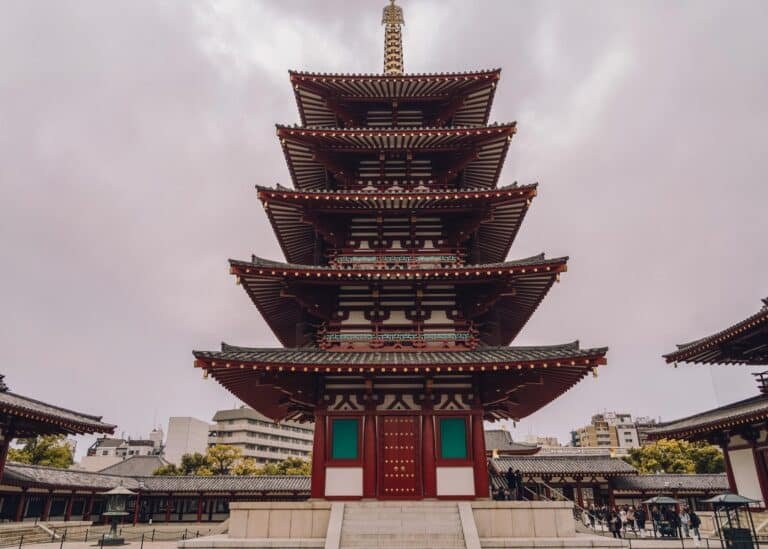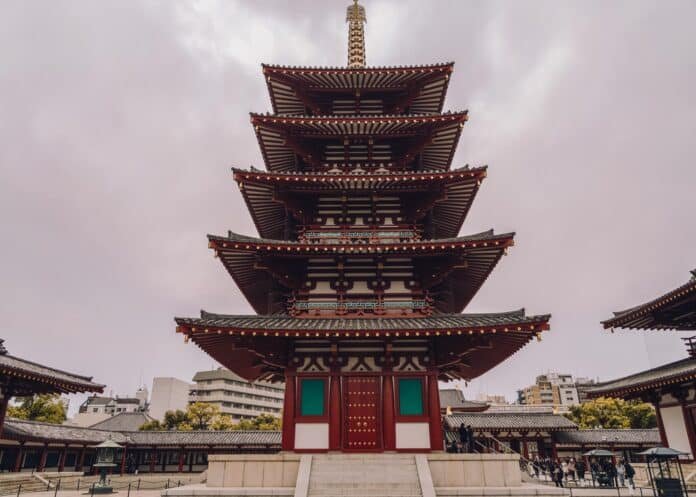 Take a break from the crowds while visiting Osaka and experience a bit more traditional side of the city by visiting some of its beautiful temples and shrines. While Kyoto that is best known for its countless places of worship, Osaka has some magnificent religious sites too, which played an important role in Japanese history and where people still come to pray and seek enlightenment.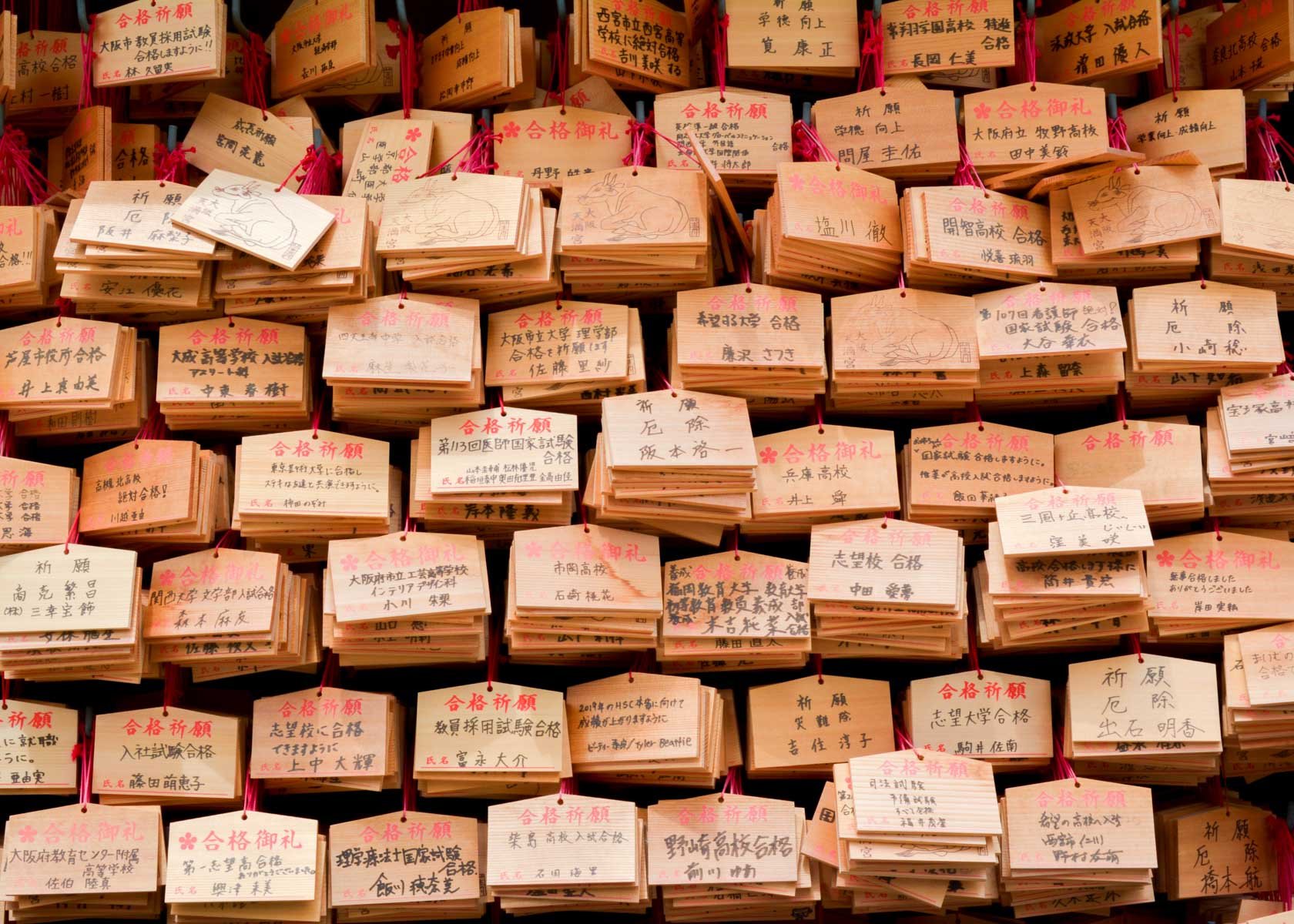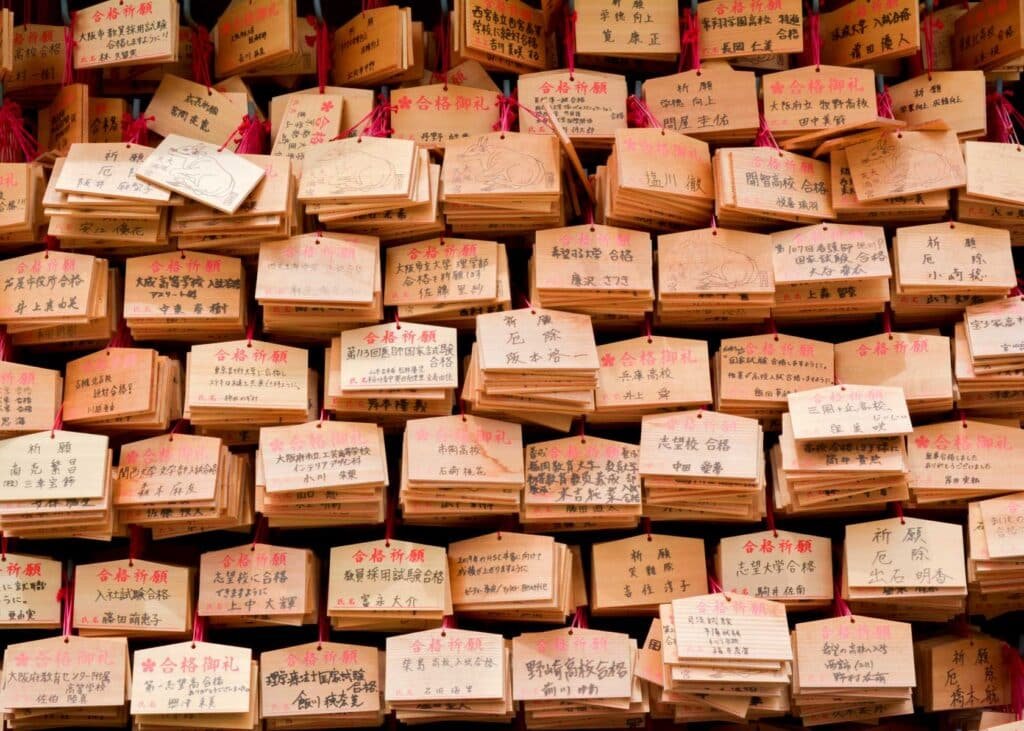 Hozenji Temple
Right in the centre of busy streets of colourful Dotonbori, there's hidden Hozenji Temple, a guardian of the soul of old Osaka. Hozenji temple is a true gem and a little quiet place in this otherwise chaotic shopping area. It feels like the time just stopped in here.
Short History of Hozenji
The history of Hozenji temple goes back to the 17th century, when the original premises of the temple grounds were much bigger than today. Shortly after the temple was built, it became a famous place for pilgrims who were coming here from afar. Locals started to set up their small shops and food stalls around to offer food to the pilgrims and this tradition eventually grew into a popular area of food and entertainment, similar to Dotonbori as we know it today.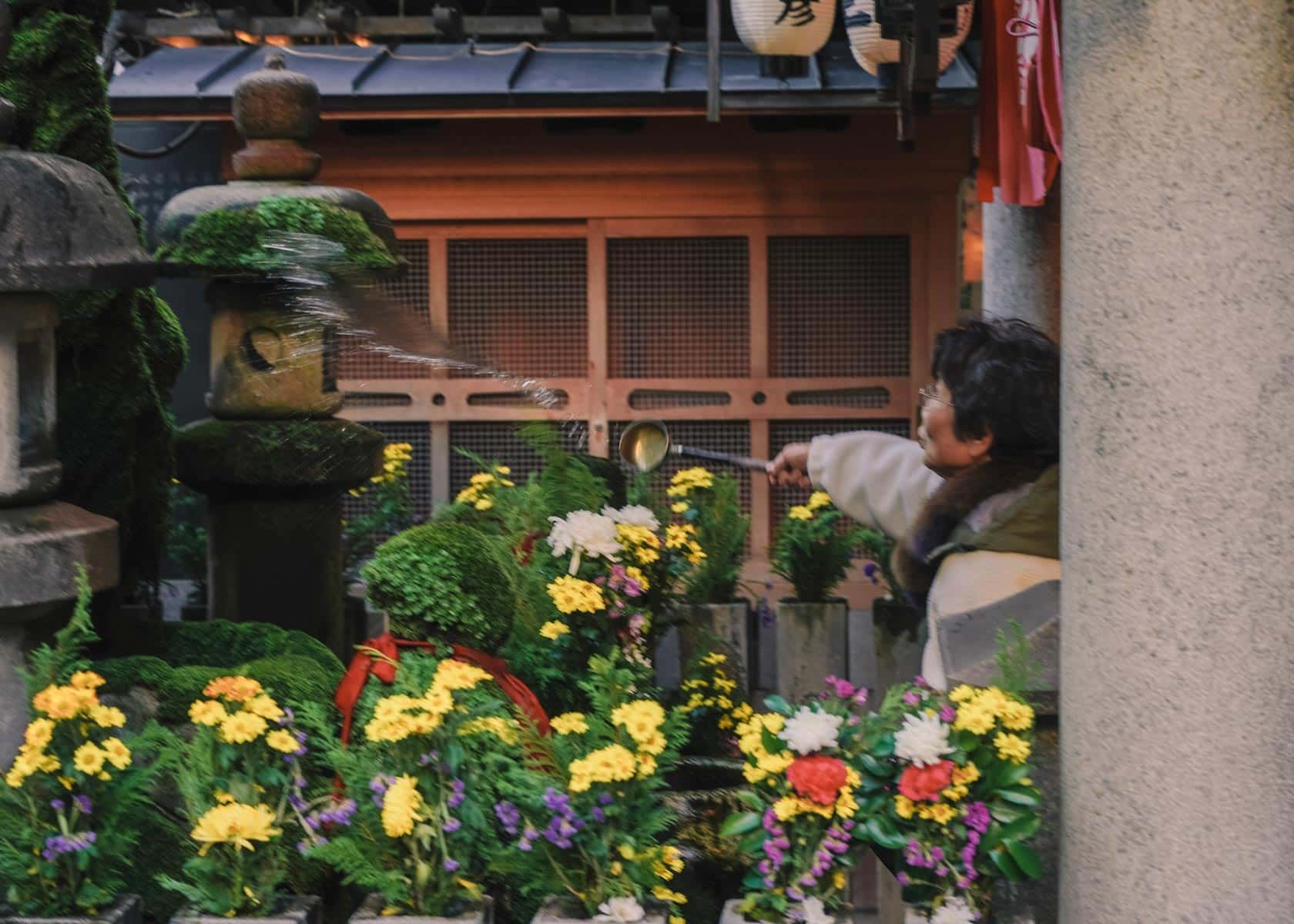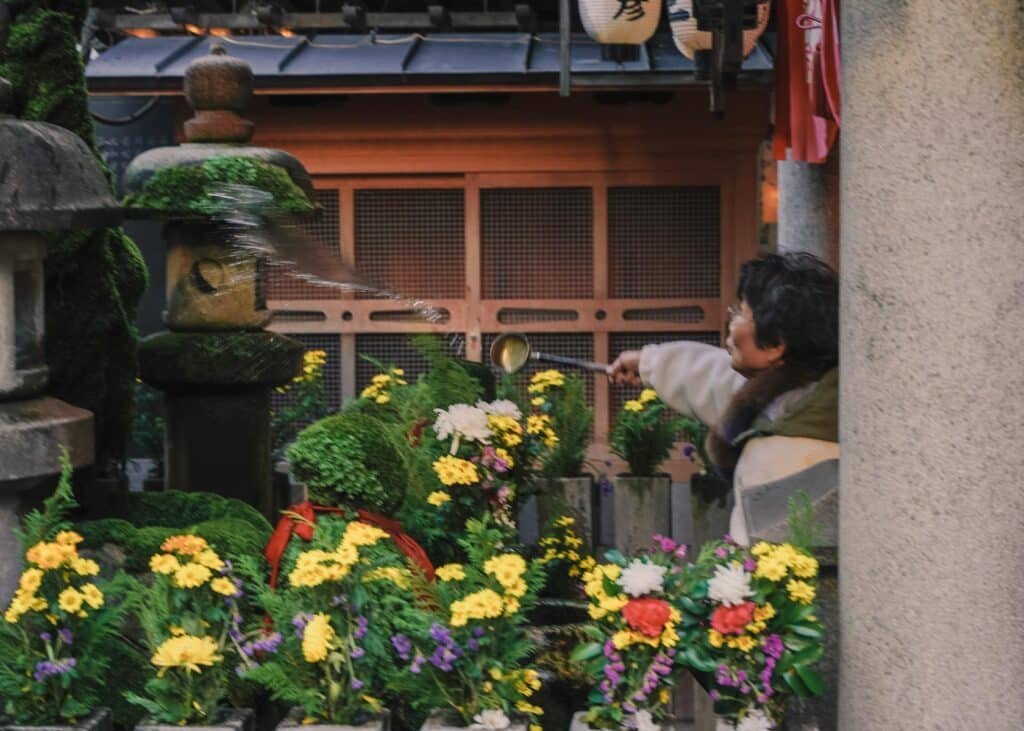 Fudomyoo
The main feature of the temple is the statue of Fudomyoo, a god of fury who represents discipline, and firm moral character. He maintains a scary appearance to scare people into enlightenment. During the WW II, the temple grounds were destroyed by bombing and the only thing that remained was the Fudomyoo statue.
Legend says that after the war, an older lady came to pray to Fudomyoo but as she lost everything during the war, she splashed the statue with water instead of giving him an offering. Her wish came true and ever since then, people come here to pray for their wishes while splashing more water on Fudomyoo. All the water caused that Fudomyoo grew impressive moss all over itself and people also call him "Mizukake Fudo," which means "Splashing water Fudo".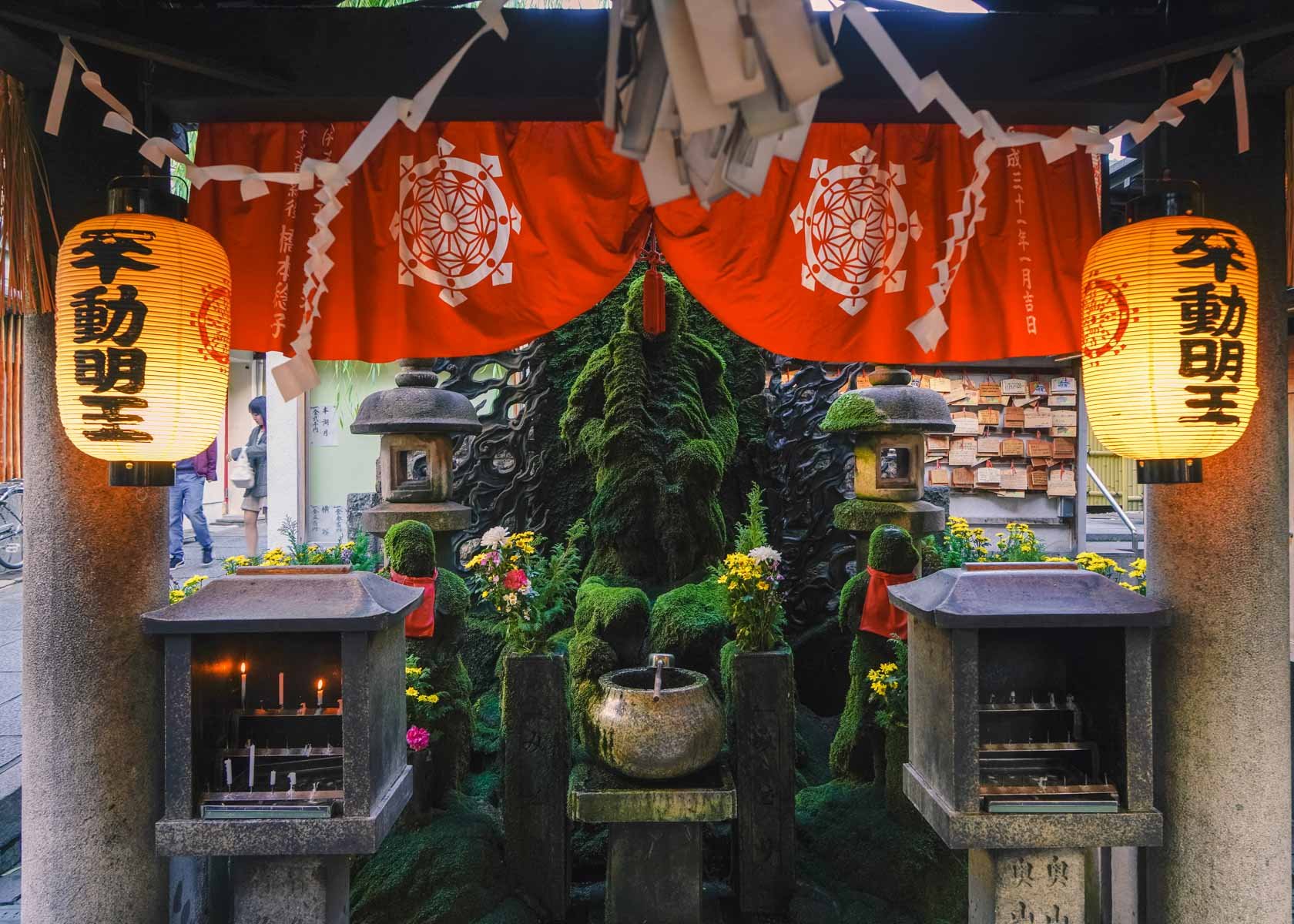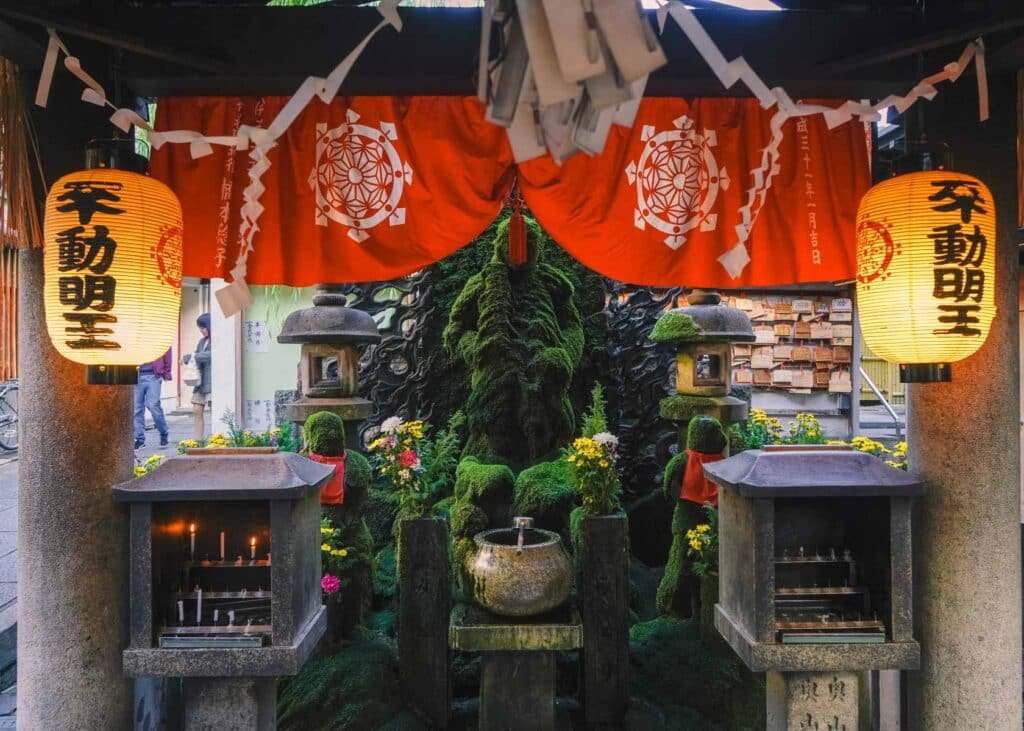 More Info
Address: 1 Chome-2-16 Nanba, Chuo Ward, Osaka, 542-0076, Japan
Opening hours and entrance fees: Hozenji Temple is open 24/7 and there are no entrance fees, however you are more than welcome to leave a coin or two in the treasure box in front of Fudomyoo.
If you are planning to visit Dotonbori in the future, read our virtual guide of this area not miss anything important!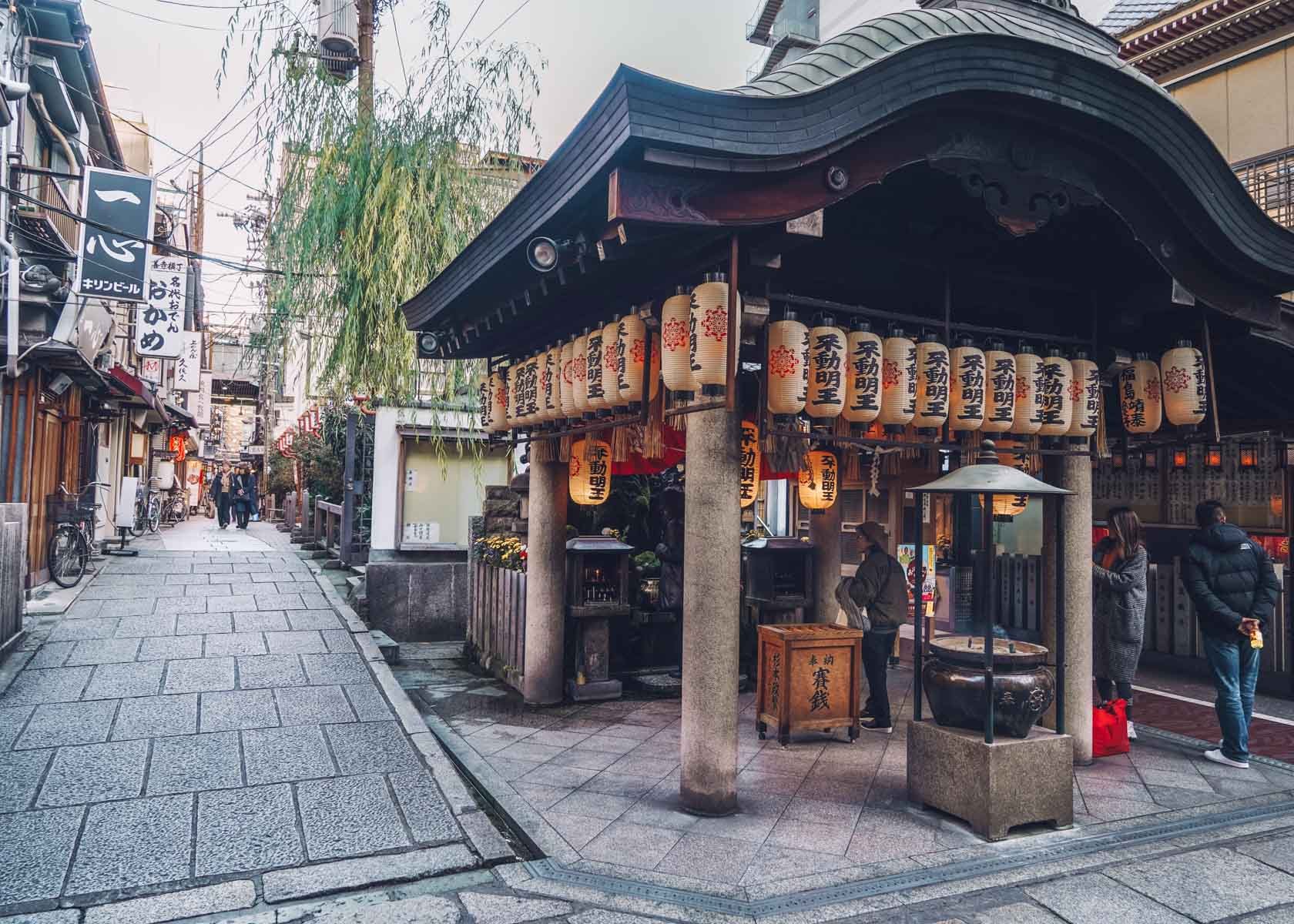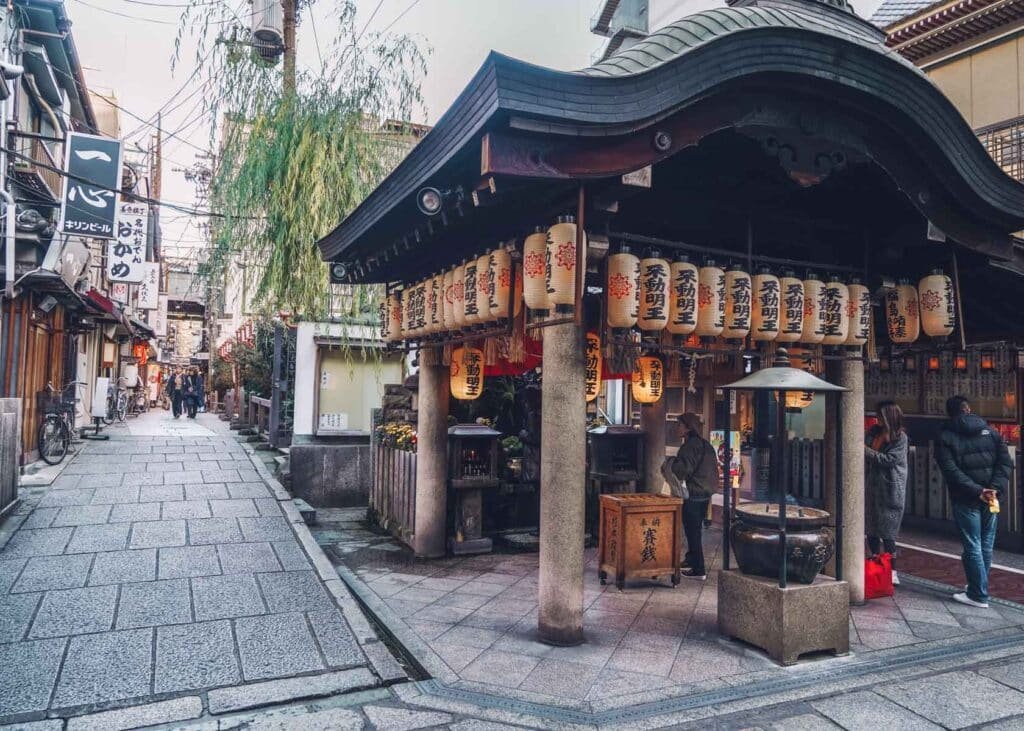 Katsuo-ji
Tucked away in the mountains about an hour away from the city of Osaka, you will find majestic Katsuo-ji Temple, completely surrounded by beautiful Japanese forests. The temple grounds are really large, set on a hillside with views over the valley. But the stunning area and beautiful temple are not the only reasons why visitors come here all the way from the city.
Winning Daruma
It is believed that praying in Katsuoji temple helped Emperor Seiwa to beat his illness and ever since then, people have been coming here to pray for good luck and victory. To enhance your prayer, you can buy a Daruma doll, one of the well-known talismans of Japan. The temple is covered in Daruma of all sizes! Visitors can buy them right in the temple to attract good luck. They also serve as a reminder to set goals in life and focus on achieving them.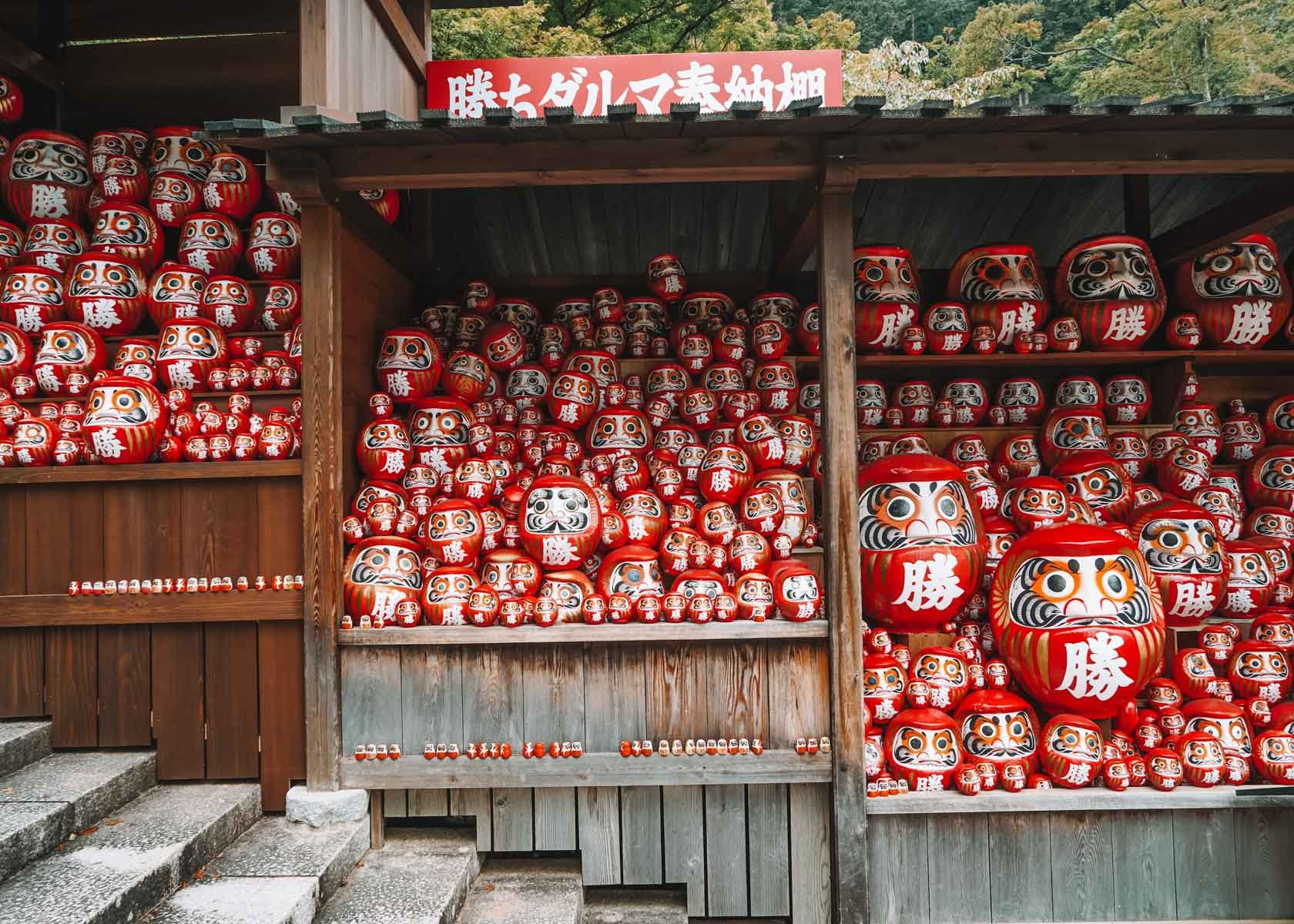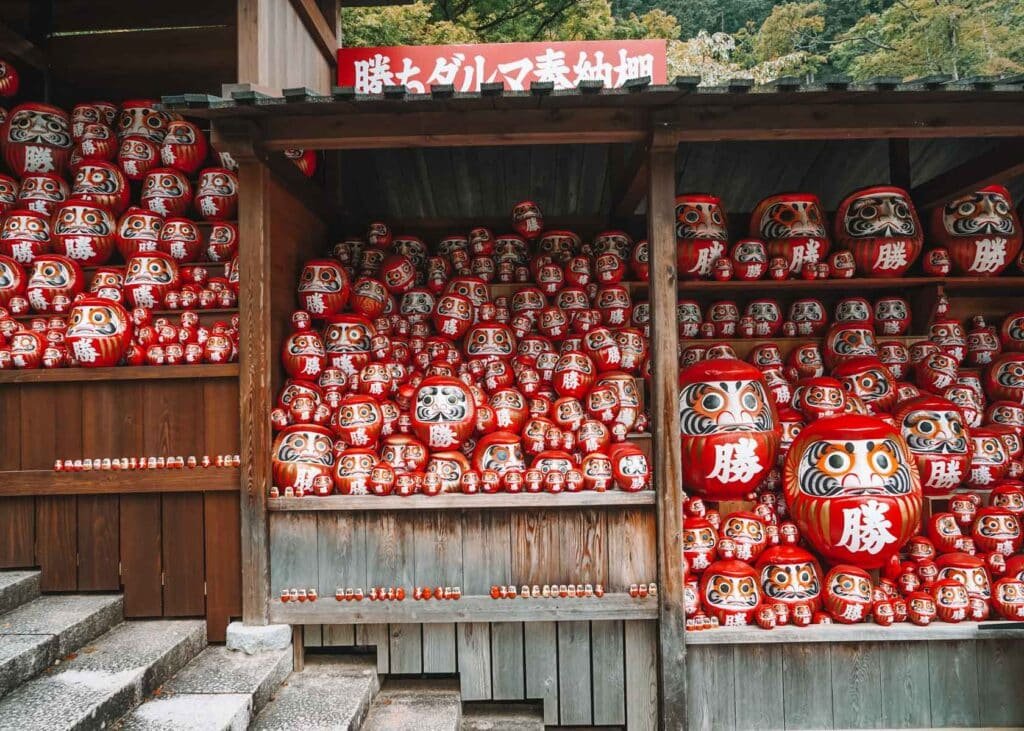 Best time to visit Katsuo-ji
Even though the temple is not directly situated in Osaka, it makes a beautiful half-day trip. The first thing you'll see when getting into the premises is a big majestic entrance gate, a pond with koi fish and a torii gate on the other side of a small bridge. Every few minutes there's a cloud of scented steam coming from the pond and it surrounds the gate and the bridge in a magical atmosphere. The best time to visit this temple is in autumn. There are countless maple trees that play with all the colours this time of the year. In summer, the surrounding forests are lush green which also creates a gorgeous scenery.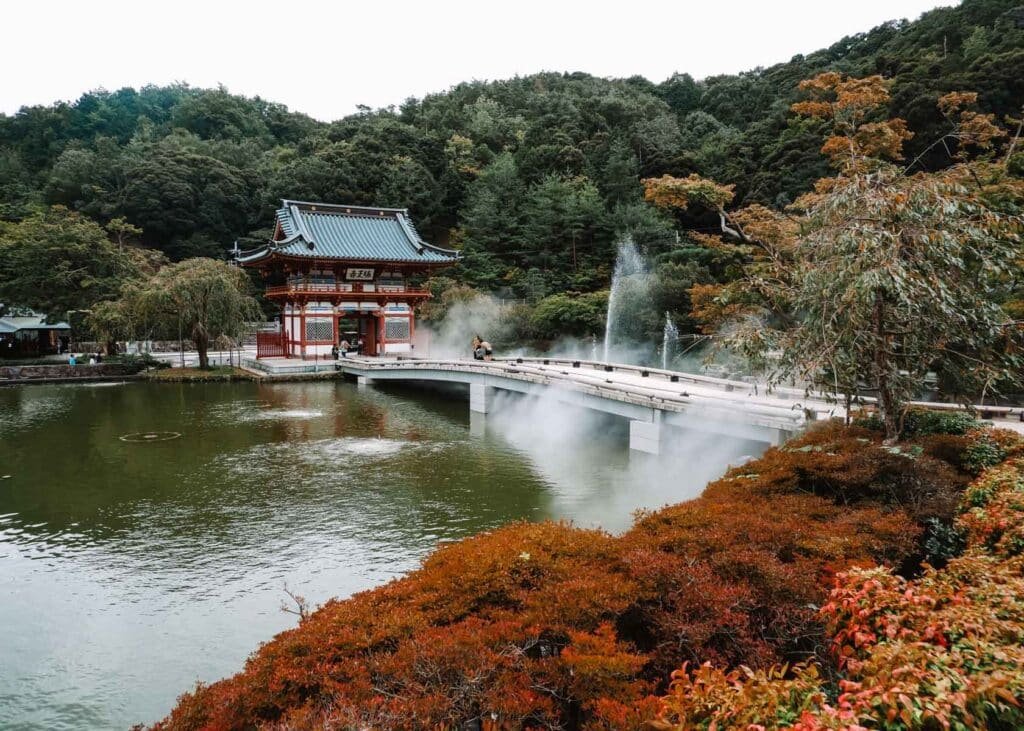 More Info
Address: 2914-1 Aomatani, Minoo, Osaka 562-8508, Japan
Opening hours and entrance fees: The temple is open daily from 8 am. During week day it closes at 5 pm, on Saturday at 6 pm and on Sunday at 5:30 pm. The admission is 400 yen for adults and 300 yen for children.
For more detailed information about Katsuo-ji, check our article dedicated to this temple here. If you would like to visit Osaka in autumn, click here.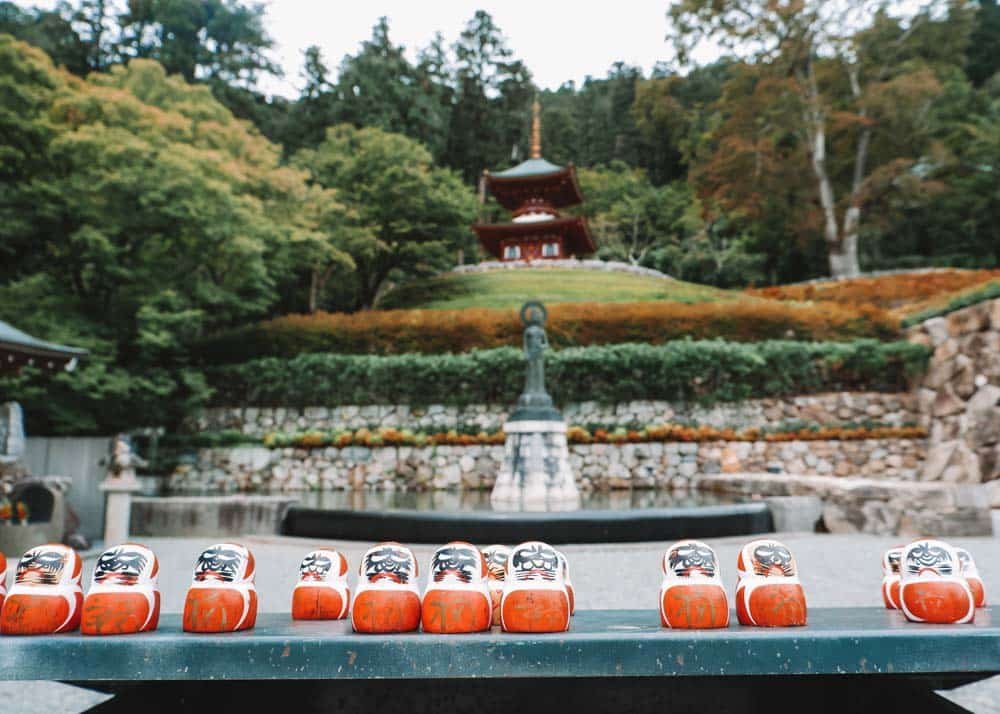 Sumiyoshi Taisha Shrine
This shrine, located on the south of the city, is considered to be one of the best "power spots" around Osaka. Sumiyoshi is a Shinto branch, which has over 2300 shrines across Japan, but the one in Osaka is its famous headquarters with over 2 million visitors every year. It's believed that it answers prayers for safety during travels, for the wellbeing of households, and for prosperity of businesses. But even if you are not interested in a prayer, the shrine's grounds are a must-see thanks to its amazing scenery, historical atmosphere and traditional architecture. The main feature is a beautiful red bridge over a small pond and the Main Hall, built in the ancient Japanese architectural style, free of any continental influence.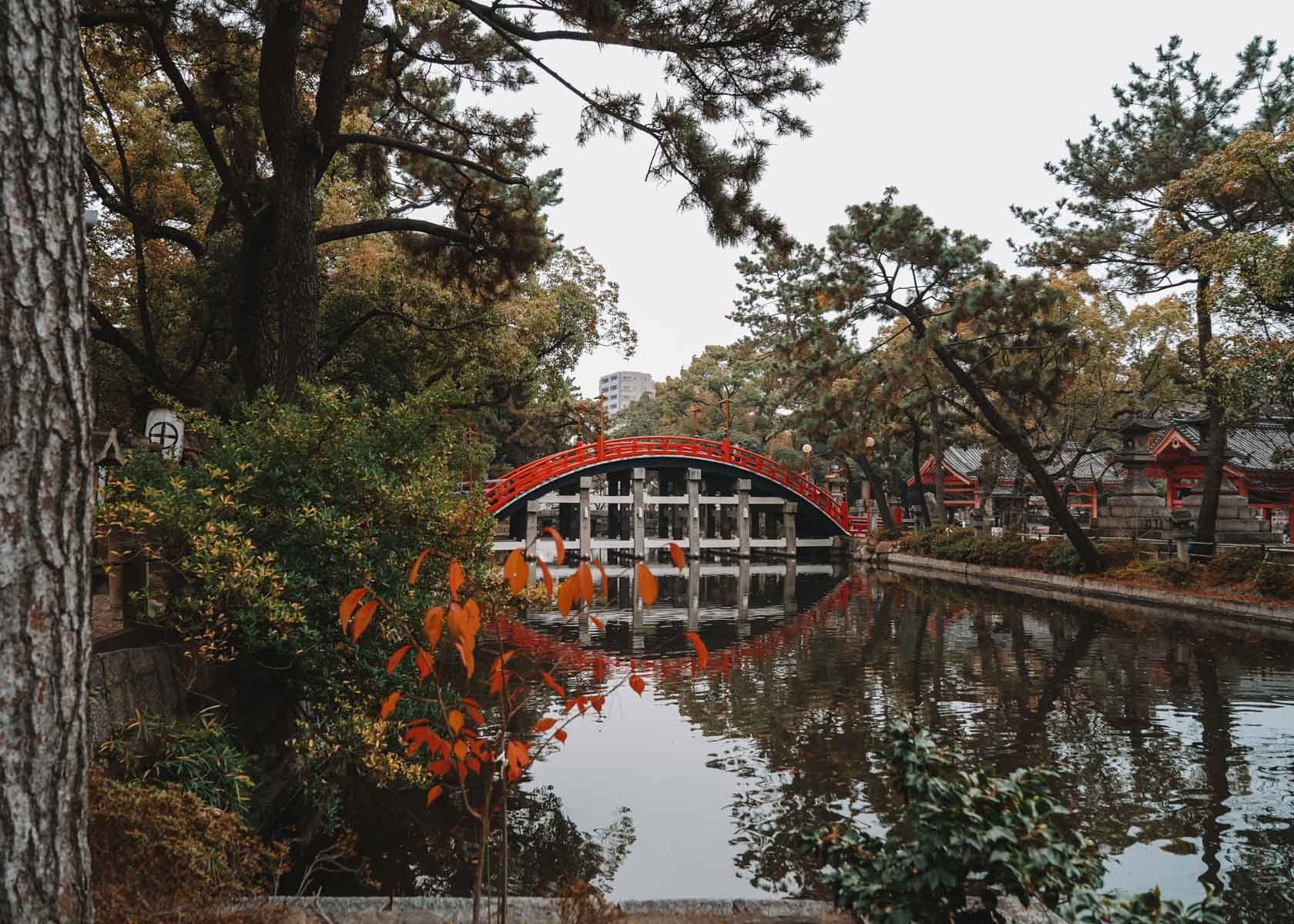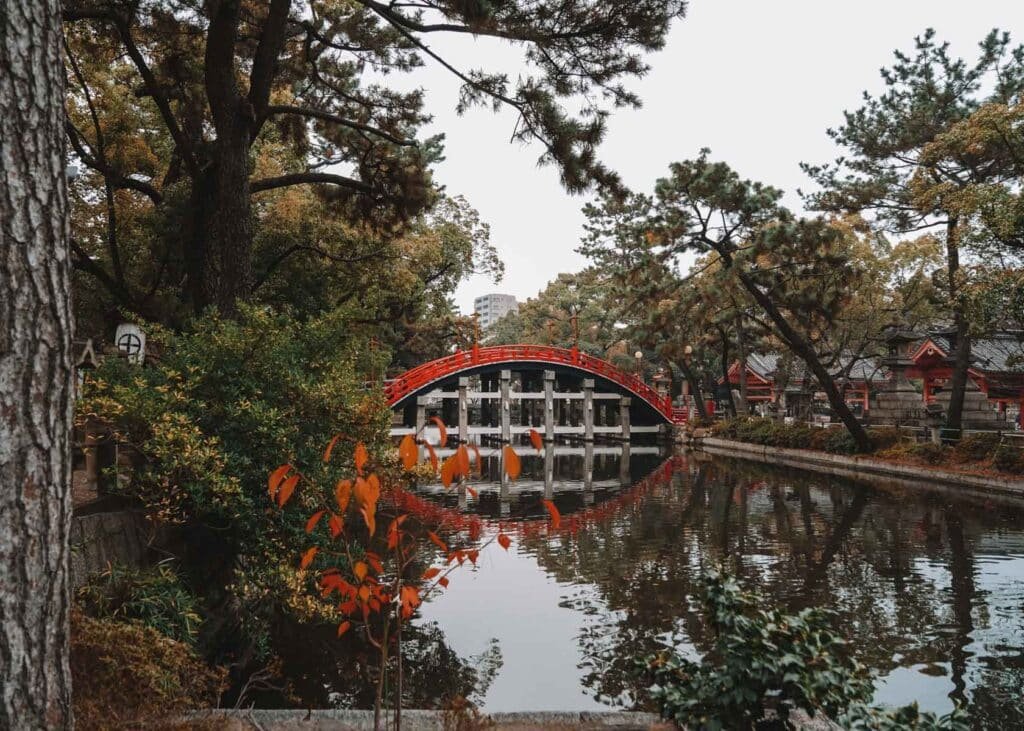 More Info
Address: 2 Chome-9-89 Sumiyoshi, Sumiyoshi Ward, Osaka, 558-0045, Japan
Opening hours and entrance fees: The shrine is open daily from 6 am to 5 pm. The entry is free of charge.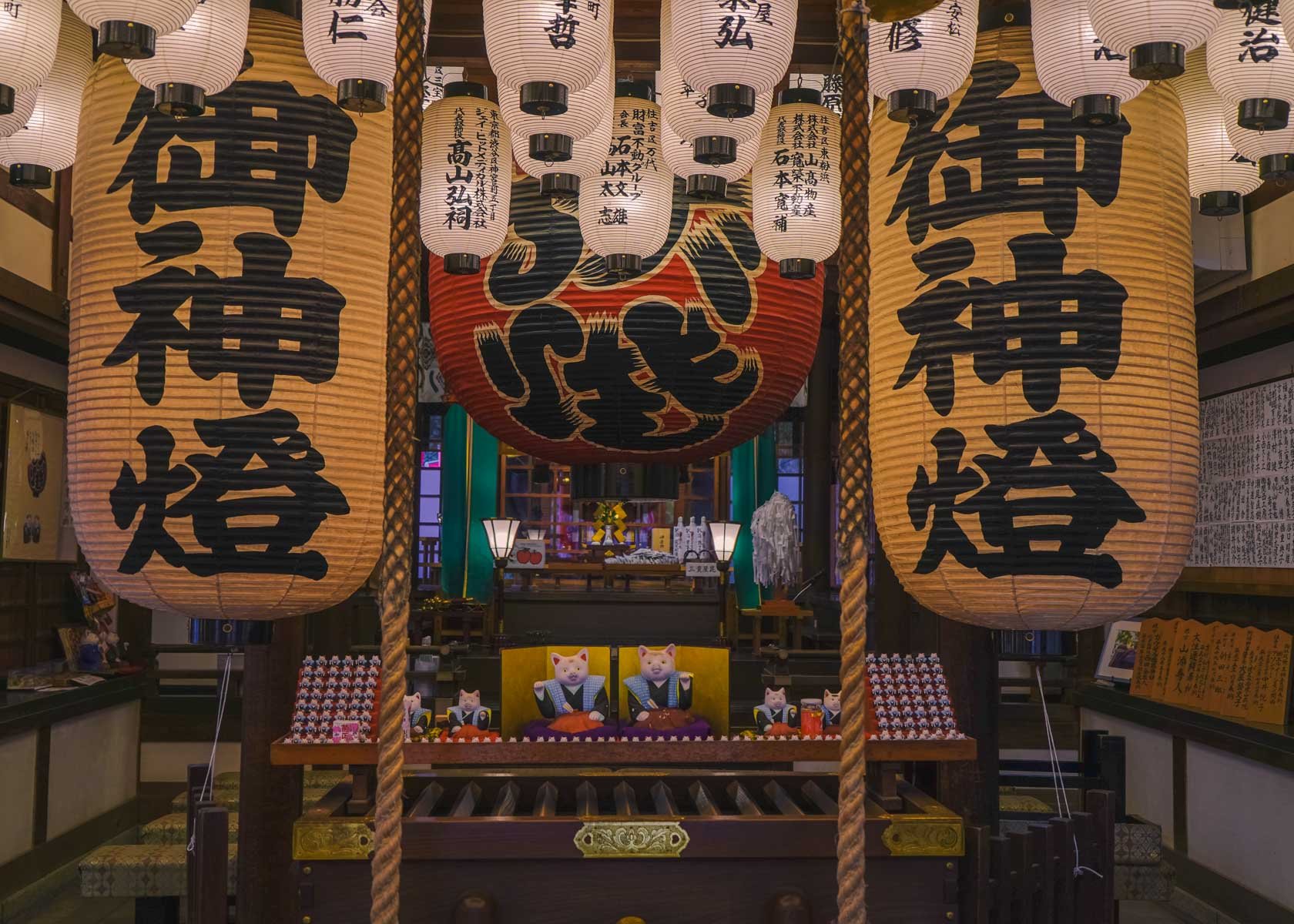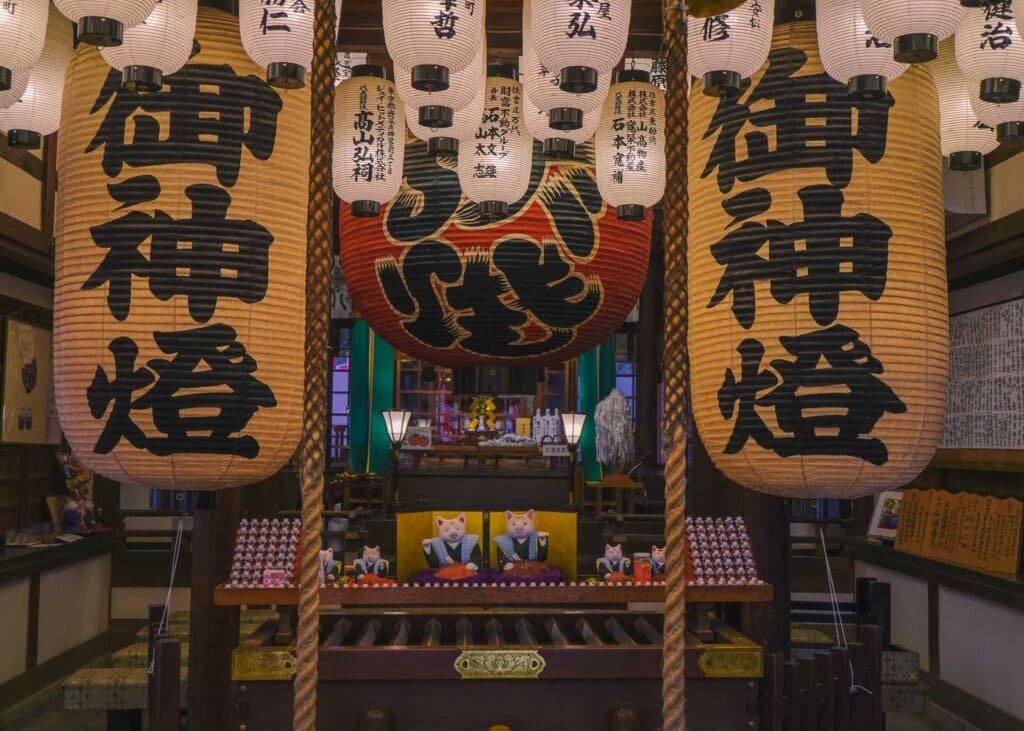 Namba Yasaka Shrine
Nearby Namba Station, hidden among residential buildings, there is this small, but still very impressive shrine called Namba Yasaka Jinja. The exact date when this shrine was built is unknown, but it has been a prestigious and famous place since the Heian period (from 794 to 1192). It is considered to be the guardian deity of Namba area since the ancient times.
Lion Dances
The most eye-catching feature and a popular photo spot is the 12 meters high lion head dominating the shrine's area. The lion head is actually a stage to perform the Chinese lion dance, with the speakers being hidden in its nose and lights coming from its eyes during the performance. The lion gets visitors from all over Japan, as it is believed that it can help you with your academic achievements, success in a job or prosperity for society.
More Info
Address: 2 Chome-9-19 Motomachi, Naniwa Ward, Osaka, 556-0016, Japan
Opening hours and entrance fees: Namba Yasaka shrine is open daily from 6:30 am to 5 pm. The entry is free of charge, however, you have to pay a fee if you'd like to see the Lion dance performance. You can find all the official information on their website here.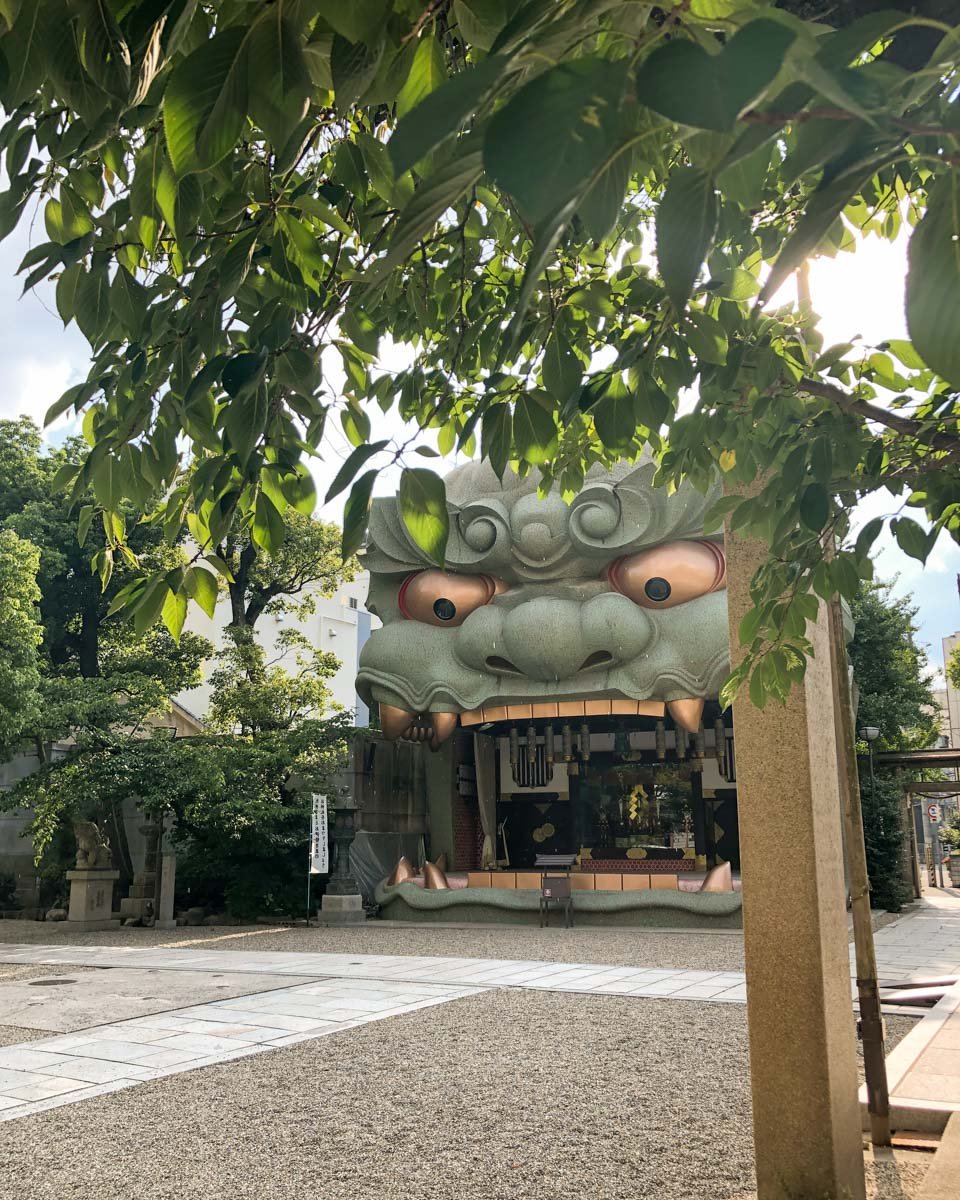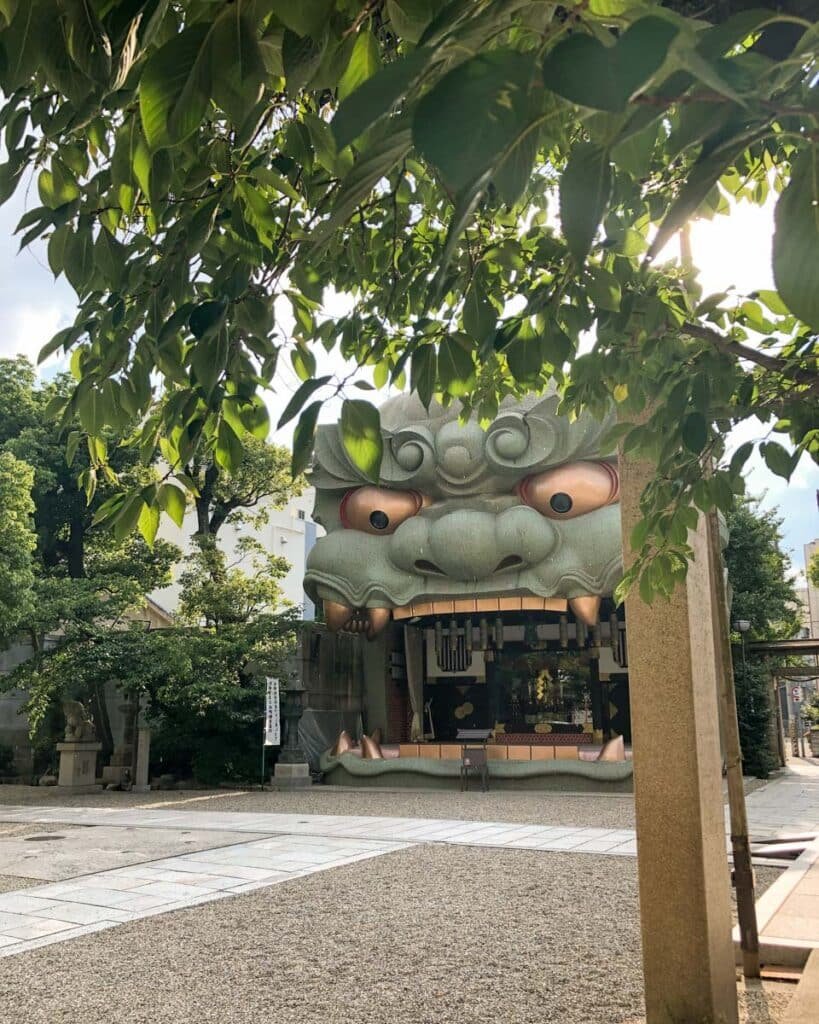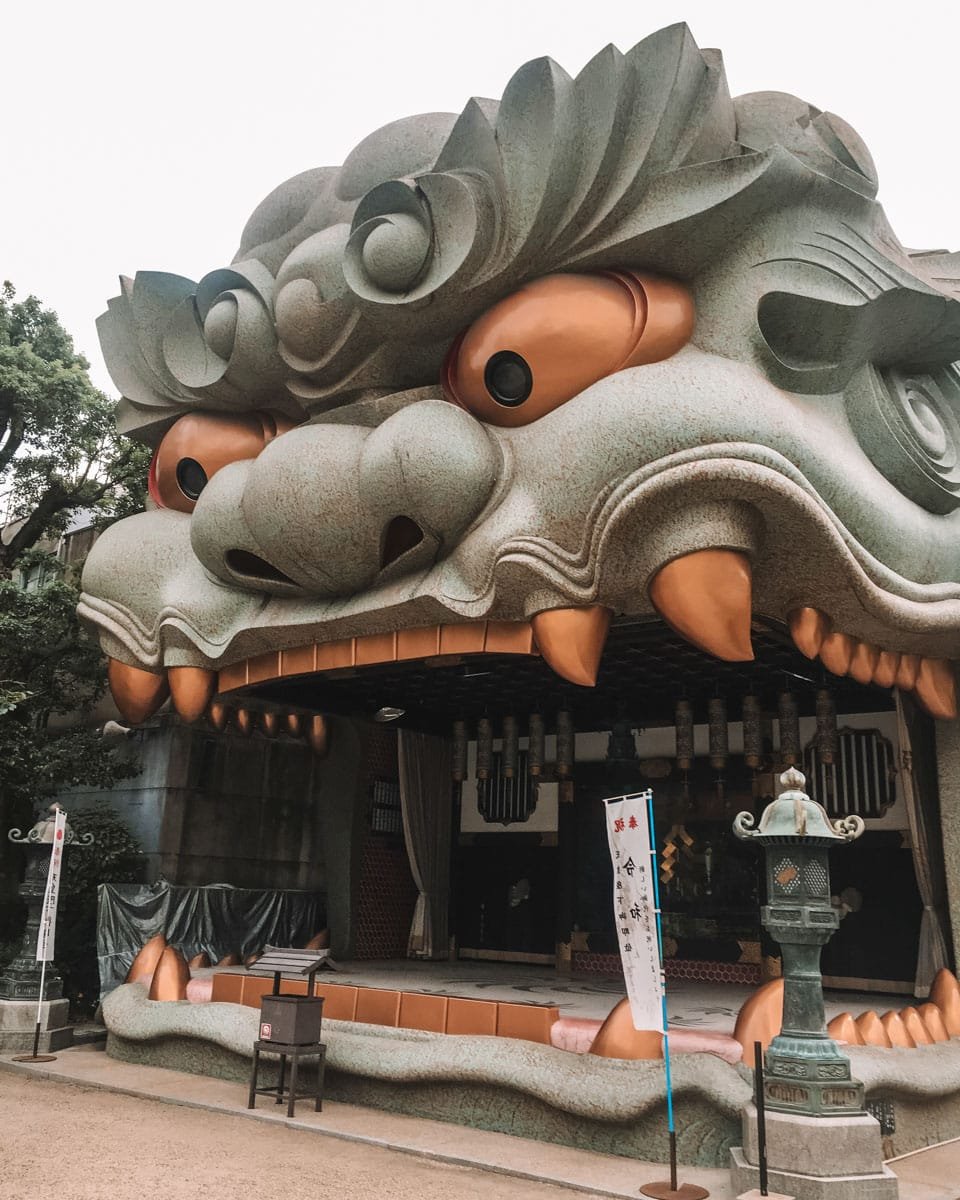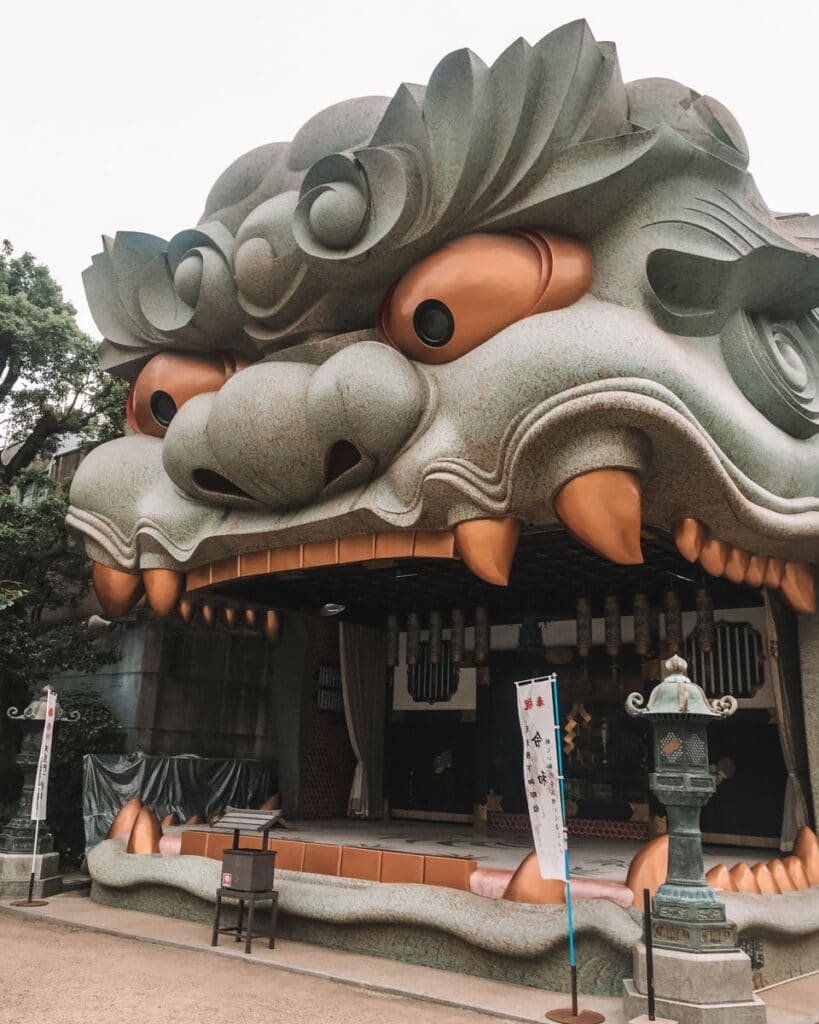 Isshinji Temple
Isshinji Temple is a small place of worship close to Tennoji ZOO with a long history. It was founded by Japanese religious reformer Honen in the 12th century, but unfortunately, it was partially destroyed during the WW II. That's why a new modern gate was built out of steel and concrete, featuring two scary looking sculptures of Nio Guardians, who often guard many Buddhist temples around Japan. The unusual entrance gives no hint, that there's a beautiful temple and a cemetery hiding behind it.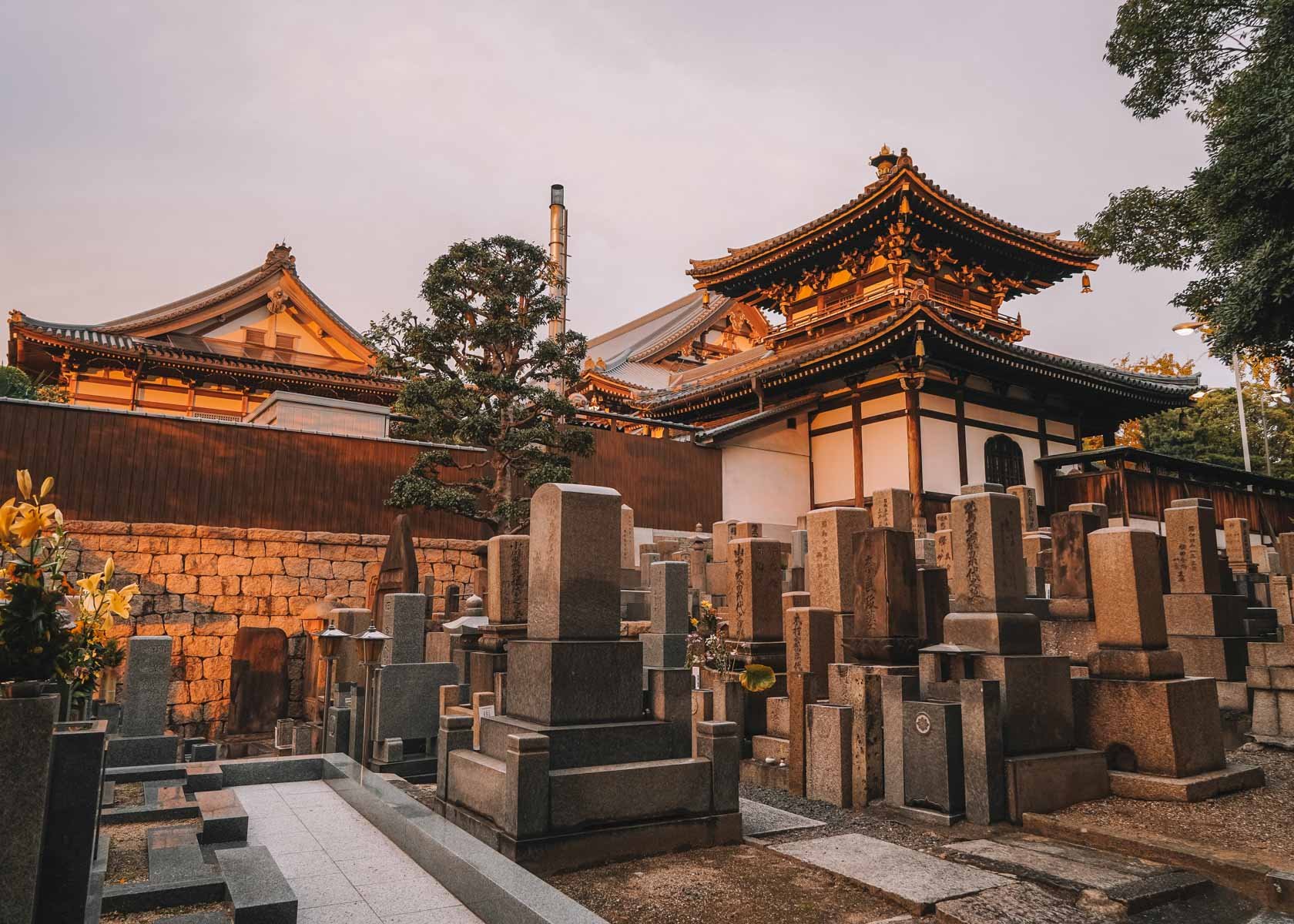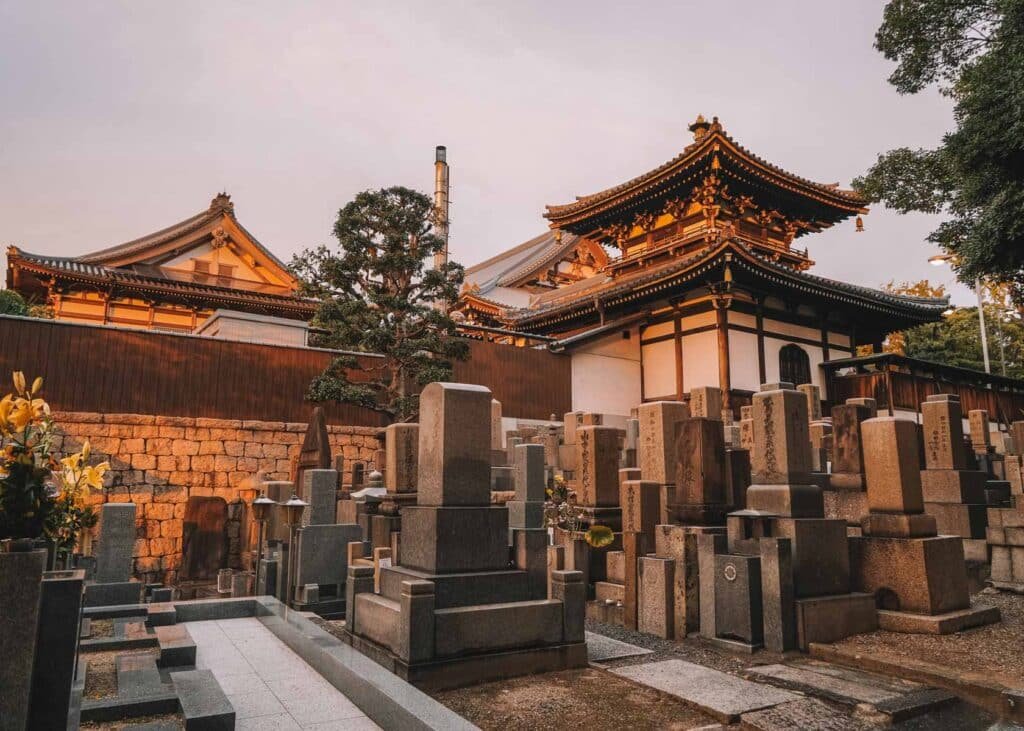 Okutsu Butsu
Isshinji Temple can get very busy during the day, but don't expect many international tourists here. You'll most likely meet here worshipers who often come here to pray. One of the reasons why they come to this place is not the unusual architecture, but because Isshinji is home to the remains of millions of Osaka residents' ancestors. The other reason is the statue of "Okutsu Butsu", which translates as Bone Buddha. Bone Buddha is a sculpture made of clay and crushed bones of deceased people. It was firstly introduced in the 17th century. By the end of the 19th century, Isshinji Temple was running out of space to store urns with ashes of people, so they came with a solution to build their own Okutsu Butsu statue. Since then, they have made a new Okutsu Butsu every 10 years.
More Info
Address: 2 Chome-8-69 Osaka, Tennoji Ward, Osaka, 543-0062, Japan
Opening hours and entrance fees: Isshinji Temple is open daily from 9 am to 4 pm. The entrance is free of charge.
Isshinji temple is located within walking distance from other great tourist attractions in Osaka, such as Abeno Harukas, Tsutenkaku Tower in Shinsekai, Shitennoji Temple or Tennoji Park. All of these places can be visited in one day!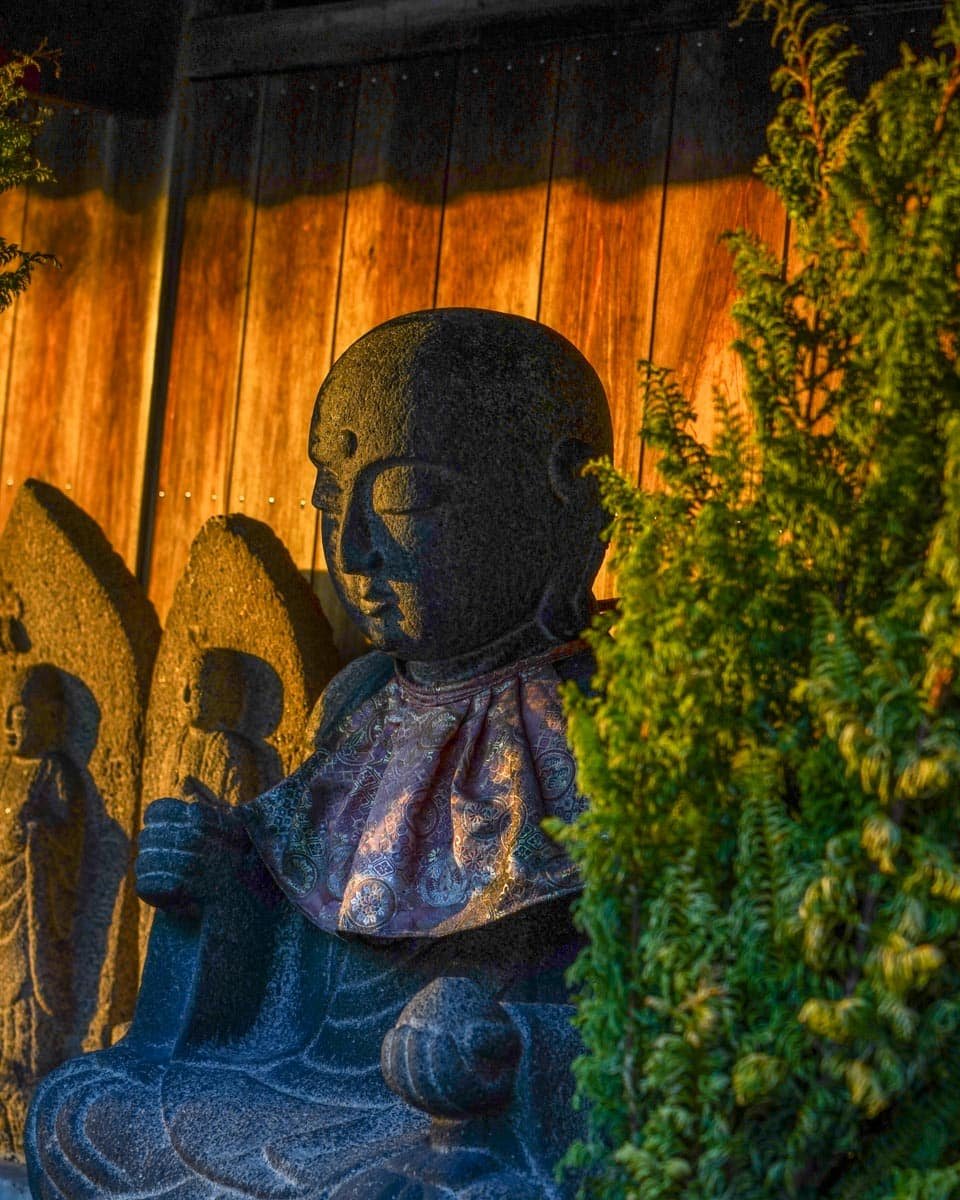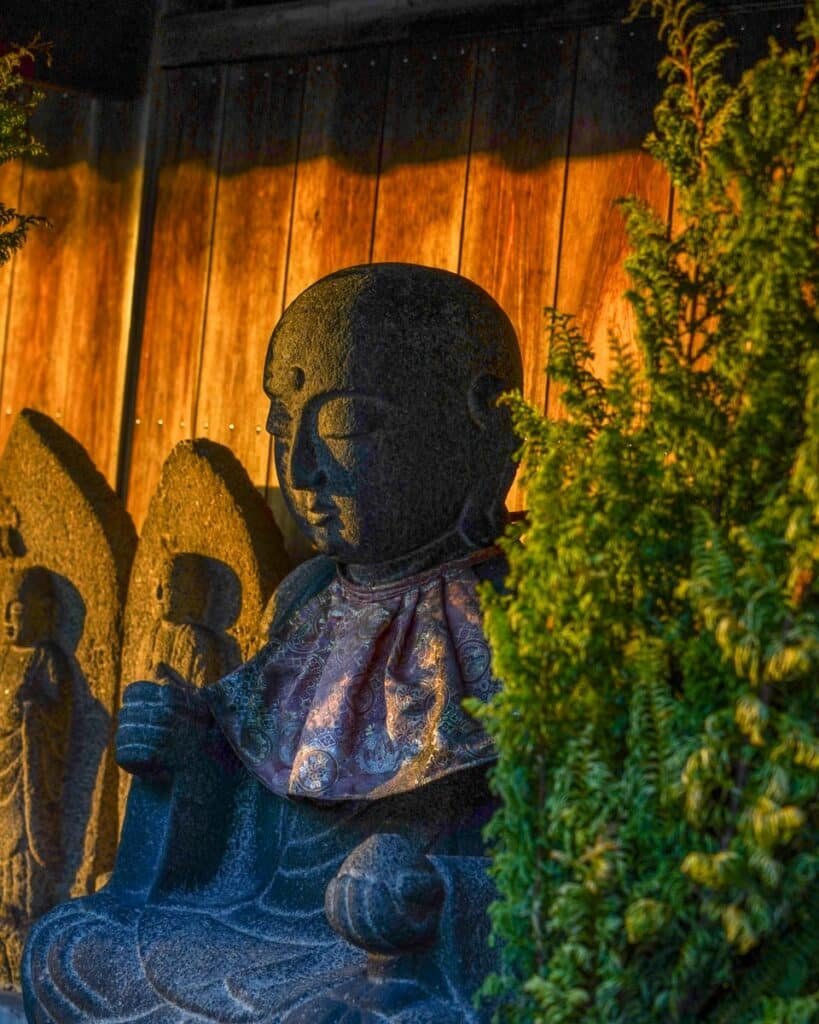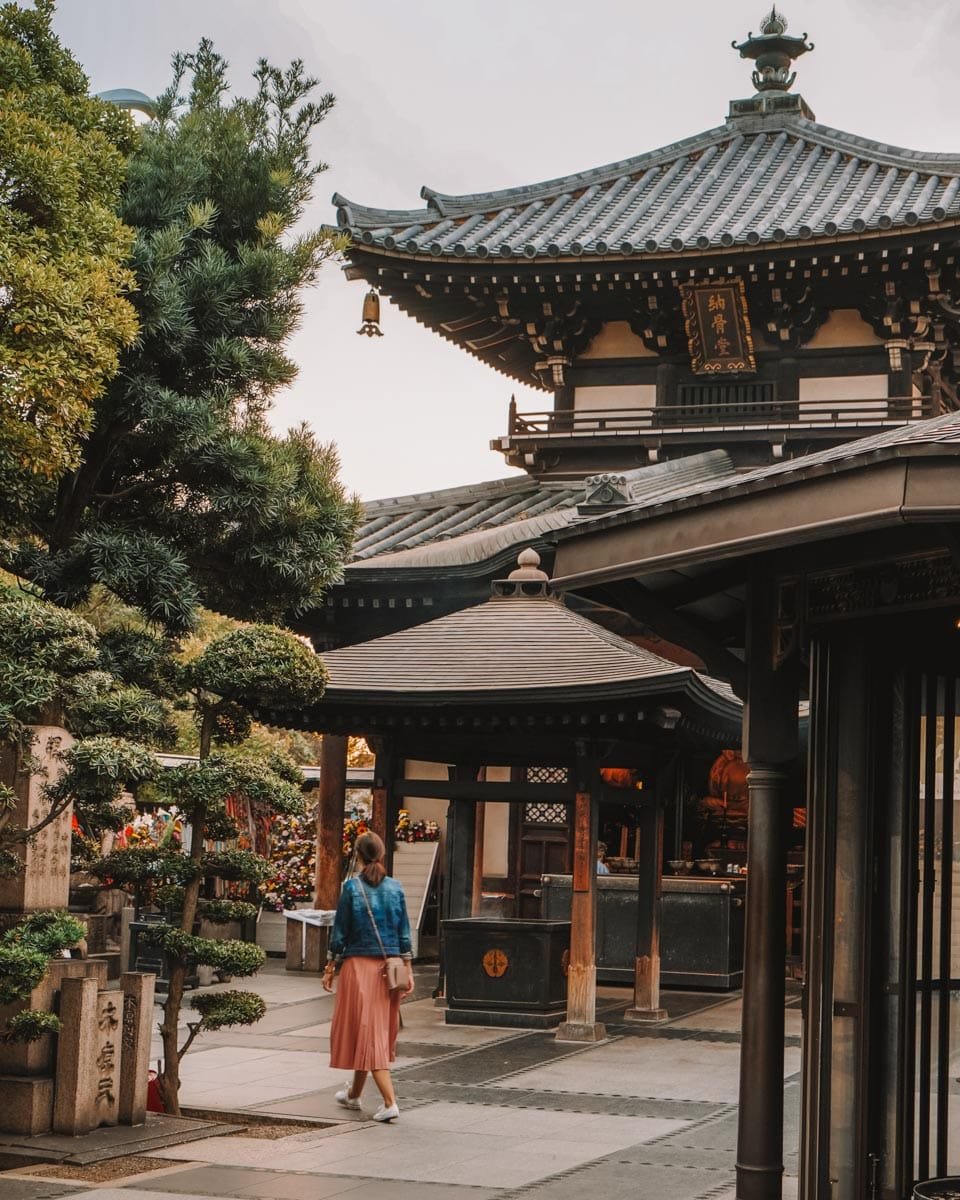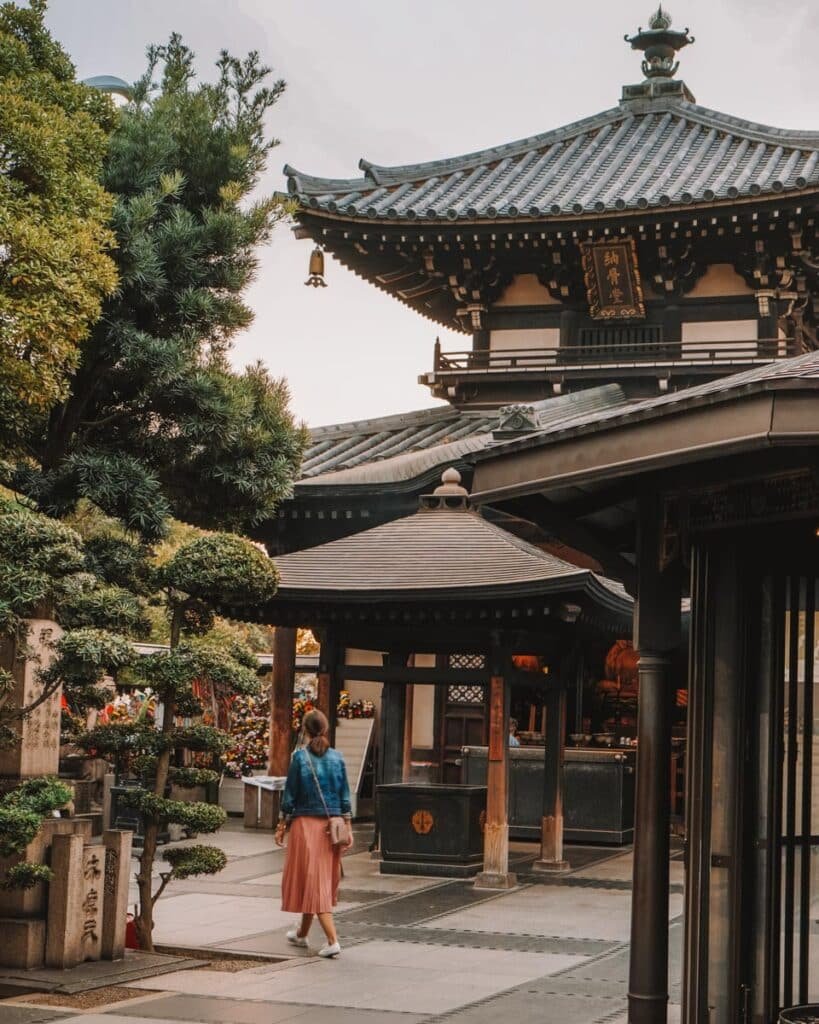 Shitennoji
Shitenno-ji Temple is Japan's oldest, officially administrated, Buddhist temple in Japan. It was established in 593 by Prince Shotoku, who supported the introduction of Buddhism into Japan.
Prince Shotoku
It is said that the prince was very wise since the young age. At that time, influential families were battling for more power while controlling the land and the people working on it. Prince Shotoku aimed to stop these battles and to create the nation centred on the emperor. He started a new revolutionary system for all the local people. He decided that important jobs were obtained based on person's professional abilities rather than on the status of his family.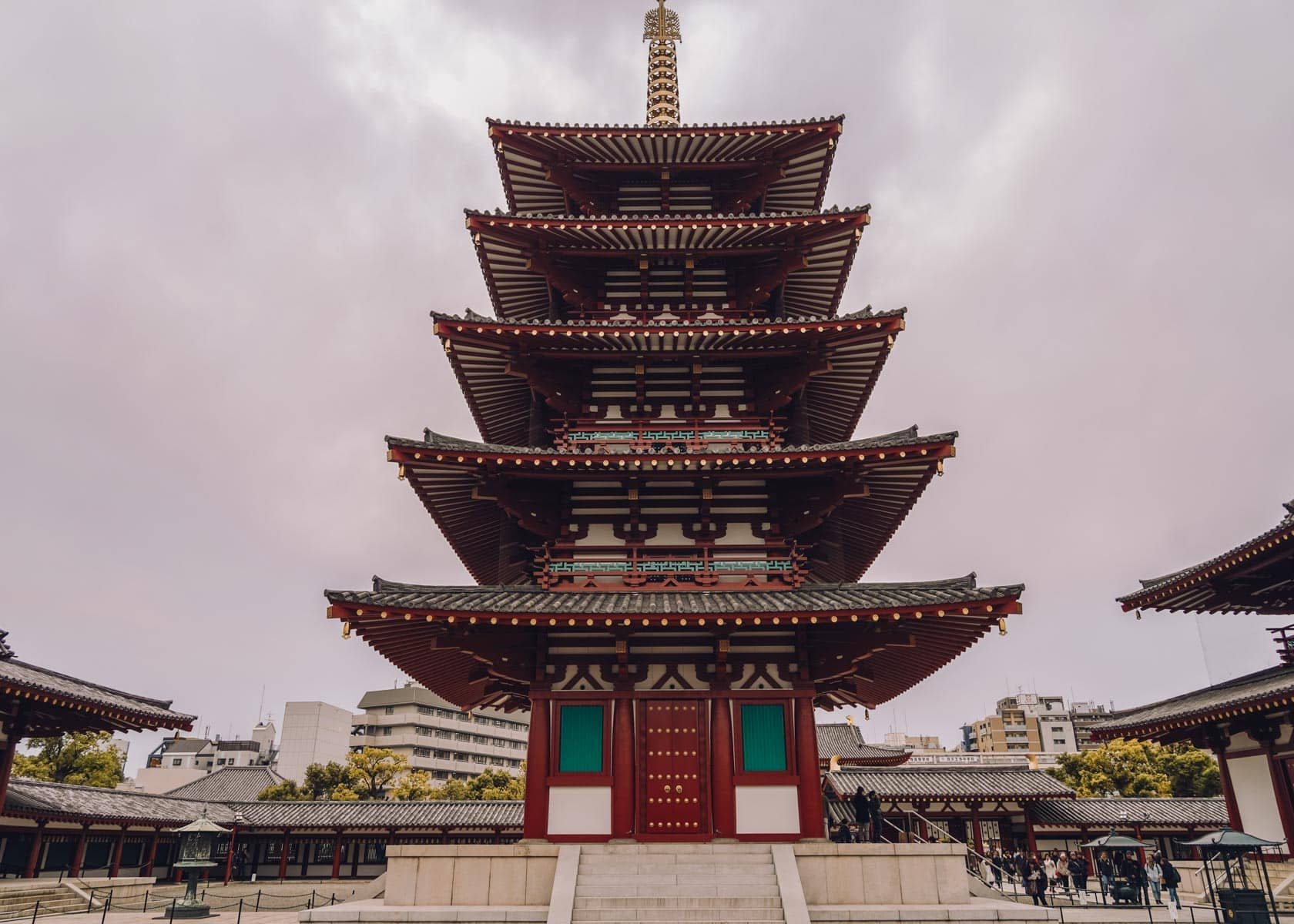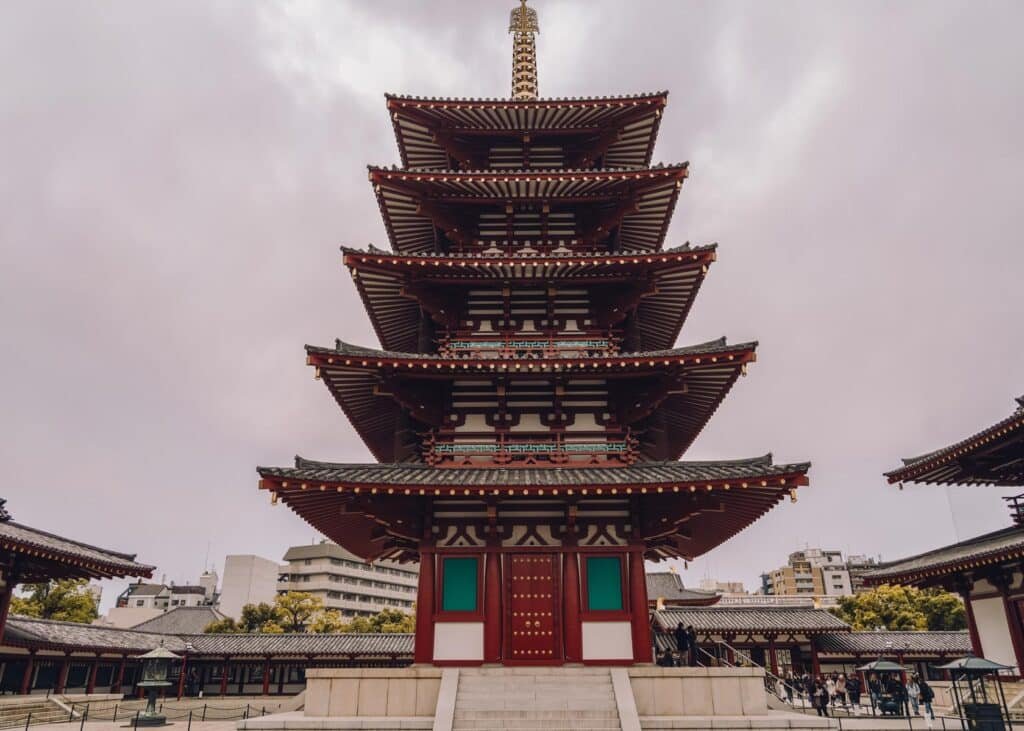 Nowadays, every month on the 22nd you can admire pictures of the life of this legendary emperor in the E-do Hall. There are also a market taking place during the same time, with street food, souvenirs, books and antiquities. Shitenno-ji temple is truly a pleasant place to explore and soak up the spiritual vibes of the place. The most striking feature is the tall 5-storey pagoda and several ponds with turtles.
More Info
Address: 1-11-18 Shitennoji, Tennoji Ward, Osaka, 543-0051, Japan
Opening hours and entrance fees: Shitenno-ji temple is open daily from 8:30 am to 4:00 pm. The entrance to the area is free of charge, but you have to pay 300 yen if you want to visit the Inner Precinct and 500 yen to go inside the Treasury House. The official website is in Japanese only, but you can check it out on the link here.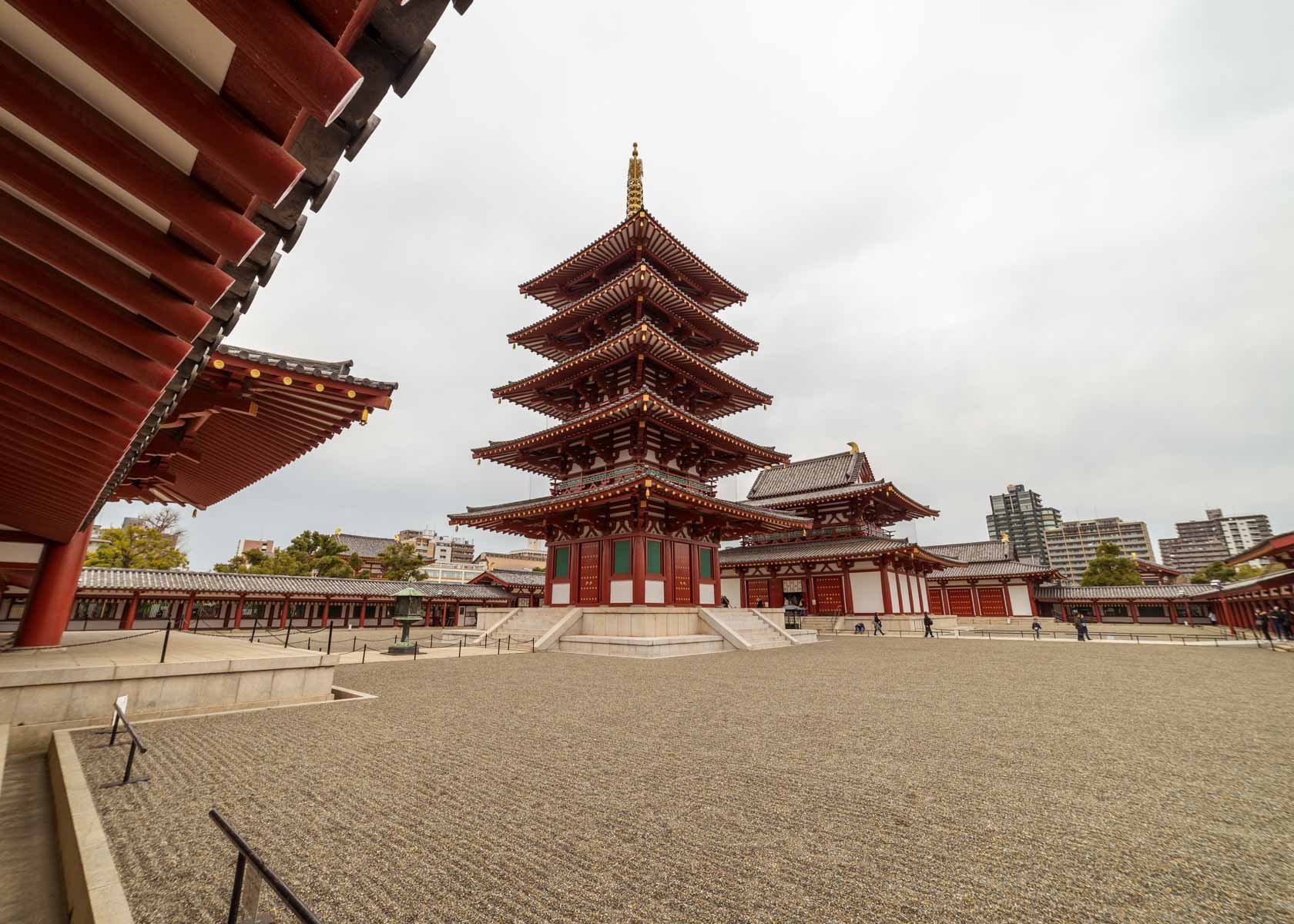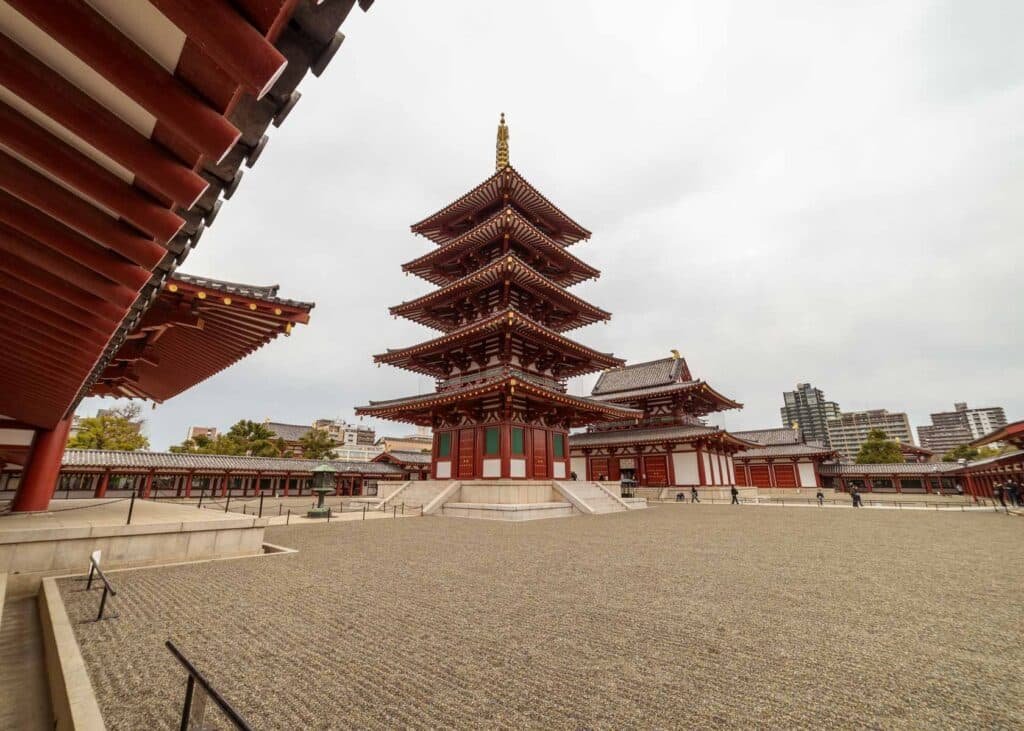 Tsuyu-no-Tenjinja
Tsuyu-no-Tenjinja is located in the city, walking distance from Osaka-Umeda station. This small place of worship with Sakura trees and artificial grass creates a small quiet haven among tall buildings of the business district.
Tsuyu-no-Tenjinja is about 1300 years old and it is a guardian shrine of Kita district in Osaka. Just like most of the city, this shrine was also bombed during the WW II., but it was completely rebuilt in 1957 and today it serves as a symbol of resilience.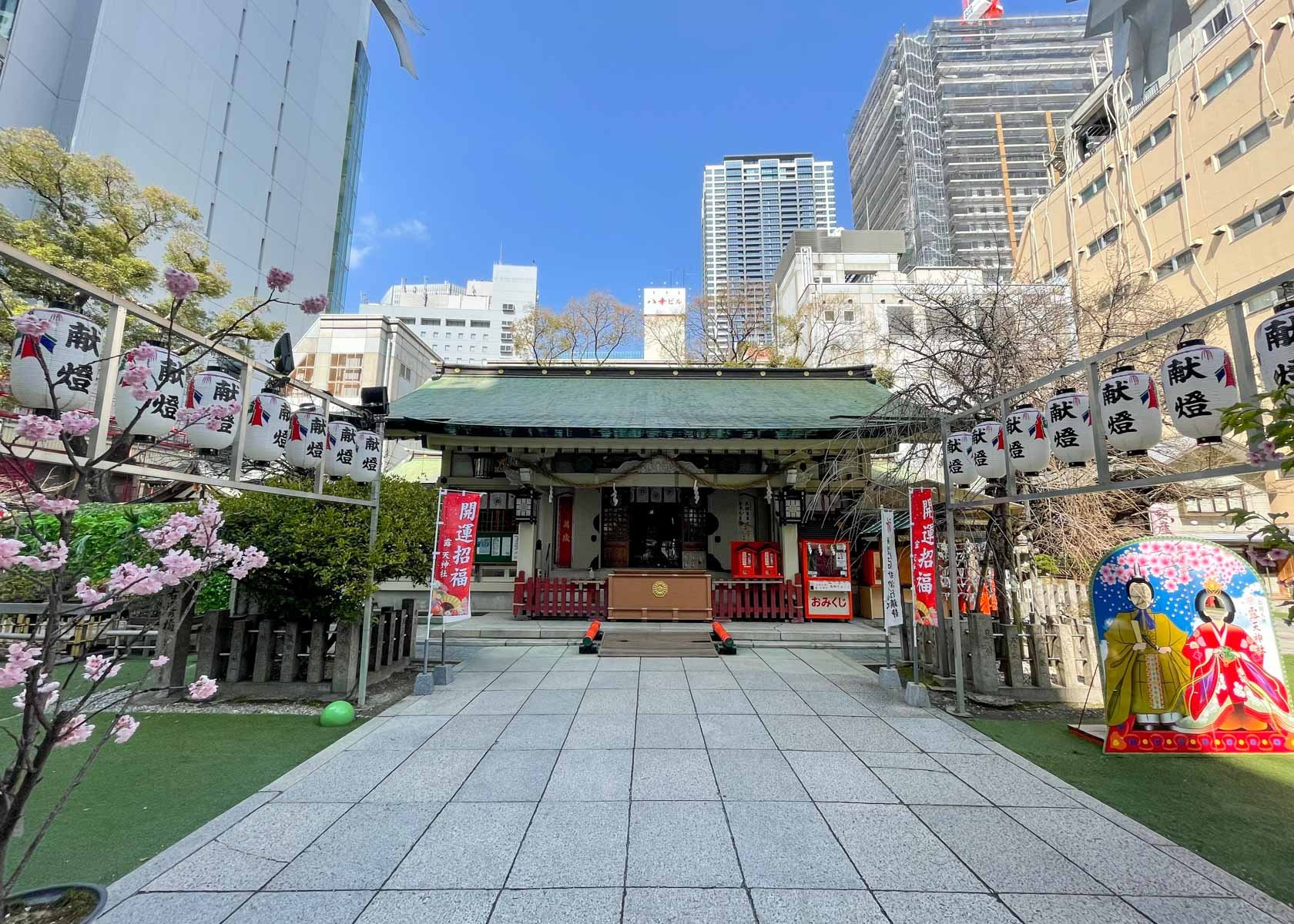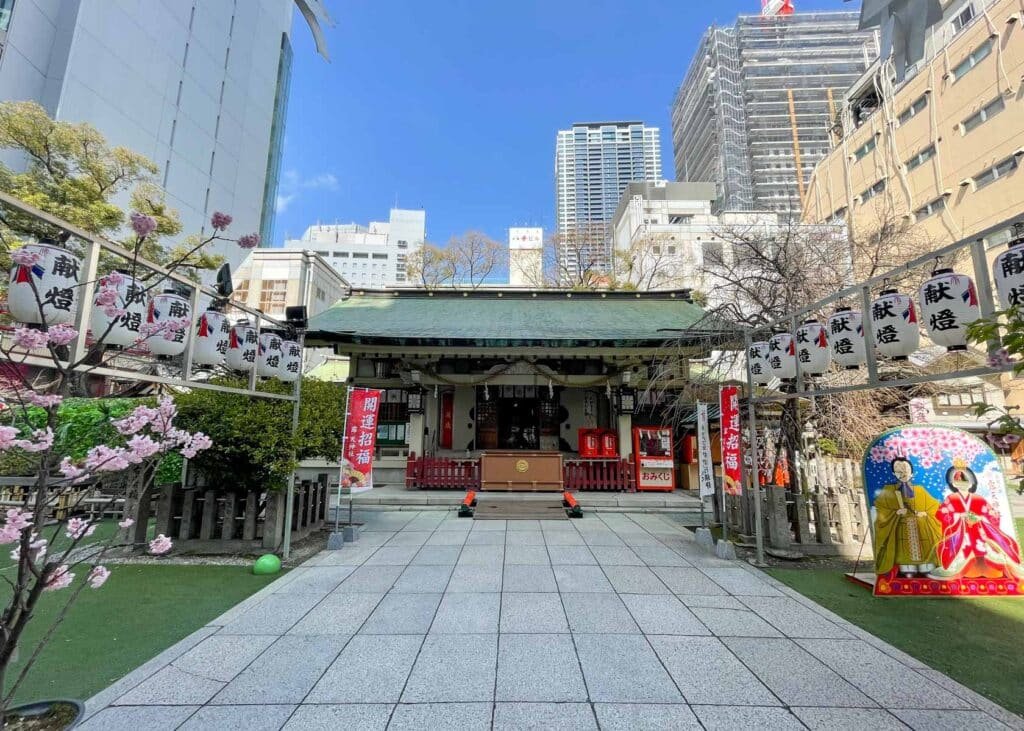 Tragic love story of Tokubei and Ohatsu
Besides being an old place of worship, Tsuyu-no-Tenjinja is known among the locals as the place of a tragic love story between a shop worker Tokubei, and a concubine Ohatsu. Their story reminds the one of Romeo and Juliet. The young lovers could not be together publicly which escalated to their premature death. It is said that they took their lives here, at this shrine.
Because of this everlasting love story, Tsuyu-no-Tenjinja is a popular place where single people come to search for their significant other, while couples come to pray for their eternal love. Within the premises, there's also a smaller building, where parents come to pray for the health of their children.
In the shrine, there's also a little shop where you can buy charms or wooden plaques called emu. You can write your wish/prayer on the emu and leave it in the shrine so it comes true.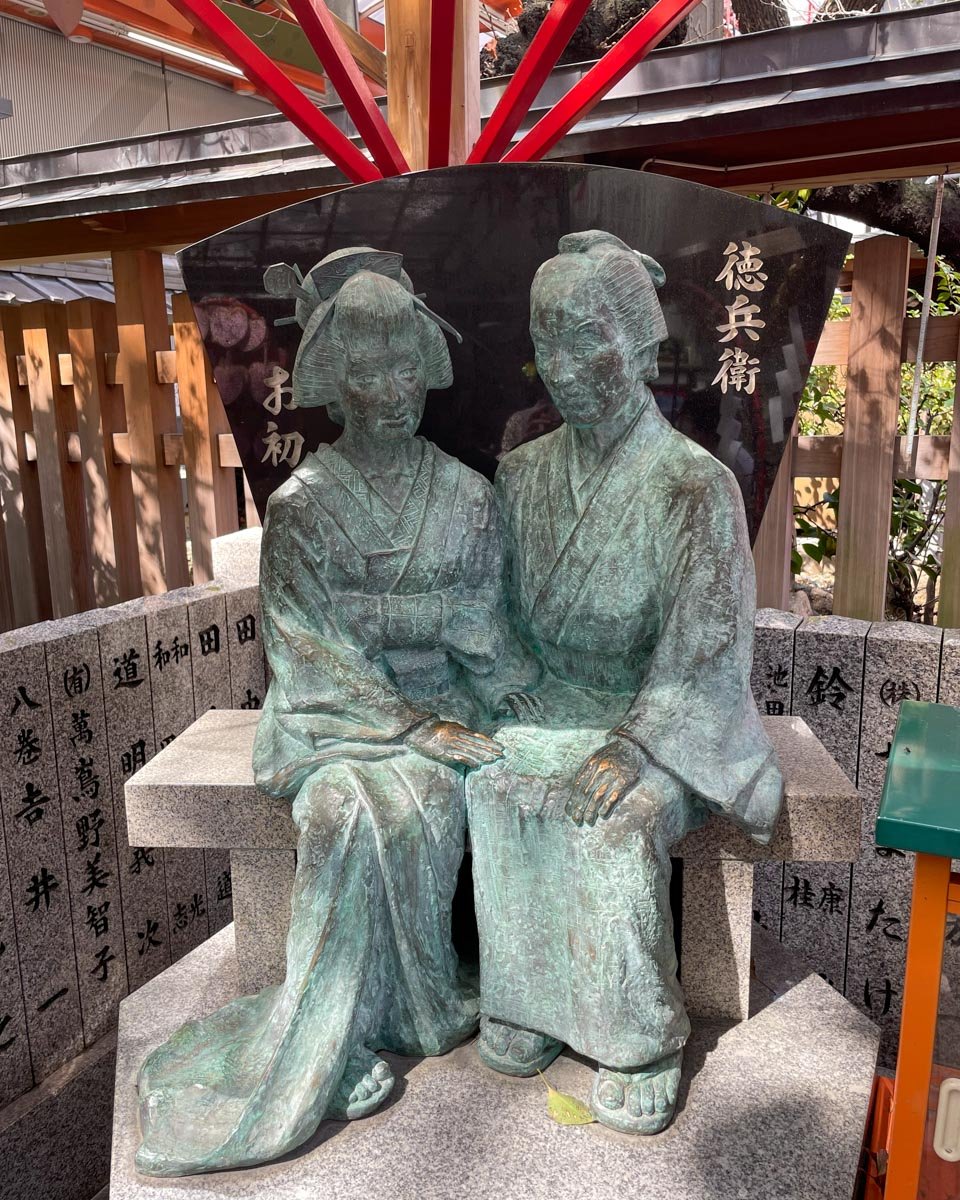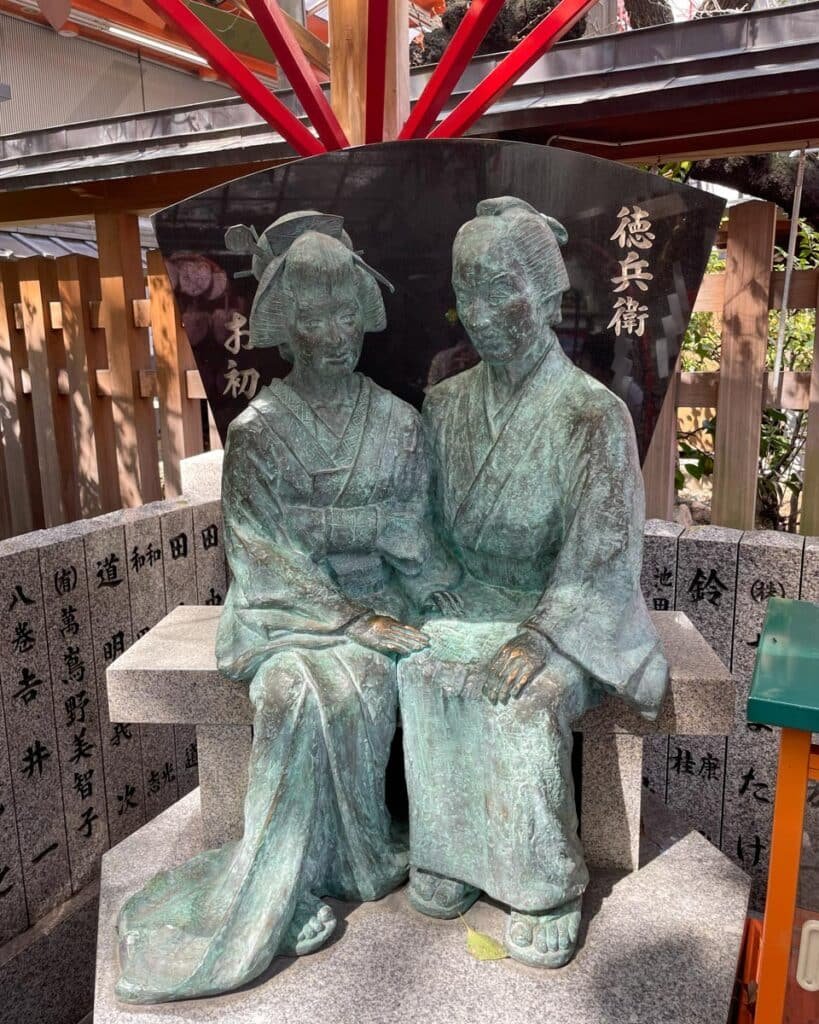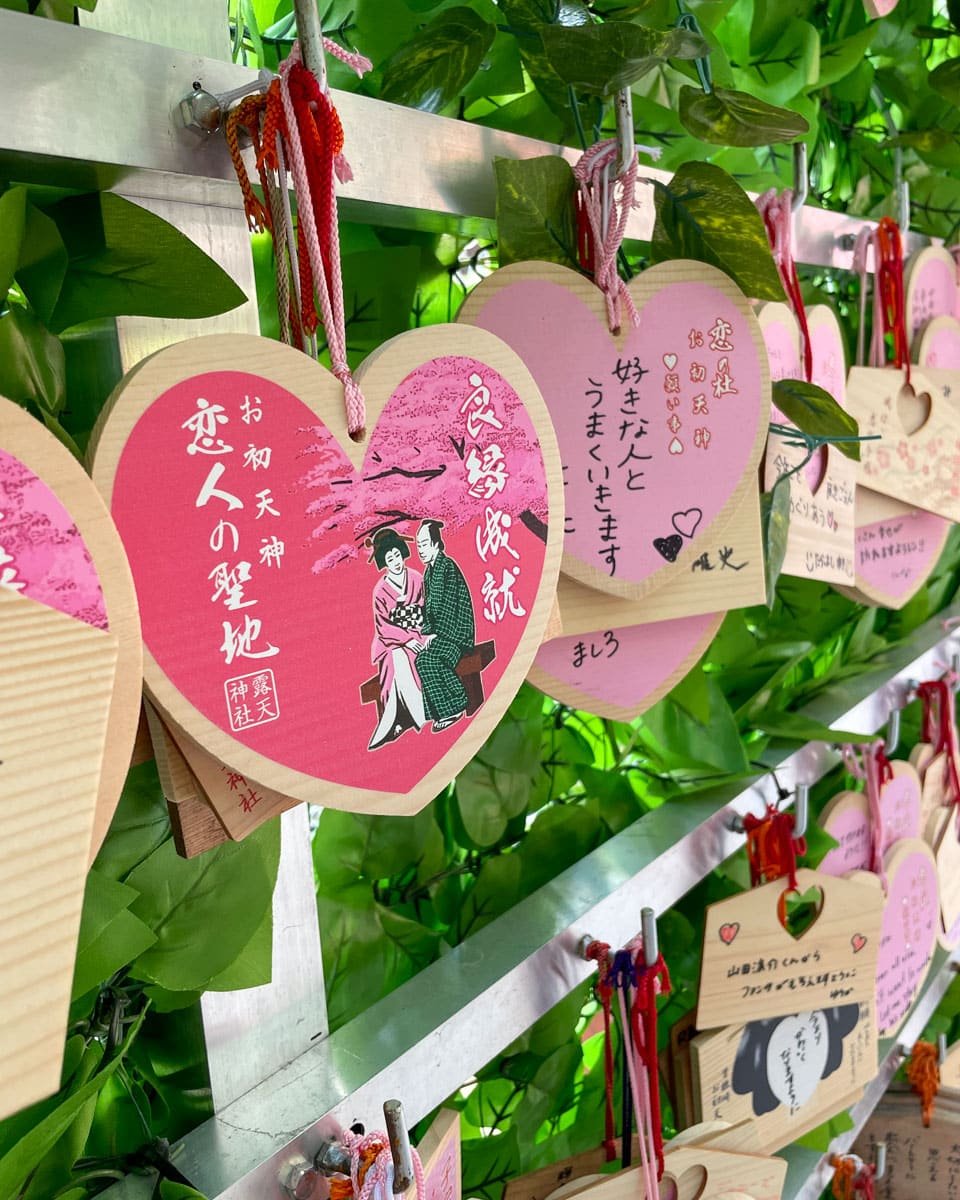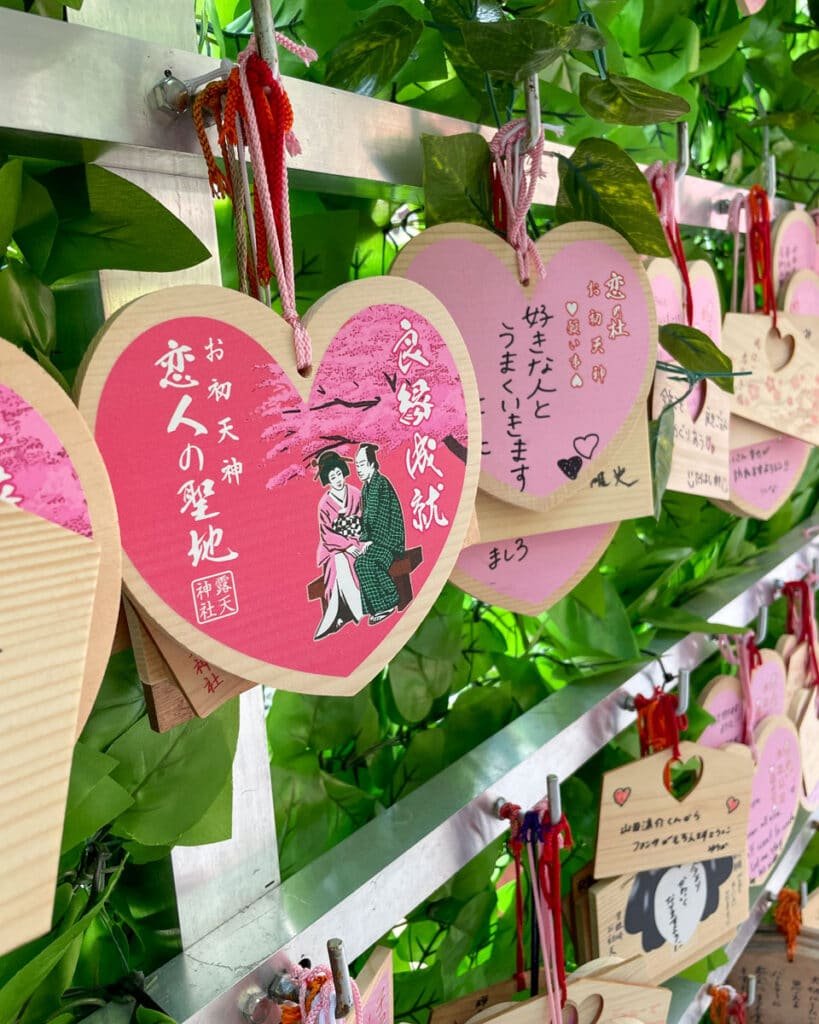 More Info
Address: 2 Chome-5-4 Sonezaki, Kita Ward, Osaka, 530-0057, Japan
Opening hours and entrance fees: The shrine is open every day from 7 am until late 11 pm. The entrance is free.
I personally love this place because it is full of little details and it is truly hidden. You can find it at the end of a covered shopping arcade called Ohatsu-Tenjindori Shotengai. It is full of little cafes and restaurants, so it is also worth to explore. For more information what to do around Osaka-Umeda station, check our article full of activities in this area.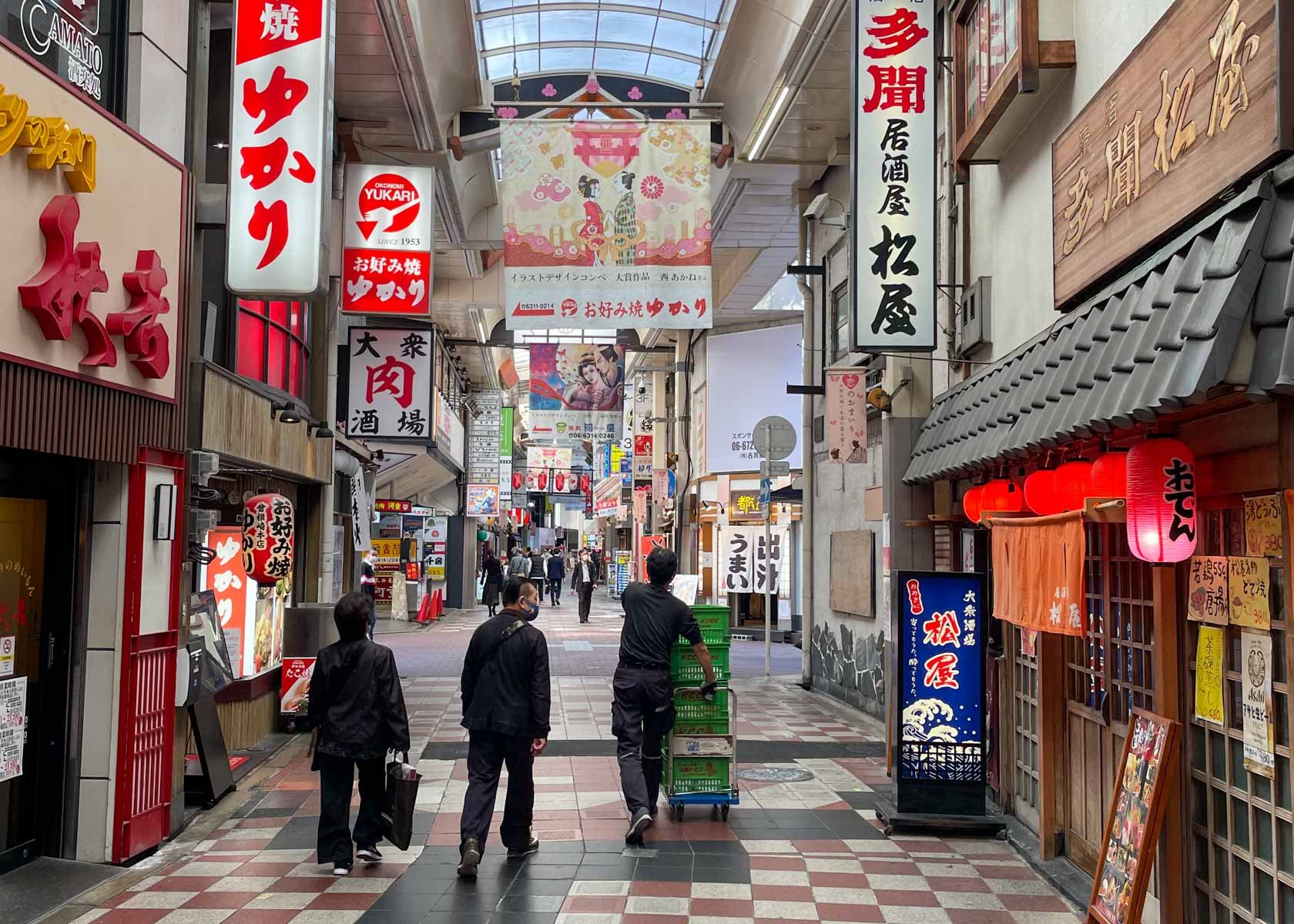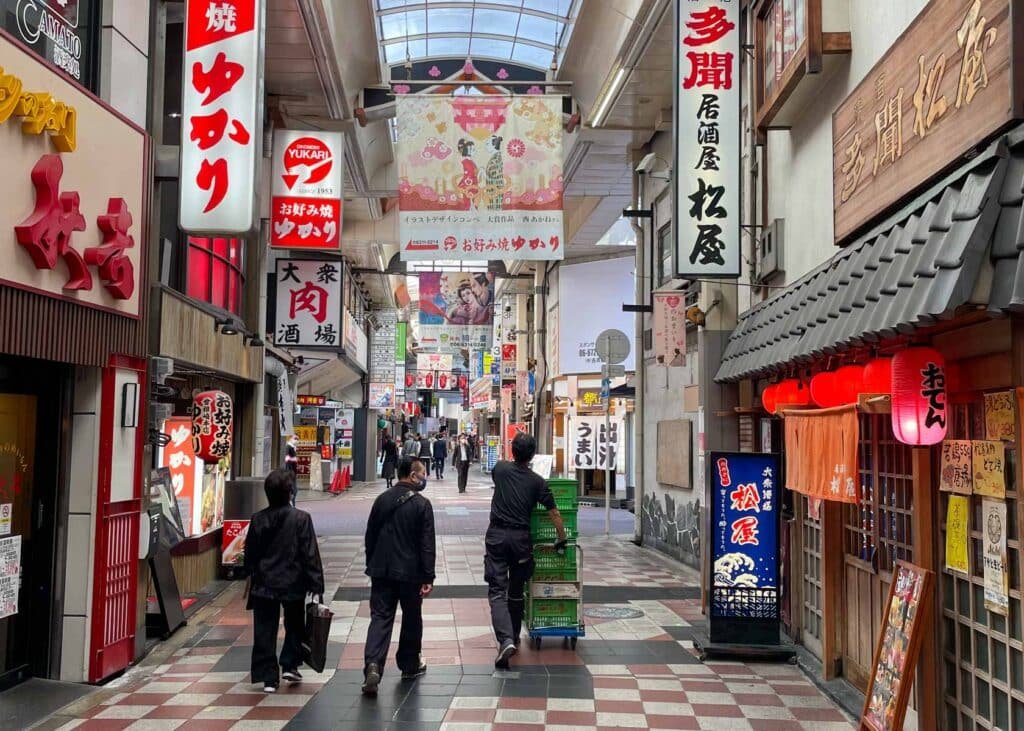 Osaka Tenmangu Shrine
The last place of worship on our list is Temmangu Shrine. Surrounded by tall office buildings and busy shopping streets, this shrine has over 1000 years long history and it was dedicated to one of the Japanese greatest scholars and poets – Sugawara no Michizane. That's why students often come to pray here for some good luck and calm nerves during their exams.
The shrine itself draws in visitors for its impressive architecture, fairly large grounds and plum trees that bloom in early spring with bright pink colours of their flowers. Apparently, plum was said to be the favourite tree of Michizane.
Every year in July, the shrine hosts one of Japan's biggest festivals – Tenjin Matsuri. Unfortunately, in the last 3 years those were cancelled due to Covid-19.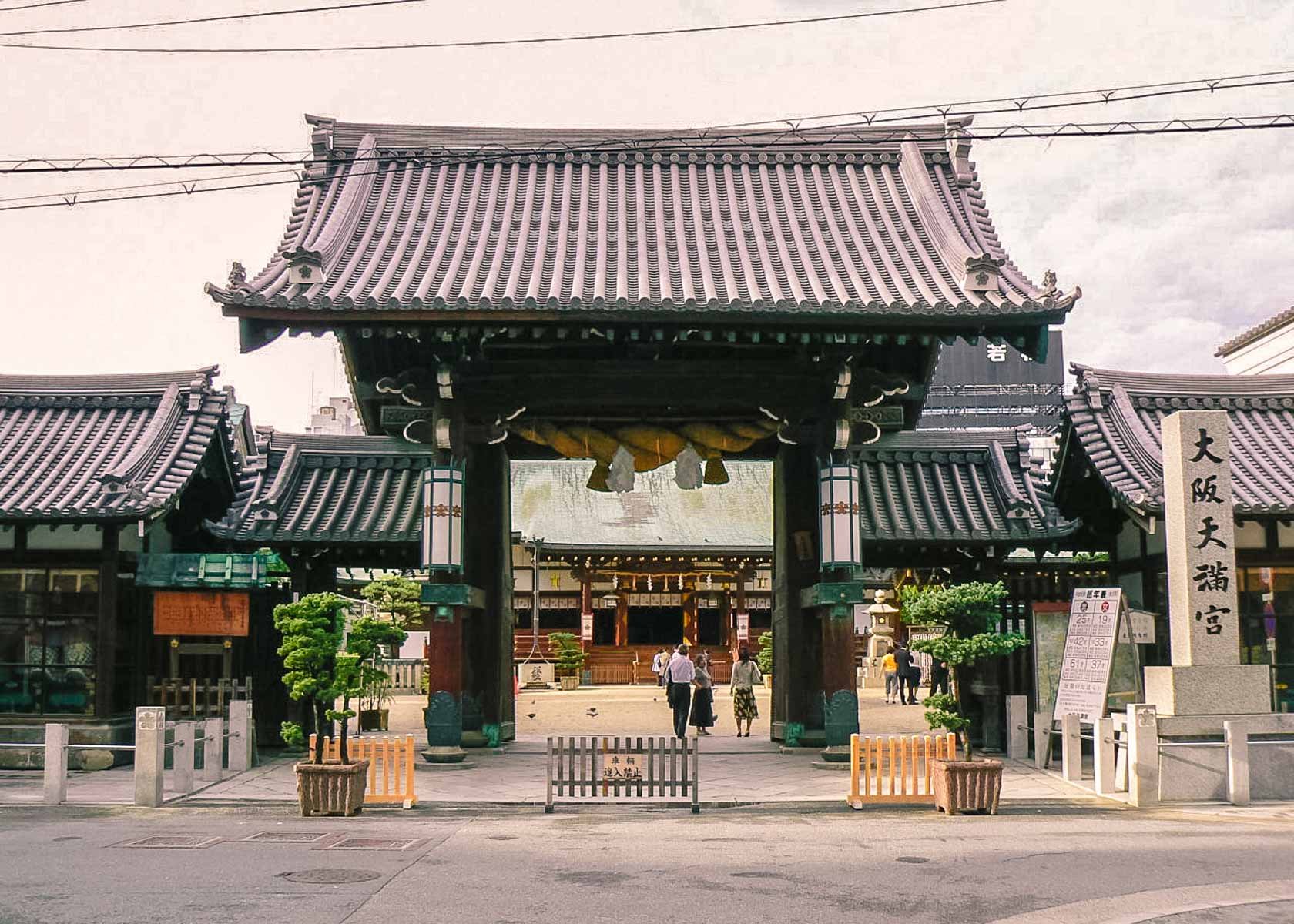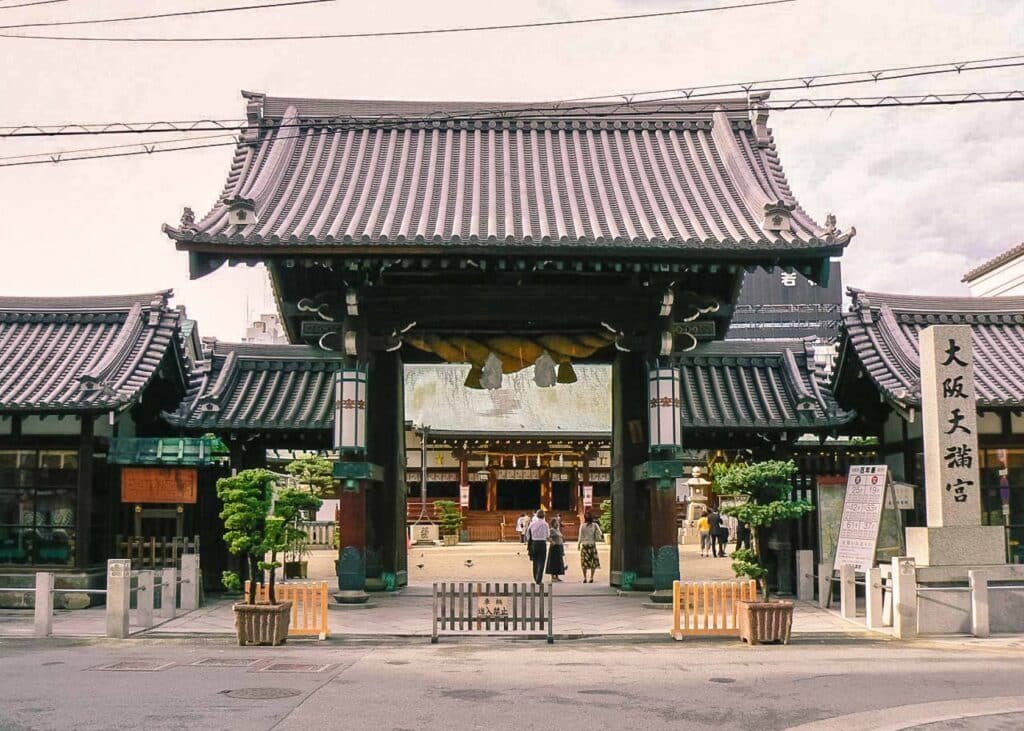 More Info
Address: 2 Chome-1-8 Tenjinbashi, Kita Ward, Osaka, 530-0041, Japan
Opening hours and entrance fees: The shrine is open daily from 9 am to 5 pm. The entrance is free of charge.
Osaka Tenmangu Shrine is located walking distance from Osaka Museum of Housing and Living and Tenjimbashi-suji shopping street, which is the longest covered shopping arcade in Japan.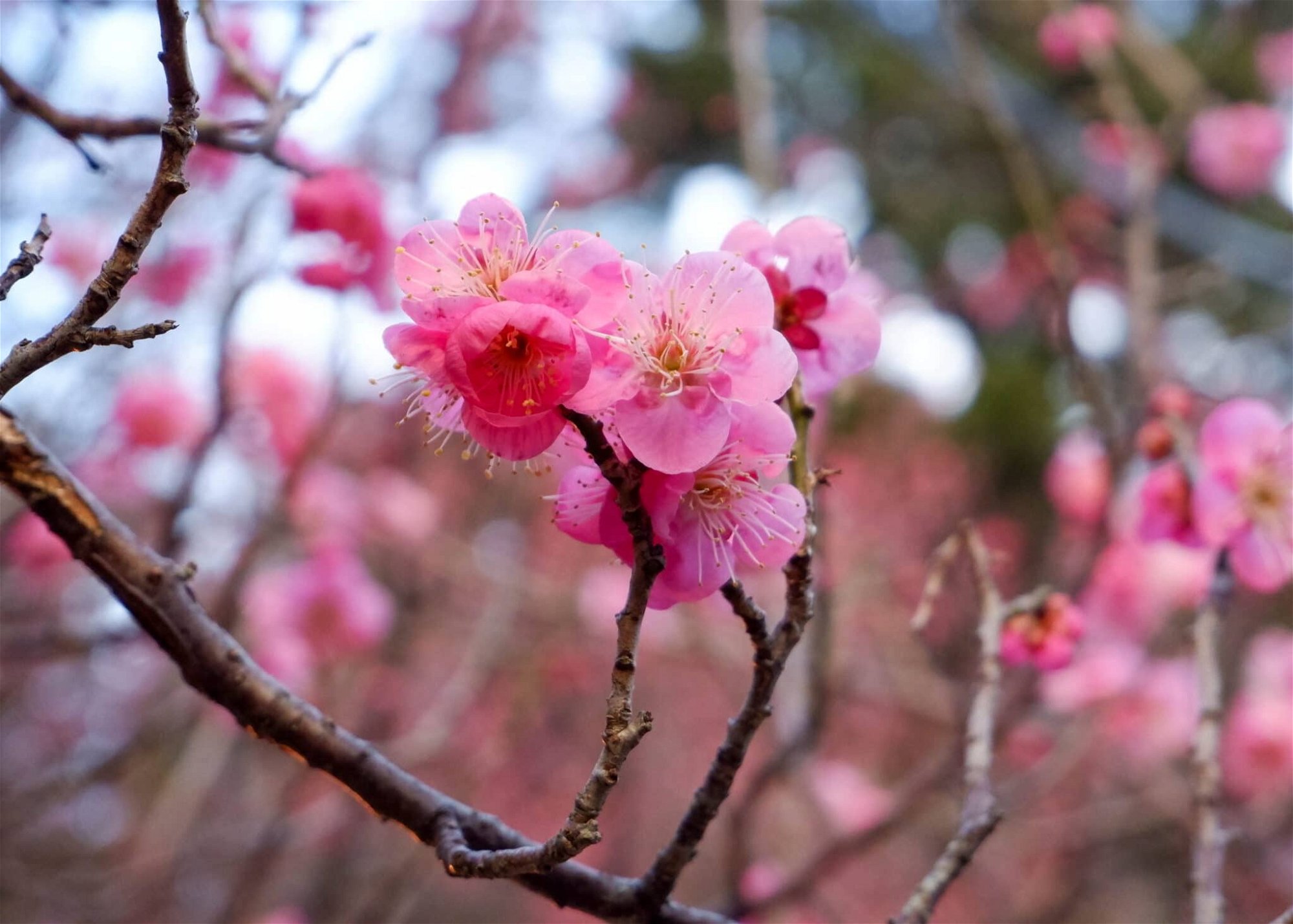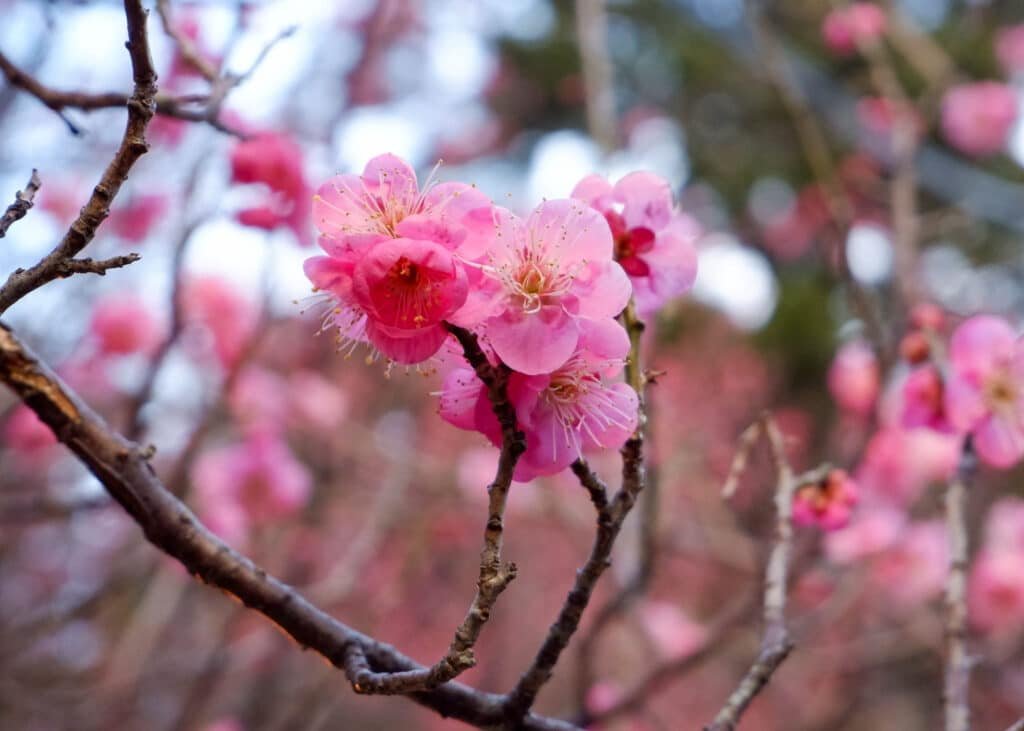 Difference between a shrine and a temple
Both shrine and temple are two most common historical buildings you'll see while visiting Japan. Many people may not realize this, but there is truly a significant difference between them.
Buddhism and Shintoism
The simplest one is that shrines are Shinto and temples are Buddhist, which are the two main religions practiced in Japan. Buddhism was brought to Japan in the 6th century from China and Korea, while Shintoism is an indigenous religion of Japan that originated here. It is said that Shinto is as old as Japanese culture. Buddhism worships Buddha and in the temples, you can often see pictures and statues of him, while Shintoism is an animistic religion with an infinite number of gods and goddesses (in Shinto they believe that everything in this world possesses a spirit).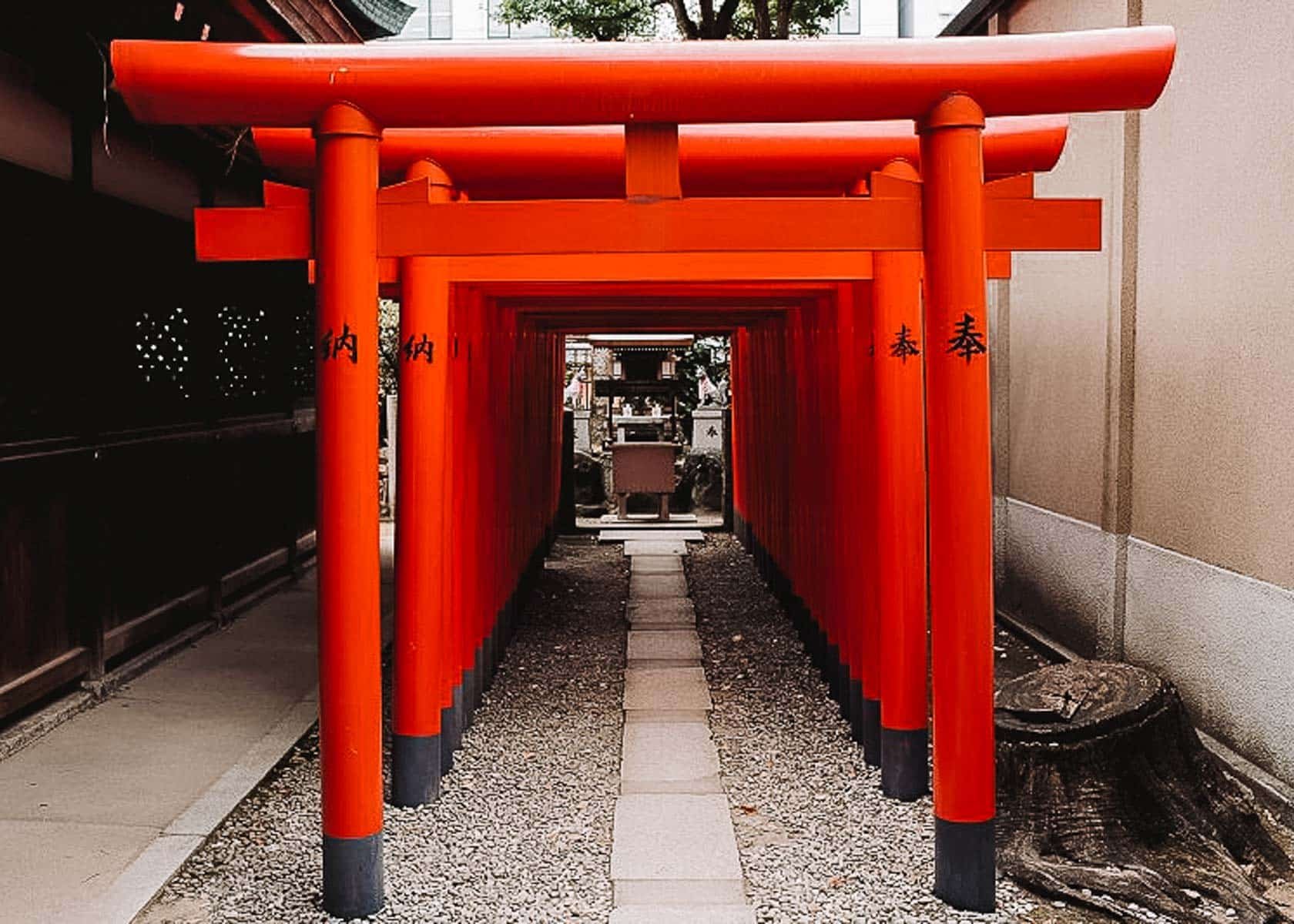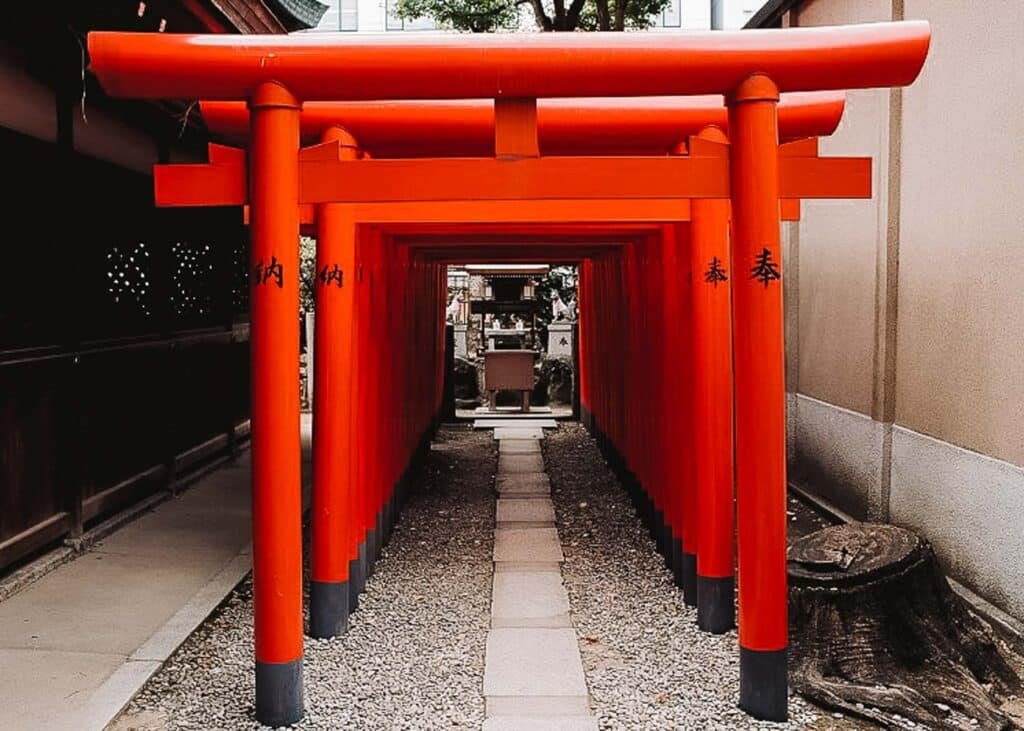 Architecture
There are also some aesthetic and architectural differences between temples and shrines. Temples usually have a pagoda that is rich in ornaments, gold statues and decorations, with a Buddha statue or pictures of him inside. Shrines are known for the significant torii gates and animal statues that guard the entrance to the shrine. Torii gates are often paint in vermillion colour (a rich brilliant red shade). There is also a water basin in shrines where visitors can wash their hands before entering. In temples, you are most likely to find a big incense burner which is believed to have healing power.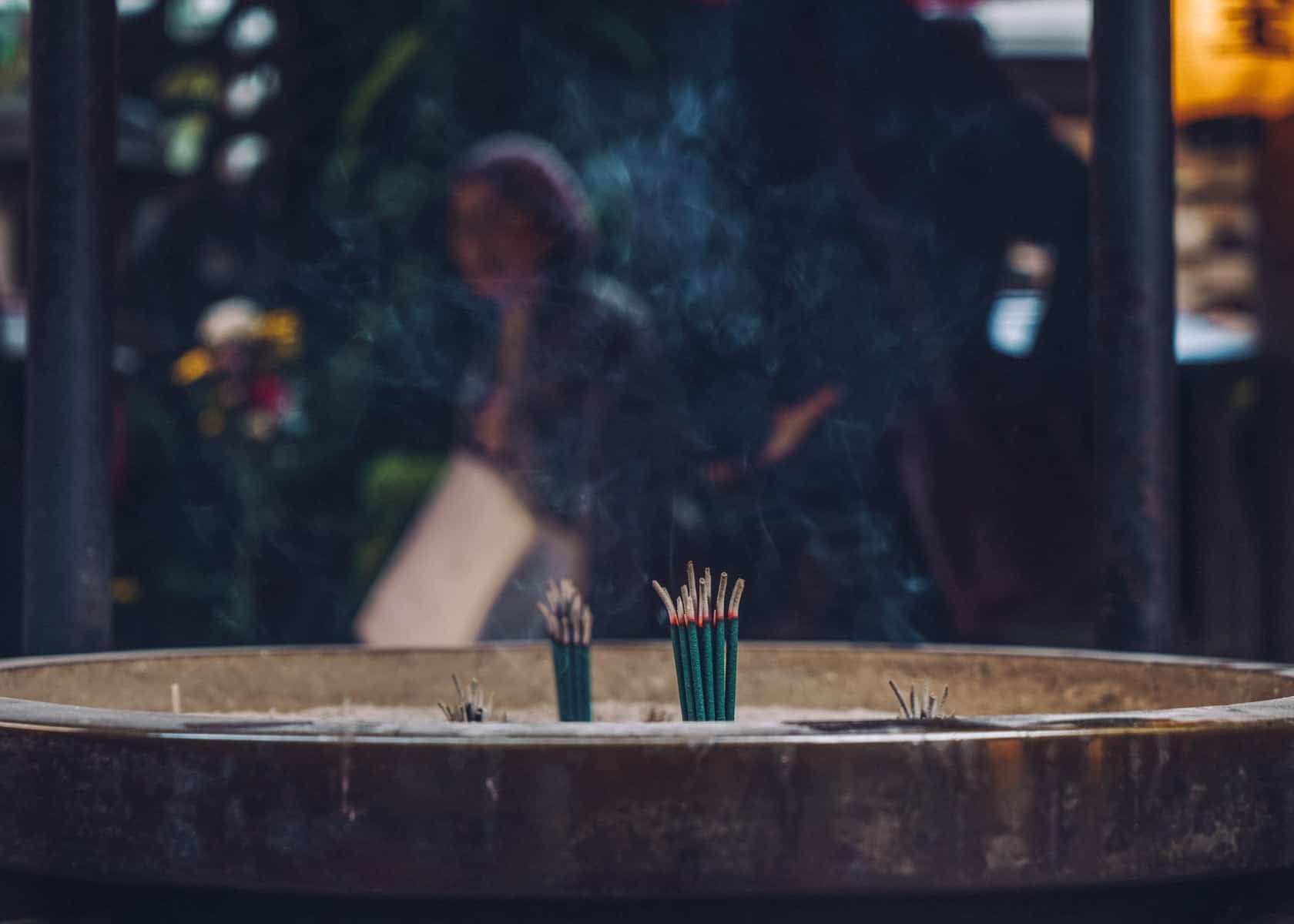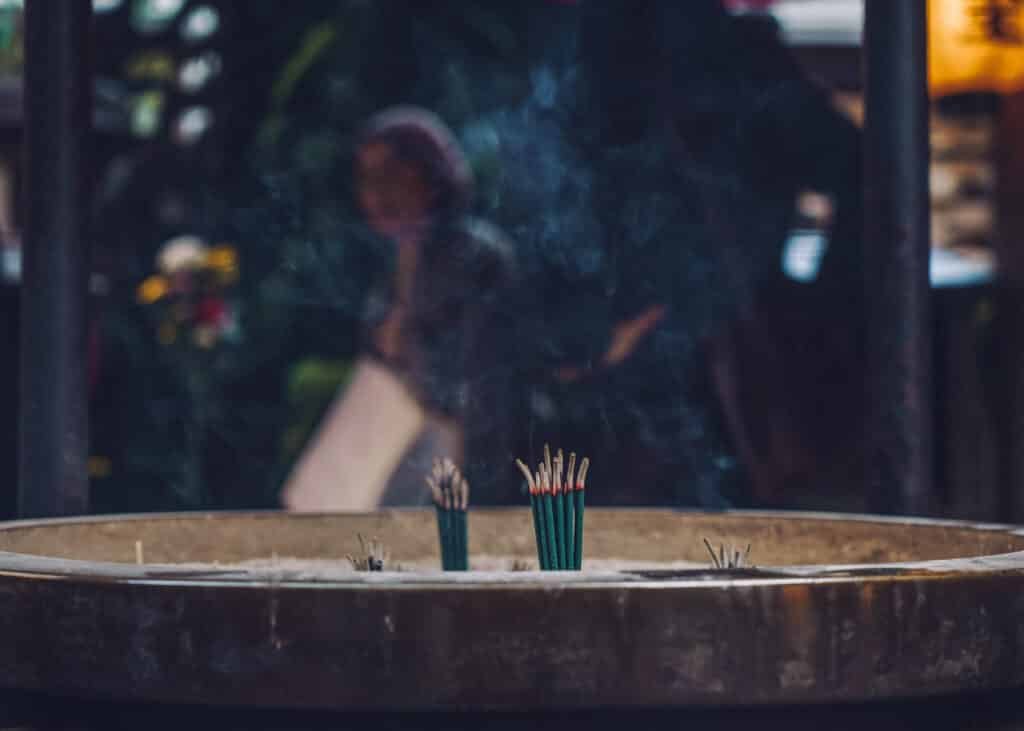 Religious practices
Despite the differences between these two religions, together they rather cooperate than compete. Most of the times you can find both shrine and temple within one religious complex and Japanese people tend to practice both religions together, for example it's common to have a Shinto wedding and a Buddhist funeral. People of Japan also visit temples and shrines on New Year's Eve. There are no big celebrations nor fireworks on this day in Japan. People come to temples and shrines to pray to gods for a good year to come. The employees of each particular religious site ring a giant bell for 108 times as a countdown before midnight. It is believed that it will reduce 108 kleshas – factors that produce mental torment (depression, anxiety, fear, anger, jealousy and desire). People come to hear the bells ringing on New Year's Eve to get the kleshas off their minds.
Regardless on your personal beliefs, everyone is always welcome to shrines and temples in Japan. Whether you want to admire the unique architecture, soak in the Japanese traditions, or just to stroll around these serene and peaceful places, it is a must to visit at least one when traveling to Osaka.