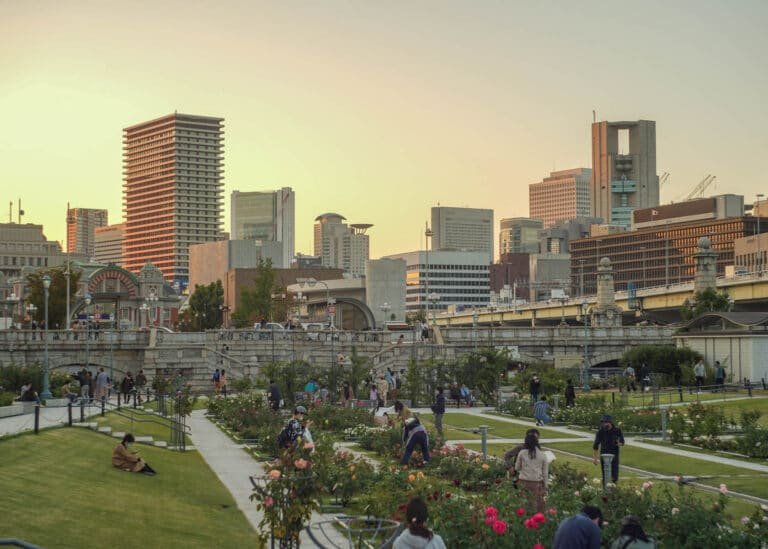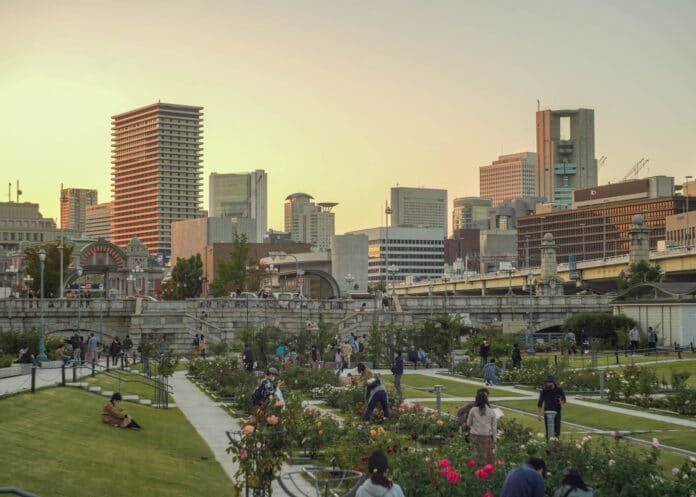 About Nakanoshima Island
Nakanoshima island is one of the largest green areas in central Osaka. This waterfront park is the ultimate place for leisure, relax, and culture, and it is one of my personal favourite places in the city. The well-designed paths along the river will take you on a pleasant stroll. You will find here some of the best international restaurants and cafes, as well as the first beer garden in Osaka. Come with us on a tour around this urban oasis.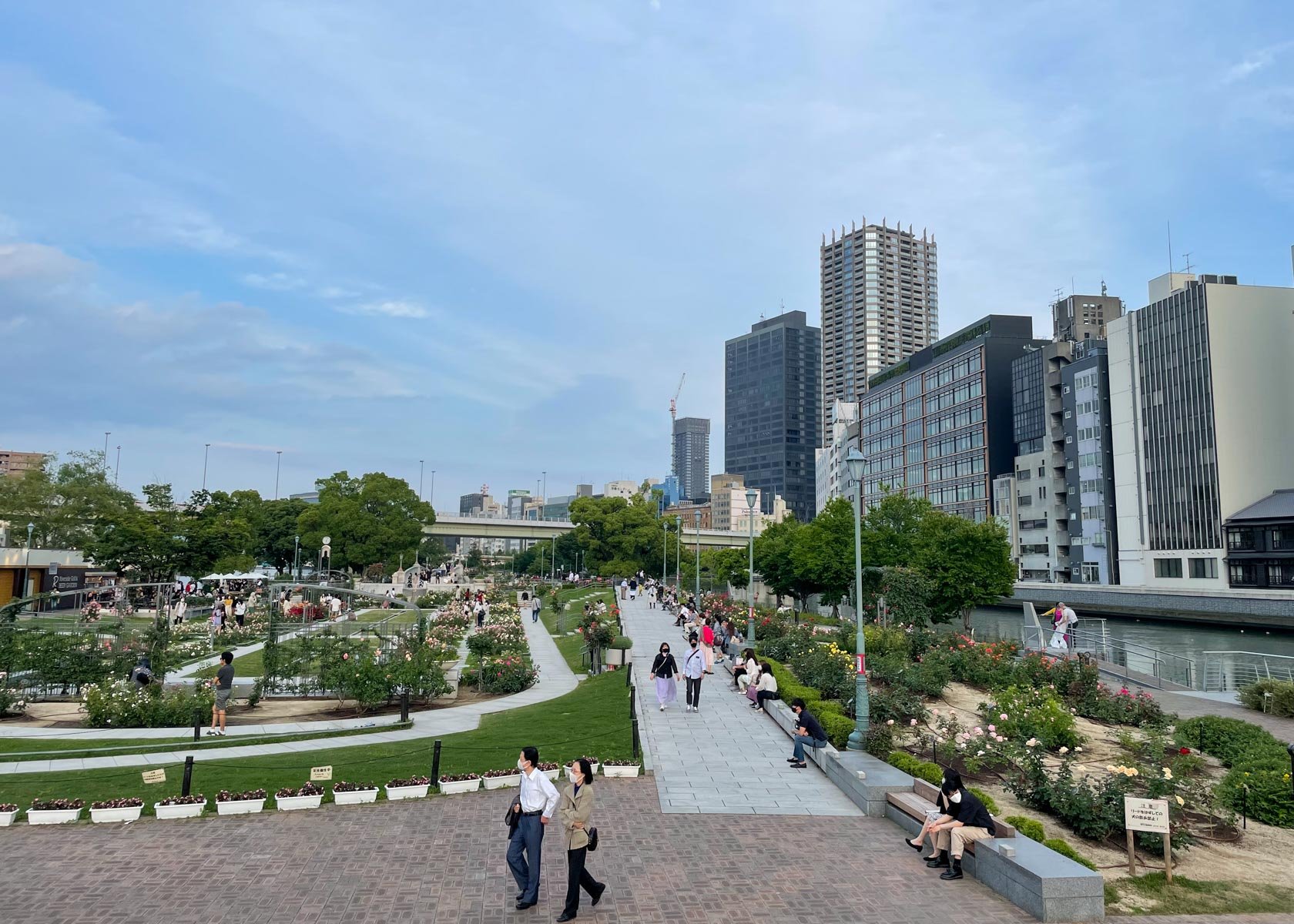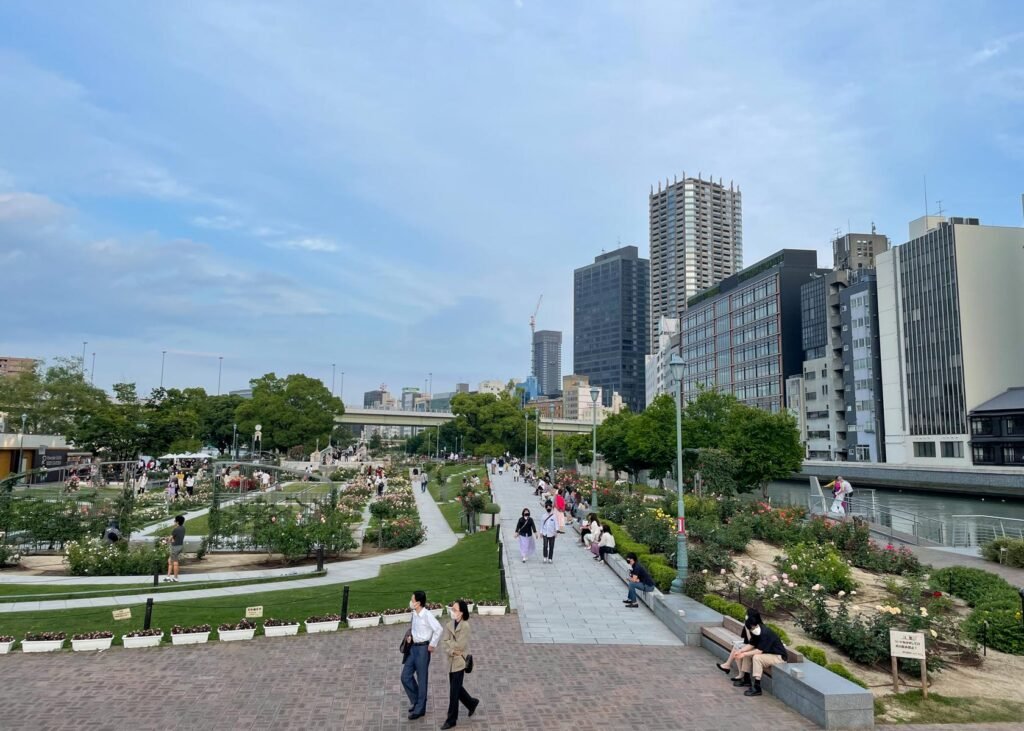 Nakanoshima lies between the rivers Dojimagawa and Tosaborigawa, so it is truly an island (shima means island in Japanese). This 3 km long sandbank is located in the Kita district on the north of Osaka and it is home to many governmental and commercial offices, as well as museums and cultural facilities. The whole area has a very modern metropolitan vibe that you can almost forget that you are still in Japan.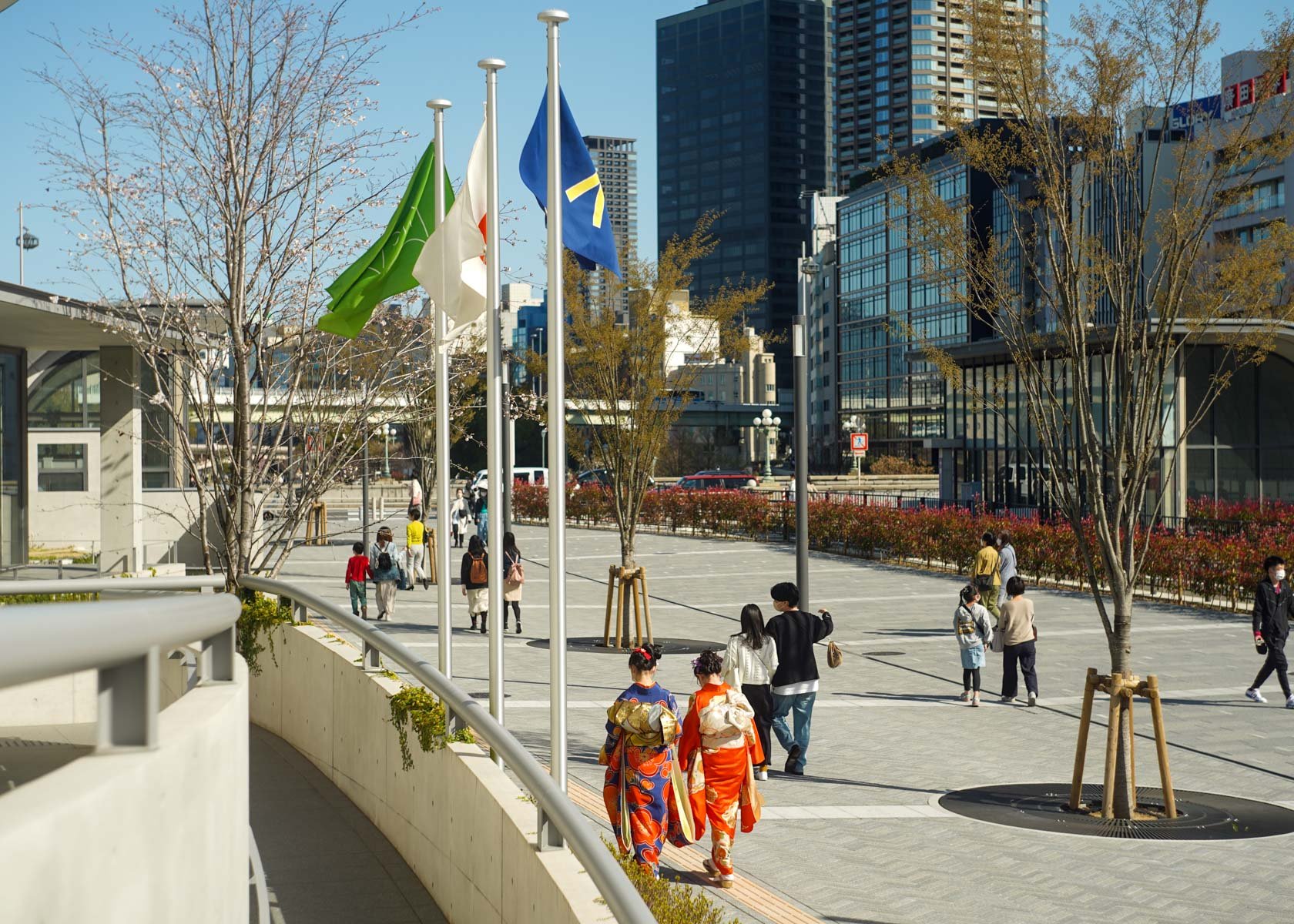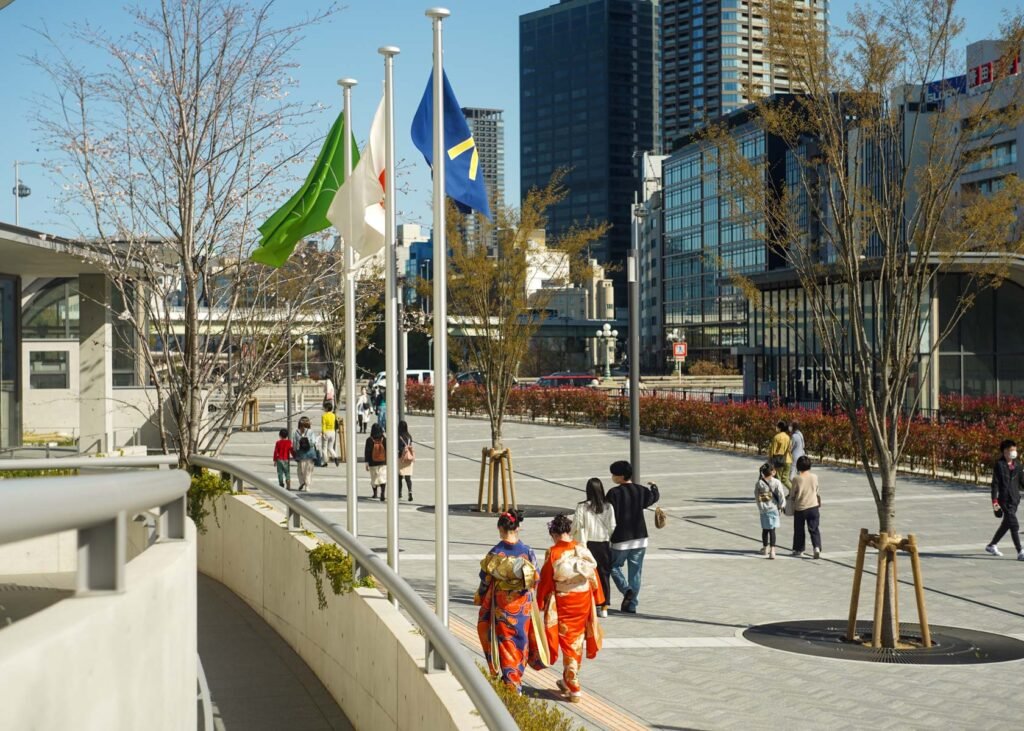 Quickly about history of Nakanoshima
The first mentions of Nakanoshima come from the Edo period (1603 – 1867). During this time, the most important warehouses were concentrated in here. The warehouses served for trading and storing rice and other products, and then shipping them to other prefectures around Japan. That is when Osaka got its nickname Tenka no Daidokoro which means 'Nation's Kitchen'.
Edo period was replaced by Meiji restoration and Nakanoshima was enriched by more cultural facilities, such as library or the Central Public Hall. Since the early days, this little island has played an important role as the centre of commerce and culture. In 1891, the first ever public park in Osaka was established in Nakanoshima. Nowadays, people of Osaka love to come here for relaxation and recreation. Here are some of the most popular places to visit and tips on what to do around this small island.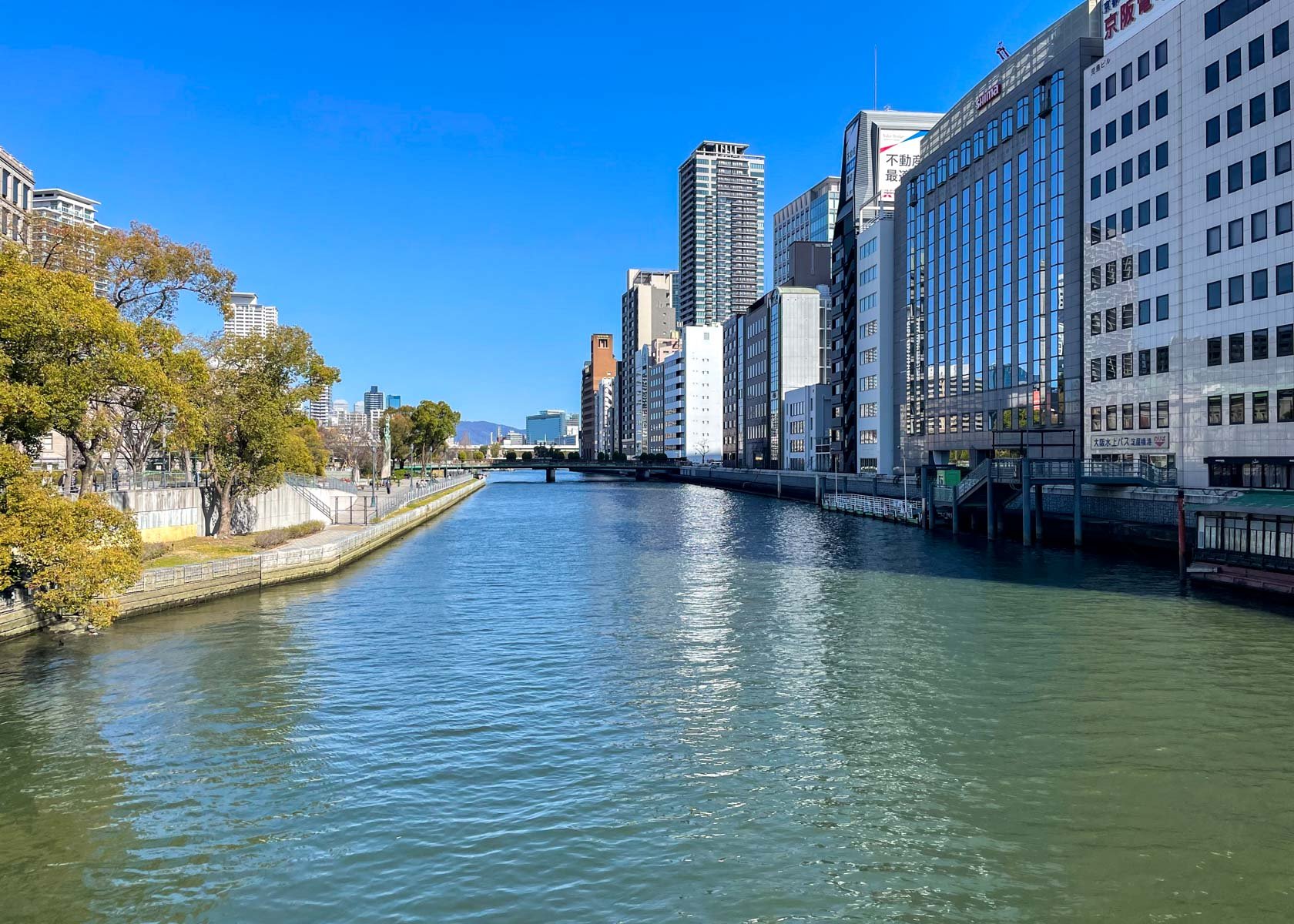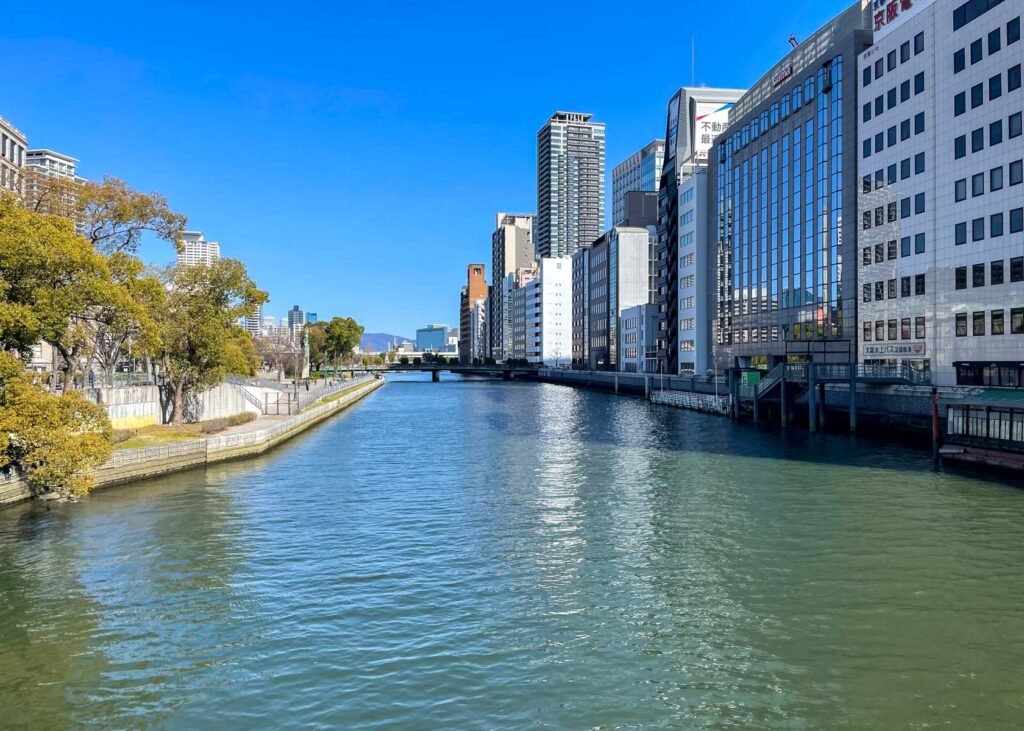 Nakanoshima Rose Garden
The most stunning feature of Nakanoshima island is the rose garden. You will find here over 4000 roses of almost 90 different varieties. The garden is lined with benches where you can sit surrounded by flowers and enjoy the city skyline. Roses bloom twice a year in Osaka and the best time to see them is mid-May and mid-October.
The entry to the Nakanoshima Rose Garden is free of charge and it is open 24/7.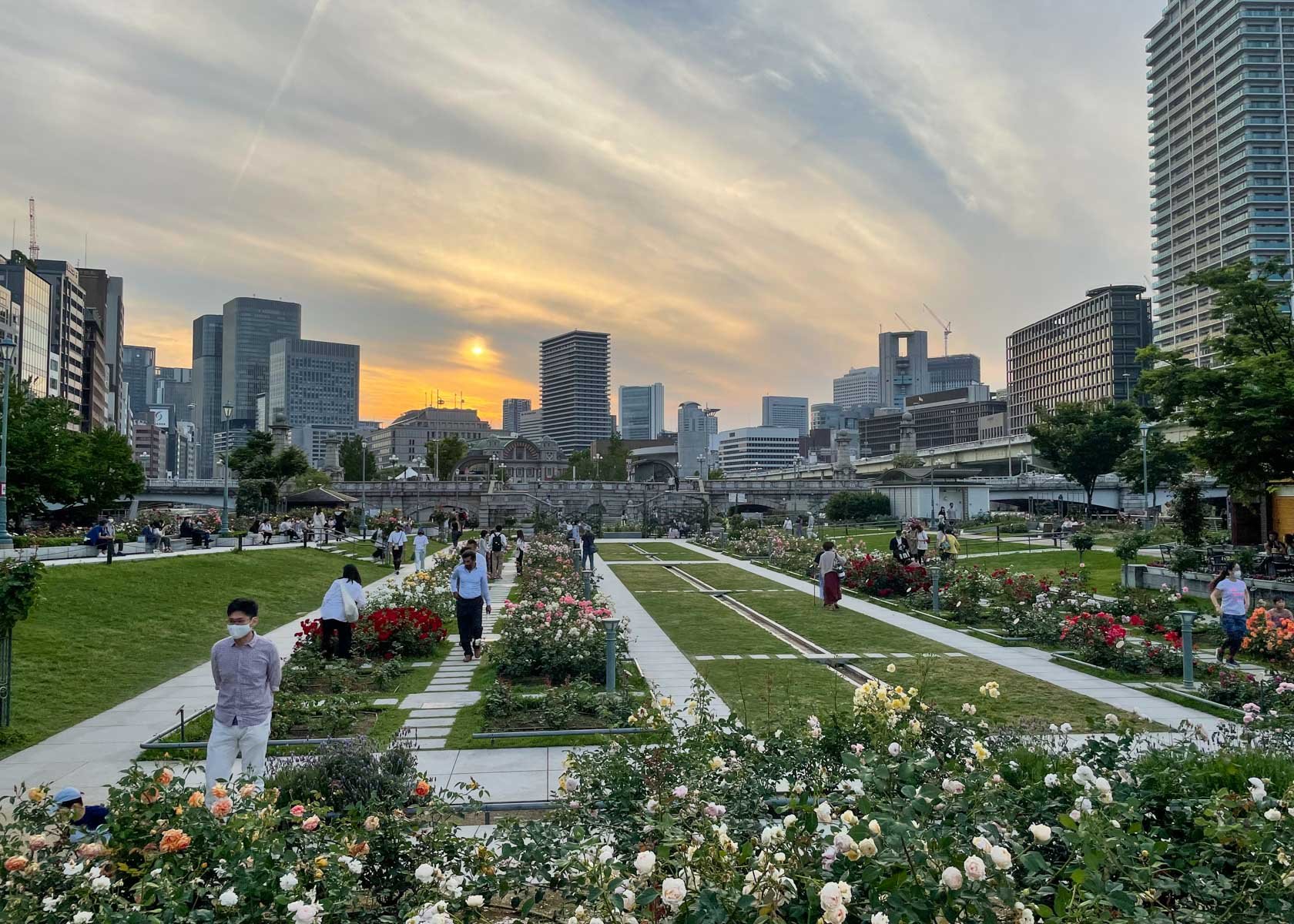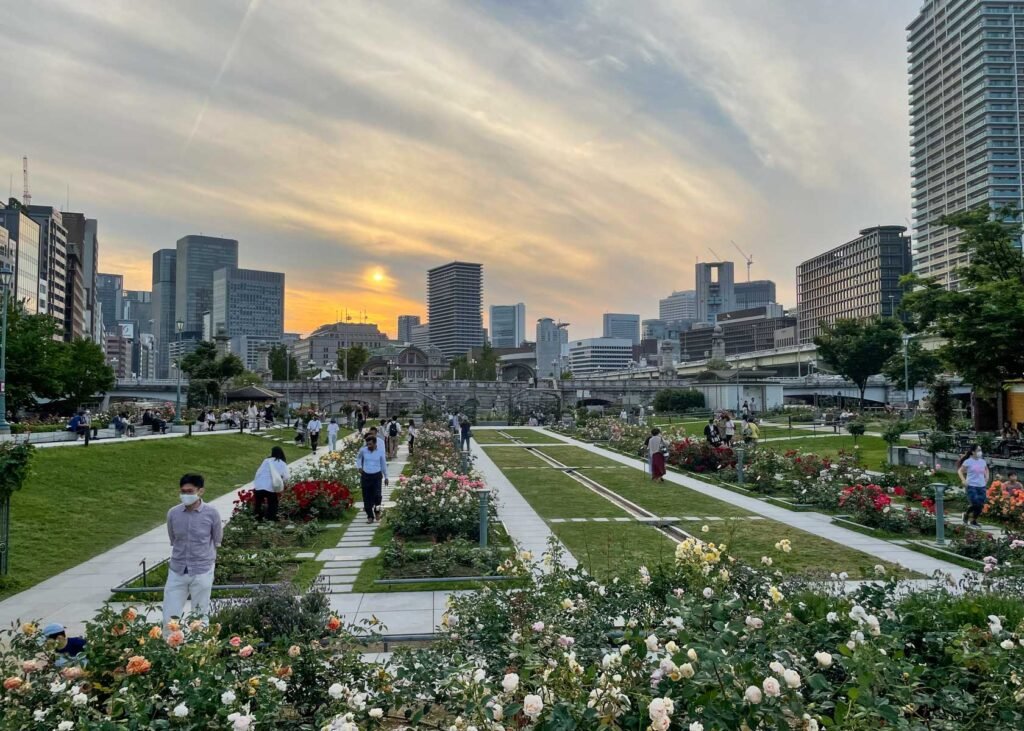 Nakanoshima-koen Kensaki Fountain
As you walk through the rose garden, further towards the place where the two rivers flow into one, you will be passing by a large lawn area. This place is perfect for family picnics and to watch the sunset. At the very end of Nakanoshima, there's a Nakanoshima-koen Kensaki Fountain. It is shaped as the tip of a boat and it sprays water into the river in regular intervals.
From here, you can see on the other side of the river Minamitenma park. At the end of March and beginning of April, this area is lined with hundreds of cherry blossom trees which create a gorgeous dreamy scenery.
Children's Book Forest
If you love the architecture by famous Japanese architect Tadao Ando, you shouldn't miss the opportunity to visit Children's Book Forest. Tadao Ando is known for its unique architectural style and he is, up to this day, one of Japan's leading architects. You can see his buildings not only around Japan, but in big cities around the world as well.
Children's Book Forest is visually stunning, filled with books for the little ones. However, it received its share of criticism, because the building on the inside is not very 'children friendly'. They cannot run and explore by themselves and when you enter, you will receive a paper with a set of rules to follow. It is a place just for reading and admiring the architecture. If you travel with children and you are looking for an interesting place where they can enjoy themselves, I would suggest Kids Plaza Osaka.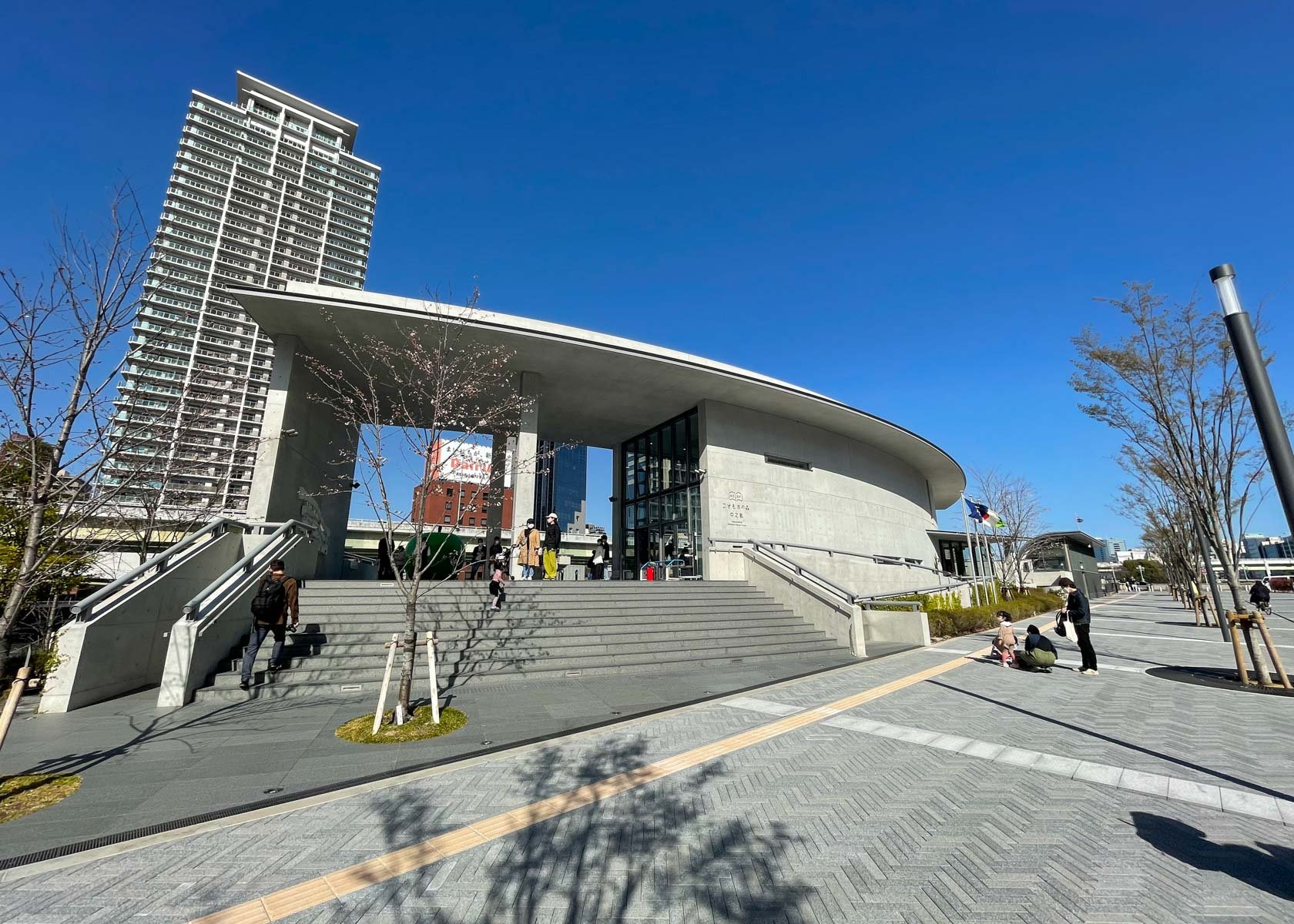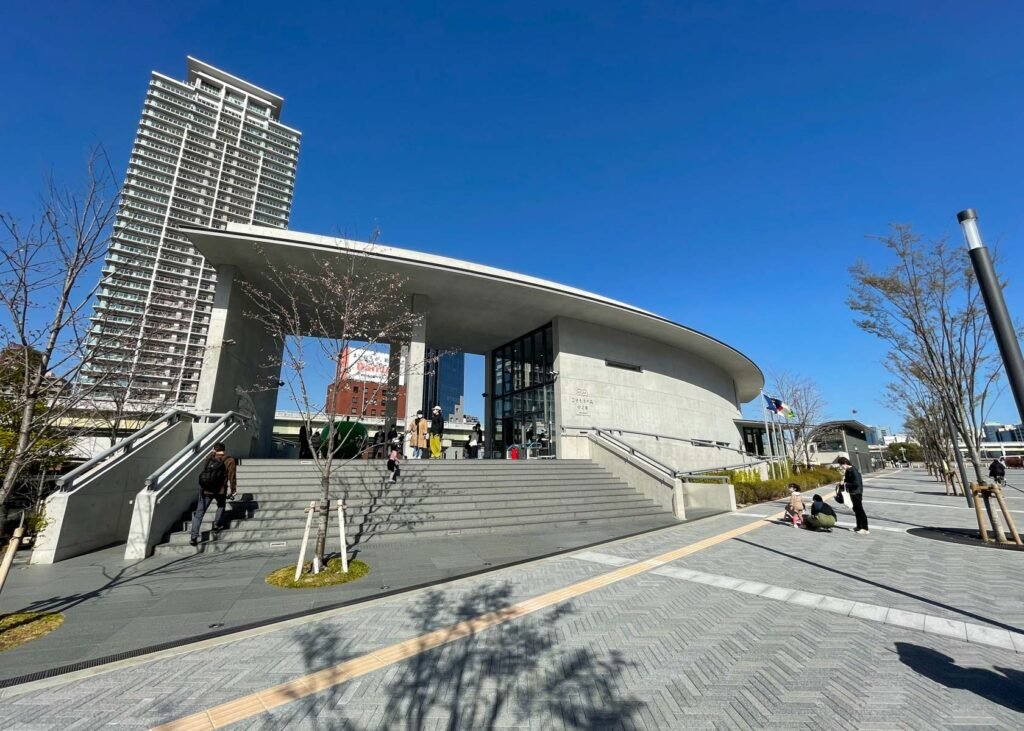 About Tadao Ando
Tadao Ando was born in Osaka in 1941. Before he decided to become an architect, he worked as a boxer and a fighter. The inspiration to end his boxing career came during a trip to Tokyo where he saw The Imperial Hotel designed by Frank Lloyd Wright. He never got a formal training in architecture, but he attended night classes to learn drawing and interior design. In 1968 he managed to open his first studio in Osaka.
Since then, he not only designed many famous buildings in Japan, but you can his work in Milan, Chicago, Venice, Budapest or Paris, just to name a few. His style is inspired by religious term 'Zen' which focuses on the idea of simplicity. His buildings are constructed usually with concrete and they are in sync with nature.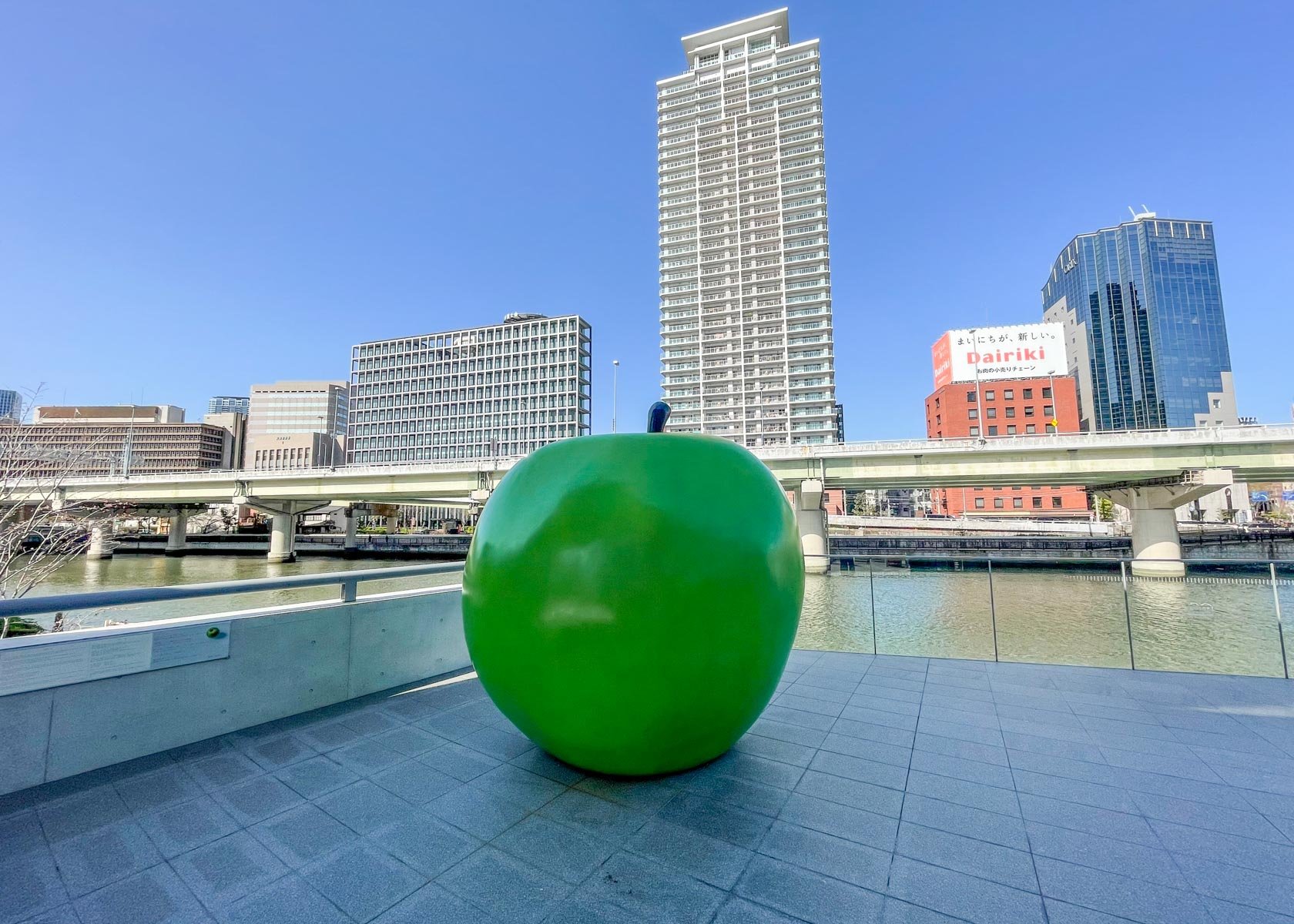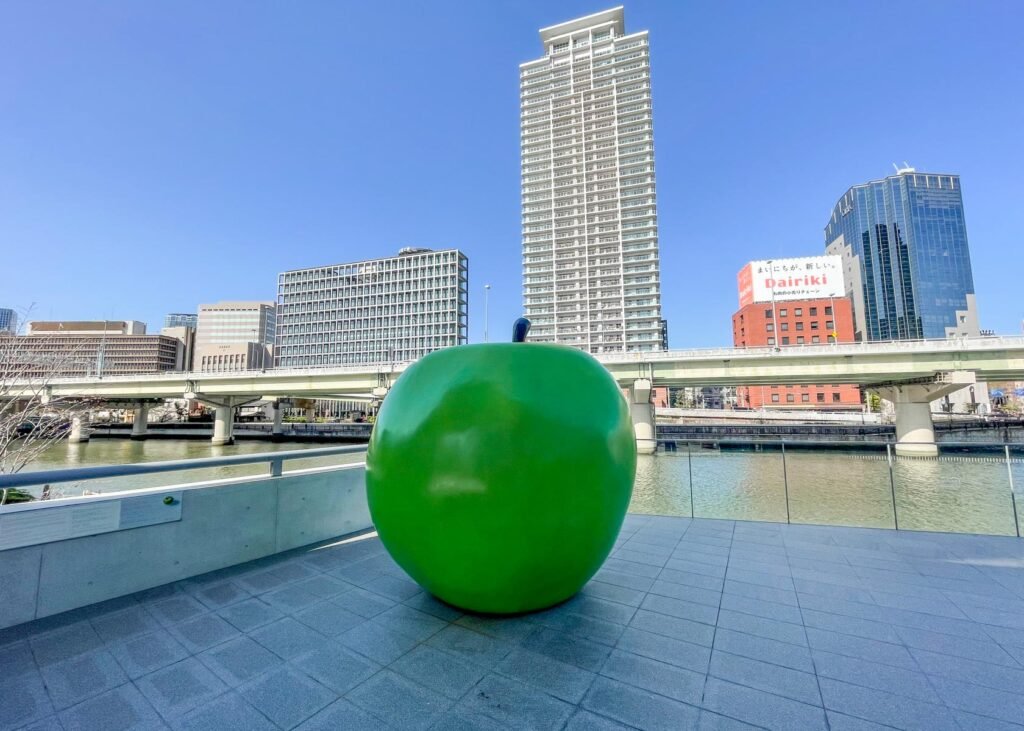 Children's Book Forest Opening hours
Nevertheless, Children's Book Forest is an interesting place to visit! It is open from 9:00 to 17:30 from Tuesday to Sunday (it's closed on Mondays). At the moment, the venue accepts only 100 people to visit at different time slots throughout a day. If you wish to come and check it out, I would suggest booking in advance. You can do so on the link here.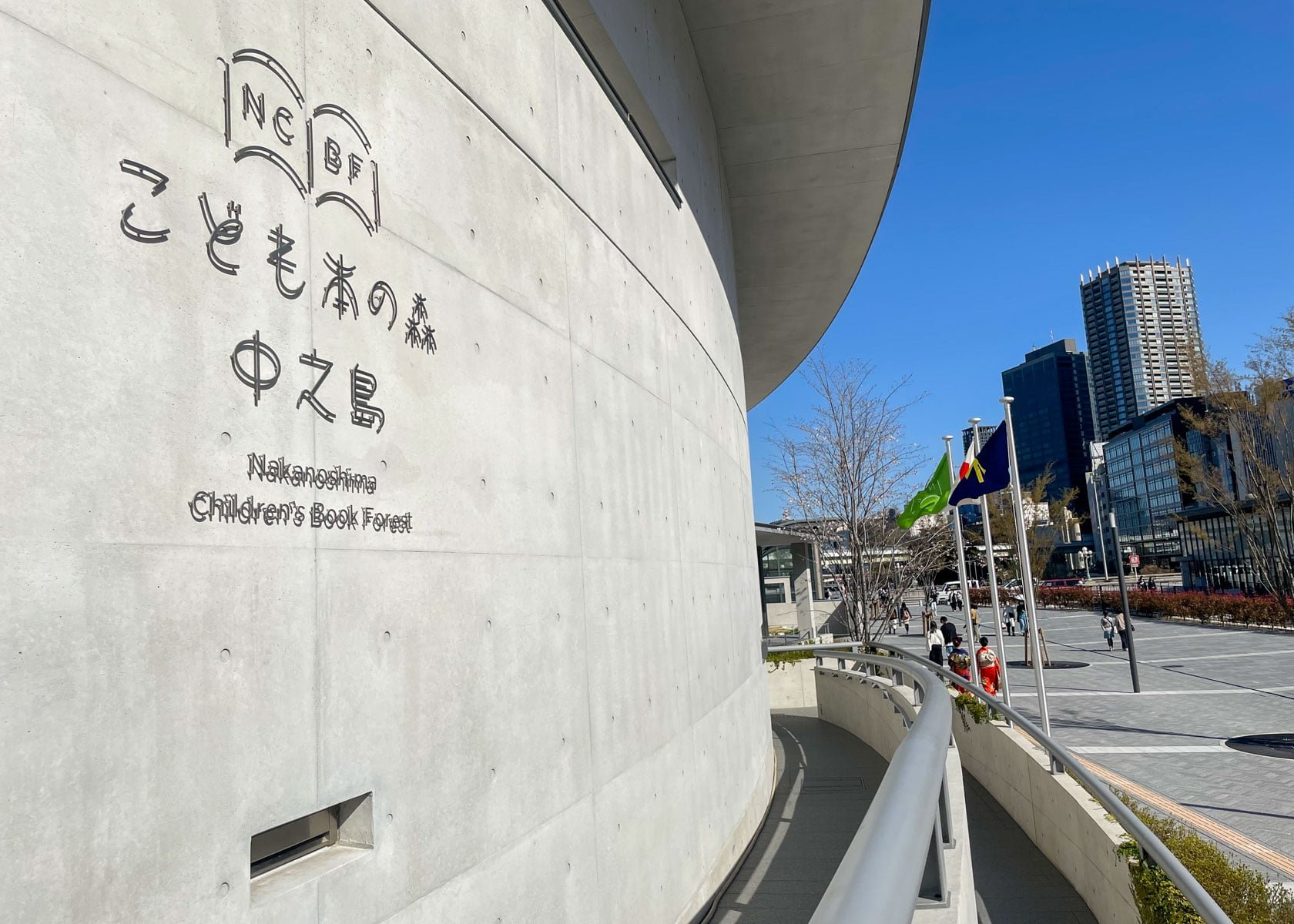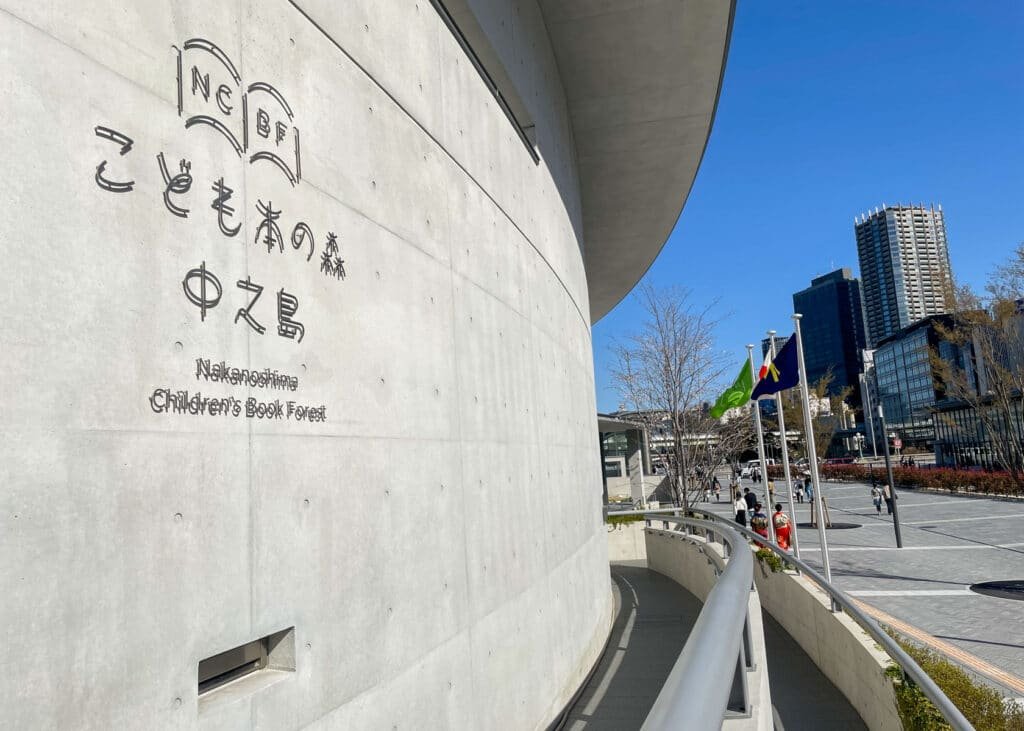 Museum of Oriental Ceramics
Next to the Children's Book Forest, there's another unique museum dedicated to the oriental ceramics. Expositions from ancient China, Persia, Vietnam, Korea and Japan are displayed in beautiful natural light. Some of them date back to 2000 years ago. The Museum of Oriental Ceramics was opened in 1980s. Besides the permanent exhibits you will find here special temporary exhibitions, a gift shop and a tea salon. It spreads through two floors divided into sections according to countries where the chinaware came from.
Unfortunately, the museum has been closed since February 2022 and it's planned to be opened again in fall 2023.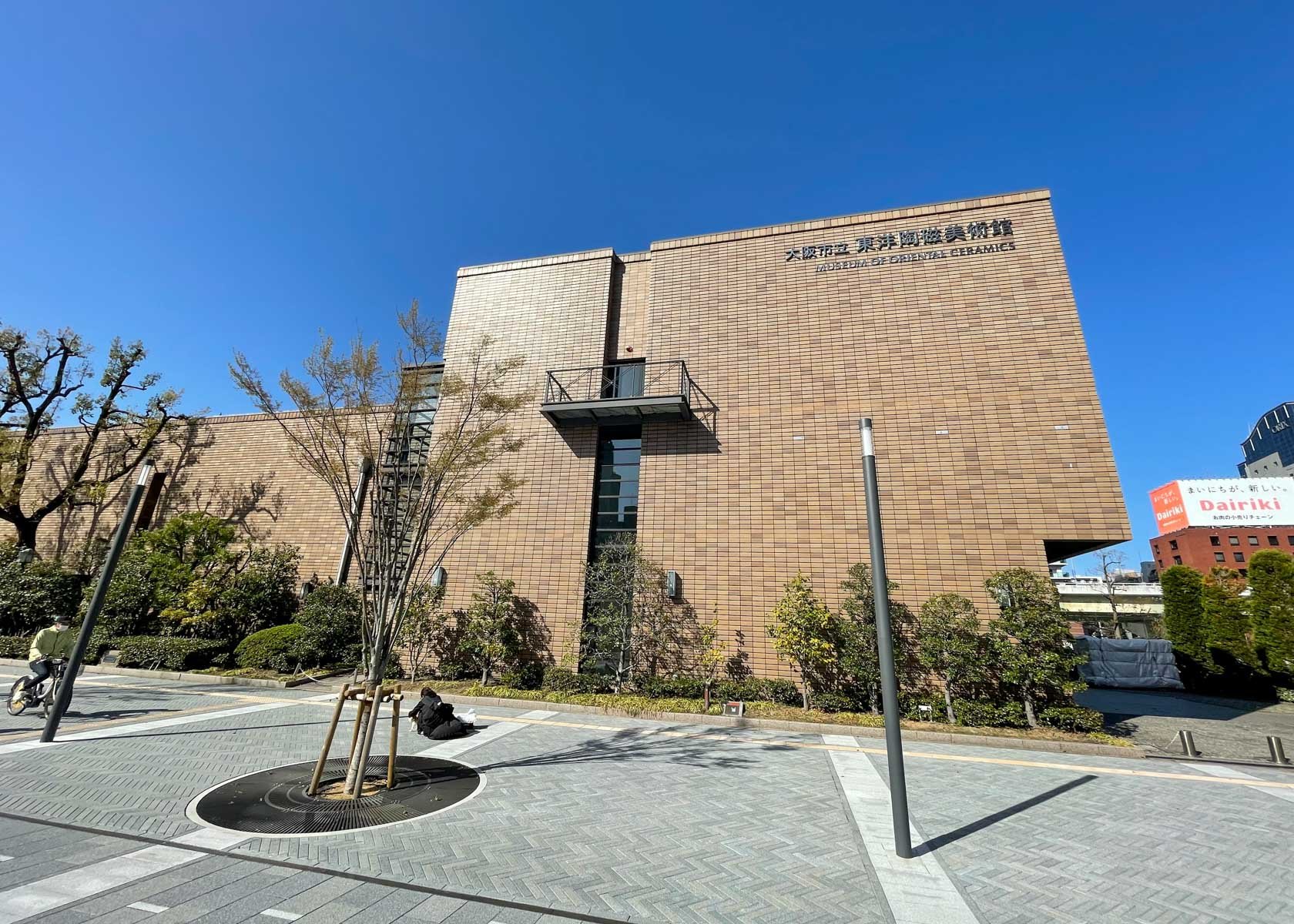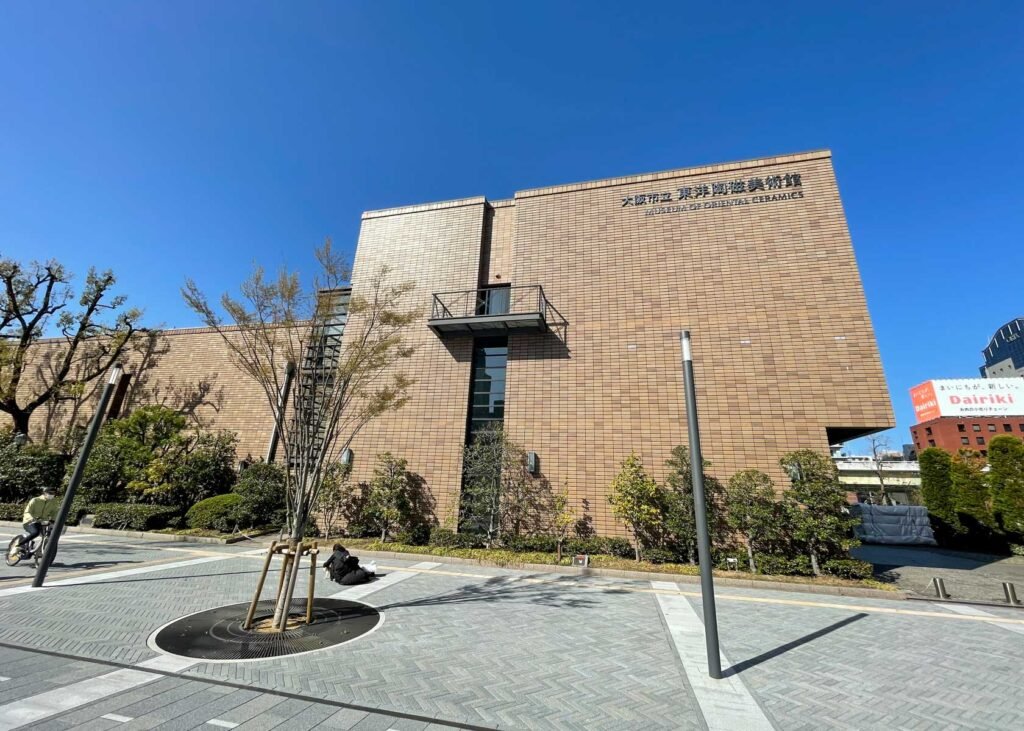 Osaka City Central Public Hall
Osaka City Central Public Hall in the centre of Nakanoshima will give you an impression that you are no longer in Japan. This beautiful red-brick building was built in neoclassical style in 1913 and today it is used for public events, lectures, concerts etc. Even though the inside of the Public Hall is not usually open for public viewing, it is worth to check it out at least from the outside.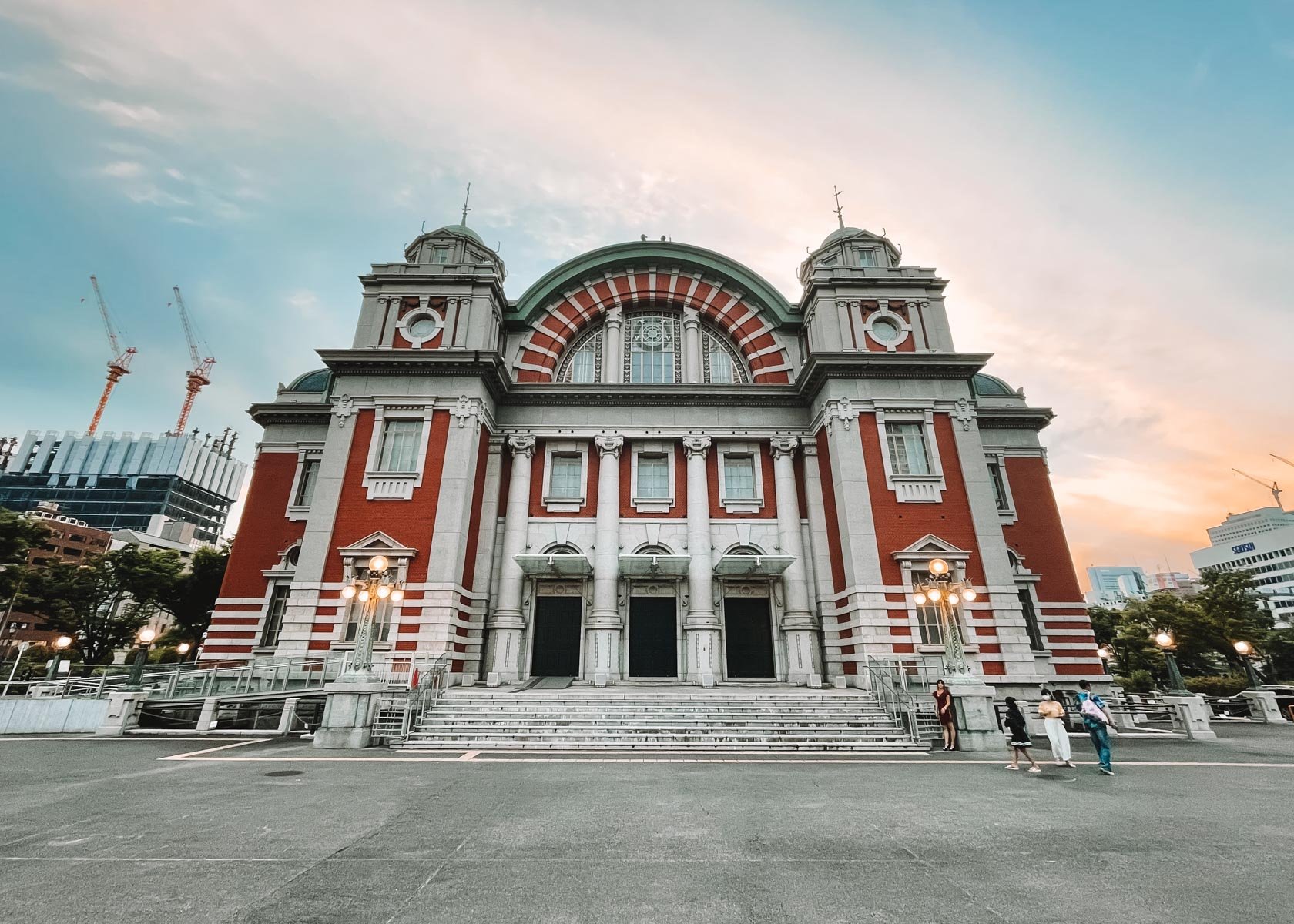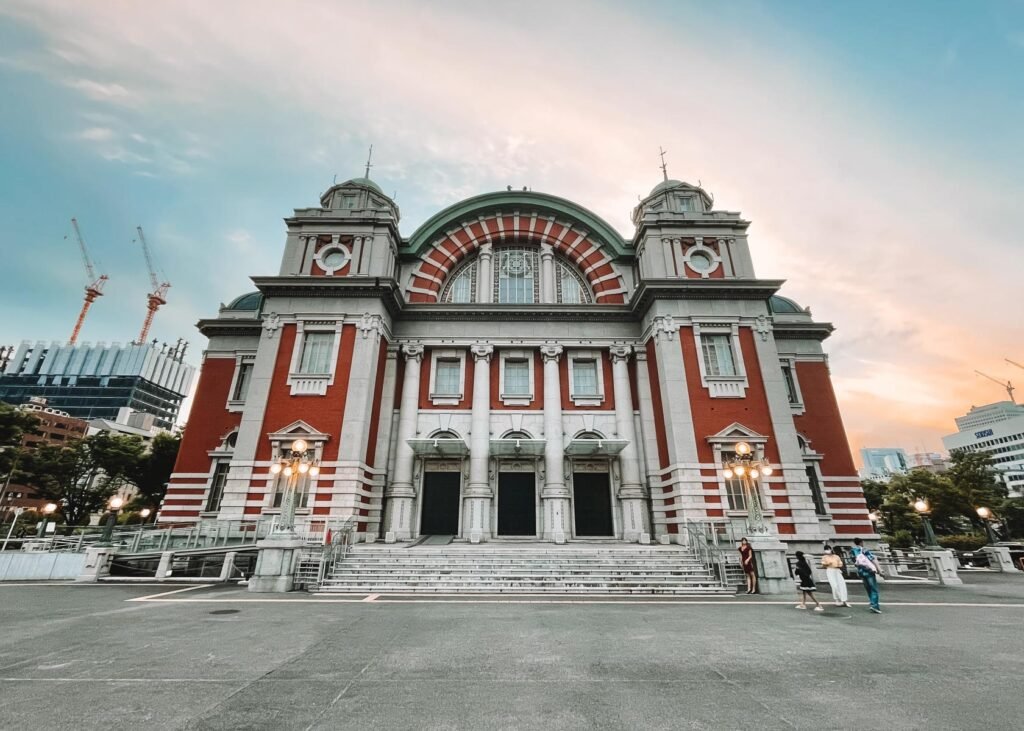 40 Sky Bar & Lounge
It may not seem at first, but Nakanoshima is quite large. One can get tired when walking around all day long. If you are seeking some nice refreshment in a fancy environment, head up to the 40 Sky Bar & Lounge in Conrad Hotel. This bar offers a wide selection of drinks and light snacks with the best views over Osaka skyline.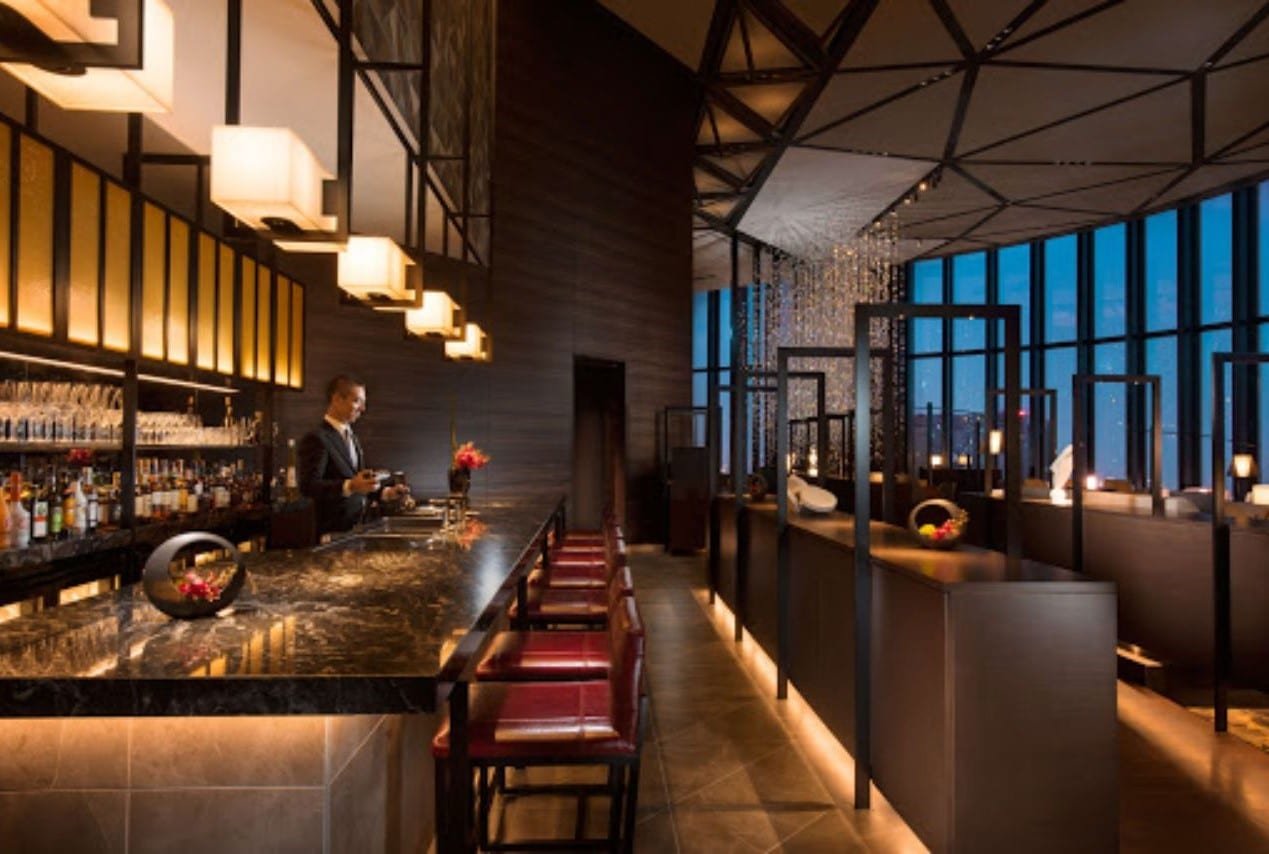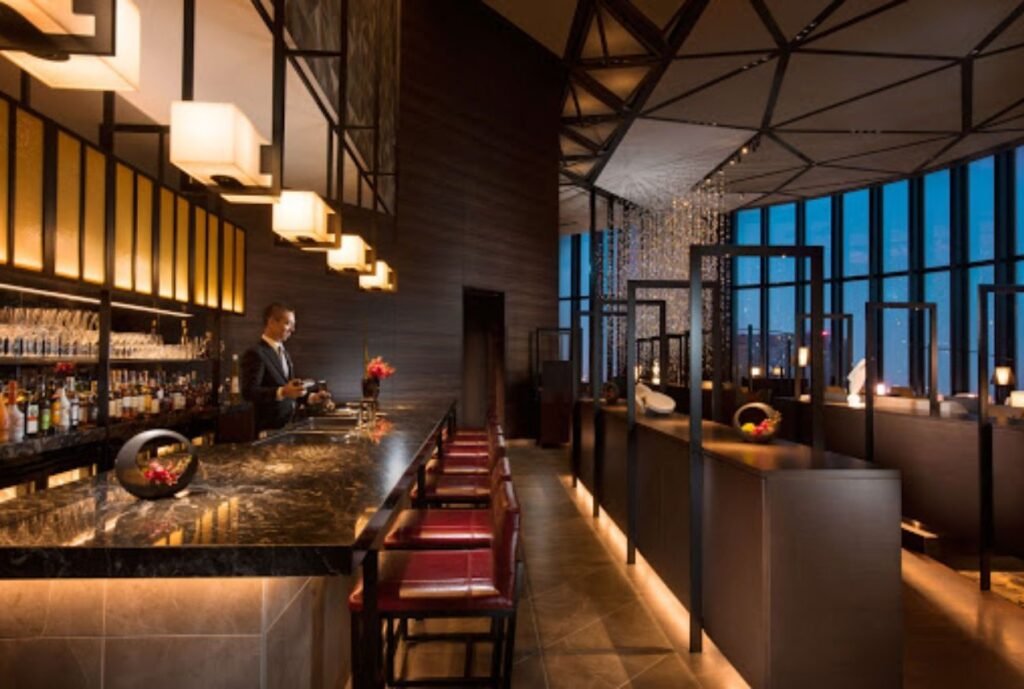 Opening hours
40 Sky Bar and Lounge is closed on Sundays and Mondays. Their usual opening hours start at 5 pm and they are open until midnight. It is the perfect place to watch the sunset.
If you love observation platforms, check out our article where to go for the best views at our beloved city Osaka here.
Nakanoshima Museum of Art
This new museum of modern art in Nakanoshima opened its doors for the first time only in February 2022, but it has gained a great popularity even in such a short time. The massive dark building surrounded by greenery adds to Nakanoshima being the cultural hub of Osaka. Besides the art exhibition areas, Nakanoshima Museum of Art also features event halls, workshop rooms, souvenir shops, large lawn, meeting rooms and a restaurant.
Opening hours
Nakanoshima Museum of Art is open every day (except of Mondays when the museum is closed) from 10:00 to 17:00.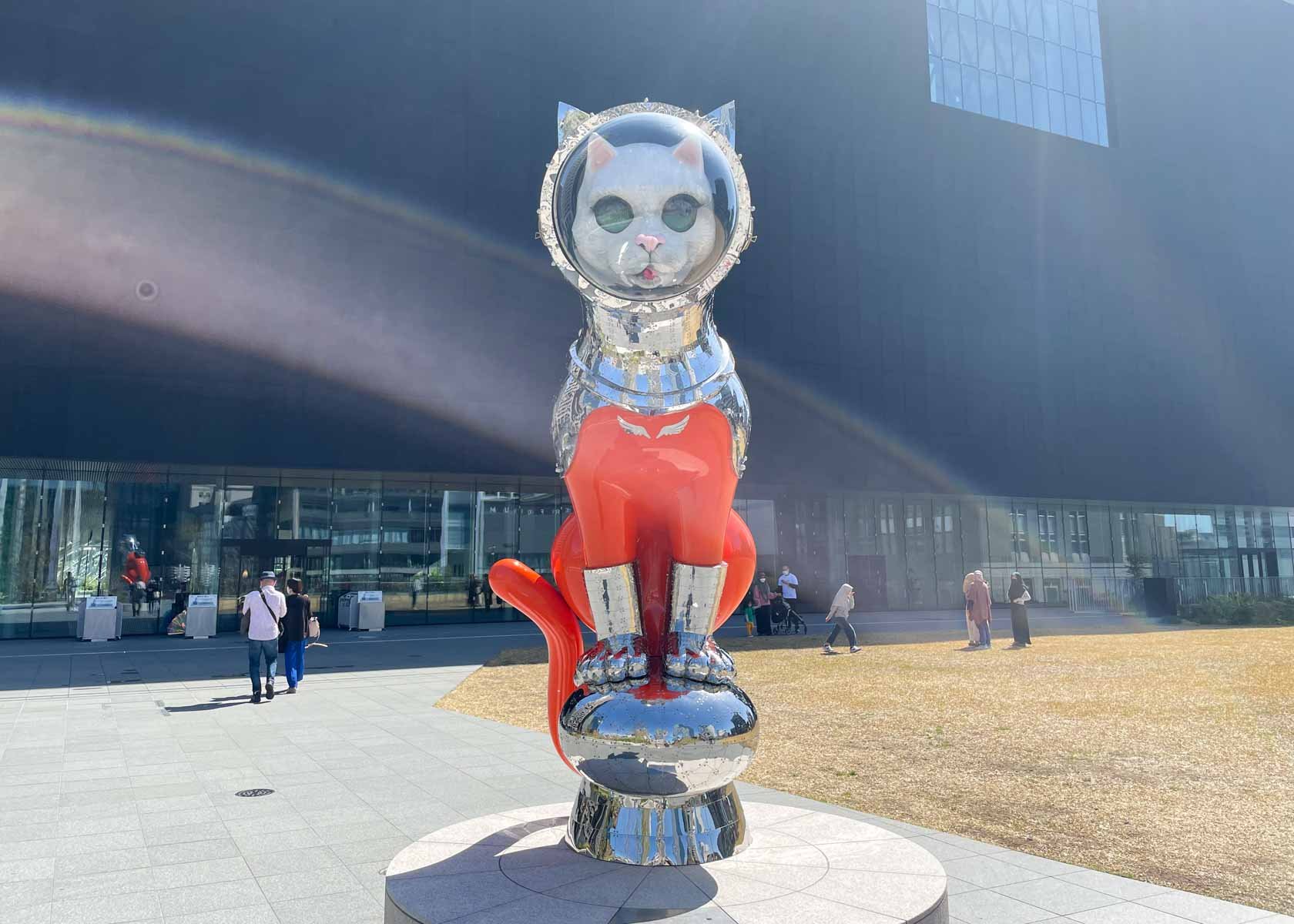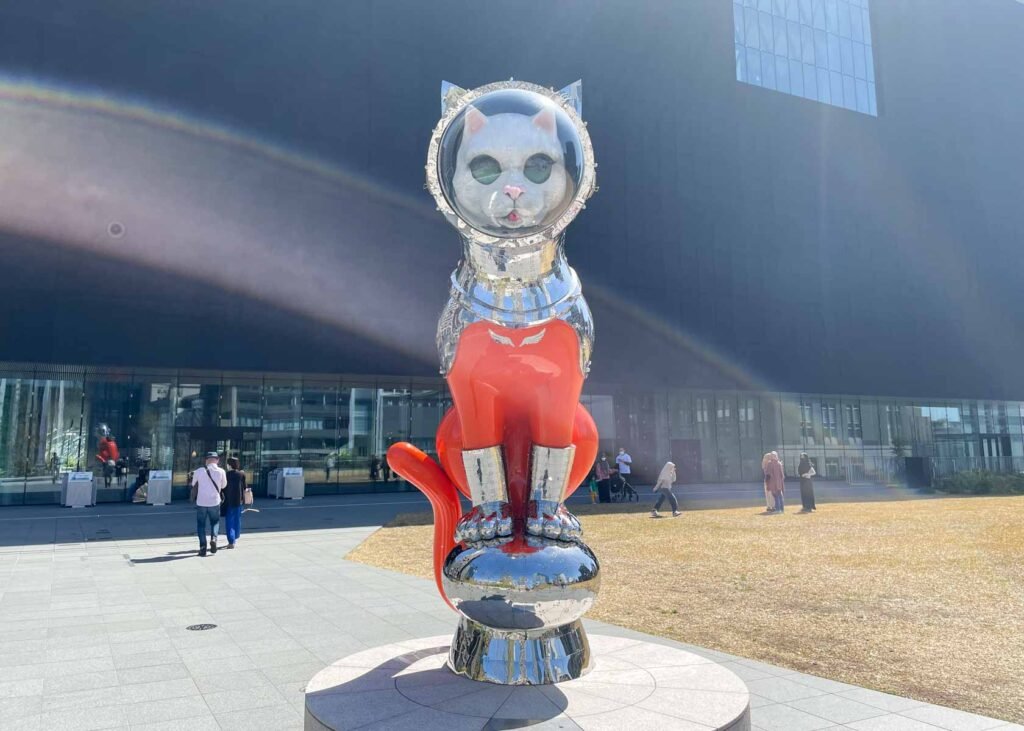 The National Museum of Art
The National Museum of Art is just across the street from Nakanoshima Museum of Art. Located entirely underground, the museum hosts more than 6000 works, including paintings, photography, prints, watercolours, sketches, industrial design works and many more.
The museum opened its doors for the first time as a part of Expo in the 1970 and it was located in Suita on the north of Osaka. The site of the Expo was later converted into Expo '70 Commemorative Park and the gallery was preserved for future exhibitions. It re-opened in the 1977 as a part of the park. Later, due to space limitations, it was temporarily closed in 2004, the old building was demolished and the new museum was opened in the November the same year in Nakanoshima.
The museum building by itself is a work of art. It was designed by Argentinian-American architect César Pelli. The entrance is decorated by a striking structure that shall represent waving bamboo in the wind.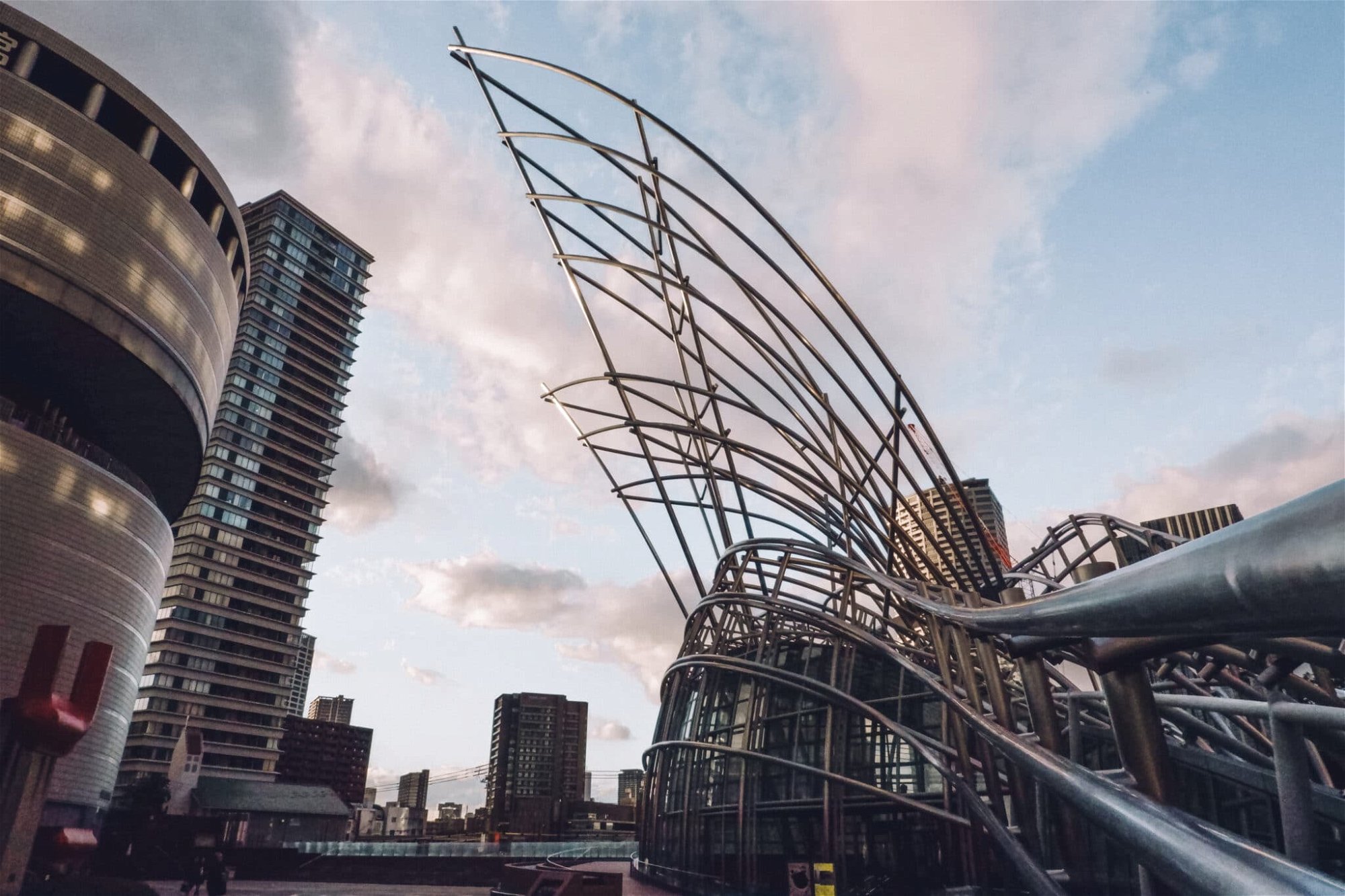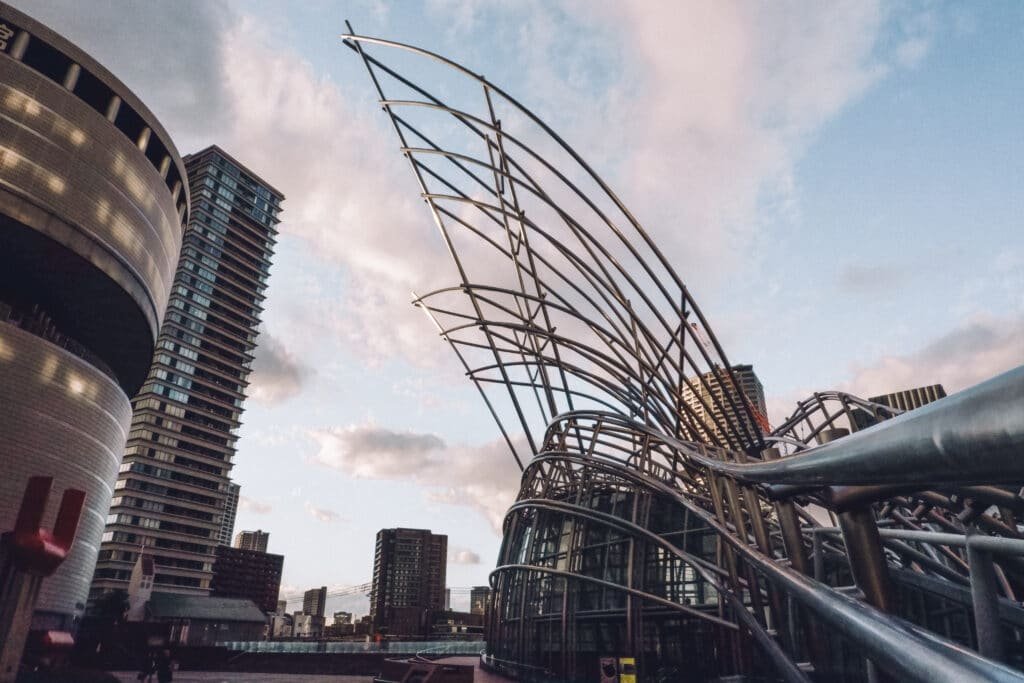 Opening hours and entrance fees
The museum is open from 10:00 to 17:00 from Tuesday to Friday (closed on Mondays). During the weekends, the opening hours are from 10:00 to 20:00 (the last admission is 30 minutes before closing).
The tickets for adults cost 430 yen, and 130 for university students. Children and elderly people can enter for free. If the museum holds a special exhibit, there will be an extra admission ticket (the prices for those can vary).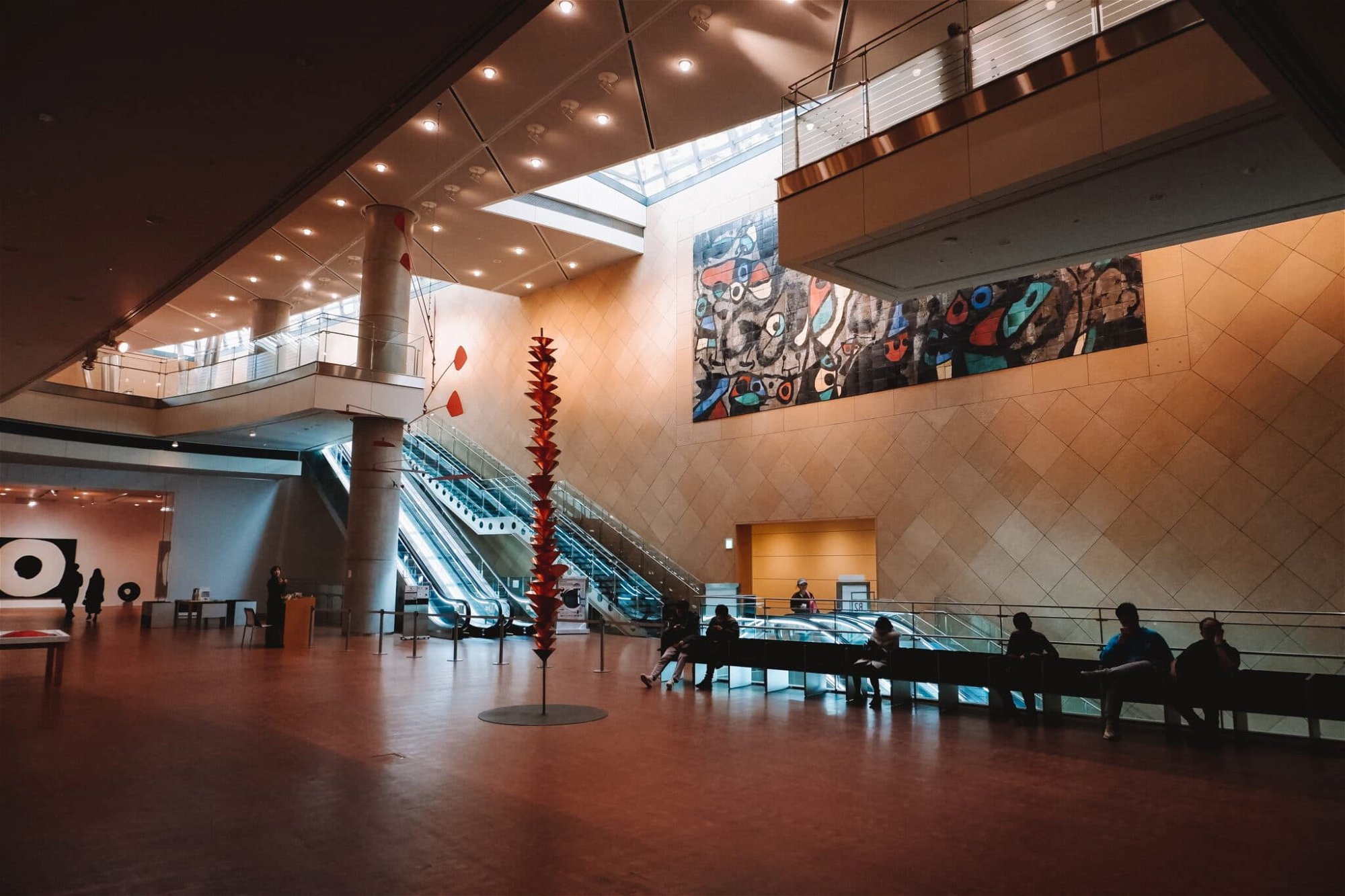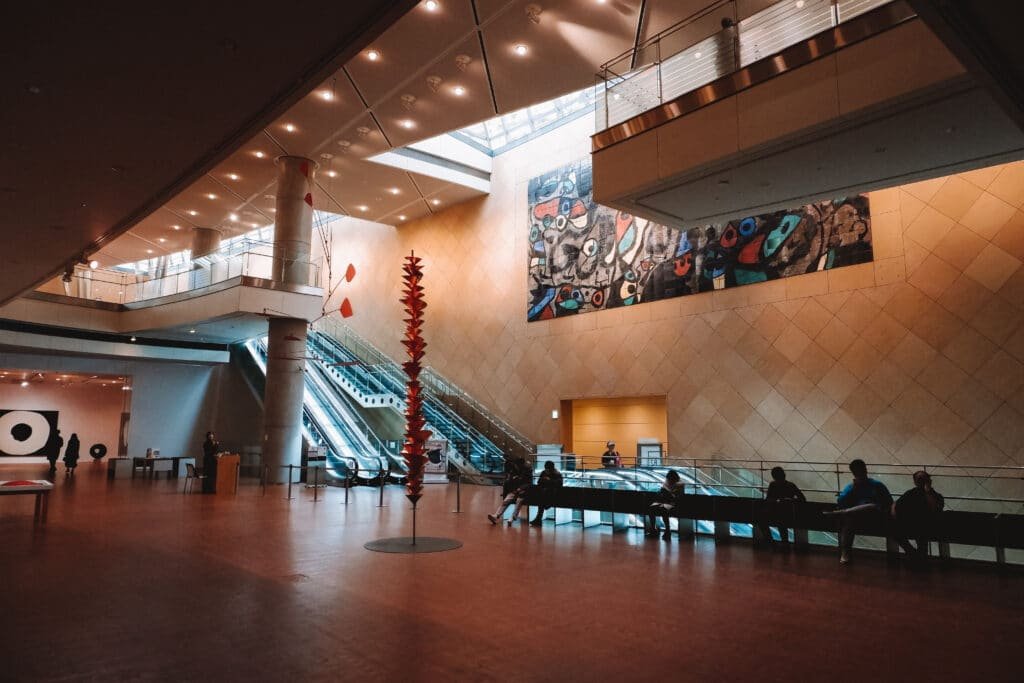 Osaka Science Museum
Nakanoshima is also home to a large science museum which is located right next to the National Museum of Art. Osaka Science Museum has four floors full of interactive exhibits. Each floor is dedicated to a different field – universe, chemistry, electricity and energy. It was designed with children in mind so they get the best hands-on experience. The museum hosts hourly science shows, but they are in Japanese only.
Osaka Science Museum has also a planetarium, which is in the basement of the museum (next to the tickets counter). After extensive renovations, it was opened again in 2004 and currently it is the 7th largest planetarium in the world. They offer hourly exhibits, but they are also only in Japanese.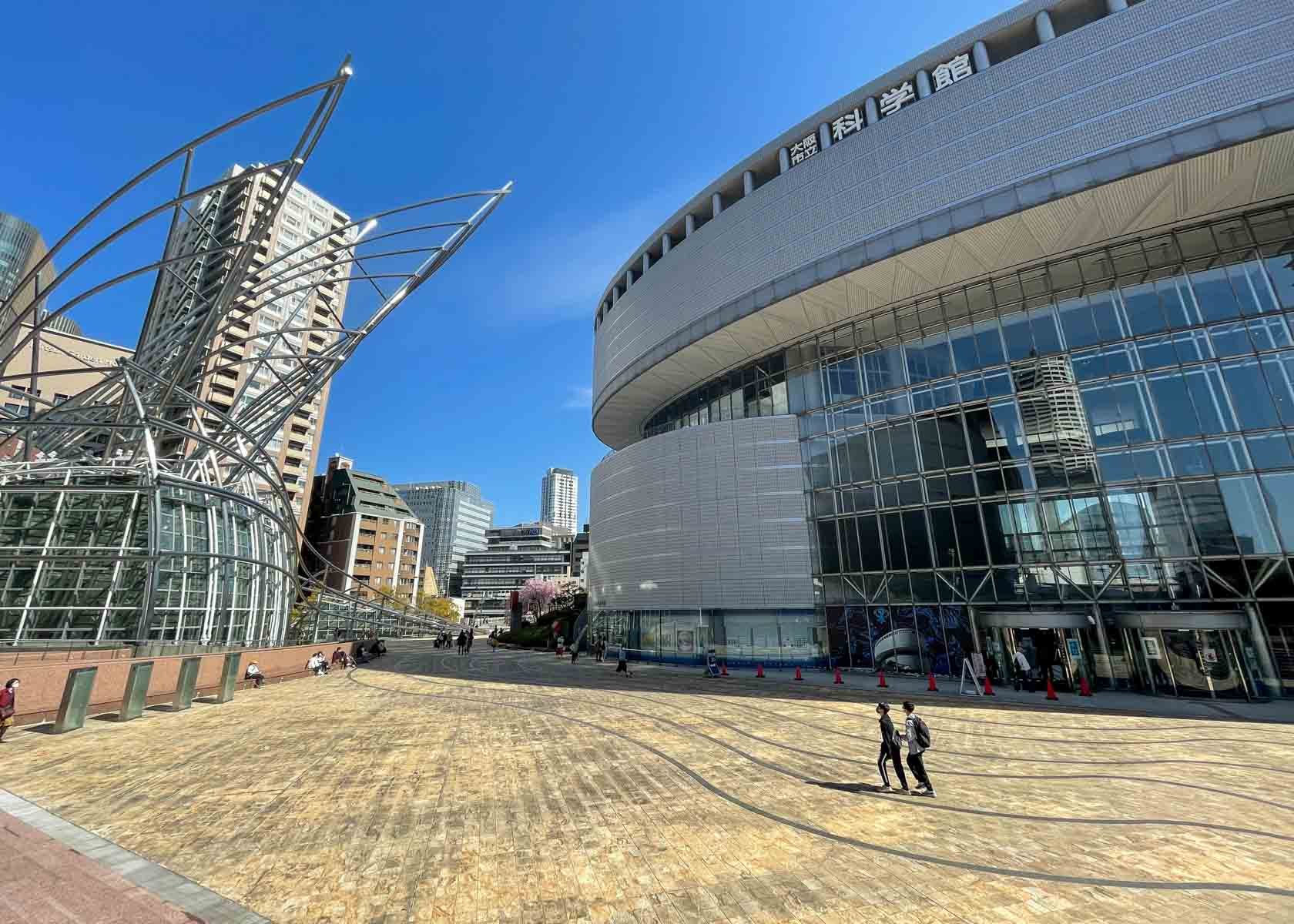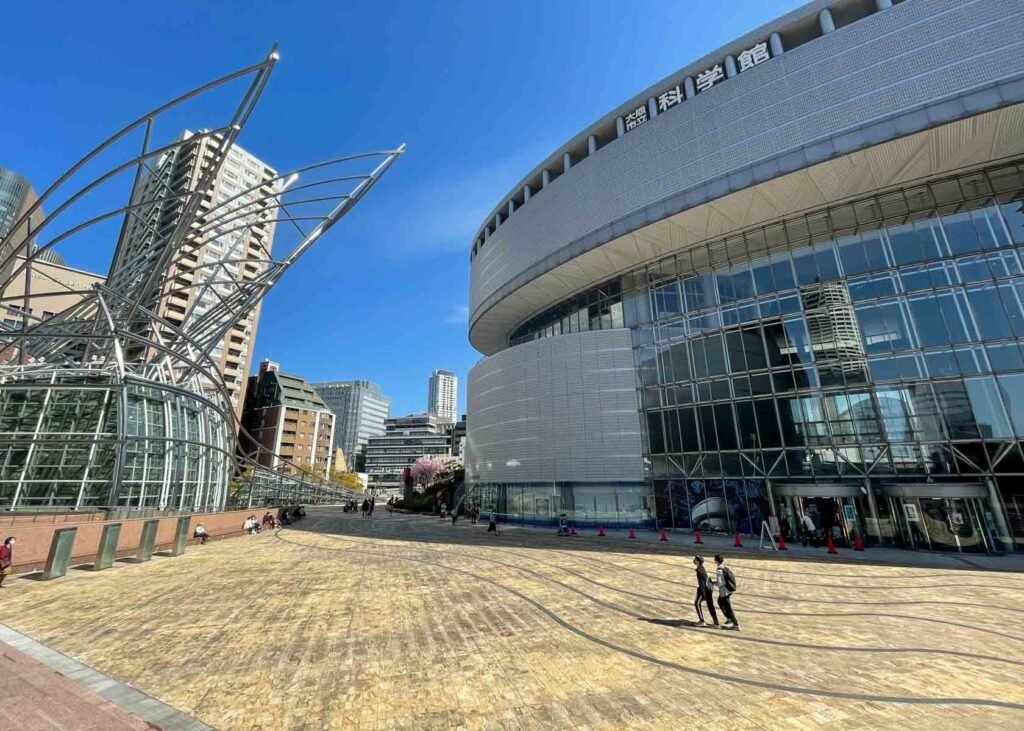 Opening hours and admission fees
Osaka Science Museum opens from Tuesday to Sunday (closed on Mondays), from 9:30 to 17:00 with the last admission at 16:30.
The tickets to the museum cost 400 yen, plus 600 yen to the planetarium.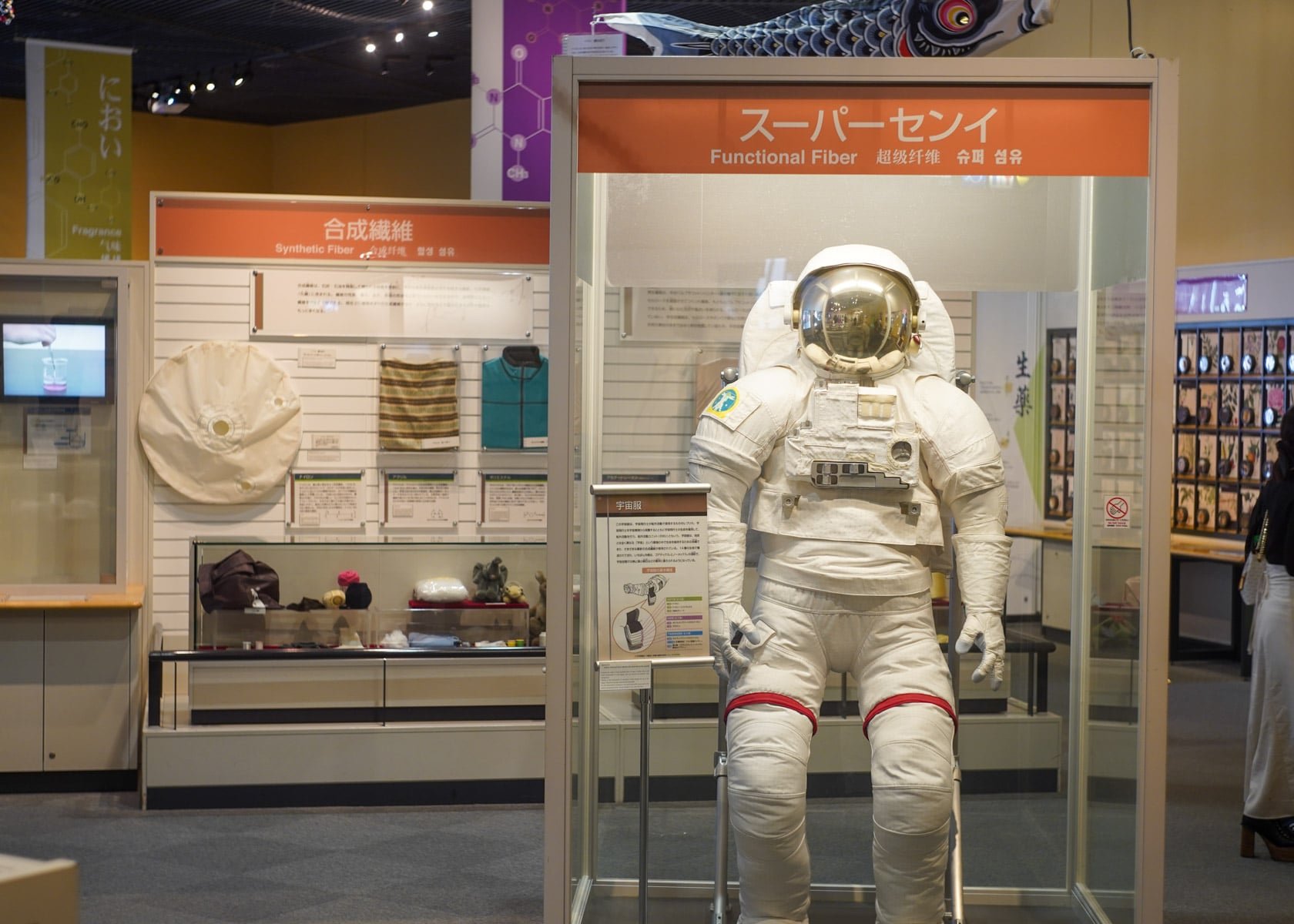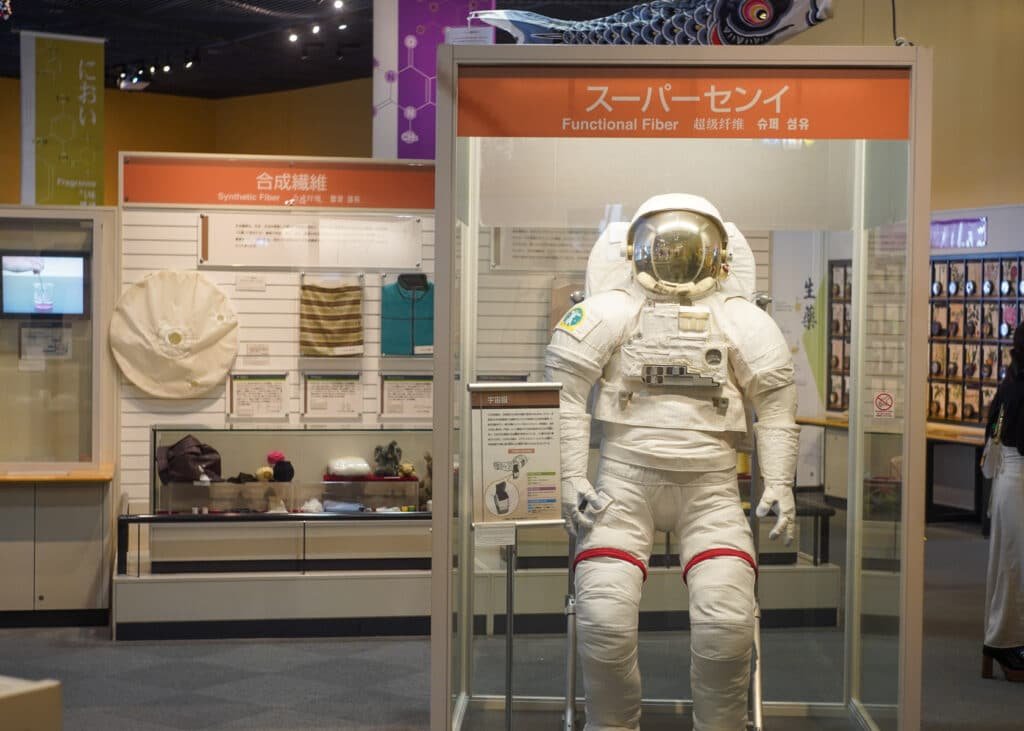 Winter Illuminations
Nakanoshima is not only beautiful in spring and summer, but you can enjoy it during cold winter months as well. Every year in December, the island participates in the Festival of Lights called Hikari Renessaince. For two weeks (finishing on the 25th of December), you can enjoy large light installations and 3D projections on historical buildings (such as Osaka City Public Hall or Museum of Oriental Ceramics). Besides the traditional illuminations that repeat every year, they try to come with something new as well to surprise the visitors.
The entry to this event is free of charge. If you are planning to visit Osaka in winter, don't forget to read our article about the best things what to do in Osaka this time of the year.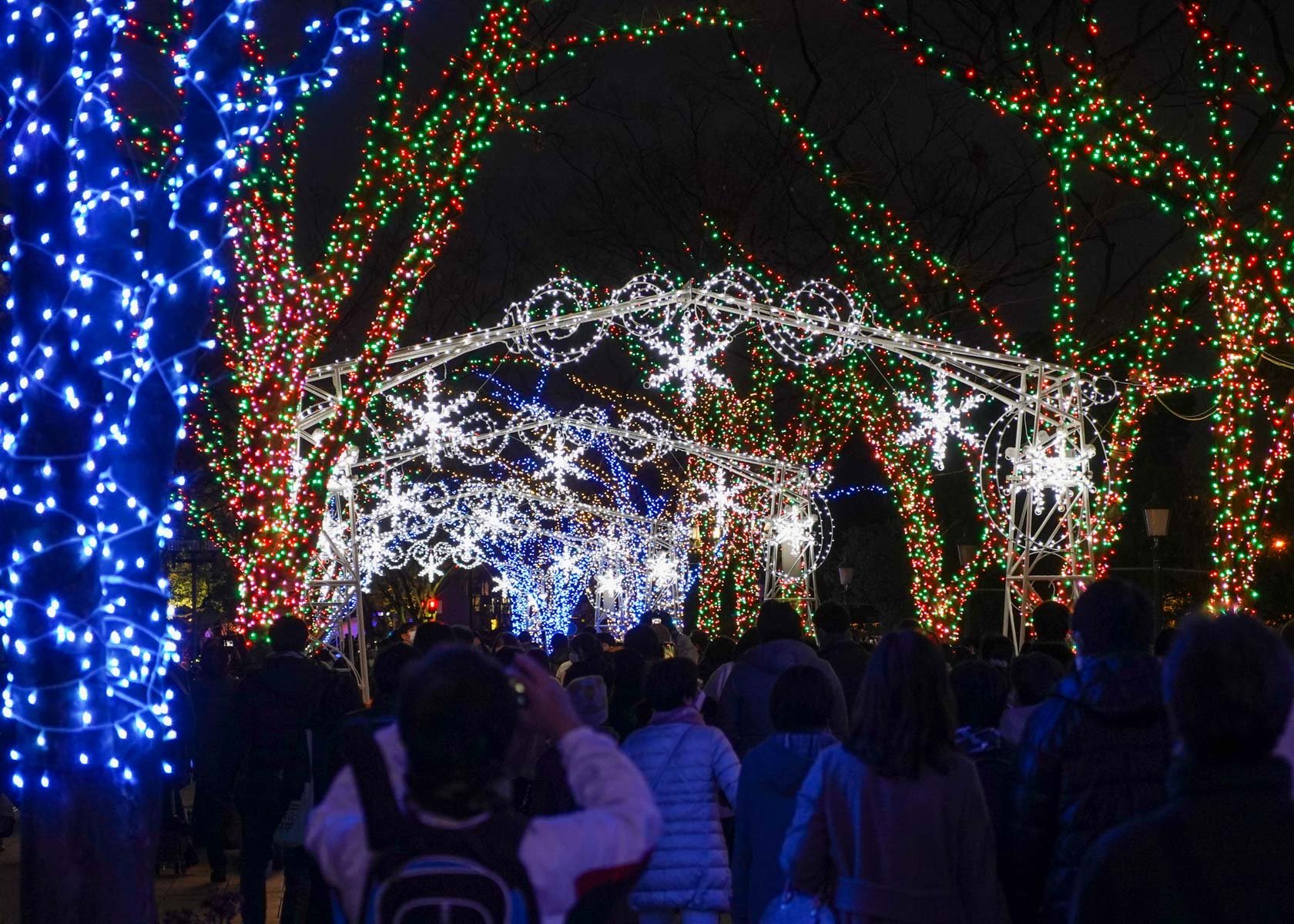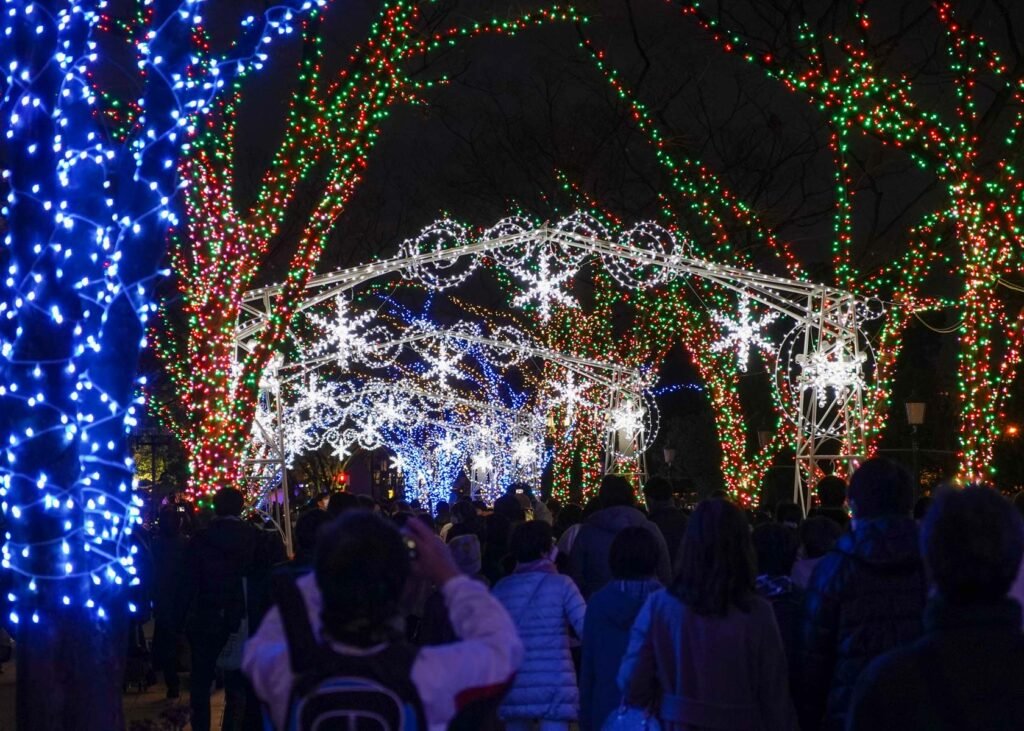 Beer Garden and Cafes in Nakanoshima
As I mentioned at the beginning, Nakanoshima is home to the first beer garden in Osaka, so naturally, if you are looking for a place to have a drink in this neighbourhood, it should be beer! R Riverside Grill and Beer Garden is a casual restaurant with a large terrace on the water where you can enjoy some yakiniku (grilled meat) with all-you-can-drink beer.
Nakanoshima is also the first place in Osaka, where international restaurants and cafes started to pop up one after another. If beer garden doesn't sound like your cup of tea, you can visit one of the following:
Brooklyn Roasting Company
Moto Coffee
Optimus Café – vegan
Smørrebrød Kitchen – Danish restaurant
Kitahama Retro – British afternoon tea
There are also many Italian and French restaurants in the area. They are not explicitly located on the island, but along the Tosahori River in the Kitahama neighborhood.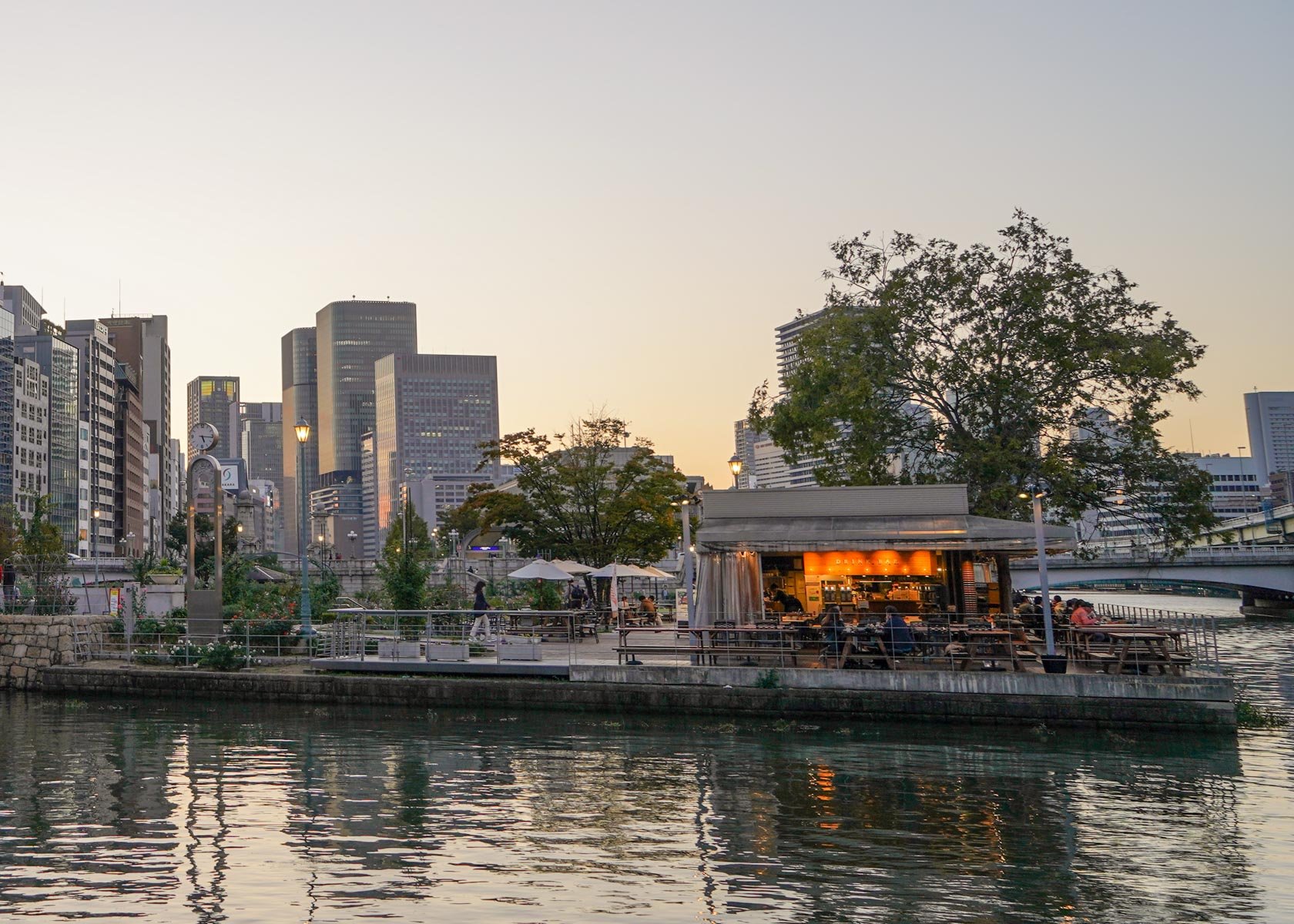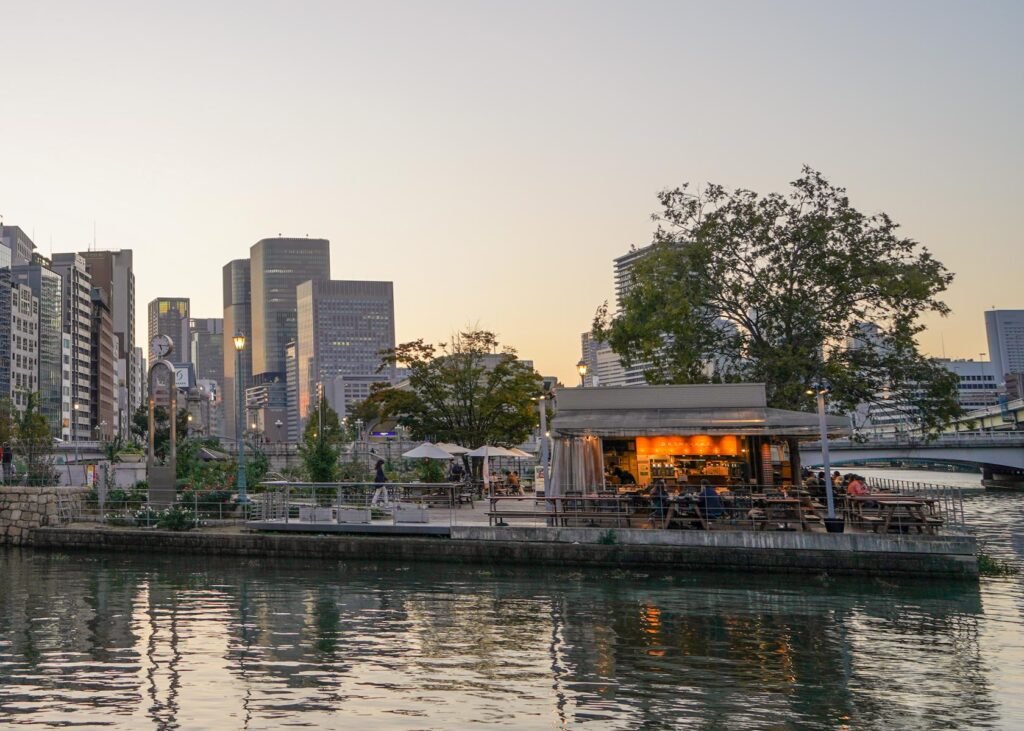 Nakanoshima River Cruise
Cruises are an inseparable part of any island and Nakanoshima is not an exception. This 20-minute-long evening cruise will take you on a journey around the Dojima and Tosahori Rivers, under the lit-up bridges, along the park and the retro buildings. Enjoy this luxury ride that also includes some snacks and entertainment.
Tickets
Because Nakanoshima River Cruise takes place in the evening, they operate between 17:00 until 21:00. Reservations on the same day are possible. The tickets for adults start at 900 yen and 400 yen for children.
You will find their ferry terminal on the Dojima River here. For their official website click here (but it is available only in Japanese).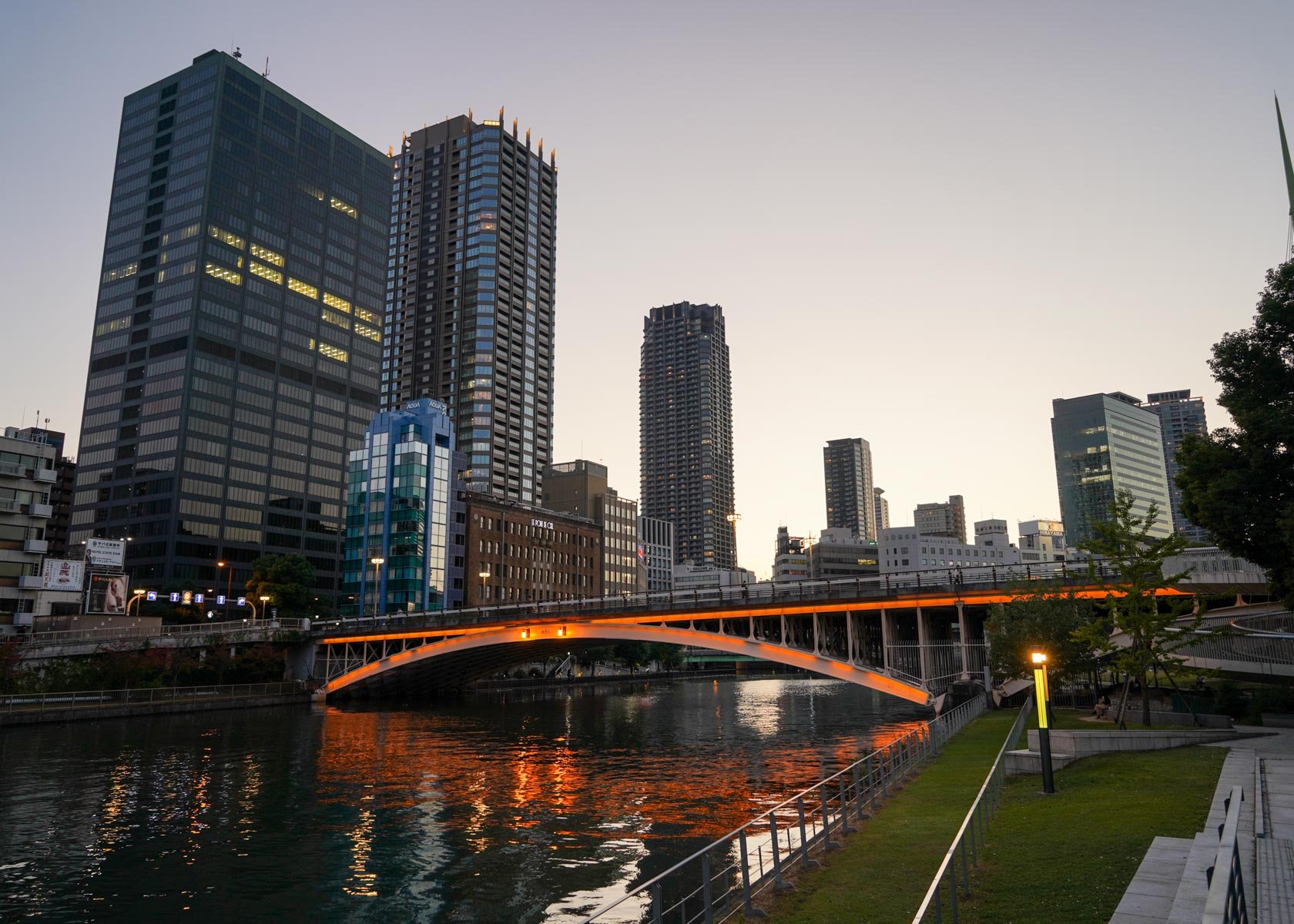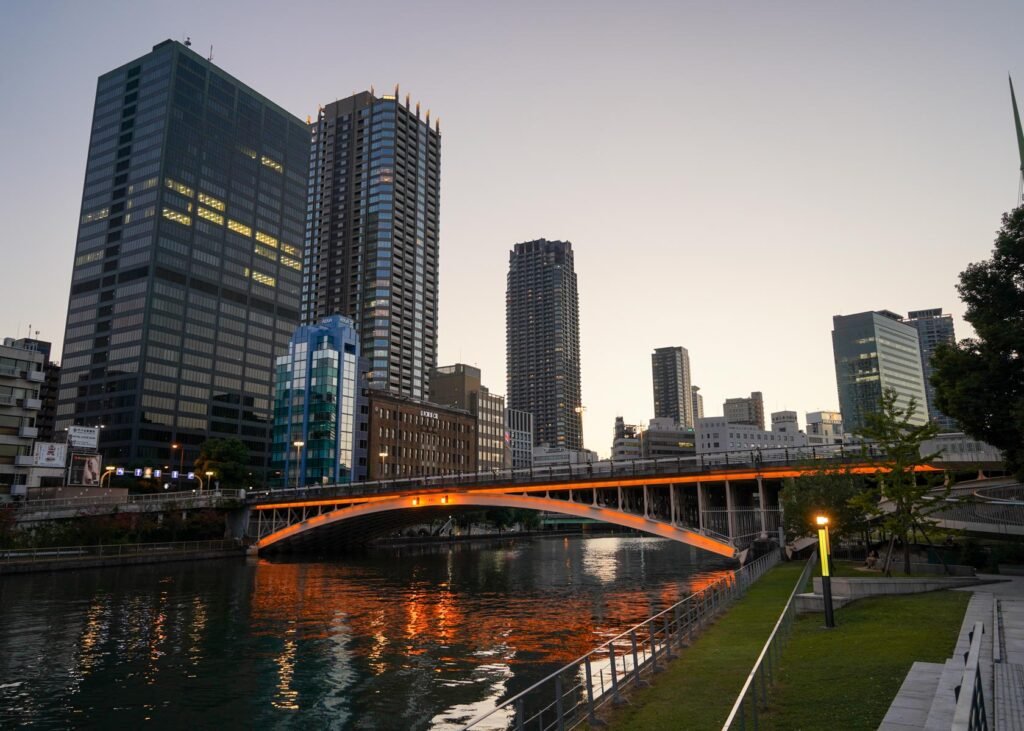 How to get to Nakanoshima
The best way to get to Nakanoshima is by train. There are several train stations: Nakanoshima, Watanabebashi, Oebashi and Naniwabashi. You can take the Keihan railway – Nakanoshima Line to any of these. Alternatively, you can walk from the Osaka-Umeda station, which is about 1.5 km away.
Nakanoshima is one of my favorite places in Osaka, where you can simply chill, relax and unwind, while still being in the heart of the city. I hope this guide was helpful for your future visit there!