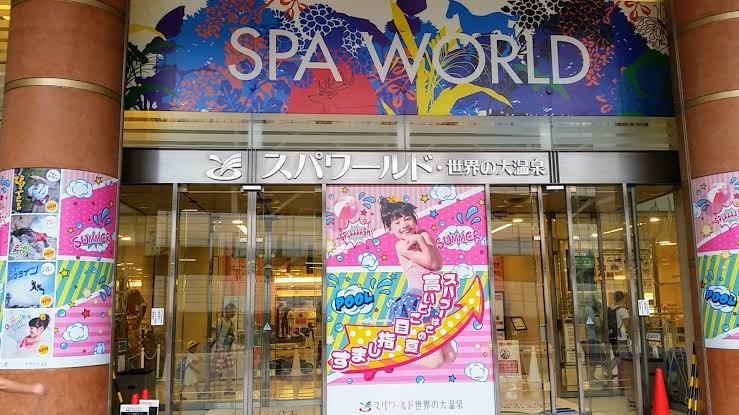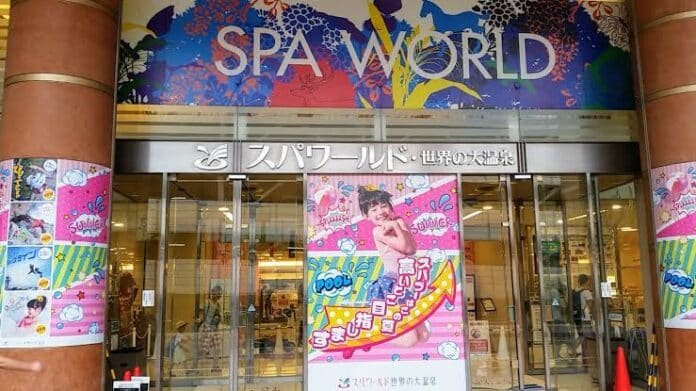 Famous attraction
Spa World Osaka is a revered and staple attraction for Osaka visitors and residents of all ages. It offers 24 hour bathing facilities, a gym, hot stone and salt spas, a hotel, an elaborate and entertaining swimming pool, and areas for the whole family to relax and play. Located a stone's throw away from the famous Tsutenkaku Tower and Shitennoji Temple you can easily enjoy a fantastic day out and relax afterwards.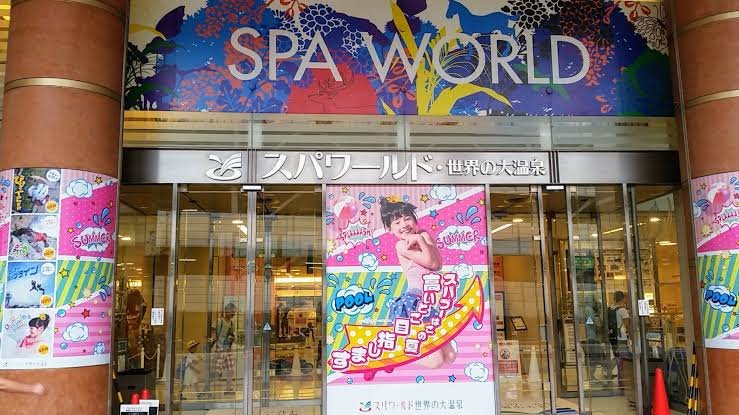 How to get there
SpaWorld is easily accessible from most train lines in Osaka. The super onsen centre is a short 5-10 minute walk from Tennoji, Dobutsuenmae and Shinimamiya Stations. You can even bike there if you`re within Osaka City. Docomo rental bicycles have popped up everywhere within the Osaka city region so you have many ways to get there. Of course if you visit by car you can take advantage of its 100 space parking lot for 300 yen per hour (150 yen for each additional hour). If you are out shopping or sightseeing and need some time to sit and relax, Spaworld is an easy place to visit. The resort offers towel rental, and all the things you need to bathe successfully are included in the price. You don't even need soap or towels!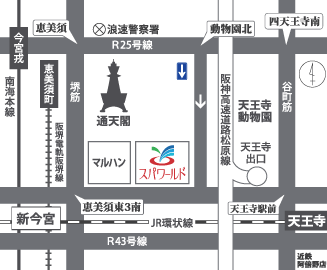 Here are some of the most direct stations.
Osaka Metro line Midosuji / Sakaisuji: [depart at Dobutsuen-mae Station] Exit number 5
Osaka Loop Line (JR): [depart at Shin imamiya Staition] East Exit
Nankai Electric Railway: [depart at Shin imamiya Station] approx 10 min.
Hankai Tramway:[Shinimamiya-mae].
Train Kintetsu: [Osaka-Abenobashi Station] approx 15 min.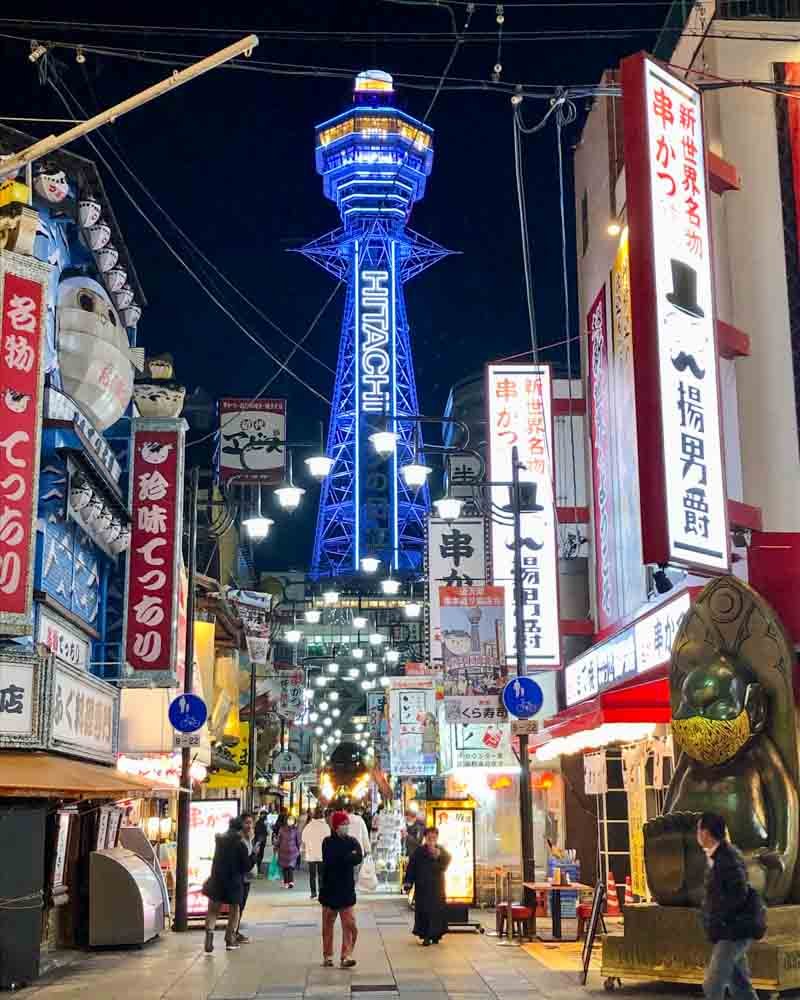 First impressions
Spaworld has two main entrances, one from the busy Shin-Imamiya streets and the other direct from the hustle and bustle of Tsutenkaku. I recommend coming in from Tsutenkaku if you`re able to. You will pass through many busy streets and access to Tennoji Zoo. There are many small businesses in the area which offer yakitori (chicken on skewers) and sushi. As you make yoru way towards the huge staircase to Spaworld, you will meet Billiken, a mythical good-luck figure, celebrated by business owners.
After climbing the large staircase, you are greeted by a Greek-esque water fountain where visitors to the relaxation centre meet up with friends or have a final sit-down before they make their journeys home. On this occasion, unlike most water fountains though, you are not permitted to throw pennies to make wishes.
The system
I was greeted very warmly by the staff at the bathhouse. They told me that until now, they had not had many visibly foreign guests since the start of the covid-19 pandemic, and they were eager to practise their English. Thet explained that the ticket machines have a language-setting changer which offers menus in English, Korean, Mandarin Chinese and Japanese. And in addition, most staff at the complex speak a degree of English, and are able to help guests with issues.
The payment system for SpaWorld operates using a wristband. Whenever you want to purchase something, perhaps a meal at a restaurant, a plush toy from a gaming centre, or a small bottle of milk after your bath as I did, you scan the barcode on the wristband at the self-checkout. Once you are finished for the day, you cash out at the reception area`s automated machines. All of the machines have English, Korean and Mandarin Chinese language options, however there is a reception with physical staff there also in case you are unable to use the machines.
Pricing
| | | |
| --- | --- | --- |
| | ELEMENTARY SCHOOL and below | ELEMENTARY SCHOOL and below |
| ENTRY FEE | JPY1,500 | JPY1,000 |
GANBAN-YOKU STONE SAUNAS
| | |
| --- | --- |
| WEEKDAYS(10:00~20:30) | JPY800 |
| WEEKENDS, HOLIDAYS, SPECIAL DAYS(10:00~20:30) | JPY1,000 |
SWIMMING POOLS (entry included in entry price)
| | |
| --- | --- |
| Kids Water Slides Unlimited Pass | JPY800 |
| Water Slides One-Time Pass(Panic Tornado, NEW Zoku Zoku Burn *choose either one) | JPY500 |
| Unlimited Pass(Panic Tornado, NEW Zoku Zoku Bang for All-Day) | JPY1,500 |
| Rental Swimsuits※ | JPY650 |
| Rental Floats※ | JPY770 |
PLAY SPOT
| | |
| --- | --- |
| Darts | JPY1,000 / HR (max. 4 ppl per table)(JPY500 each add' 30 min) |
| Ping Pong | JPY1,000per hour per table(JPY500 each add' 30 min) |
| Karaoke | JPY1,500 / HR (max. 6 ppl per room)(JPY750 each add' 30 min) |
| Billiards | JPY1,200 per hour per table(JPY600 each add' 30 min) |
GYM
| | |
| --- | --- |
| SHOES RENTAL | JPY260 |
| SOCKS | JPY410 |
The entry price for one day was set to 1500 yen and children of elementary school age and under entry price is 1000 yen. This includes entry to both the bath house and the swimming pool areas, soap, shampoos and conditioners, towels, and access to a huge TV room with comfortable lounge chairs. There are add-on options depending on how you wish to use the spa including rental lounge wear which you need to wear to enter the ganban-yoku hot stone areas, and generally walk around the restaurants and other businesses within the enormous complex during your visit. The clothes resemble jimbei, a traditional Japanese dress worn in summer and at festivals, but more comfortable and soft. The additional clothing set is priced at 800 yen on weekdays and 1000 yen at weekends.
Unfortunately the pool area was under construction during my visit and I could not make use of the swimming pool area. Due to this I was given a 1000 yen discount for the inconvenience. Quite honestly I think that 1500 yen for access to the bathing areas alone is worth the price, and I was happily surprised by the discount.
The pool area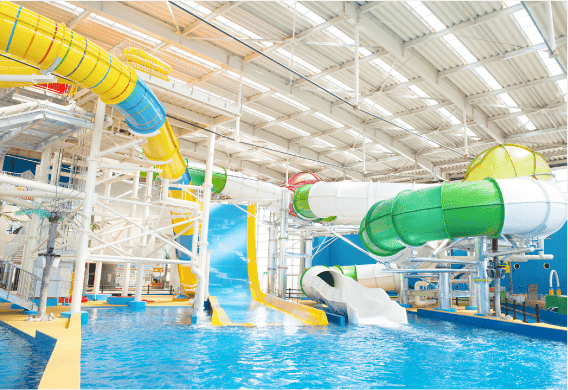 I have visited SpaWorld previously, in 2017. During this time I used the swimming pool areas with a friend and enjoyed myself more than I thought I would have. Located on the 8th floor, the pool area actually spans over three stories housing an elaborate slide system, multiple swimming areas, relaxation chairs and has windows on all sides overlooking the very nearby Tennoji Zoo. My friend and I spent a lot of time riding the death slide as we called it, and trying to spot the giraffe at the zoo. If you are travelling with kids and need something for all of the family to enjoy, SpaWorld is the perfect place, just don`t forget your swimming costumes. There are bathing suits and googles available to buy at the reception counters, but honestly just going in in thin shorts would probably be ok.
Layout and Zones
Spaworld has two floors dedicated to relaxation and wellbeing. The fourth floor houses Spaworld`s European Zone, and the sixth floor is home to Asia Zone. Visitors are separated into two sexes which have access to the European Zone and Asia Zone on alternating months. The month I visited categorised male visitors had access to Asia Zone, the opposite to my first visit.
Walking into the changing areas I felt a little lost. Usually at super centos and onsen, the area where you wash your body before entering the bath is clearly marked and is usually the first place you connect to after undressing. I visited the super sento after work on a Wednesday so there were very few customers around to follow. With Asia Zone visitors walk through the drying area and into Islam (Hammam) and had to walk around to find a staff member to ask where I should wash before entering the baths. This main large Islam area is modelled after the courtyard of a Mosque. It has an exotic atmosphere, and colourful tiles and waterfalls where visitors can relax and bathe. This month`s scent was lemon which filled the steaming air from the open bath.
Around the corner from Islam, I found the marble wasing area. It was clean and quiet with access to shampoo, body soap, conditioner, preloaded toothbrushes, shaving gel and single use razors. When visiting sento and onsen I don't usually take advantage of razors, but on this occasion I decided to neaten up my lower neck area. The razors were dual-blade which were not very effective; it took three or four razors to cleanly shave and shape up the areaa, which I felt bad about.
Behind the washing area sits Persia with huge marble steps. This area had televisions and free flowing water for visitors to relax and take their minds away from the outside worlds. In Japan, super sento has become increasingly popular with high school and junior high school students in the past year or so. When I visited I saw three to four groups of seven-strong students chatting about their activities. It was difficult to relax with the noise and I opted for another space. People generally don't host full-on conversations unless there with work colleagues or younger high school groups. I think there not being many people at the time of my visit amplified their voices.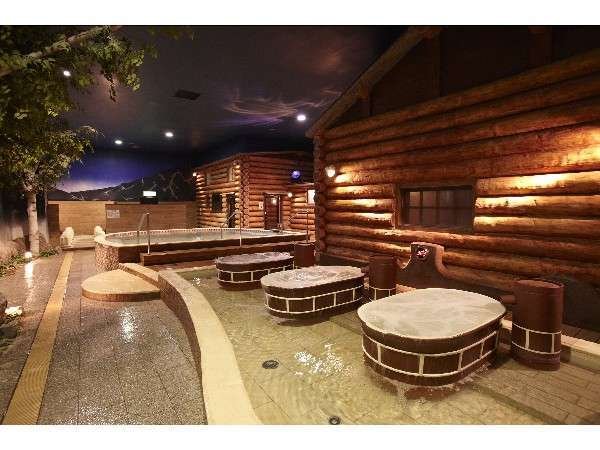 Behind and connected to Persia is Hinoki Bath, a Japanese cypress with a conifer aroma to reduce coughs and inflammation. The noise from Persia was too much to relax here and I moved to the steam rooms for some quiet. I was not let down. The spacious dual rooms provided the quiet and heat treatment I needed.
Other Asia Zone areas include: Japanese Open-air Stream Bath. A shallow open-air bath where you can sit without the outside world seeing you. The large wall decorated in natural plants and flowers create a natural outdoor atmosphere.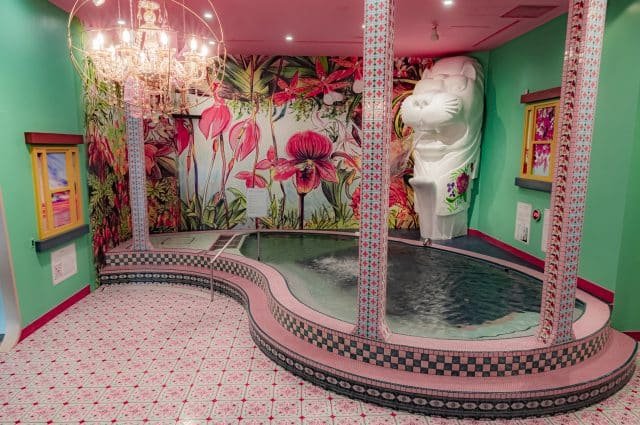 I was impressed with Singapore SPA. The bright pink tile, animal sculptures and chandelier whisked me into a complete different area. Singapore SPA has an Oxygen Spring Bath with a high concentration of oxygen and microbubbles which felt good on my skin. The Pulse Massage Bath was tucked away in a corner and looked as if the water was a luxurious milk substance. I spent a lot of time in this bath as there was so much to look at and enjoy.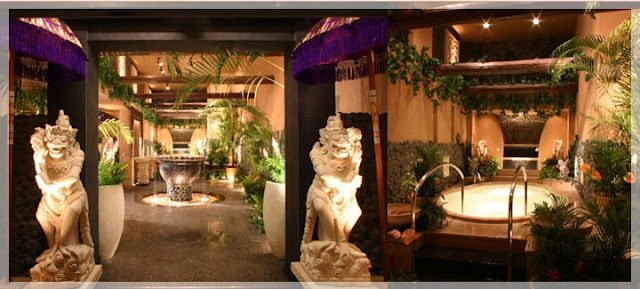 The Bali area was very popular when I visited, and I couldn`t see a space for myself for a while. I circled the area a few times to see if there was any space for me to dip my toes in the secluded area. When I finally had the opportunity to soak myself into the deep swimming pool-like structure I realised why it had become popular. The underwater jets felt fantastic on my thighs. I could have stayed there for another hour if I didn`t feel guilt about taking up space.
The European Zone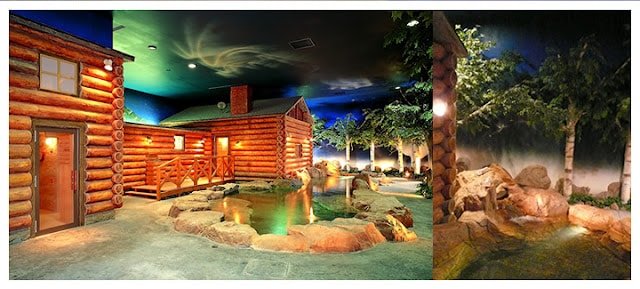 The European Zone hosts baths inspired by: Ancient Rome, Greece, Atlantis, Italy, Spain, The Medeteranian Sea, and Finland. On the negative side, I was not able to visit this time so during from my past experience I was amazed at the structures built within them, and the overall feel of being transported to a different world. In my opinion, after recalling some memory, I think I would say I enjoyed my time more there than I did the Asia Zones, but that may be because I had access to the swimming pool, and I wasn`t alone.
Useful tips
The SpaWorld website offers some guidance on what not to do at the super sento. This advice states that unfortunately, tattoos are not allowed in the bathhouse. Any customers with tattoos or found to have tattoos will be asked to leave the facility immediately. Refunds will not be processed. If you have tatoos, you should seek bathhouses which permit them. Japan has a longstanding culture of tattoo prejudice related to yakuza gangs. As a result, even if you are foreign and the likelihood that you would be a member of the gang, you will not be permitted entry to the bathhouse.
From personal experience, I would reccommend you to:
Take clean clothes with you to change into later on.
Take your moisturisers and creams you would normally use after a bath or shower.
Prepare to lose time here.
Don't have any plans after visiting Spaworld. You will be refreshed after your visit and may not want to continue with those plans anymore.
Don`t eat before you go.
Regardless of whether you eat before or not, you will come out refreshed and ready to devour a huge bowl of udon so my advice is to eat afterwards!
Conclusion
In the final analysis, SpaWorld would be a great afternoon trip for travellers if they didnt have the urge to do anything energetic or wanted to stay close to their hotels. I would recommend visiting either of the Asia or European Zones, but to definitely go to the swimming pool area before the bathing areas if you dont have children. In the situation where you do have children, however you should do the opposite so that you reconvene later on after some relaxation.