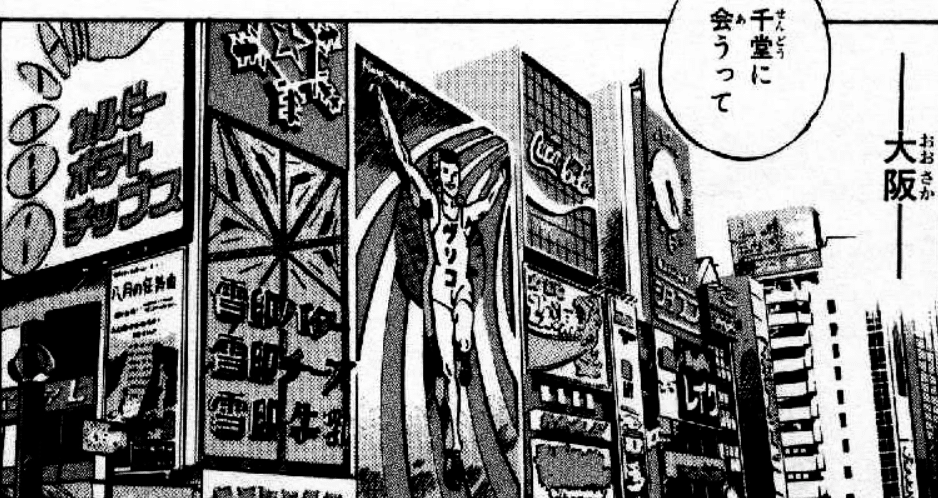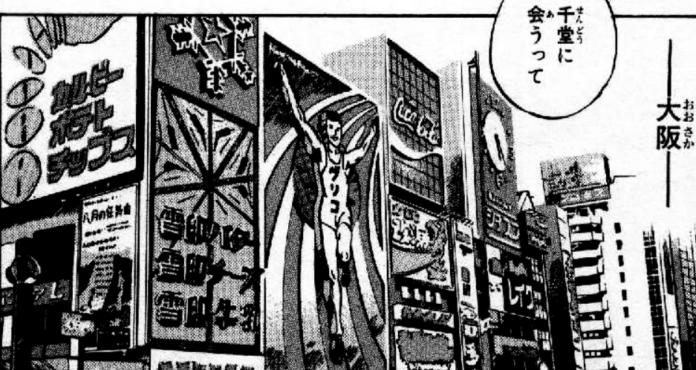 How do the city and people of Osaka come across in manga and anime? And where can you go in Osaka for anime-related sightseeing and shopping? Learn these and more in this article!
If you came here from Part 1, you will already know about Osaka's connection to some major people and events in the history of manga and anime. If not, you can check that out here. This article, Part 2, focuses on the way that Osaka and its people are portrayed in anime and manga. This includes looking at titles set in Osaka, as well as some of the common tropes surrounding characters from Osaka in popular series. We will end with some suggestions for places to experience manga history, see cos-players and more, and shops that all fans should seek out.
First of all, let's see how manga and anime portray the culture of Osaka.
Chie the Brat
Chie the Brat (Jarinko Chie) is a long-running manga series written by Haruki Etsumi, which was published between the 1970s and 1990s. It was adapted into anime several times, including a film and TV series directed by Takahata Isao, before he went on to be a founding member of the famous Studio Ghibli.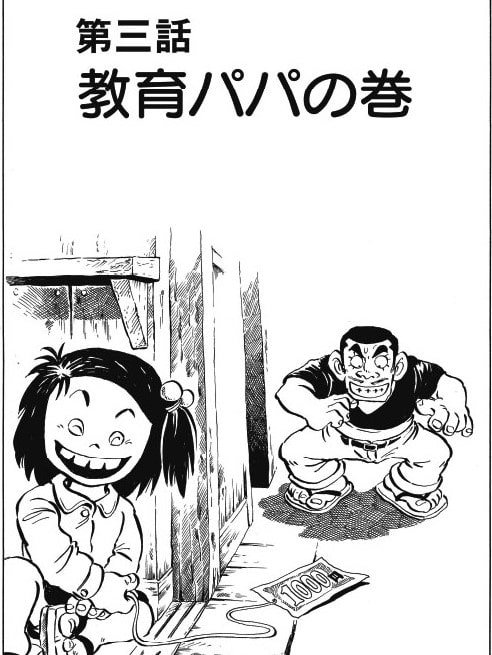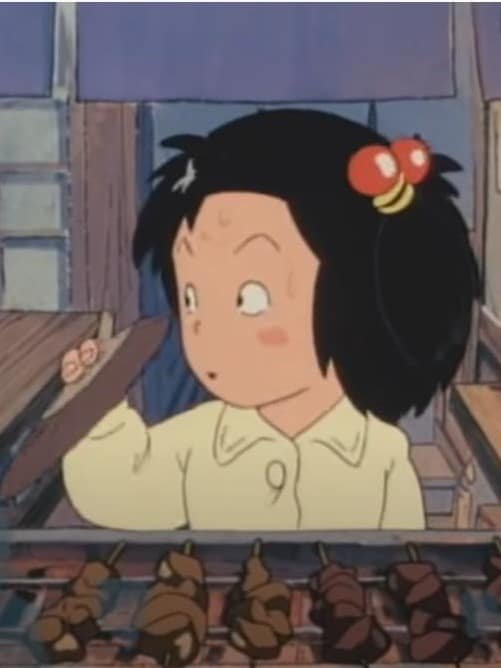 The series follows the comical life of Takemoto Chie, "the most unfortunate girl in Japan". She is an elementary school girl living in southern Osaka, where her oafish father has a restaurant that she usually has to take responsibility for running. Chie the Brat features much of what people associate with southern Osaka, for better or for worse: from warm, unpretentious people with a strong dialect and stronger sense of humour, to horumonyaki (fried offal) and small-time gangsters. The dialect also shows up in the anime film version, as instead of prioritizing established voice actors, Takahata mainly opted to hire locals including popular comedians.
Many aspects of Chie the Brat demonstrate some of the more negative Osaka stereotypes. Chie's father, for example, is a gambling-addicted miser with a tendency to get into fights. Nevertheless, it is generally a kind portrayal, with even the local yakuza members appearing sympathetic. This might make sense as the writer was born in Osaka himself, but it also makes Chie the Brat a good example of how even apparently mean stereotypes about Osaka can be fundamentally good-natured. This is something to bear in mind when looking at other works.
The jokester from Osaka
One of the most common – and generally positive – stereotypes about Osaka is humour. Osaka is especially known for manzai, a type of comedy performed by double acts. This is important in Lovely Complex (Rabu Kon), a romantic comedy manga which, like Jarinko Chie, was created by a writer from Osaka, Nakahara Aya. It follows a short boy and a tall girl at a high school in Sakai, who are seen by their classmates as a manzai duo, because of their difference in height, their humorous arguments, and the way they resemble the typical manzai roles of boke ("funny man") and tsukkomi ("straight man").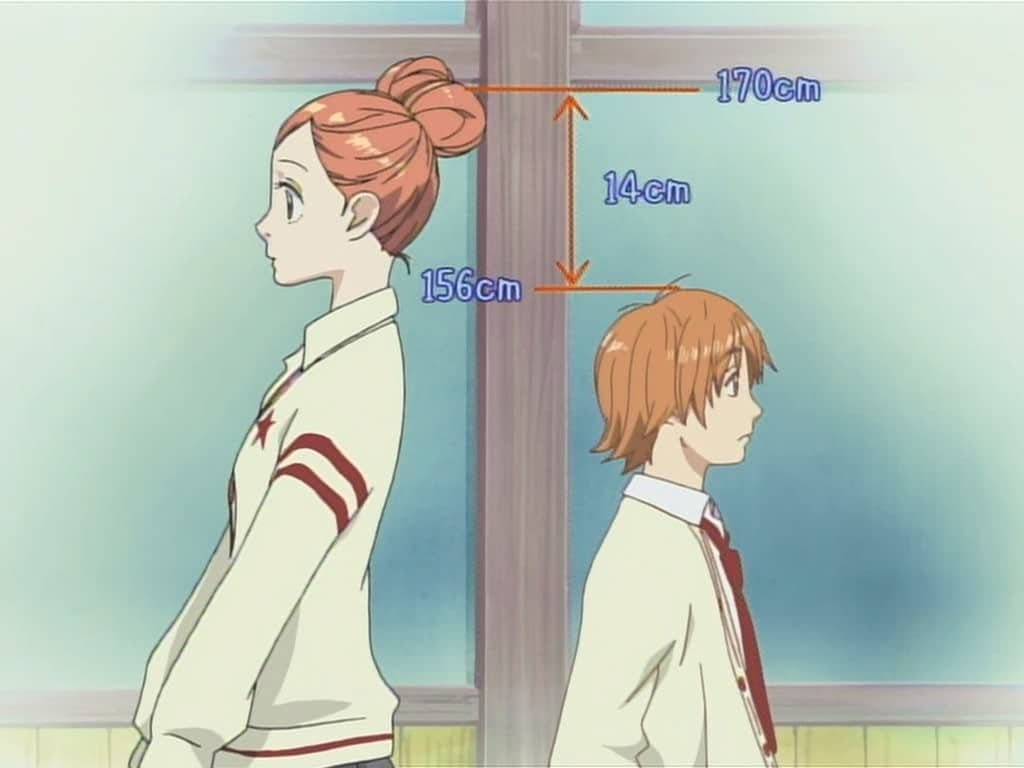 It is also remarkable that Osaka-ben (Osaka regional dialect) is used throughout Lovely Complex, which is not necessarily a given, even for series set in the area. When Osaka-ben is used in manga and anime, it's often more likely a signifier of a one-off character from Osaka, who may exhibit well-known stereotypes. For example, Kuonji Ukyo in the Ranma ½ series may not be a silly character like many others from Osaka, but she is devoted to her family okonomiyaki business and even uses a spatula as a weapon – both okonomiyaki and business-mindedness are commonly associated with Osaka.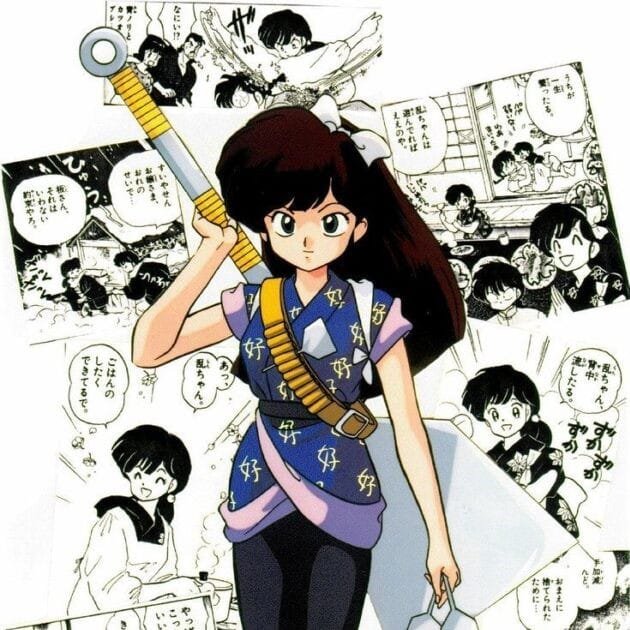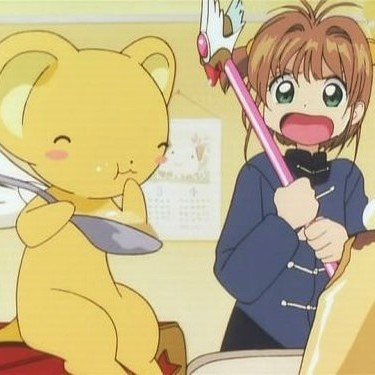 Interestingly, the Osaka dialect and cultural stereotypes are not restricted to characters actually from Osaka. The character Kero in Cardcaptor Sakura is a fantasy creature, but he speaks Osaka-ben, supposedly because the magical book he guards was kept there. In keeping with his dialect, Kero is loud, gluttonous and argumentative, but still an important companion to the heroine Sakura. The association between raucous comedy and Osaka-ben even extends beyond Japanese works: the Japanese dubbed version of Shrek features Masatoshi Hamada, one of Osaka's most famous comedians, in the title role. These are only a few examples, but they show how strongly creators and audiences associate language and character traits with the Osaka area.
The Osaka episode
Now, how does the city of Osaka itself appear in manga and anime by writers from elsewhere? Apart from having characters from Osaka appear, some series may have the main characters go to Osaka. This is often the case if the plot includes some kind of regional or national tournament, such as in sport-related stories. Sometimes, all this translates to is some fleeting shots of train stations or streets in Osaka, like in March Comes In Like a Lion (Sangatsu no Lion), a series about shogi that takes place mostly in Tokyo. In other cases, Osaka appears more prominently, such as in boxing manga Hajime no Ippo, where several storylines take place in Osaka and landmarks like Tsutenkaku and Dotonbori can be seen. There is even a major rival character known as "the Naniwa Tiger" after the old name for Osaka, who lives up to regional expectations by being brash and stingy.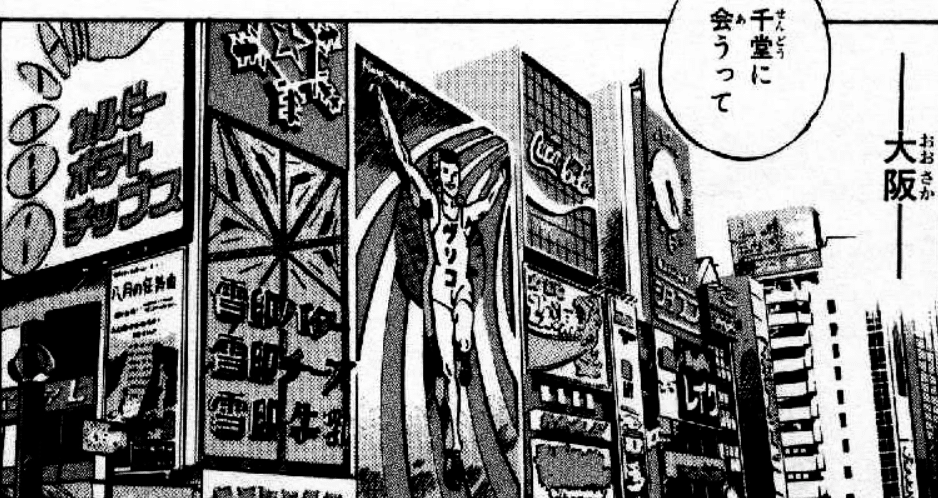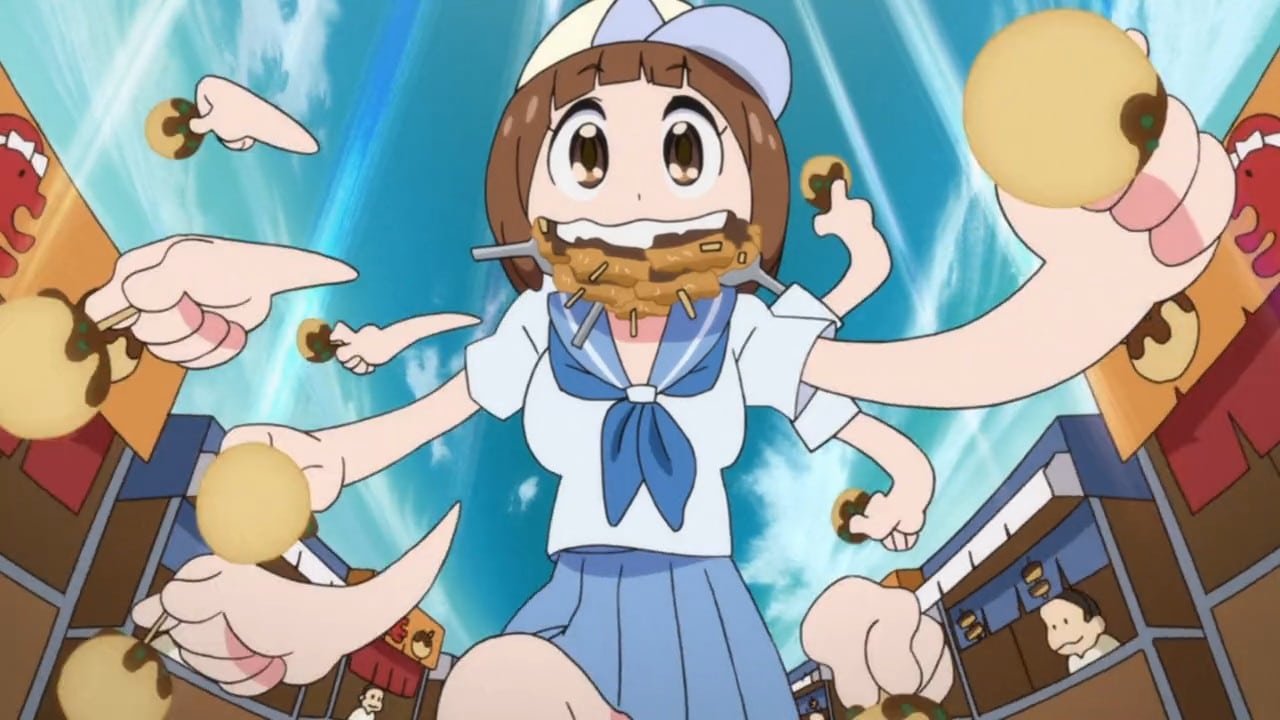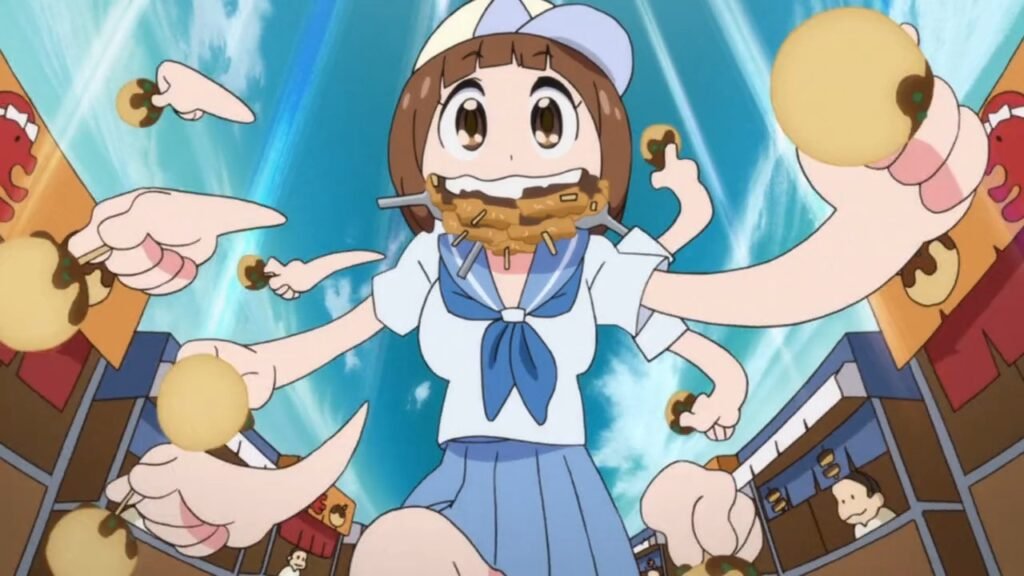 More comedy-oriented series can also have fun with the Osaka setting. Kill la Kill, an anime well known for its over-the-top action, has a brief storyline where the main characters travel to Osaka. These two episodes feature a loud, cocky antagonist, dressed in the colours of the Hanshin Tigers, who is so obsessed with money that he has his own currency – valid only in Osaka. He fights using his "Dotonbori Robo", a robot in the shape of a crab that might just remind you of the famous Kani Doraku sign. Meanwhile, the protagonist's friend spends her entire time in Osaka guzzling local specialities like takoyaki, kushikatsu and okonomiyaki. Of course, Kill la Kill exaggerates all of this for comic effect, but it shows again the power of these popular stereotypes.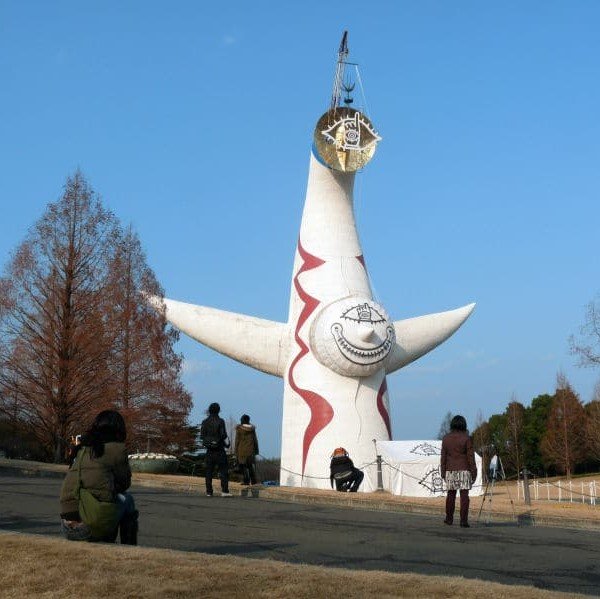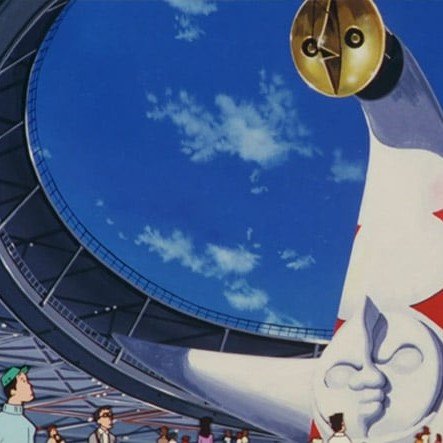 Osaka also appears in nostalgic representations of the 1970 World Expo. As mentioned in Part 1, Expo '70 influenced people who went on to create popular science fiction works, including the founders of anime studio Gainax. For many, the exposition evokes fond memories of an optimistic time in history, when people were visiting the moon and the Japanese economy was stronger than ever before, and before incidents like the Asama-Sanso hostage crisis and the 1973 oil shock shattered that sense of idealism. Urasawa Naoki's manga 20th Century Boys (Nijusseiki Shonen) follows a group of friends, first in the 1960s and then in the 1990s and the future. Expo '70's symbolic Tower of the Sun features prominently in the manga, where Urasawa turns it into a giant robot. Other nostalgic portrayals of Expo '70 include one of the most popular Crayon Shin-chan anime films, which parodies the Tower of the Sun among other 20th-century icons.
Playing with stereotypes
Clearly, stereotypical character traits and well-known cultural references are a big part of how Osaka is represented in manga and anime. On the other hand, not every character from Osaka is a stereotype, and not every story set in Osaka shows off Tsutenkaku and the Tower of the Sun all the time. In some cases, deliberately avoiding stereotypes can be a source of comedy too, such as in offbeat high school comedy series Azumanga Daioh by Azuma Kiyohiko, one of many famous manga writers to have studied at Osaka University of Arts.
Azumanga Daioh is set in Tokyo, but one of its main characters is Kasuga Ayumu, a transfer student from Osaka. As soon as she arrives, she is known by the nickname "Osaka", not only by her classmate Tomo, but even by the class teacher. They expect her to be loud and brash, to fit manzai roles, and to eat takoyaki every day.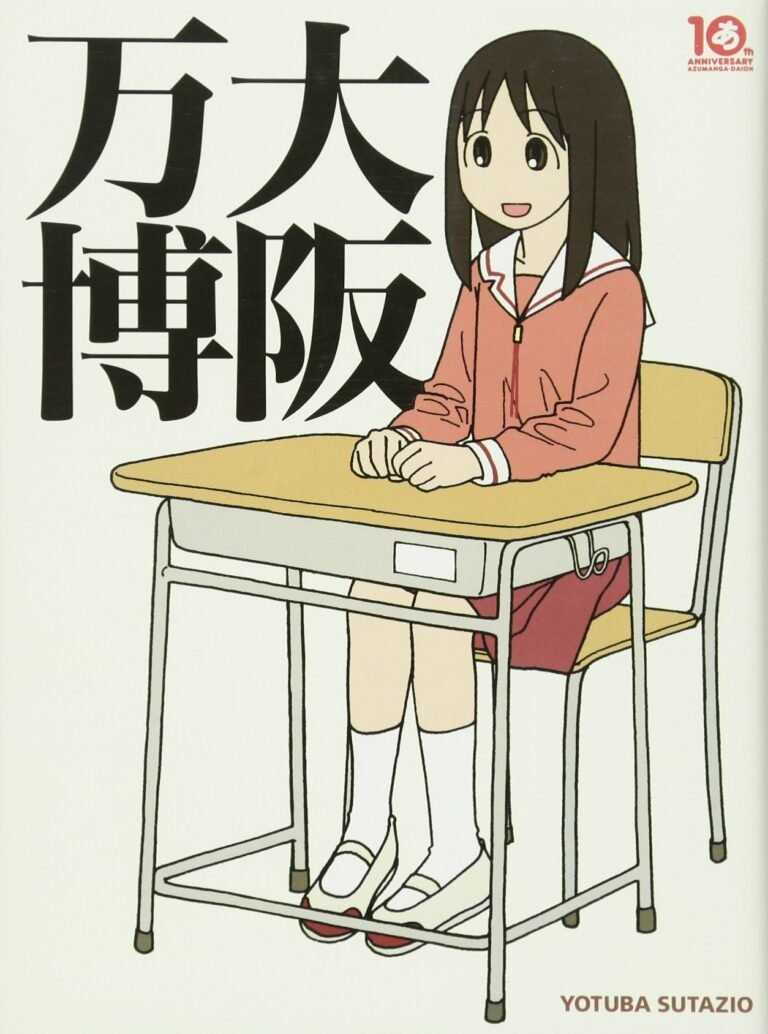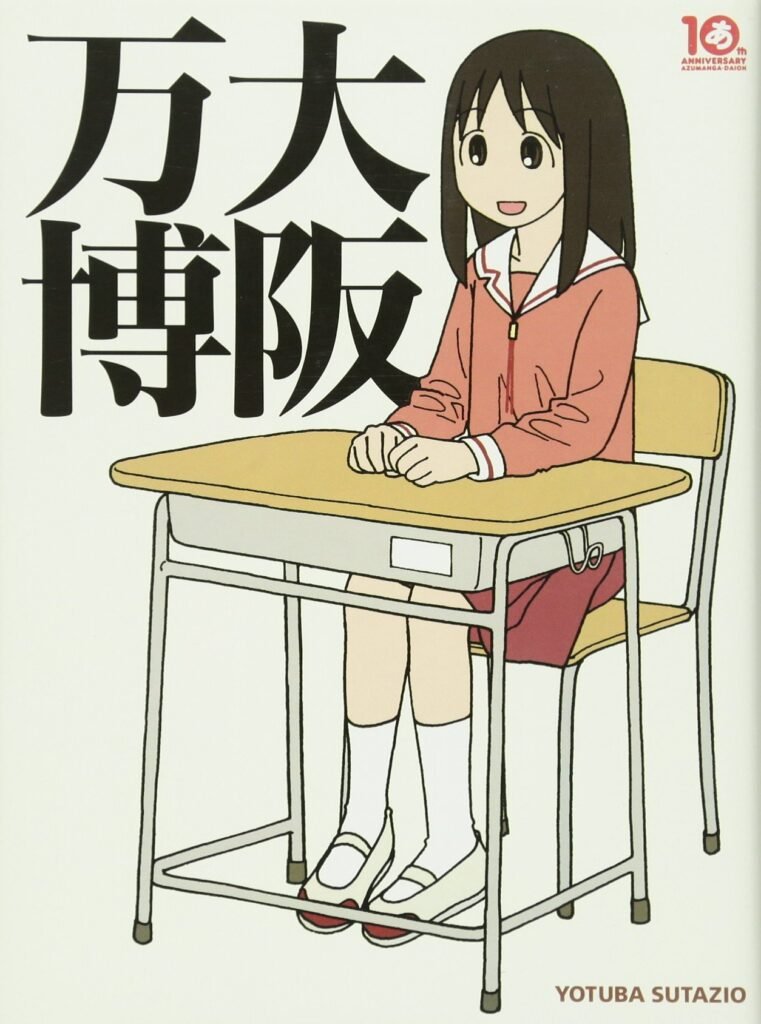 In reality, "Osaka" is quiet and absent-minded, with a tendency to daydream and make bizarre comments – not the rowdy humour Tomo expects, and which Tomo represents better herself. She only uses heavy Osaka-ben after the teacher insists, even though her usual dialect is quite mild. She is not even from Osaka – she was actually born in Wakayama and went to elementary school in Kobe – but the nickname sticks because she lacks the energy to oppose it. Humorous discrepancies between expectations and reality come up again and again, showing in their own way how deep-rooted these stereotypes are.
Places for fans to visit
Now that you know more about how Osaka and its people appear in manga and anime, where can you find manga and anime in Osaka? First of all, you can check out some of the real-life locations. For example, at the Expo '70 Commemorative Park, visitors can learn about the exposition that inspired so many creative talents, and see the Tower of the Sun for themselves – from the outside and inside. Meanwhile, to experience the atmosphere of Chie the Brat, take a visit to the Shinsekai district, home to the iconic Tsutenkaku and dozens of restaurants offering local specialities like horumonyaki and kushikatsu. You can also find the real-world counterparts of other series set in Osaka, like Lovely Complex in Sakai, Magical Shopping Arcade Abenobashi (Abenobashi Maho Shotengai) around Tennoji Station, and the original building of Tekijuku, where Tezuka Osamu's great-grandfather studied, near Yodoyabashi Station.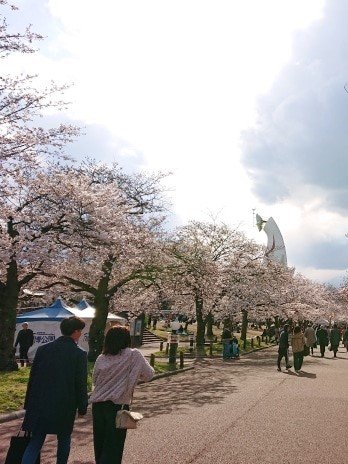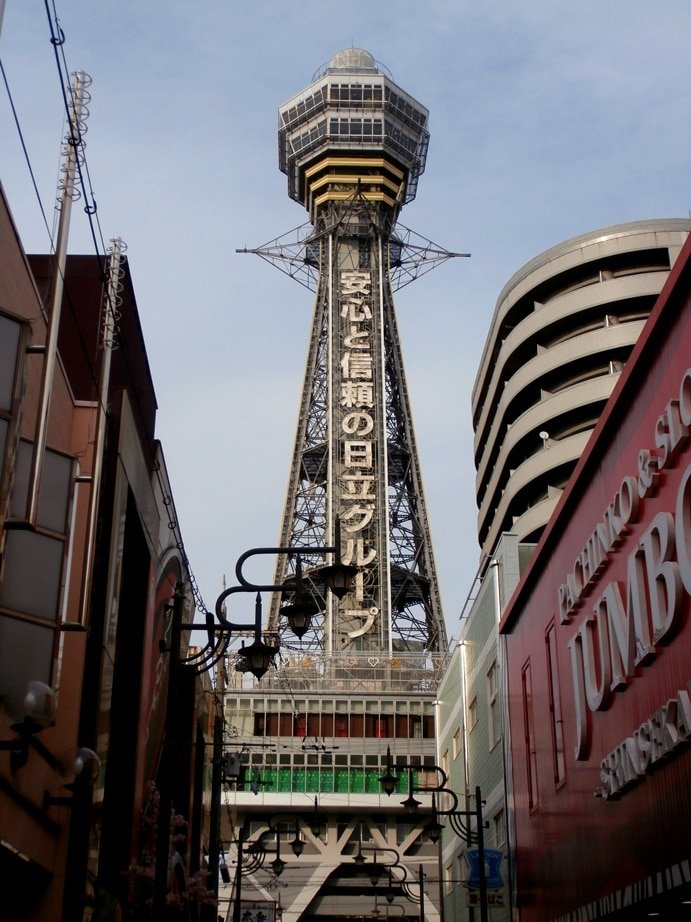 If you really want to learn more about Tezuka Osamu's influential life and work, it is worth taking a trip to Takarazuka, which is about half an hour from Umeda by either JR or Hankyu train. Just down the street from the Grand Theatre of the Takarazuka Revue is the Tezuka Osamu Manga Museum. In addition to a large permanent exhibition of Tezuka's work, the museum has interactive displays, screenings of rare anime clips, and various special exhibitions. At 700 yen for entry, it's a must-visit for manga enthusiasts in the area.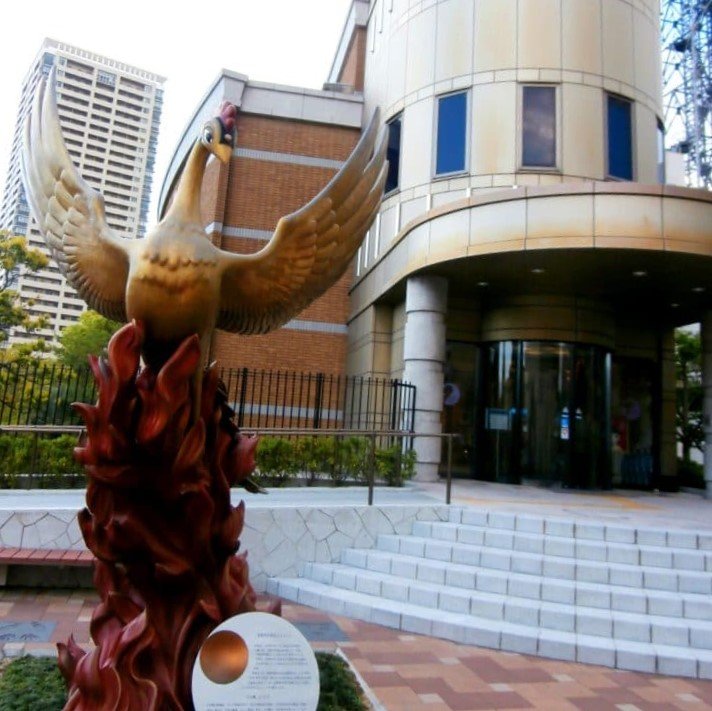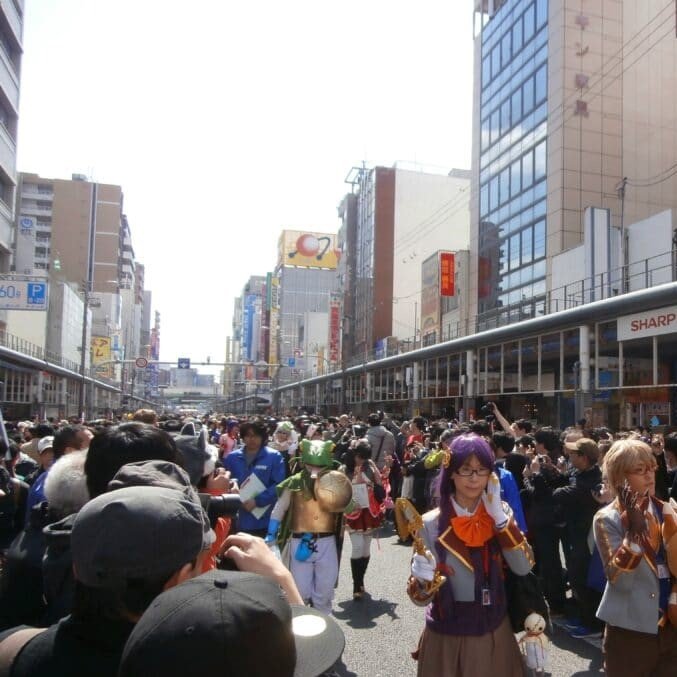 For fans interested in cosplay, the number one event is the Nipponbashi Street Festa. Held every March in the Den Den Town shopping district (note that recent events have been cancelled), it features a huge cosplay parade, after which thousands of cosplayers and other hobbyists hang out, taking pictures and checking out shops. Another option for cosplay fans is Tsurumi Ryokuchi Park. The park, originally the site of an international horticultural exposition in 1990, became popular for cosplay photography several years ago, and today there are regular designated cosplay days.
Places for fans to shop
Finally, if you know where to look, you don't need to go to Akihabara in Tokyo to find great places for manga and anime fans to shop. Osaka has its own equivalent to Akihabara in Den Den Town, the district in the Nipponbashi area that holds the annual Street Festa. In Den Den Town, you can find all manner of shops for anime, manga and other hobbies, from ubiquitous chains like Animate to second-hand merchandise shops including Surugaya and Lashinbang, and even smaller and more specialist retailers (read more here). With arcades, maid cafes and walls of gachapon machines on top of that, Den Den Town is an essential visit for manga and anime fans.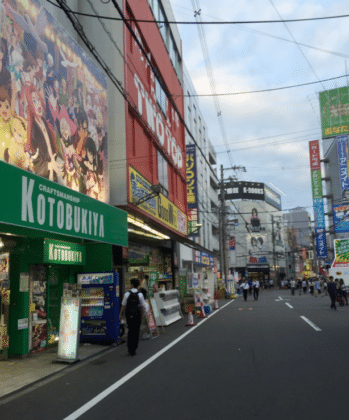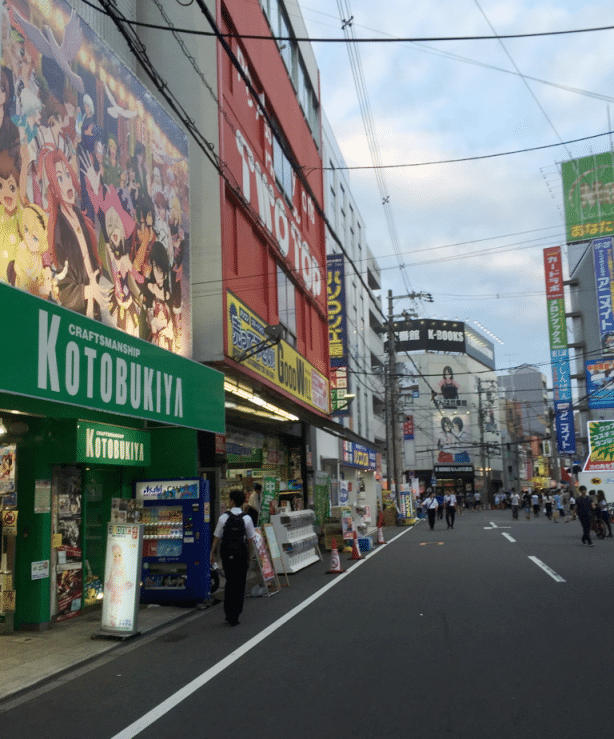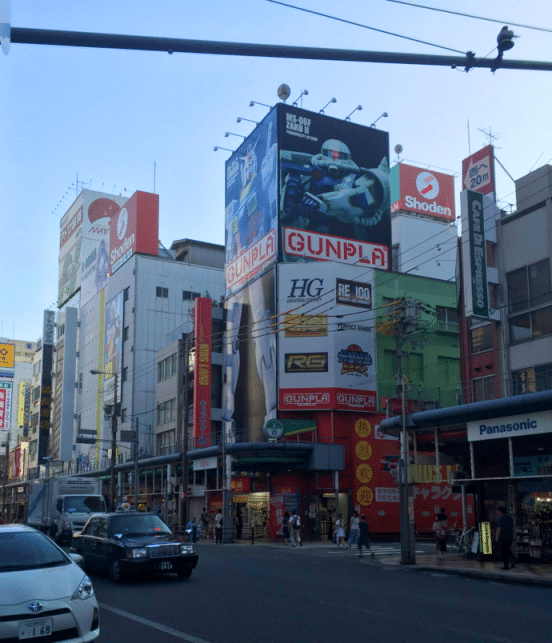 Den Den Town is also home to one of only two Mandarake branches in the Kansai region. Mandarake Grand Chaos, which until recently was next to Americamura near Shinsaibashi, is an enormous second-hand hobby shop. It has six floors full of assorted memorabilia, from robot models and obscure Ultraman toys to trading cards and cosplay accessories. Fortunately, Kansai's other Mandarake branch is also in Osaka. Situated a few minutes' walk from the eastern exits of Umeda Station, the Umeda branch is tucked in above some other shops. Inside, you can hear staff members singing karaoke while you peruse a huge selection of manga, fan-made comics and other merchandise. As you can never know what you might find there, both branches are well worth checking out.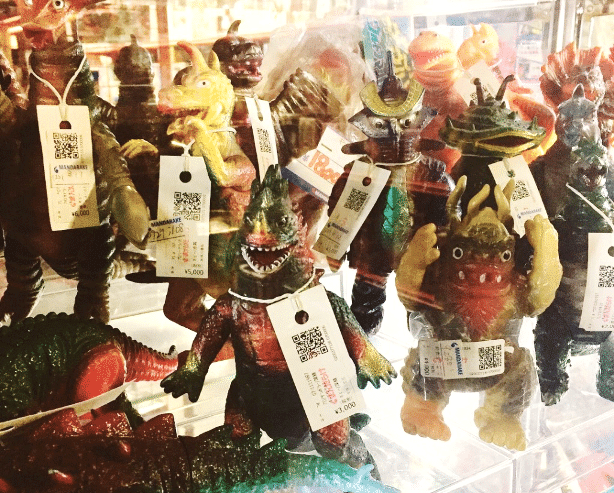 As you now know some more about Osaka's manga and anime connections, make sure to explore further by reading, watching and, of course, visiting yourself!
Except where otherwise noted, images are photographs taken by the author.